Ever heard of Transylvania, a place somewhere in Eastern Europe that's supposedly beautiful and mysterious? If the answer is yes, you're probably thinking of vampires hiding in medieval castles surrounded by dramatic landscapes… without knowing where that is actually!
In fact, Transylvania is so MUCH more! [6 min read]

Lots of people I've met told me 'I want to visit Transylvania' but it's not that simple! Transylvania is not a town or a small patch of land. It makes up for 1/3 of Romania and it's larger in size than Austria. To get your basic info right (exact location, entry towns, sub-regions) you might want to start with our guide to the region of Transylvania. Long story short Transylvania-proper is an area that resembles a triangle between Sibiu - Brasov -
Sighisoara and expanding from it.
When planning your trip here, you need a minimum of 3 days to travel between different parts of Transylvania to understand why this region is so famous and learn about the fascinating medieval history it has witnessed. You might also venture into adjacent sub-regions such as Maramures, Bucovina or Motilor Land, each with its own distinct cultural identity and natural beauty.
But the most important thing you should know is that visiting Transylvania is not about seeing its 'top sights', snapping a few pictures and moving on to the next city. The reason why HRH Prince Charles fell in love with this region and now owns 4 village guesthouses where he spends his summer is because of its authentic charm and unique village life. Here, locals have preserved their traditions, customs and rural way of life living in a perfect communion with nature. The best part? This lifestyle has been preserved as if in a time bubble, with no industrialisation, modern civilisation or mass tourism.
The cultural heart of the Romanian people is best experienced in the village life as many of our historians have said, where a self-sustainable, God-fearing, simple and nature-loving way of life has been the staple of Romanian culture passed on from generation to generation.
So, if you're short on time and want to see the top attractions in Transylvania - continue reading this list. You should also check our recommendations for the best tours in Transylvania starting from Cluj-Napoca, Sibiu or Brasov, which you can book online with us. If you want to get the authentic feeling of Transylvania then consider spending a couple of nights in the region, preferably outside of major cities - we can help with planning a custom tour or suggest places. If you want to go hiking in Transylvania there are many options for that too!
Before we get on with the list first you need to know a couple of things about Romanian history so that you'll better understand on why each of these major sights are important.
A brief history of Transylvania
Latin for 'land beyond the forests' where the Carpathian Mountains have always provided natural protection for this hidden gem-of-a-region, Transylvania is arguably among the most picturesque in Europe, alongside Tuscany or Provence. 2,000 years ago large parts of it (the South-Western part known as Tara Hațegului) was settled by our ancestors, the Dacians. The ruins of Dacian citadels are now part of UNESCO heritage. After Dacia was conquered by the Roman Empire in 100 A.D., the combination of people, migrants and settlers is what eventually gave birth to Romanians.
South-Eastern Transylvania was colonised in the 13th century by Saxon (later Protestant Germans) and Szekely (Catholic Hungarian) settlers who, together with Orthodox Romanians, Jews and other peoples have co-inhabited in the region for almost 800 years. You can now imagine the melting pot of cultures, traditions and lifestyles that you will see in cities and villages.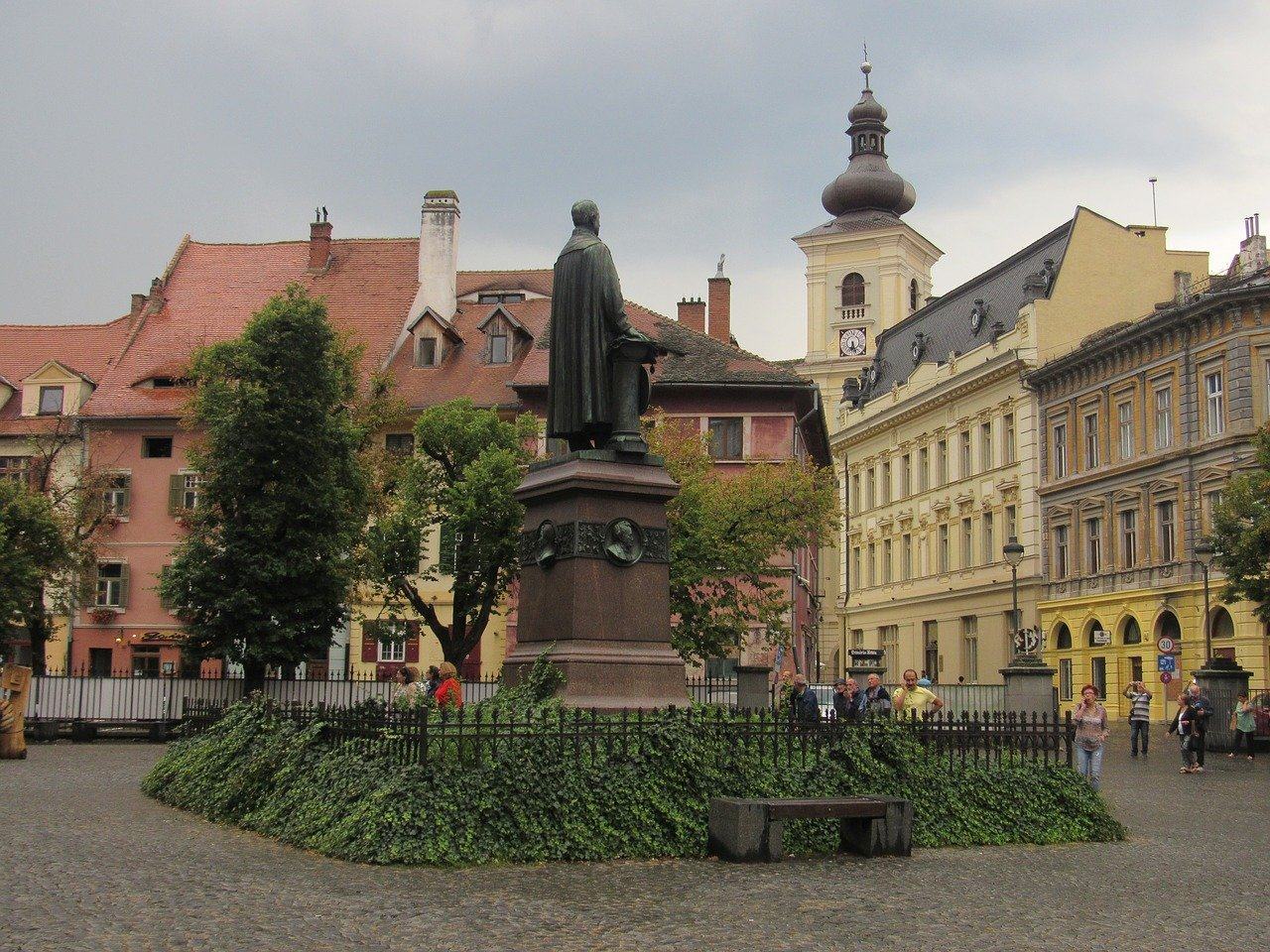 (City of Sibiu)

During medieval times, Transylvania was established as a principality under Hungarian (later Habsburg/Austrian) rule, despite the Romanian population having an overwhelming majority. Feudal lords of different subregions followed various interests so a series of alliances, betrayals, battles and truces ensued for which you will need a guide or a history book to learn more about. This lasted until 1918 when the centuries old dream of the Romanian-speaking people happened: the Great Union of Alba Iulia when all Romanian provinces were united in the same state.
So you see, there is much history behind all the castles and fortifications you will see. And throughout it all, Romanian villagers have bravely endured and preserved their way of life.
And now, let's see the top attractions in Transylvania:
1. Bran Castle or (also wrongly known as) the infamous Dracula Castle
We'll start with this just to get it out of the way: popular thanks to Bram Stoker's Dracula novel and 1992 Hollywood movie, the castle itself is truly a sight to see. Set on a mountain ridge in dramatic landscapes, the badass medieval looks and menacing turrets will make an impression on you. Built 700 years ago as a strategic fortress to defend the valley against the Ottoman Empire expansion from Wallachia, the castle has a fascinating history of its own
It's also Romania's #1 tourist attraction and given the Dracula tag, the most touristy. Located in Bran, the castle can be easily visited on day trips from Brasov, Bucharest and Sibiu. We suggest hiring a local guide to help you navigate Romania and all the 'Dracula' tourist traps so check our Bran Castle tours page to see trips we recommend with guides that will give you the real deal.
And just in case you're wondering, landing in Bucharest and going on a day trip to see Peles Castle, Brasov and Bran Castle does mean you visited Transylvania!
2. Fortified settlements part of UNESCO heritage
With so much migration and colonisation going on in the Middle Ages, many medieval settlements and larger towns in Transylvania were built with defence in mind, fortified or having a citadel nearby to take refuge in. Now, these well-preserved buildings are living testament of the fascinating and plot-twisting history Transylvania has witnessed - there are over than 150 fortified constructions in the area!
(Viscri fortified church)

Given their importance, two of these historic attractions have been included in UNESCO heritage: the Citadel of Sighisoara which is among the best-preserved still-inhabited citadels in Europe and the nearby group of 7 villages with fortified churches also known as the Saxon villages in Transylvania, founded by German settlers in the 13-14th centuries. Of this group, the village of Viscri is the most popular, thanks to HRH Price Charles personal interest - he even bought a house here!
But besides being incredibly old, these medieval-styled villages preserve our local rural culture and ancestors' way of life as if in a time bubble. You will literally make a trip 100 years back in time if you go see them or choose to spend 1 night here. Brasov or Sibiu are good base camps to explore the area and this is where most of our historic tours start from.
3. The most authentic Romanian castle - Corvin (Hunyadi) Castle
Time for another castle - one of our favourites! A strong contender to Bran, Corvin (Hunyadi) Castle is a splendid gothic-meets-renaissance historic attraction which preserves its authentic medieval feeling.
Built in the 15th century as a fortified residence for a regional ruling dynasty, there is much Transylvanian history to be learned here (on a different plot than at Bran). There are also some legends about the family's seal and symbol of the castle - a raven, Corvus in Latin, with a golden ring in his beak. It's better than any 'Dracula' crap you'll here, trust us.
Corvin Castle is located in the smaller town of Deva, close to Sibiu and Timisoara. It's Romania's #2 attraction and it has been growing in popularity considerably, but our partners would be happy to take you on a tour.
4. Go underground in spectacular (and healthy!) salt mines in Romania
Time for a unique sight - during your trip to Transylvania you should visit a salt mine. The difference between salt mines and all other mines is that breathing salty air is good for your health. People with respiratory problems are being sent by Romanian doctors for 'sitting' therapy in salt mines. There's even evidence that the Romans spent time in salt mines 2,000 years ago for the same reason.
Going to a salt mine in Romania is like going to the park on a chilly day - you spend time reading, talking to others, playing all sorts of games, sports or even tasting wine. No cellular reception by the way - which is a major plus! The idea is to spend at least 3-4 hours inside and for this reason salt mines in Romania are usually set up as small amusement parks.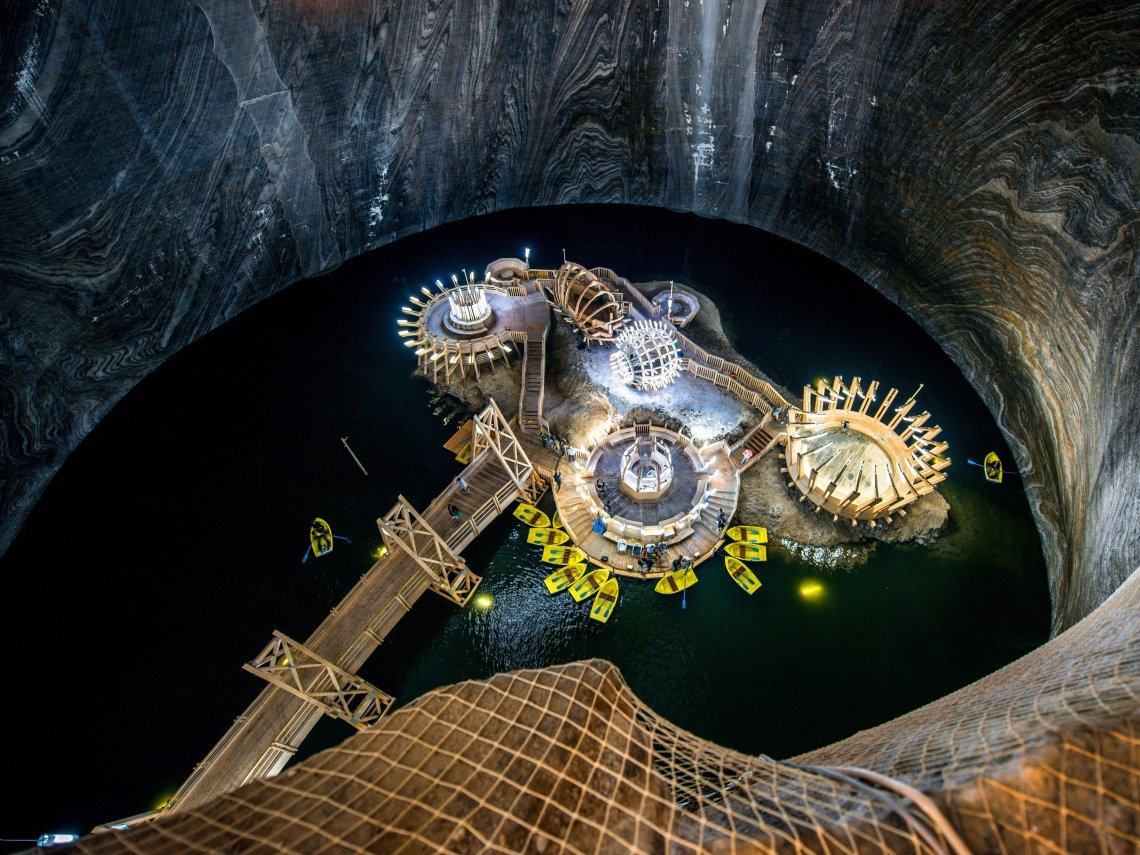 There are 2 salt mines in Transylvania you should consider visiting: Salina Praid, hidden in communist styled mountain resort, and the spectacular Turda Salt Mine (picture above). Its long corridors and man-made caverns have been beautifully decorated with lights installations, creating a stunning and unique view of a … cave! There's also a small lake where you can exercise your rowing skills (or impress someone!). Visiting Turda Salt Mine is easy to do on guided day trips from Cluj.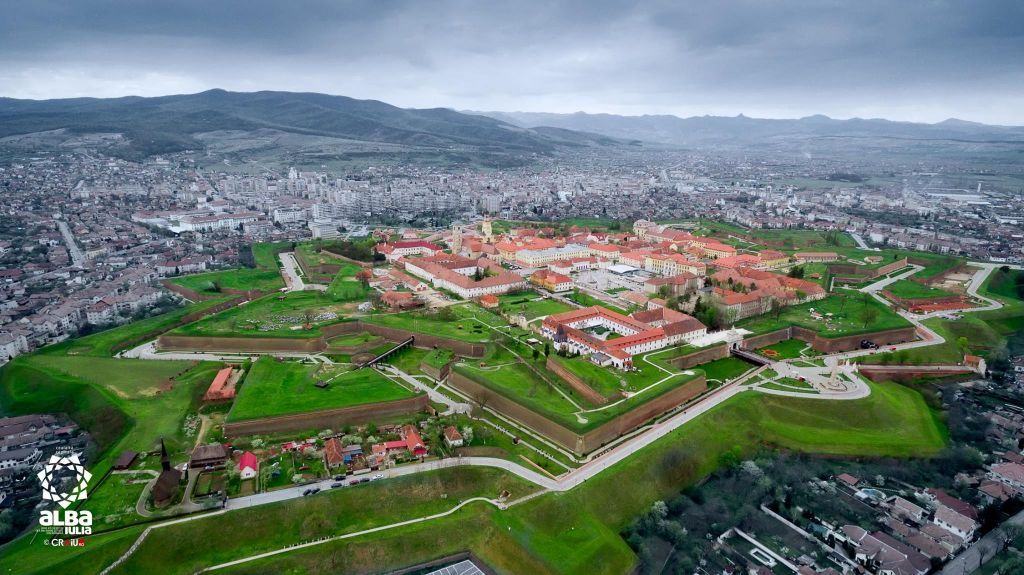 5. At the heart of Romania's modern history: Alba Iulia Citadel
Surprise - another historic sight, but this one of significant importance to Romanian history. The Alba Iulia Citadel is considered the spiritual birthplace of modern Romania. Within its walls the 1918 Great Union was proclaimed, unifying the principality of Transylvania with the rest of Romania (Wallachia and Moldova). It was the final moment of a 300-year long struggle for all Romanians to be united under the same state.
The citadel itself was built in the early 1700s on the remnants of a Roman castrum and served as a strategic fortification and centre or power in the heart of Transylvania. Today, Alba Iulia Citadel is a gorgeous sight which breathes history through its cobble stone. It hosts many buildings that can be visited and there is a guard changing ceremony every day at 12:00. Consider a day trip from Cluj-Napoca or Sibiu.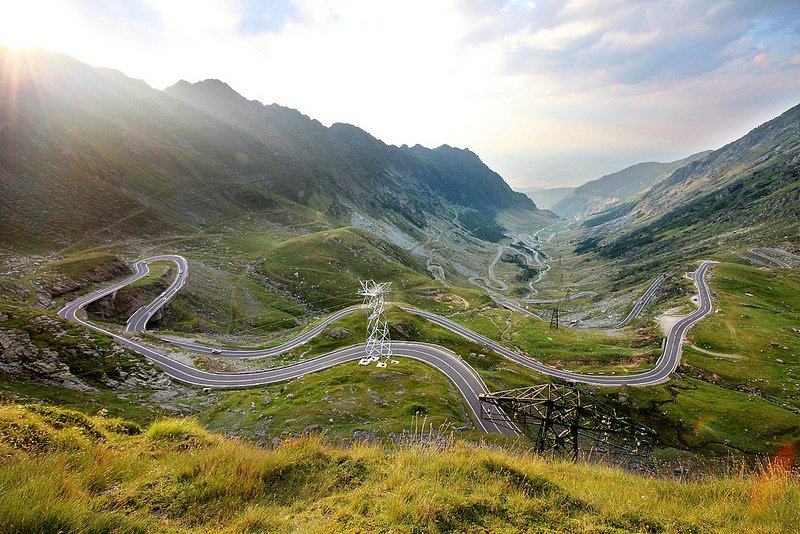 6. Transfagarasan Highway - a mouthful with awesome views
Judging by its picture - this needs no further introduction. Featured in Top Gear as 'the best driving road in the world'- it probably is. I did it myself and it's the best driving memory I have. Built during communist times with a special purpose in mind, lots of dynamite was used to carve this 2,000m high pathway.
Coming from Brasov or Sibiu you will drive on one side of the mountains until you eventually come onto a soft winding road leading upwards. Splendid views open up as you twist and turn at 60 km/h on your quest to the top. Once there you will see how sharp ridges guard marvellous views of the great plains of Transylvania. Transfagarasan means "across the Fagaras Mts." from Wallachia to Transylvania. There's also a cable car from the base, but the experience isn't as good as a tour on Transfagarasan Highway!
7. Romanian local life, people and culture
By now you've probably met some locals and seen some places. Each of the major cities in Transylvania has its own unique personality and a vibe that will intrigue you. And some, such as Cluj-Napoca or Sibiu, are easy to get to by plane, so they make for a perfect city break in Romania. The hip, trending and student town of Cluj-Napoca will contrast with the cultural charm of Sibiu or the medieval atmosphere of Brasov. The cities of Sighisoara, Targu-Mures or Bistrita should not be overlooked either! All of them are rich in tourist sights, with plenty of spots to admire large, open squares or get lost on narrow cobbled-stoned streets where sturdy and colourful houses will impress you with their details and medieval charm.
But Transylvania's true beauty lies in its famed countryside, where the simple way of life of locals, their sense of community and hospitality will capture your soul instantly. Add to the mix beautiful landscapes, quaint village life and a slow pace for everything and you've got yourself a perfect holiday in Romania, far away from the busy cities. Spend some time in Crit, Saschiz or Viscri if you want to immerse into local life or stay at an agro-tourism farm in Transylvania to really see what village life is like.
The Carpathian foothills are perfect for horse riding in Transylvania - but hiking in also a great choice!

But some regions have a unique charm which will make your Romanian experience even more authentic - yes, that's possible. A a trip in Maramures pictured above will impress you: centuries old Romanian traditions and customs, woodcarving still used for everything and locals in traditional wear every Sunday (the Romanian traditional blouse called ie ) are still part of everyday life here. Besides the delicious food (with regional dishes!), there are some interesting attractions to see such as the Merry Cemetery of Sapanta or the UNESCO Wooden Churches. A 2-day tour in Maramures from Cluj-Napoca is just what you need! That's why we think the Maramures region is a 'must see' sight of Transylvania.

***

That's it about the 'must see' sights of Transylvania. Our next blog post will cover the lesser known sights, off-the-beaten path spots that will take you on a deeper journey into Romanian culture. Included: hidden corners of natural paradise or what Prince Charles when he visits Romania. If you want to know when it will be out you can subscribe to our newsletter on the right side of this page.
I hope this was helpful - come visit!

Your Romanian Friend
Marius