1 or 2 Day Hiking Tour in Piatra Craiului National Park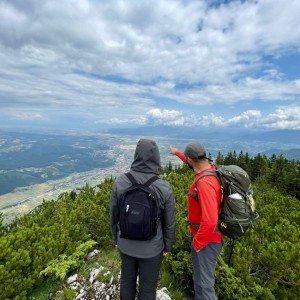 With: Marian

30
Piatra Craiului Mountains are one of the best places to go hiking in Romania! The unmistakable 25 km limestone ridge scratches the sky and attracts hikers like a magnet - so let's go trekking in this natural park! We'll pass through fragrant forests, traditional mountain villages where we meet locals and stop at clearings to admire beautiful views!
---
What you need to know about the hiking tour in Piatra Craiului National Park

This is a private guided 1 day hiking tour starting from Brasov. Duration: approx. 8 hours. Can be extended to 2 days
Included: transport to the National Park & entrance fee, licensed English-speaking mountain guide. Not included: lunch (available as optional on booking page)
The tour runs daily all year long, subject only to weather conditions. Best period: April - October
You will hike through Piatra Craiului National Park, cross Zarnesti Gorge and visit two authentic mountain villages (Pestera & Magura) or hike to Curmatura Hut. Between June-September we can also stop at a sheep farm
A medium physical condition is required: 500-700m altitude differences, 5-8h of continuous trekking, 5-10km. Trails will be discussed and agreed on the spot depending on weather and your preferences
Tour extension 160 Euro/person (incl. overnight and 3 meals) - we can go hiking 2 full days to "ride the crest" of Piatra Craiului and summit the highest peak at 2238m
IMPORTANT: our guide-partner requires full payment of tour price in advance. Fully refundable if canceled with 3 full days before tour date

Additional information

Mandatory equipment: waterproof hiking boots, warm clothes depending on season, small backpack, water bottles / person, energy bars / snacks and hiking sticks if you think you need them [can also be rented from our guide].

Route can be changed because of the weather conditions.

The tour extension includes dinner on day 1, accommodation with breakfast at a local guesthouse, lunch pack, extra guidance & driving. If tour is extended to 2 days you need to cancel with 7 days before the tour to get a full refund.

Meeting point: The History Museum in Piata Sfatului Square, Brasov – 8:30 AM.
---
Moments to expect in the hiking trip to Piatra Craiului Natural Park
Hike in Piatra Craiului National Park

The Carpathian Mountains offer many spectacular sights for those going on hiking trips but Piatra Craiului Mountains is undoubtedly unique: the 25km limestone ridge is a 'wall in the sky' fascinating to watch, exciting to hike! No matter which trail we take, we'll enjoy superb views! Piatra Craiului Park is also a well-preserved ecosystem for vegetation and wild animals. We will hike to Curmatura Hut on top of a hill to admire the entire area!

Zarnesti Gorge - a natural wonder!

On our hiking tour we will also pass through Zarnesti Gorge, one of the most popular and beautiful in Romania. While in its narrow pass you will feel isolated from the outside world and protected by the rocky walls around you. And the clean, fresh mountain air is going to make your trip so much better!

Traditional Romanian mountain villages

Romania is a country with many villages and each have adapted to their environment. Villages in the Carpathian Mountains are special because locals have a unique way of life, self-sustainable and isolated from the outside world. We will pass through the villages of Magura and Pestera and you will meet locals and learn more about what they do and their fascinating daily life.

[Tour extension]: 2-day hike in Piatra Craiului = summit the ridge!

If you extend this hiking trip to 2-days then we can attempt to summit the Baciului Peak at 2238m, the highest in Piatra Craiului. The views from up top are breathtaking and worth the effort! A very good physical condition is required for this. We can also do other trails including partially traverse the limestone ridge. Trails will be discussed and agreed on the spot.
[160 Euro/person extra cost; available on booking page]
Location details
Starting point:

Brasov

Nearest airport:

Bucharest International Henri Coanda Airport

Nearest train station:

Brasov

Landscape:

Mountains, mountain villages, gorges
Reviews from travellers Thomas K. on 01.08.2021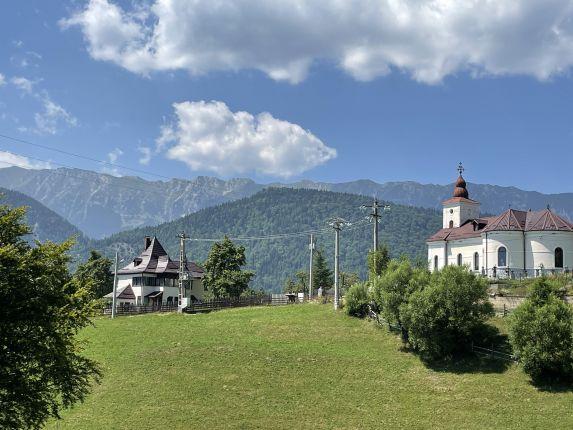 We booked this 2-day trip for our family with kids on pretty short notice through Romanian Friend. Marius was very helpful to understand our needs and made an excellent recommendation with this tour. Our guide was Marian and he was extremely flexible and adjusted the route to the weather and our wishes and needs. We learned a lot about the nature and history of this beautiful country from him and the planning and accommodation was excellent. Besides this, he is a really nice guy. The nature varies a lot and you will enjoy forest, meadows, saddels, canyons, dramatic ridges and magnificent views. It is really wild nature and most of the time we were actually alone. Fantastic experience!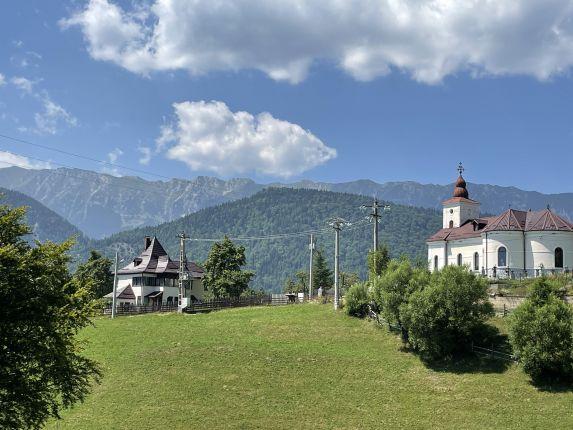 Amanda N. on 26.07.2021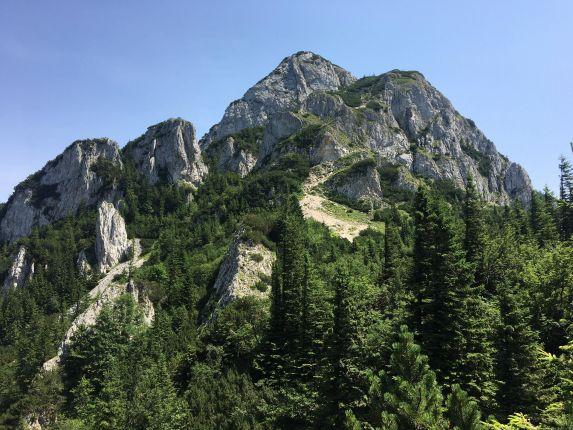 My boyfriend (a first timer hiker) and I had a wonderful hike with our guide Mihai. He was really good at adapting the tour along to way to our abilities and wishes, and both my boyfriend and I got an experience for life hiking Piatra Mică. He was also easy to talk with especially about nature, hiking and Romania in general, and is a very experienced climber and hiker - so you are safe in his hands. The tour itself can be somewhat adapted to your skills and abilities, and the first part of the way from Zarnesti Gorge to Curmătura Chalet is manageable for families and children. However, it is recommended to have good footwear and have a basis of physical form, both if you wish to go further up the mountain (there's gravel, rocks, possibility of actual climbing) and for the way down, which is strenuous and you are better of with at a good foothold. The nature along the way is simply gorgeous, and you'll get to see farm animals and possibly birds or other wild animals along the way together with streams, flowers and fantastic views. All in all: if you wish to experience Romanian mountains Piatra Crailului National Park is the place to go, and with a guide you are both safe and will experience the national park in ways you'd never be able to, unless you are a local who have fared the park for years. Highly recommend this tour!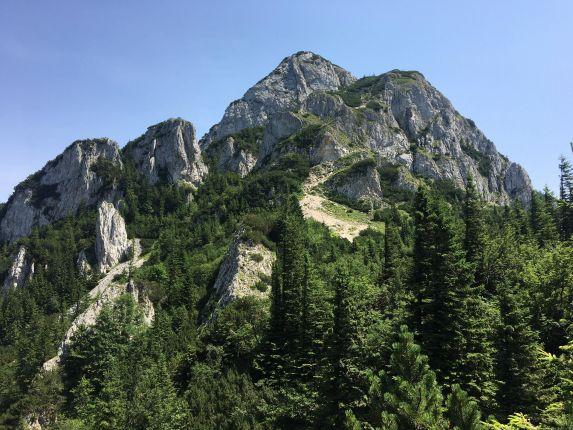 Gladys R. on 25.09.2020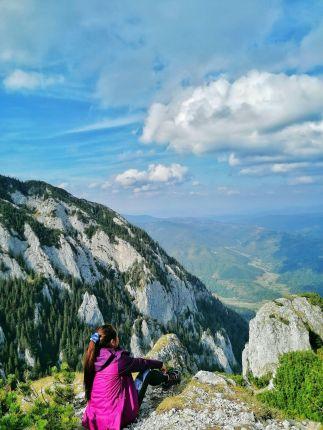 It was amazing. I loved the beautiful nature. Our tour guide Marian was awesome. He was flexible, funny and amazing, thank you. We enjoyed the trip a lot. I would love to comeback again and recommend to all my friends hikers and everyone. Hope coronavirus will fade away...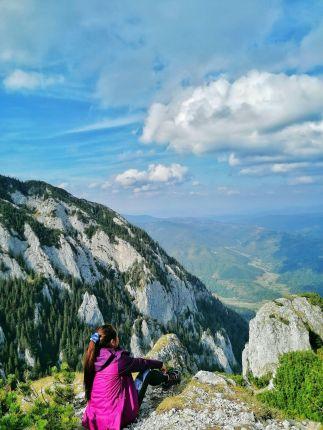 Tomas C. on 12.10.2019
I had such an amazing hike through the gorge and up to the top of the limestone ridge at Piatra Craiuli Park. Mihai was a great guide and showed not only great knowledge about the area, but cared deeply for the park too. Would definitely come back! Neil W. on 03.08.2019
A great hike with an excellent guide. Despite the rain Marian kept us going with his humour and educational narrative. The rain lifted and the rest of the hike was even better with the mountain cabin showing us a very interesting part of Romanian life and food! JAEL . on 11.05.2019
a great guide who adapted our tour and route on the spot. beautiful views and not too difficult. it was a great day, thanks Merry C J. on 30.06.2019
A beautiful hike with a great guide - thanks! Laurence M. on 15.06.2019
Our day hike in Piatra Craiului was really great! Our guide arrived on time and was really welcoming! We couldn't have a better time if it wasn't for Bogdan and his knowledge of the mountains! He helped us having the hike we wanted and more. I recommend the tour to anyone who wants a great time in the Romanian mountains! Vineet V. on 02.08.2018
This tour was absolutely fantastic! Our guide was really caring and took notice of requirements of all in the group. Made the whole journey memorable and ensured that we were fed well during and after the trip which was a very welcome surprise. Thank you!
Other tours nearby

Subscribe to our Romanian quarterly magazine
4 times a year we prepare a newsletter with local stories, places and our special insights about Romanian culture and local life that will inspire you to visit our country and have an authentic local experience. Would you like to get it?