Guides to Major Cities and Regions
Brasov City Guide: top things to do & places to visit

Brasov is the gateway city to Transylvania and probably Romania's most famous tourist city and for good reason! If you're wondering why you should visit, what to do when there, attractions and tours in the area and other useful info to help you plan your trip - this city guide we prepared contains everything you need to know about visiting Brasov!
Brasov is famous for its historical attractions and landmarks, its rich medieval history and large open squares where locals and tourists alike enjoy the good life. Brasov Old Town is filled with colourful Saxon townhouses, narrow alleys and many fortifications all wearing the heavy cloak of centuries past and with lots of history to share with curious travelers. Surrounded by the Carpathian Mountain from all sides, it's really hard to resist Brasov's charm!
Located in the heart of Romania at the intersection of the 3 historical provinces that make up our country, Brasov is a great base to explore Transylvania. On day trips you can visit famous castles such as Bran, Peles and Rasnov, discover Romanian rural culture in the traditional villages of Magura or Viscri, go hiking in Piatra Craiului, Bucegi or Fagaras Mountains, see bears in the wild and much more! Getting to Brasov is easiest by train, but roads are also an option.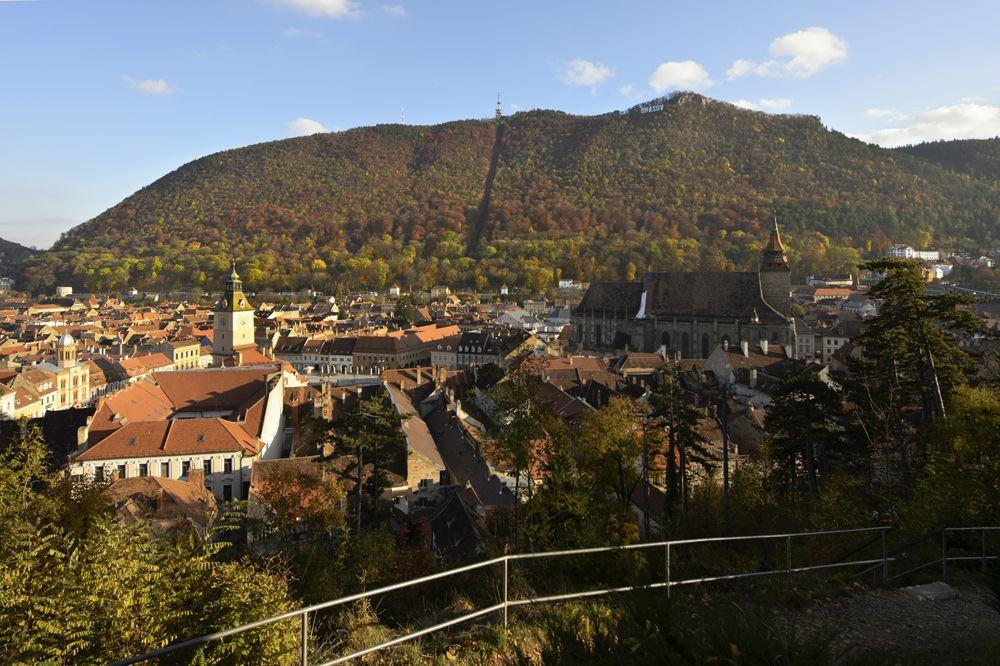 Here's the contents of this guide with info on the best things to do in Brasov, places to visit and how to plan your trip:
1. Major attractions & what to see in Brasov
Brasov is packed with many cultural sights, historic landmarks and interesting places to visit. The city has a charming and well-preserved medieval architecture that stays loyal to its past and most of this you can see in the Old Town area. We recommend a guided walking tour of Brasov if you want to learn about the city's history which dates back to the 13th century and understand the history or significance of these attractions!
Why was the city so important it needed to be fortified from all sides? How come the first Romanian school opened in Brasov? Why is there a network of underground tunes beneath the city? Here's a list of the major landmarks in Brasov:
The Black Church is Brasov's most popular landmark. It's also one of the largest gothic churches in Eastern Europe and its construction dates back to the 14th century. It sits proudly – and unmistakably imposing, at the edge of Piata Sfatului (Council Square). The church can be visited all year round but visiting hours depend on the season and church service. If you're lucky enough, you might be able to attend an organ concert or other special events!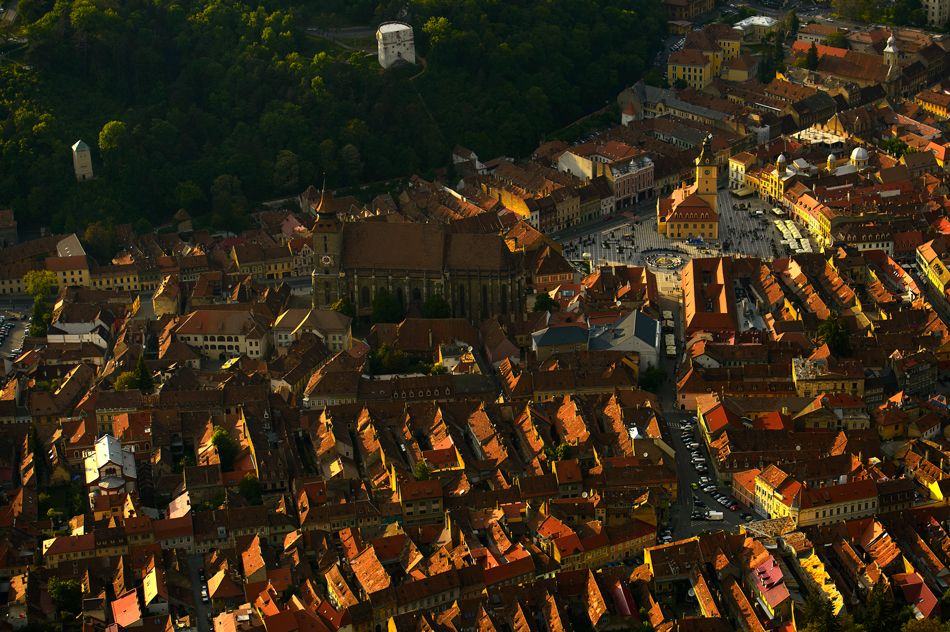 Piata Sfatului is the heart of Brasov Old Town. On any given day you will see children running around, adults taking a stroll, old folks feeding pigeons and tourists mesmerized by the beautiful square and its buildings. Blending in with the local here is one of the best things to do! Just like all medieval city squares, Brasov's Council Square was a place for public gatherings, trials and executions. Today it's packed with cafes, restaurants and old buildings with breath-taking Saxon (Germanic) architecture – and many legends. Fairs with homemade food or artisan products are usually held here so keep an eye out!
St. Nicholas' Cathedral is the first stone-made Orthodox church in Brasov. Here you'll find a huge collection of liturgical objects and old Orthodox frescos. On the outside the church has a stunning blend of architecture styles mixing Renaissance, Gothic and Baroque influences. Don't skip the church's annexes as they also packed with important paintings, historical documents and unique hand-made souvenirs.
Old Town Fortifications from the 13th – 15th century. Like many other medieval settlements in Romania, Brasov had a complex system of city defenses and they're worth visiting! The Weavers' Bastion is the most famous and well preserved. It started being used as a venue for opera and music concerts thanks to its impressive acoustics so check if anything's on while you're there! On any other day there's a museum inside where you can find a model of the Brasov Fortress, old weapons and handmade products crafted by the city's weavers – the ones who funded the bastion. Another must-see fortification is the Graft Bastion built in the 16th century to allow soldiers to get from the White Tower into town. Though restored in 2004 the rifle holes are impeccably preserved. Another notable historical landmarks is the Blacksmith's Bastion – and there are 5 more!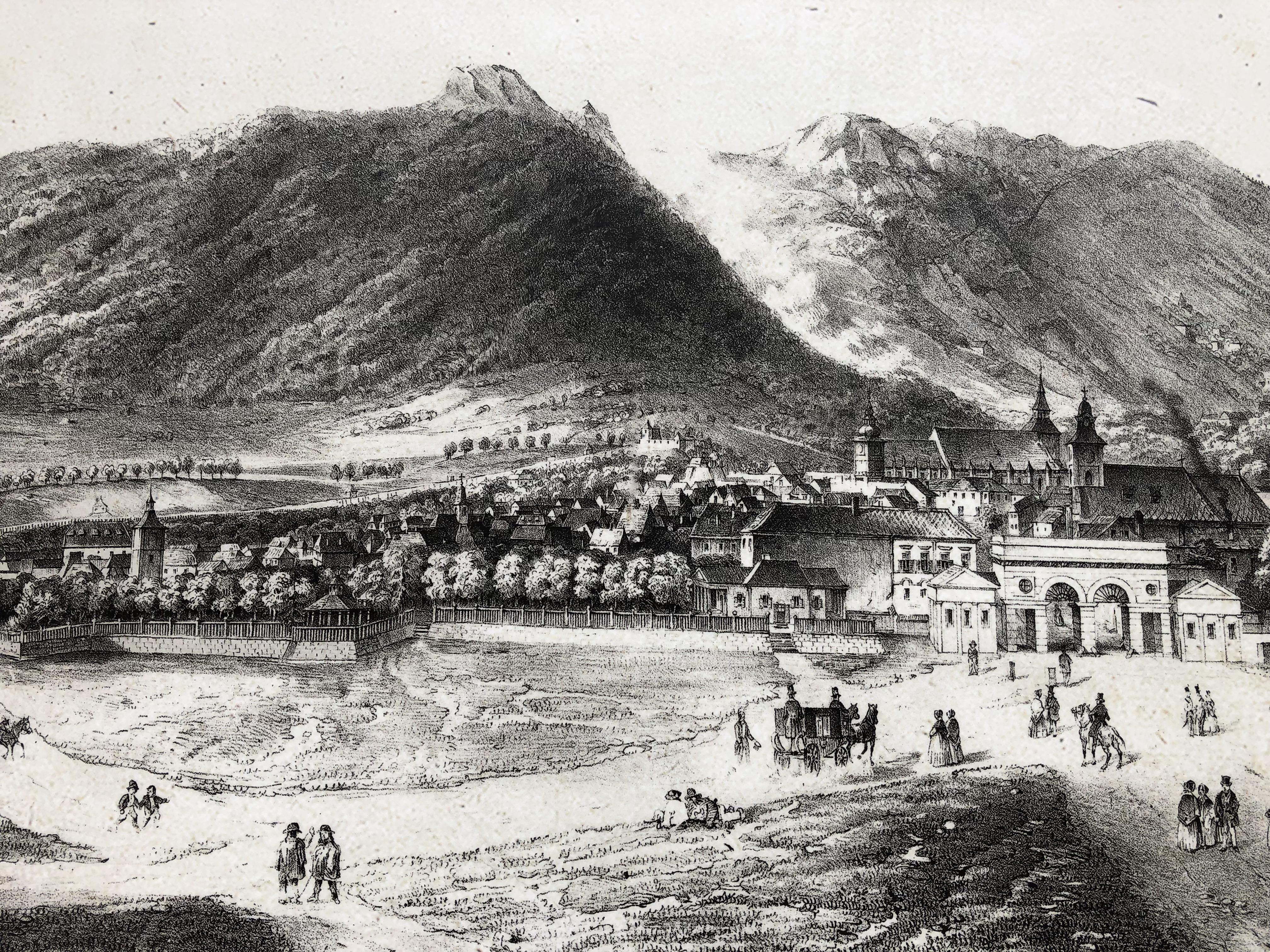 Visit the White and the Black Towers, and the medieval city walls. Besides defense bastions, Brasov was surrounded by towers and walls which are now very good reasons to go for a walk around in search of viewpoints. The Black and White Towers are famous for their well-preserved medieval charm: find them at the edge of Brasov's Old Town and climb to their top to get an equally stunning view of the city! Take a stroll by the fortification walls that connect all the towers in the city. Don't skip the city's gates: Catherine's Gate and Schei Gate.
Mount Tampa & the Brasov sign. As you'll be walking around the city you'll notice a massive Hollywood-style sign perched high up on a mountain overlooking the entire area. Going there is a must - you'll be rewarded with the best views over Brasov, the Carpathians and Transylvania's plains! You can reach Tampa Mountain if you do a 1-hour hike or if you go on a cable car ride (2,5 Euro/way). What I like to do is go up with the cable car and find my way back down on foot :)
Rope Street – the narrowest in Europe. Finally, another hugely p go on the quest of finding the narrowest street in Europe, The Rope Street (Strada Sforii). The street is only 53-inches at its widest and 44-inches at its narrowest. And if you think this is one of the useless streets in the history of Europe, remember it was used by old-time firemen to avoid the packed streets in the city. Other fun things to do in Brasov
My favorite thing to do in Brasov is to get lost exploring side streets and narrow alleys, to admire the style and decorations of old townhouses and imagine how the city was like 300 years ago. The yellow evening lights and chilly mountain air adds even more charm! Or take a taxi to the end of Podul Cretului street and go for a walk in the woods. Where the city ends, the forest begins and this is one of the biggest reasons I like visiting Brasov: nature is just one step away!
Lesser-known activities and places to visit in Brasov
Casa Muresenilor Museum is a cultural space that hosts classical music events and interesting expositions. The Ethnographic Museum of Brasov has an impressive collection of objects (clothing, ceramics, religious items) from the Romanian and Saxon cultures of Transylvania
Or maybe you'd like to see how ordinary people lived under communist Romania? The recently opened Museum of Living in Communism is an apartment decorated with objects and furniture from that period that will take you on a fascinating time-traveling journey. If you want to learn more about this period in our history check our article on communist attractions to so you get a bit more context.
The Christmas Market is another great reason to visit Brasov: winter decorations with a festive Christmas atmosphere and a LOT of mulled wine is a killer combination! Romanians are jolly fellows and winter holidays always bring out the best in people! The Council Square is beautifully decorated and the Christmas Market brings craftsmen, artisans and local producers from all over the country. Buy some traditional cured meats or local cheese, enjoy a kurtos kolac while sipping on mulled wine or tuica to warm up. Winter foods are delicious you need to try them!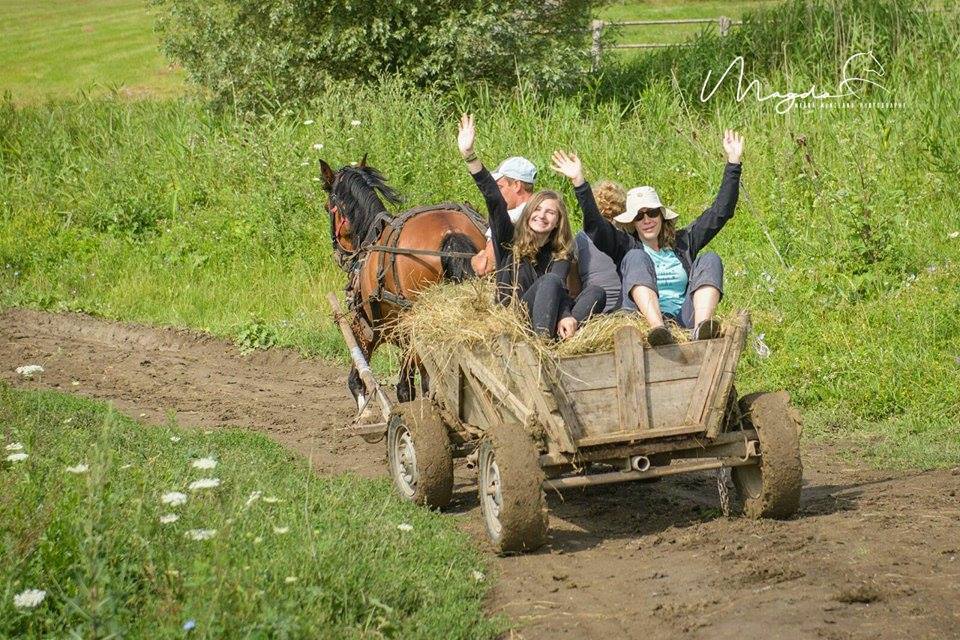 2. Sightseeing day trips and things to do from Brasov
Brasov is the perfect city to set up base for a couple of days to tick off some of the best things to do in Romania from the list. Medieval castles, UNESCO culture, traditional villages, natural parks and wildlife – take your pick!
Medieval castles & citadels close to Brasov
Thanks to Bram Stoker's Dracula, Bran Castle is undoubtedly Romania's most famous attraction for its association with Dracula Castle. This 14th century fortress is truly impressive and has many stories to tell. Did Vlad the Impaler (the inspiration for Dracula) have any connection to this place? Well, a good guided tour will answer this question – other tours will just tell you touristy fake stuff, so beware! Bran Castle is 30 km away from Brasov and getting to Bran is possible only by car: on a guided tour, with a rented car, with a taxi (about 45 Euro round-trip) or with a bus from the local bus station.
Peles Castle in Sinaia is another famous sight close to Brasov. Built in the late 19th century with state-of-the art technology for those times, the castle served as summer residence for the royal family. Its beautiful exterior is equally matched by the lavishly decorated interior so don't miss the opportunity to take a tour inside. Getting to Sinaia from Brasov is easiest by train as all trains heading to Bucharest will stop there.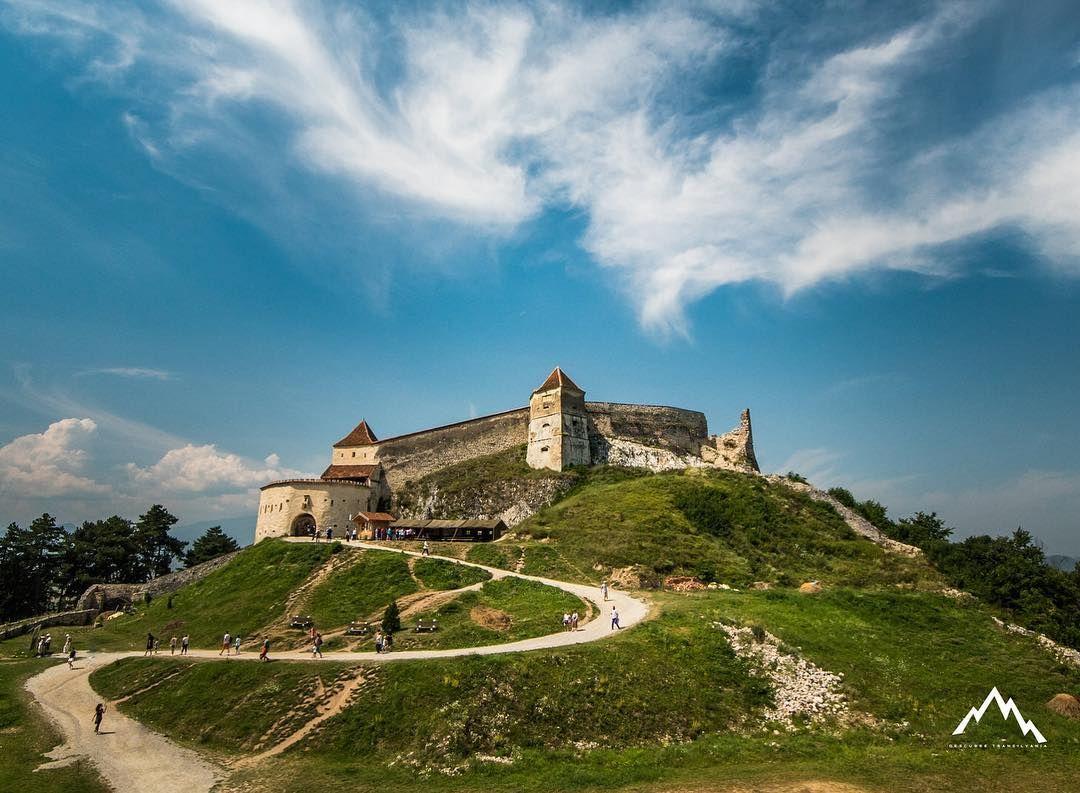 Another popular attraction close to Brasov is Rasnov Citadel. Perched high on a mountain in the city of Rasnov, the citadel offers spectacular views of the entire area and that's reason enough to visit! It was built as a place of refuge for villagers in the area against invading forces and continuously expanded over time. If you can take your eyes from the beautiful landscapes you'll notice artisan shops through the citadel's old alleys. Rasnov is closer to Brasov than Bran and getting to the citadel is also possible by cable car.
Fagaras Fortress is another interesting attraction to visit from Brasov. It served as a seat of power for rulers in the late Middle Ages and was later used as a communist prison, so there's much history to learn there. Rupea Fortress is also worth mentioning and shares a similar history with Rasnov Citadel.
Last but not least, Sighisoara Citadel is one of the must-see attractions in Romania and easily accessible from Brasov by car on a guided day trip or by train. Located in the heart of Transylvania at the crossroads of major trading routes, this citadel was fortified by the Saxons and is entirely part of UNESCO heritage for its authentic style. The citadel is still inhabited by locals and on its narrow streets with colourful houses you'll find artisan shops, traditional restaurants and cosy cafes. Walk up the (many) stairs to the Monastery Church too – it's worth it!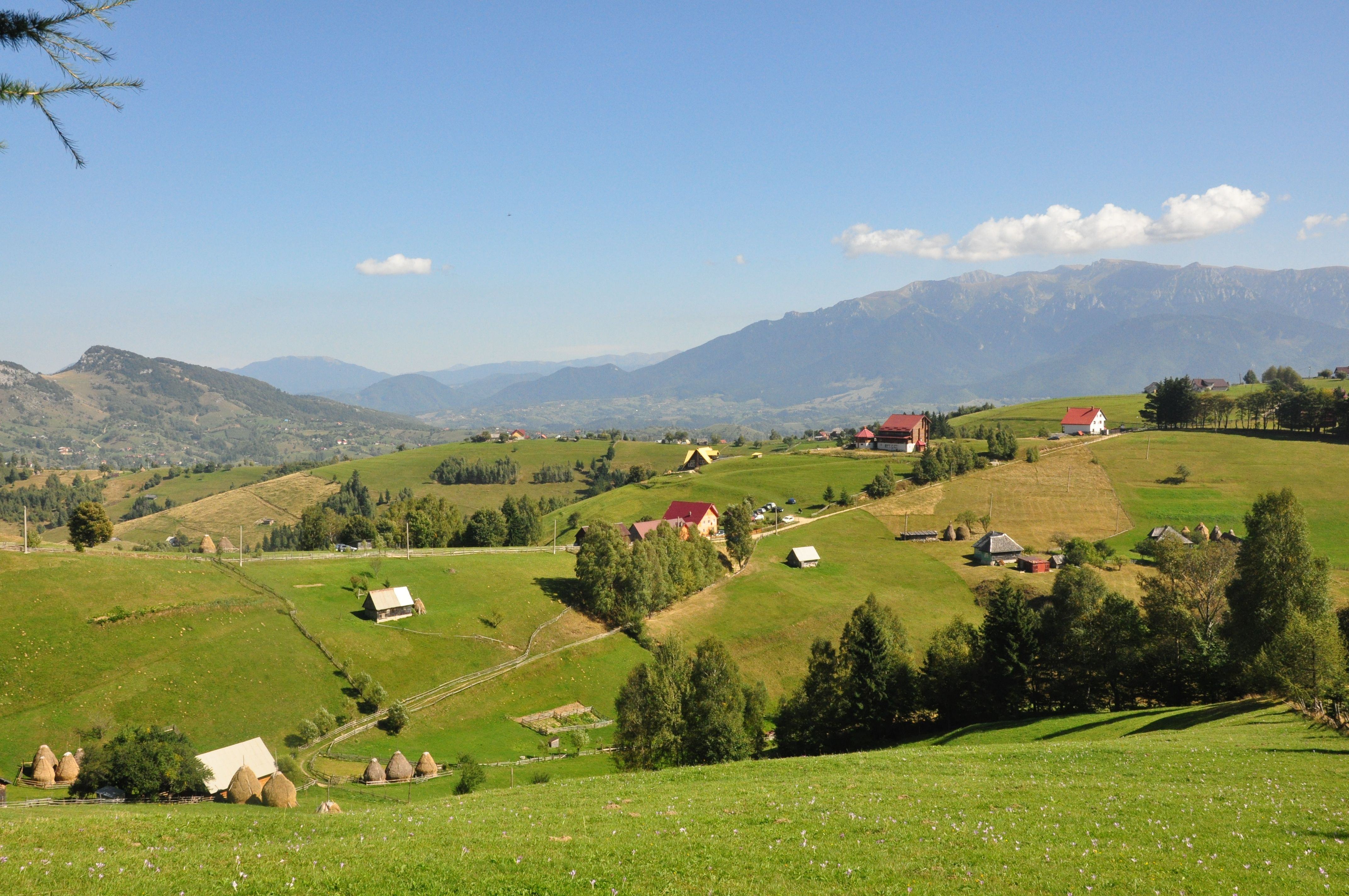 Visit traditional and Saxon villages close to Brasov
South-East Transylvania was settled by Saxons (ethnic Germans) in the 14th century and their influence is everywhere today: village layout, building styles, crafts and culture. Between Brasov, Sighisoara and Sibiu there are many Saxon villages but 7 of them are part of UNESCO heritage for their authentic style and well-preserved fortified churches. Viscri, Saschiz, Biertan and Prejmer should be on your things to do list when in Brasov!
There are also some traditional villages close to Brasov famous for their picturesque sceneries and authentic lifestyle. Situated at altitudes of over 800m and at the base of Piatra Craiului Mountains the villages of Magura, Pestera, Sirnea and Ciocanu are worth visiting on a day trip from Brasov! Go spend a day in nature hiking, take some great pictures and eat traditional cheese and natural products made by the villagers in the area! And if you see shepherds roaming the hills its customary to say hi or wave to them!
A better way of understanding traditional Romanian village life and enjoying the peaceful countryside is to book an agro-tourism experience in Transylvania at a typical farm close to Brasov.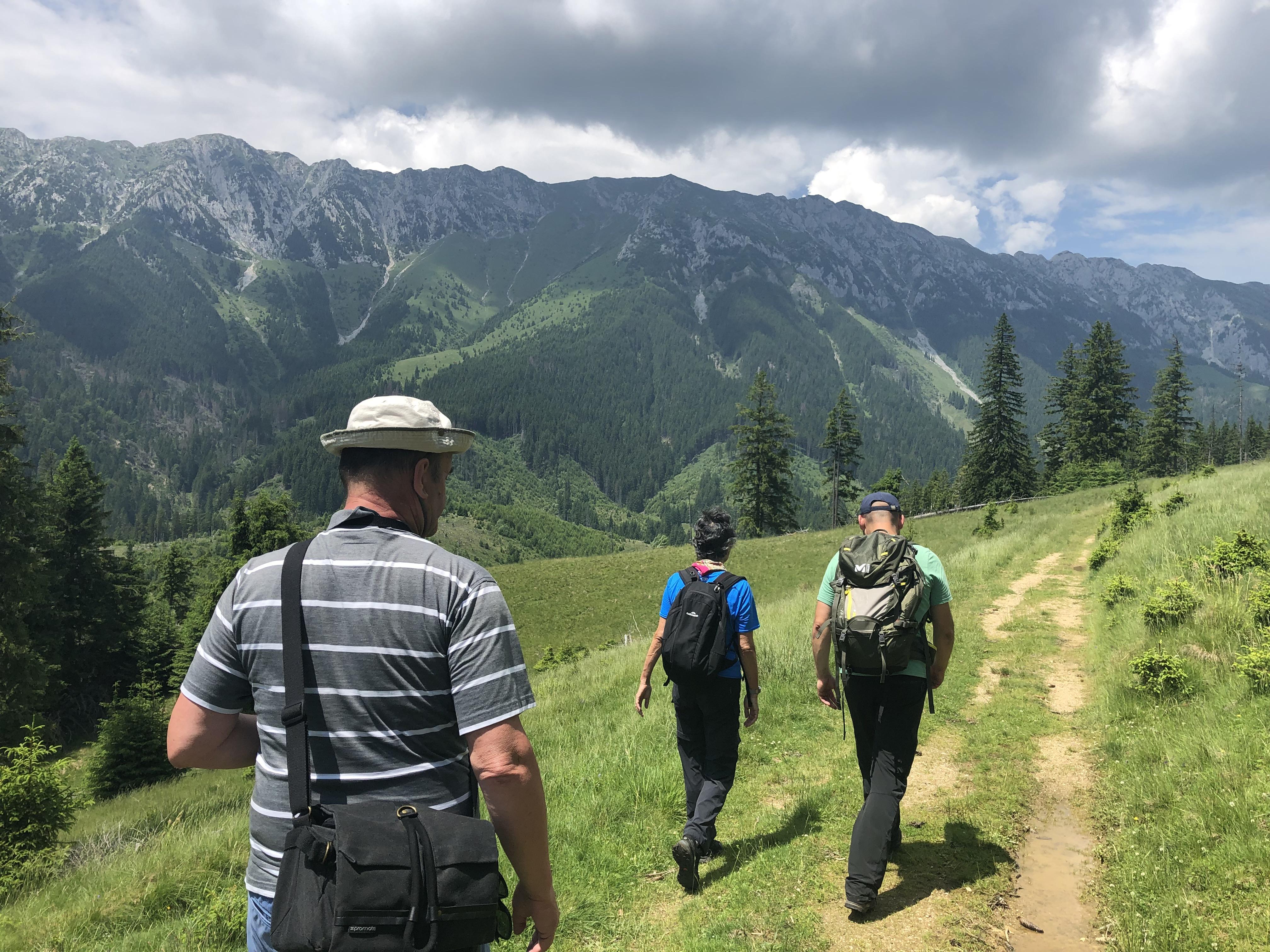 3. Hiking tours and outdoor activities from Brasov
One of the best things to do when in Brasov is enjoy the Great Romanian Outdoors! With mountains everywhere and activities for everyone in all seasons, there's no way you'll be bored. Be sure to check our guide for hiking in Romania to get a better idea of what to expect.
The closest mountain range and most accessible hiking tour you can do from Brasov is in Piatra Craiului National Park. Most trails are of medium difficulty and start from Magura, Pestera or Zarnesti. At the far edge of the city, Zarnesti Gorges are wonderful and easy to explore on foot before entering the Park. Piatra Craiului is famous for their spectacular and unmistakable 25 km long limestone ridge that scratches the sky (can be hiked on a 2-day tour). La Om is the highest peak at 2,238m altitude and most hiking trails will take you between 1,400 – 2,000m altitude. Make sure you have proper hiking equipment and go only with mountain guides.
If you're looking for a challenge and more adventurous hiking trails – Bucegi Mountains is the answer for you! Besides popular attractions such as Heroes' Cross, the Sphinx and Babele rocks, the 6th highest peak in Romania, Omu Peak at 2,505m altitude is here and can be summited on a 2-day trip. Reaching the plateaus of Bucegi Mts. will require a little bit more effort but once there the views are spectacular and things get a bit easier!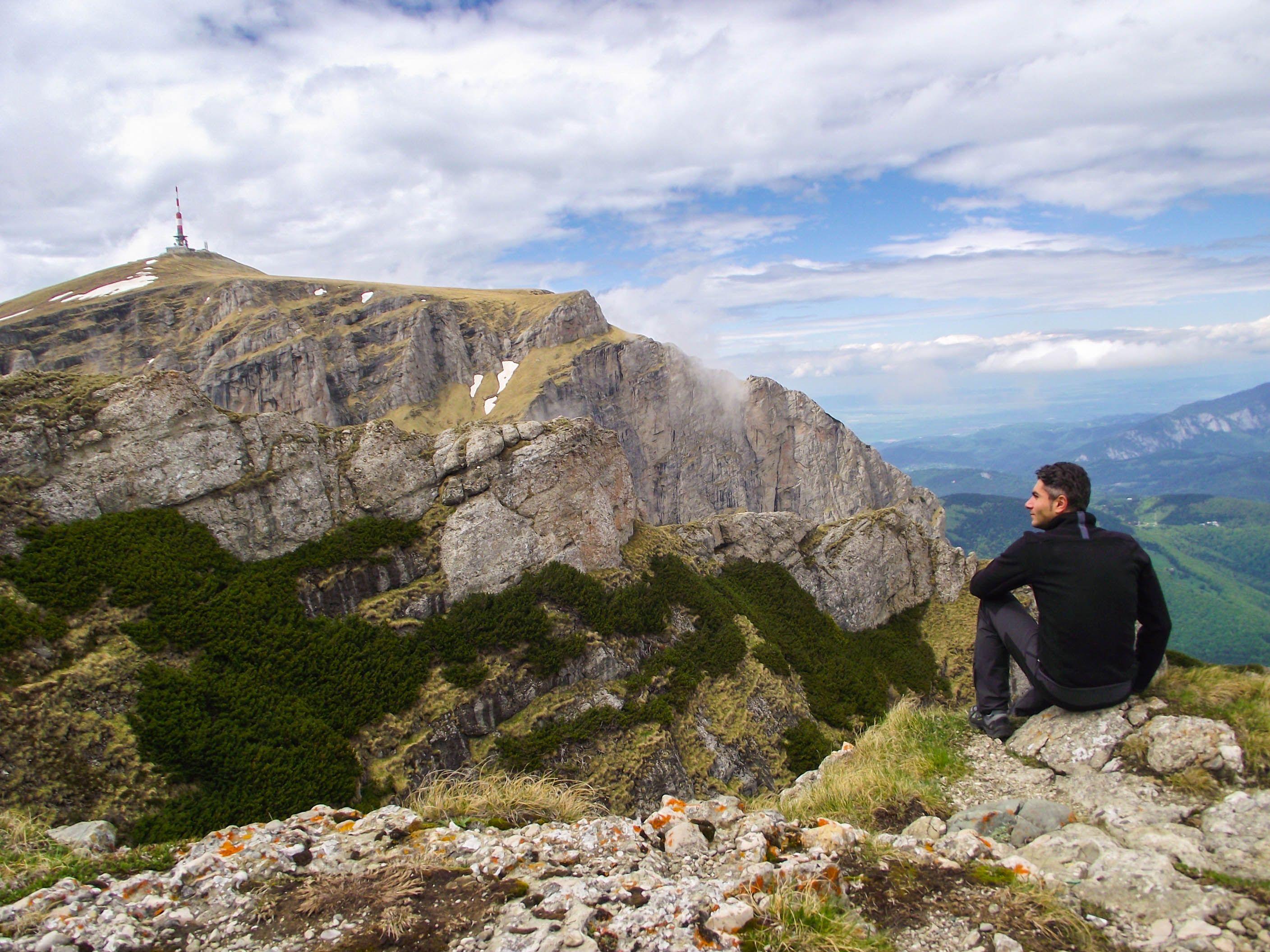 Last but not least, Fagaras Mountains, the highest in Romania with trails starting at 2,400m altitude, are also easy accessible from Brasov. But first you'll drive on the best driving road in world, Transfagarasan Highway! The road is open for driving between 1 July – 30 October and outside of this period you can get to Balea Lake using the cable car that goes right above the road. The silence of Fagaras Mts. and their raw beauty, hiking on crests so high with narrow trails where mist comes from one side and goes on the other – is absolutely spectacular!
Another outdoor attraction close to Brasov is the 7 Stairs Canyon - a beautiful creation of nature that will make you feel adventurous as you climb the narrow ladders to the top! You can also go on a horse riding trip over the hills and valleys of Transylvania - beautiful and picturesque for both beginners and experienced riders! Plenty of options for bike tours around Brasov too – in the mountains going on dirt trails or forestry roads or through villages. If you're a fan of winter sports then Poiana Brasov is the place for you with the largest ski domain in the country!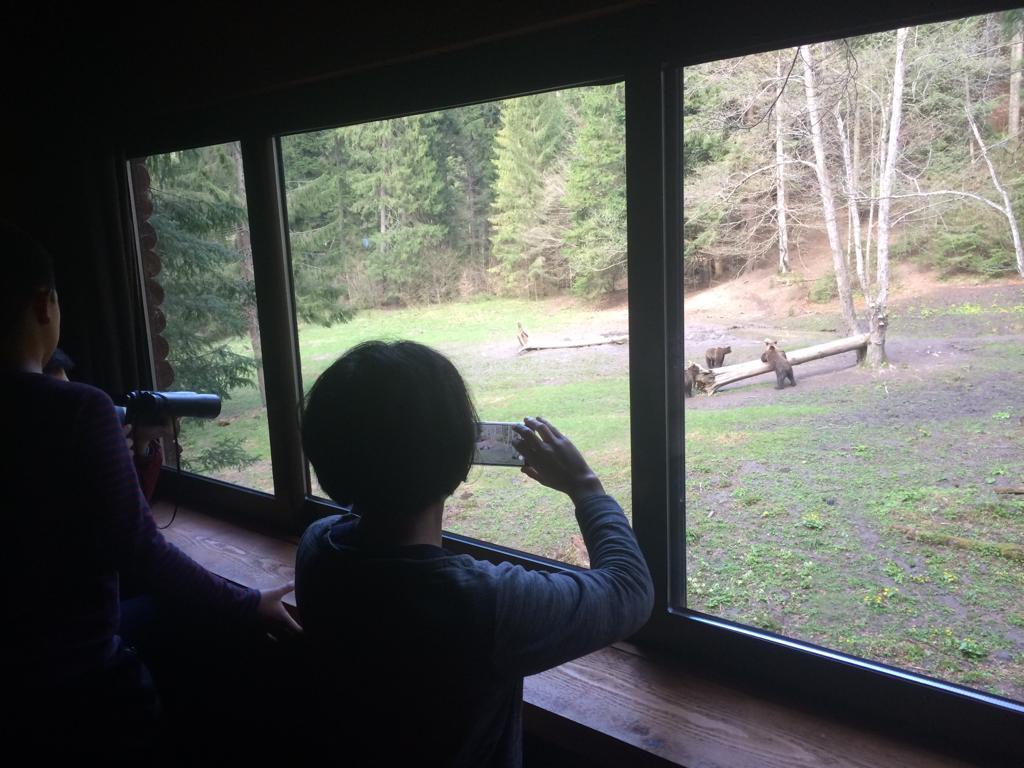 4. Wildlife watching tours in Brasov
Finally, one of the best activities you can do around Brasov is to go on a wildlife tracking & watching trip! Romania is known as Europe's last wilderness reserve and there's good reason for that! Our partners are professional guides and rangers who offer several options for these types of activities:
a short bear watching trip that will take you to an observation hide in the forest; you sit quietly and wait for the bears to show up and the fun starts! (observation in controlled conditions)
a hiking and wildlife tracking day trip in the mountains where you could also see wild animals! This is not guaranteed as nature can't be controlled (and you don't want to run into bears!), but to increase the chances of this the trip needs to be done early morning or late evening and most of the times on rough trails or terrain; and even if you don't see anything you'll still learn about Mother Nature and how the animal kingdom works, which is a great educational experience for all ages!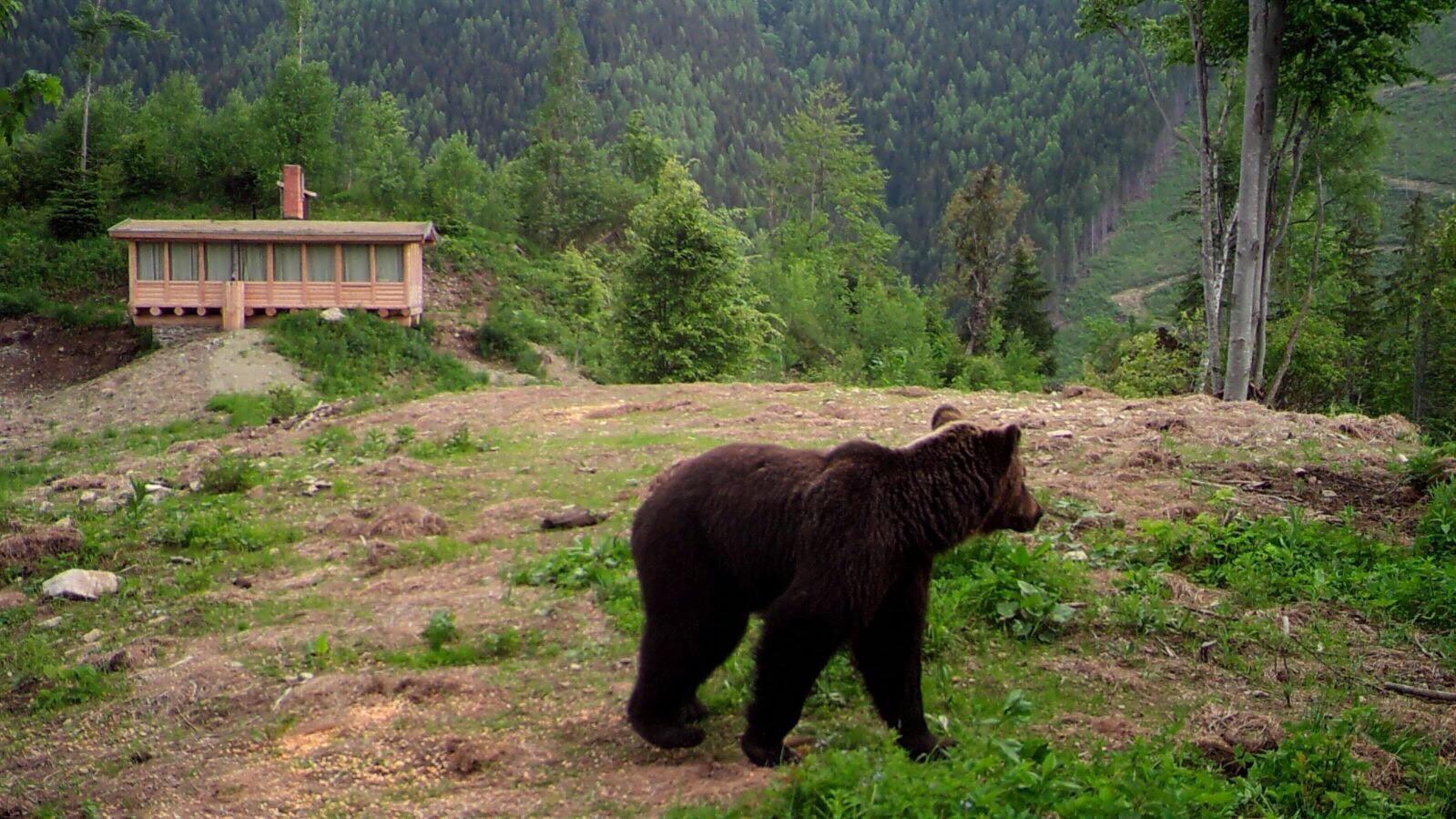 a 3-day hiking & wildlife watching trip in the wildest parts of Fagaras Mts; you'll stay in a purpose-built eco-cabin overlooking areas where animals roam free and do guided trips there – higher chances of seeing animals and a wonderful experience!
There's also the option of visiting Libearty Bear Sanctuary situated between Brasov and Zarnesti. Home to over 100 bears rescued from circuses and cruel living conditions, you can now see them happy and playful. Keep in mind that this is not a zoo and visiting hours are limited, but your ticket will support the volunteers' work!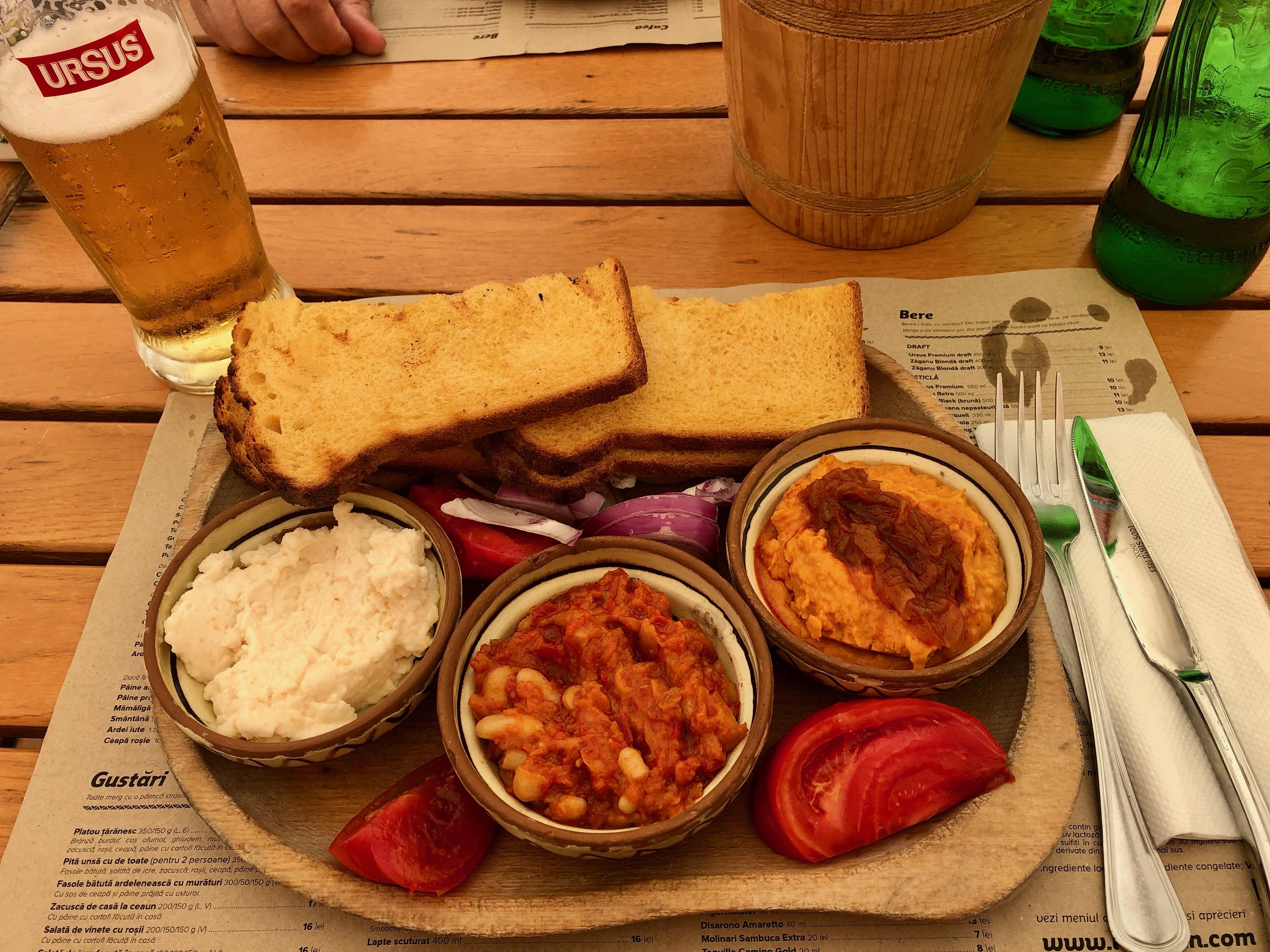 5. Best places to eat in Brasov
After all these day trips you must be hungry! Luckily, Romanians love to eat, drink and enjoy their time out! Besides your typical Western-inspired menu with fried foods, burgers and pizzas, there are quite a few restaurants in Brasov serving traditional Romanian food. Go out in the city to find cabbage meat rolls (sarmale), polenta with fresh cow cheese (mamaliga), beef tripe soup (ciorba de burta), Cluj-style cabbage or pomana porcului (you're in for a surprise with these!).
Here's a list of our favorite restaurants and places to go eat in Brasov (with an English menu too!):
for traditional Romanian cuisine in Brasov go at La Ceaun, Sergiana or Sub Tampa. You won't be disappointed! Pair whatever you order with local wines (another pleasant surprise!) or palinka the Romanian spirit that will boost your apetite & warm you up!
Brasov is also known for its fusion cuisine restaurants, some of the best in the country! First on our list is Casa Hirscher, a cosmopolitan, elegant and discreet restaurant that brings the food experience to a whole new level. Poarta Schei 4 and Bistro Del'Arte are two other great places to eat
budget-friendly but belly-filling options include Pizzeria Della Nonna, La Birou Bistro or Old Jack Burger House where a meal for 2 and drinks will cost around 15-20 Euro; don't miss trying traditional street food snacks - we are a nation very fond of our pretzels, cheese, meat, mushroom or jam filled pastries called merdenele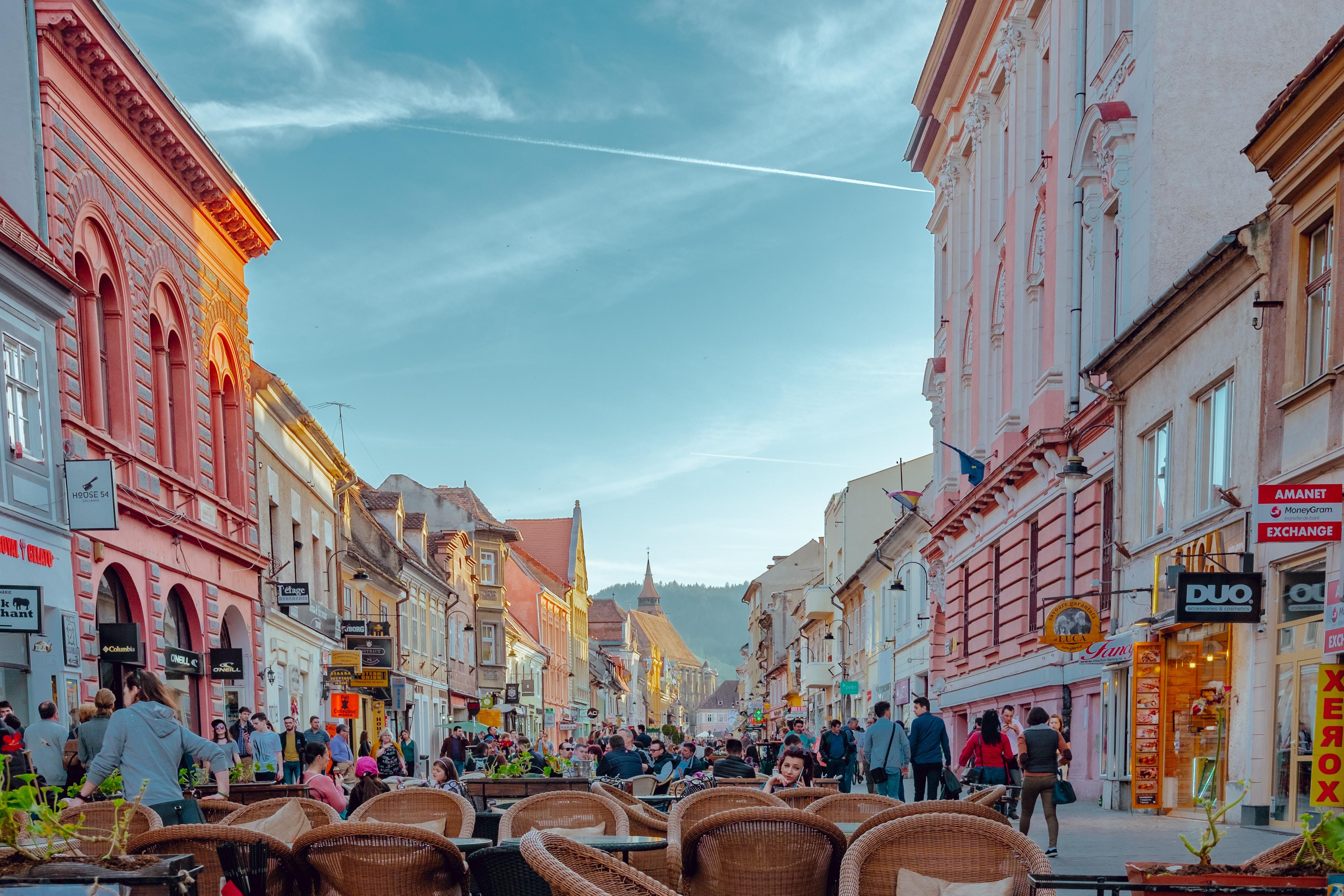 6 Best places to go out for coffee and drinks in Brasov
Besides eating, Romanians like to drink – coffee and alcohol especially :) The going out scene in Brasov is hip, modern and cool so you should try to experience this culture when there. Here's a couple of suggestions:
Romanians love sipping on coffee and Brasov has plenty of small cozy coffee shops: try Croitoria de Cafea, Cafeteca, or Habitat Concept Room staffed by true coffee (and tea) connoisseurs; check our list with the best coffee shops in Brasov to find out more
we like our drinks just like we like our coffee: regularly! If you're looking for a fun night try The Publick Café and Pub – their cocktails are rumored to be the best in town! For Sale and The Jar Bar & Pub are two other places we like to go out
nightlife in Brasov happens on Fridays and Saturdays so check out the following clubs: Times Pub, Deane's, and Rockstadt
7. Where to stay in Brasov & budget
As Romania's #2 tourist city, Brasov boasts a wide range of accommodation: hostels, affordable guesthouses, medium-priced hotels and apartments, fancy hotels or boutique stays in medieval townhouses. Check Booking.com or AirBnB to find the best for you!
Keep in mind that Brasov has lots of tourists during July - September and in December so we strongly recommend you book your stay and activities Restaurant and accommodation prices are quite high during peak tourist season, but you can still find good deals if you venture on side streets a bit further from the Old Town area. Plan for a budget of 30 – 50 Euro/day/person for everything.
8. Getting to Brasov & public transport
Brasov doesn't have an airport but it's well connected to Bucharest, Sibiu, Cluj and Iasi by train and roads. Getting from Bucharest Otopeni Airport straight to Brasov is easy via shuttle transfers (check here) and there are more than 10 trains running daily between Bucharest – Brasov; a ticket costs around 10 Euro/way.
Getting from Cluj-Napoca to Brasov is easiest by train, and same from Sibiu but from here you can also take a bus. Check our guide on public transport in Romania for more info. The road connecting Brasov to Bucharest is usually crowded and during holidays or weekends it can get VERY busy, so plan ahead or get a guide-drive that is experienced in navigating Romanian roads.
Taxis in Brasov are reliable and relatively cheap for short distances: CrisTaxi with a 1,99 Lei/km rate and FloTax with a 1,93 Lei/km rate. Uber also works in Brasov as does Clever App which is like uber but for classic taxi cars.

***

That's it - lots of reasons to visit Brasov and spend a couple of days there! If you have more questions or need help with planning your trip contact us - we're happy to help!
Your Romanian Friend
Other categories
Other tours nearby