If you're looking for the best coffee shops in Bucharest, Cluj-Napoca, Brasov, Sibiu or Timisoara -- this article is for you! As a local – and tourist guide traveling all over the country – I know the best places with delicious, fragrant and perfectly roasted coffee in Romania's main tourist cities. And when I tell my tourists they're going to have the best coffee on their holiday – they're often surprised by how right I am!
In the last 10 years lots of specialty coffee shops popped up opened by young baristas turned entrepreneurs who source high quality coffee beans from Brazil, Columbia, Guatemala or South Africa and use the best roasters and espresso machines in the industry to raise the standards of what having a 'good coffee' means. When you go into one of these top rated coffee shops, having a coffee will be an experience. Here's what the barista will ask you:
would you like a Cortado? Flat White? V60? Aeropress? Siphon?
single or mixed origin? Flavorful, aromatic or strong?
regular, low-fat or vegan milk? frothed or just warmed?
Romanians always loved drinking coffee as a way to socialize and spend (or waste!) their time. It's part of our Latin DNA! But the hip and affluent young corporate middle class wanted something different than the coffee from moka pots so beloved by their parents during communist times or the typical but tasteless espressos from Lavazza, Segafredo or Illy served by all other restaurants and bars.
So now if you go through the Old Towns or city centres of Romania's major tourist cities you'll notice lots of coffee shops with beautiful interiors, chill out music and a luring smell of freshly roasted coffee. And if you, like us, want to have but the best coffee – then check out this list with the best coffee shops!
Let's find out what makes these coffee shops so good and an ideal place to use your instagram story maker to show off your travel adventures!
Best coffee shops in Bucharest
Origo Coffee Shop delivers cutting-edge coffees with a local atmosphere while being a short distance from the touristy Old Town on Lipscani 9. Opened in 2013, the café itself is small inside with a few tables outside. But thanks to its delicious coffee and fantastic word-of-mouth reputation, it has become popular with both locals and visitors, with crowds spilling out onto the cafe's sidewalk. So it's a great place to grab a coffee and go explore the many things to do in Bucharest, - perhaps enjoying it in nearby Cismigiu Park?
Origo also prides itself as having the best selection and sources of coffee beans and supplies many of Romania's best specialty coffee shops. Its coffee beans from African countries and South America are freshly roasted offsite and delivered to the shop where the Origo team brews coffee using a variety of methods such as Hario V60, Aeropress, Chemex, and Siphon.
As it's one of the oldest specialty coffee shops in Romania, Origo is said to have the best coffee in Bucharest and in the entire country. Go for yourself to find out! Aside from its extensive coffee menu, they also offer a modest breakfast and dessert menu during the day and a special cocktail menu at night.
Beans + Dots is one of the few Romanian coffee shops importing coffee from Berlin's famous The Barn roastery. If you've visited European cities such as Berlin. Lyon, and Dublin, chances are you've tasted The Barn's delicious coffee beans, and you can do that again in Bucharest, on Ion Brezoianu, 23-25.
This is the perfect place to sip your morning coffee or try a delicious tart, all while observing Bucharest's creative scene. It's also a favorite of digital nomads or remote workers looking for a coffee shop to work from in Bucharest. Hosted in an impressive building with lots of other shops inside, be sure to head out to Beans + Dots' amazing terrace regardless if it's brightly sunny or pouring rain – you won't regret it!
Pergola is a renowned restaurant on Doctor Frederic Joliot-Curie, 1, but once you get there you'll quickly understand that food is not their only specialty. It's considered one of the hot spots for socializing in Bucharest's Cotroceni area thanks to its amazing coffee from Dropshop – a Bucharest-based roastery launched a few years ago and that has since become a favorite of coffee enthusiasts.
If you're looking for a place to stay in one of Bucharest's most popular neighborhoods to go for a walk – Cotroceni is a hidden gem for most tourists – you will be happy to know Pergola is also a boutique hotel and their rooms are among the prettiest you will find in the city. And in the weekend their bar is pretty lively and is one of the coolest places to go out in Bucharest. What a great combination!
Trofic, a bright and stylish coffee shop located at 29, Ion Brezoianu – the newly established center of Bucharest's Creative District – proudly displays its Synesso espresso machine which fits perfectly with the coffee shop's modern design.
The baristas are world-class and the artisan coffee beans come from Origo which means you're sure to get an amazing coffee. They also serve some of the city's greatest brunch dishes at reasonable prices. Their aim is to offer customers the perfect lunch break experience – delicious food, exquisite coffee, and a to-die-for cheesecake.
Teto is a coffee shop with a minimalist design and lots of positive energy generated by its friendly young staff. Their coffee also comes from Dropshop as they're looking to support local roasteries and promote a delicious coffee experience.
Since coffee is always better when it accompanies good food, Teto also offers an amazing food and dessert menu sourced from local producers. They have two locations one on Șerban Voda, 180A and one on Corneliu Coposu, 1D – two of Bucharest's urban hotspots close to tourist attractions too.
Best coffee shops in Cluj-Napoca
Opened in January 2016, Roots is considered Origo's main challenger for the titles of best coffee shop in Romania. Something like a Pepsi and Coke rivalry, but not quite. Besides being the most popular coffee shop in Cluj-Napoca, Roots is also an amazing breakfast and brunch spot. Though located in the city center right next to the town hall and across the main square, the place is cozy and welcoming – but quite small and always crowded. So why not grab your coffee to go and sit outside on a bench while planning your next thing to do in Cluj-Napoca?
In fact, Roots serves delicious single-origin coffees sourced from Origo but prepared in their own unique way. Their baristas are coffee experts who want to teach their customers what it really means to appreciate and know the flavor of a good coffee – so they'll ask questions trying to figure out what's the best coffee for you!
Located on Eroilor Boulevard, 49, Narcoffee is more than your typical coffee shop. With an industrial design, hipster vibe and a branding that hints at coffee scientists, Narcoffee has become a well-known coffee roastery and business with five locations in Romania (all in Cluj and Bucharest) and one in Prague.
Since its debut, Narcoffee's mission has been to source quality specialty coffee beans from throughout the world, roast them in small quantities at their roastery in Cluj-Napoca and prepare exquisite specialty coffee. This way, their customers get to enjoy fresh espressos and cappuccinos every day, learning what specialty coffee truly means. If you try Roots, Narcoffee and Meron – you can safely say you've had the best coffee in Cluj-Napoca!
Undoubtedly one of the most successful and best specialty coffee shops in Romania, Meron is leading the development of coffee culture in Romania. With almost 20 locations all over the country (10 in Cluj-Napoca, 2 in Oradea, and 1 in Bucharest, Brasov and Alba Iulia), Meron is recognized for its passion for coffee, exceptional service and beautiful locations. Its baristas have consistently won awards at national and European competitions.
Sourcing coffee beans from all over the world to roast in their laboratory, at Meron you'll find a selection of coffees, teas, small snacks and deserts that will make your stomach happy. And their cafes are a favorite for remote workers. And with so many locations – it's impossible not to have the best coffee in Cluj-Napoca!
Olivo Caffe is set to offer customers amazing experiences all day long. In the mornings and at lunch, you can serve their single-origin coffee and indulge in some sophisticated meals prepared with utmost care. You can also join them for a glass of wine in the evening, and an elegant dinner meant to delight your tastebuds. With its varied menu and spacious location, Olivo is a proper café. It's also a favorite for remote workers!
Their coffee is cultivated in perfect soil at over 1000m altitude and brought to Cluj-Napoca where it's locally roasted. Their grinder, espresso machine, and skilled baristas know how to perfectly extract the coffee's flavor no matter the type of caffeinated drink you prefer.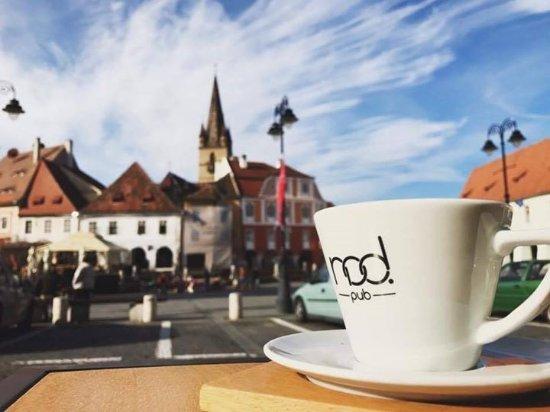 Best coffee shops in Sibiu
With so many cafés and places to eat in Sibiu's Small Square, it's tempting to believe NOD is just another typical coffee shop. However, despite its small size, NOD is a favorite place for locals to hang out who say it's the best coffee shop in Sibiu. Their creamy cappuccino, outstanding craft beer and selection of premium wines (all of Romanian production – so a great place to learn about Romanian food) are just a few of the things you'll enjoy here.
If their coffee and drinks menu is not enough to convince you, maybe the fact that they organize events frequently and offer one of the best views of Sibiu's Small Square while you can blend in with the locals will.
Well, with this name you can expect one of the best coffees in Sibiu – or at least that's what the owners want! The helpful baristas will ensure that you have the perfect coffee to delight your tastebuds. They make genuine art out of the coffee-making process by using only Arabica coffee.
Hug the Mug also offers teas, hot chocolate, and fully-flavored frappes, as well as the option to take your cup to go. I like how they don't discriminate based on the contents of the mug you're hugging! After all, their aim is to bring people together and create a cozy and cool place to socialize so you can expect a buzzing atmosphere at this coffee shop!
AMPM is close to the Bridge of Lies, one of the most popular tourist places in Sibiu. So why not grab a quick delicious coffee to go? Or grab a bite if you're hungry from all the visiting. Or drop by in the evening for some amazing cocktails.
Their specialty coffee is sourced from Dropshot and they have an amazing staff that can prepare any caffeinated drink you can think of. Take your coffee to go with a yummy tart and enjoy it on a bench in one of Sibiu's squares, or sip it out of a cup inside their beautifully designed shop – it's going to be amazing no matter your choice!
Best coffee shops in Brasov
Situated on Johannes Honterus, 3, CH9 aims to bring specialty coffee to the heart of Brasov. They mainly serve delicious locally roasted coffee coming from Sprired Roastery but also bring in products from guest roasteries from all over the world. Locals love it for the variety so it's one of the most popular coffee shops in Brasov!
If you are eager to try some of their more interesting coffee specialties be sure to ask the skilled baristas to recommend something based on your preferences – strong, aromatic, flavorful. So while exploring the many places to visit in Brasov make sure to do quick pit stop at CH9 to recharge with a creamy cappuccino, flavorful espresso or amazing blends of tea.
If you'd like to enjoy a great cup of coffee in an inspiring space filled with books and a toned down atmosphere then Book Coffee Shop on Republicii street is the place for you. Besides encouraging people to read a book and take things slow, this coffee shop will also tell you stories. It could be about the origins of their coffee, their incredible teas, the various ways you can prepare and enjoy them, or the local artisan that makes their delicious sweet treats that you can also have.
When I'm in Brasov and looking to relax after time spent on the road, their coffee and banana bread never disappoints!
Croitoria de Cafea – which translates to "The Coffee Tailoring House" – is a beautiful spot for people who enjoy sipping coffee and tea in a relaxing environment. They roast coffee beans on site so their café is filled with the aroma of freshly roasted coffee which is a major plus if you're looking for the best coffee experience in Brasov.
Their freshly, fully-flavored coffee will release a plethora of scents with no added sugar. If you're unsure what to get or what flavors to expect, just ask the friendly baristas who will gladly assist you. If you are not that really into coffee, their matcha latte is a must-try and if you like sweets their homemade pastries on display will surely tempt you.
Best coffee shops in Timisoara
As soon as you set foot in Ovride's shop you will notice the space has a lot of personality and brings something unique to the table. Located conveniently in Timisoara's Liberty Square, getting a coffee from Ovride which locals say it's the best cafe in the city, will be a memorable experience for you. They bring specialty coffee from roasteries all over the world so you'll have the chance to discover some very unique varieties.
Besides coffee, many customers enjoy their amazing waffles, sandwiches and teas which are perfect after a day spent exploring the top attractions in Timisoara.
Mokum Cafe is a tiny, unique and some say the best coffee shop in Timisoara. You will step into the interesting world of coffee as soon as you open the door and learn more about the origins and many ways to enjoy this brew. Sumatra Mandheling, Legend of Yemen, and Guatemala Antigua are just a few of the specialty origin coffees they provide.
Coffee connoisseurs will definitely be glad to learn Mokum Café may have a fresh cup of Kopi Luwak, the world's rarest coffee. They also serve creamy homemade pastries and crisp croissants to go with any type of coffee you choose.
Roasterra is located in Timisoara's Union Square, so you can't miss it if you are looking for a great place to enjoy a delicious cup of coffee. Their coffee is locally roasted and fresh which is why lots of locals buy coffee bags from them – and you can too. If you are a fan of Arabica specialty coffee, you will find Roasterra a true piece of heaven.
Albeit they specialize in coffee, you can also enjoy a variety of teas at Roasterra as well as a selection of sweets designed to go with your caffeinated weapon of choice.