Guides to Major Cities and Regions
Cluj-Napoca City Guide: Best Things to Do & Places to Visit
Cluj-Napoca (or simply Cluj) is Romania's second-largest city with a vibrant personality: young-hearted and always up to something, a major cultural and university hub full of creative energy and good vibes!
With a mix of medieval landmarks, architectural jewels, trendy urban hotspots and numerous events, Cluj is a laid-back city where people live unrushed - despite its fantastic growth since Romania joined the European Union in 2007. La Cluj - as locals say in Cluj - is slower.
It's also one of the most visited cities by tourists since it's ideally located in Central Romania which makes it a good base to explore the famous regions of Transylvania, Maramures and Bucovina. And you'll find lots of low cost flights from all over Europe to get here!
check our practical travel guide on how to visit Romania for the first time to make planning your trip easier
p.s. we're not big fans of the disconnected listicles 'top things to do' that most people write. So instead we wrote this travel guide with sections where we listed the best things to do, popular tourist attractions and local favorites.

So, without further ado, let's dive and see what are the best things to see and day trips in Cluj-Napoca for your holiday.
1. What makes Cluj Napoca worth visiting?
Why do locals all over Romania talk about the friendly people and easy-going vibe of Cluj-Napoca?
Simple: it's a bustling university city with a creative spirit, a down-to-earth attitude about work and a 'chill' vibe - in contrast with the hustle and bustle, 'always in a rush' people in Bucharest.
Locals here are and it will be easy to interact with them – on a walk through the city, in a coffee shop serving specialty Ethiopian single origin or at one of the famous Romanian festivals taking place in Cluj like the massive Untold festival, the alternative Electric Castle or Transyilvania International Film Festival where some of the best Romanian movies have premiered.
There are many things to do in Cluj because the city is the unofficial capital of Transylvania. Historically, Cluj has always been a cultural and political center in Romania.
Romanians, Hungarians, Germans and other minorities, with all their customs, faiths, ways of life and typical dishes have peacefully coexisted here for centuries. So learning about local culture is one of the best things you can do here.
Then there's also the Central Park, a hotspot for local life, the Botanical Garden, the best in Romania and Cetatuia Hill with its great view of the city, to satisfy your needs for 'nature in the city.'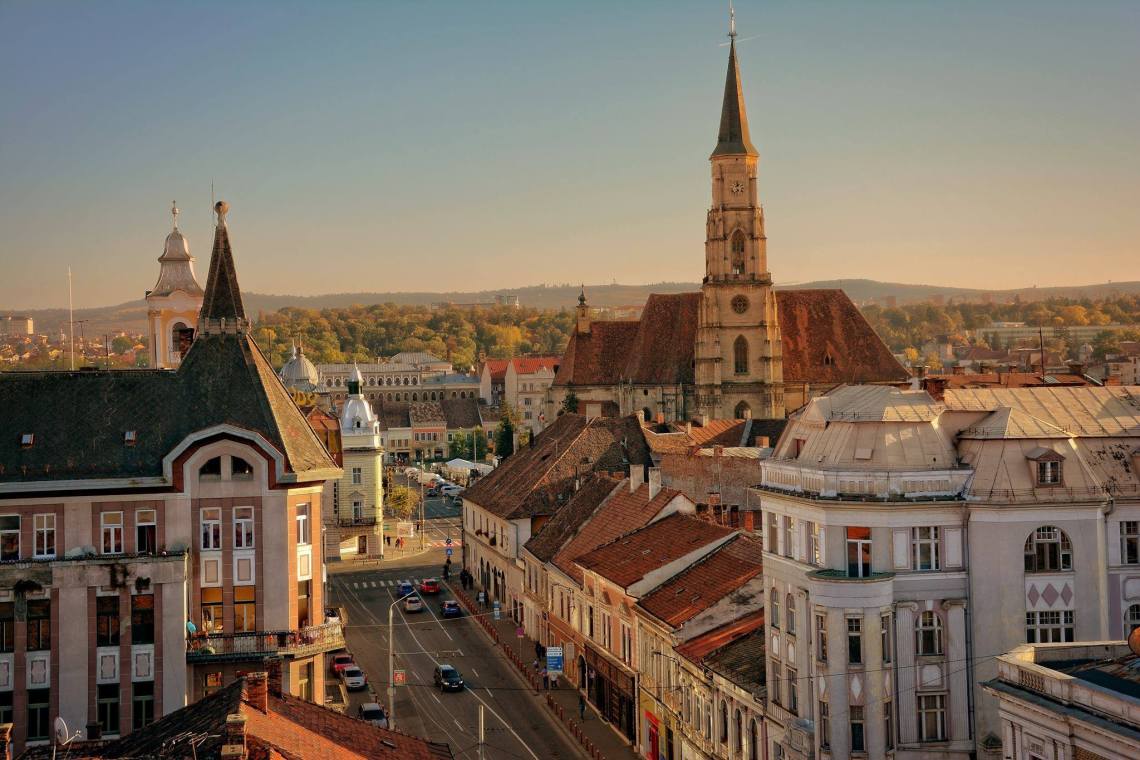 2. Discover the best places to visit in Cluj Napoca
The best way to do some sightseeing and explore Cluj is on foot because the city's landmarks and best places to see are located close to each other in the city centre. In fact, the city's layout is a huge East-West axis so I suggest you start your walk either from Central University Library or Avram Iancu Square.
Starting from the latter you will notice the massive Orthodox Cathedral (which you can visit) and the statue of Avram Iancu (a major figure in the history of Transylvania).
The beautiful building opposite is the National Theatre and Opera House with a superb architectural mix of Renaissance-Baroque-Secession, common for many important buildings in Western Romania thanks to Habsburg and Hungarian influences.
Next, continue your walking tour on the wide and busy Eroilor Boulevard the main street in Cluj where locals love to go for a walk and hang out. You'll also pass by some of the city's oldest buildings, like the Old Town Hall. Many of them date back to the 16th century when Cluj experienced an economic and cultural awakening and they are major attractions for tourists due to their unique architectures.


Local tip: while here, take your pick from some of the most popular cafes and bistros which make for a great place to experience the city's local life: Olivo, Koffer, DOT, A la Tarte, Meron or Eggcetera

If you are into architecture then you'll notice how the style changed from constructions that survived from the Renaissance period to the more elegant 19th century buildings found in the city center and around major squares. Great spots for those passionate about aesthetics, history and photography!
Continue your walking tour until you reach Union Square (Piata Unirii) with its massive St. Michael's Church, an impressive Gothic landmark and one of Cluj's most popular tourist attractions, and the imposing Matthias Corvinus monument in the center. Lots of local events and festivals take place in the main square but if not - enjoy the open space and take a look around: no one here is in a rush, locals smile, go slow and like to grab a their coffee and enjoy it in the sun.
And so should you!


Local tip: notice the details of the imposing statue of Matthias Corvinus, a famous Hungarian king born in Cluj Napoca (then Kolozsvár) in the 15th century.

The history of Hungary and Romania is intertwined administrative borders or nationalist rhetoric. If you want to learn more about the history of Cluj-Napoca and Transylvania, one of our guides has a degree in history and is eager to show you around and tell you more:

Next on your walk should be Central Park (Parcul Central) where you'll see people laying on the grass, hanging hammocks and enjoying life. Go for a walk around Chios Lake too. If there are no local fares in Union Square, maybe they're here, especially during Summer.
The park is closed during Untold festival and I generally you visit Cluj Napoca during that time since it's super crowded and expensive.


Pro tip: at the end of Central Park towards Cluj Arena you'll find local stalls who sell typical Romanian street food: langos (fried dough topped with sour cream, cheese and garlic sauce), kurtos kalac (sweet bread with topping), cotton candy (a staple of Romanian childhood) and machine-made instant icecream, my favorite :)

Across the road near the Mill Canal you'll find lots of beautiful well-preserved houses built between the Two World Wars. If you continue your walk you'll eventually reach the Somes river promenade, another local life hotspot.
If you want a great view over the entire city you should cross the river and go up to Cetatuia Hill the perfect place for a panoramic view of the entire city and surrounding hills! You can get there on a short hike going through Cetatuia Park but also by grabbing a taxi. And sunsets here are spectacular and you can enjoy them with a drink at Pergola Cafe.
3. Thirsty for culture?
Then you're in the right place. Thanks to its rich multicultural and humanistic history, Cluj-Napoca was always a place renowned for its culture, interest in humanities and arts. You'll often visit places including restaurants and cafes where you'll get a sense of how important culture is for one of Romania's biggest cities.
Here's a short list of the best attractions for art and culture in Cluj:
the Romulus Vuia Ethnographic Park the first open-air museum in the country where you will get a taste of rural Transylvania: traditional houses, rural technical installations and wooden churches, and lots of green spaces where you can even chill or have a picnic (closed November - April)
the Ethnographic Museum of Transylvania the in-door brother of the above, where you'll discover clothing, household and decorative items, lots of pictures and literature from past times
the National Museum of Transylvanian History with a focus on history and archeology, with objects and artefacts dating back to our ancestors, the Dacians
Cluj is also known for its
artsy vibe
where, besides classical arts, contemporary and modernist artists are also featured. Also photo expositions are regularly on display in the main squares or even in cafes. The best places for art lovers are:
the National Art Museum where there are various art exhibitions all-year long
the Matthias Corvinus house
small art galleries in Cluj such as Iaga Contemporary Art
lots of events and local artisan fares (eg. ZAIN) where artists and craftsmen are promoted
many cultural events: Transylvania International Film Festival (TIFF), Jazz in the Park to name a few
Fabrica de Pensule and Centrul de Interes used to be on the list but closed during Covid, but we hope they'll reopen

And since we can't separate Transylvanian culture from its multi-faith background, there are some religious sights worth visiting besides the Orthodox Cathedral and St. Michael's Church. All of them are located in the city center:

the Franciscan Church (with an amazing, long history)
the Assumption Cathedral also known as the Dormition of the Theotokos cathedral (a great example of Byzantine architecture adapted to 20th century construction exigences)
the Reformed Church
the charming Face-to-face Greek-Catholic Cathedral (my favorite, since I got married here :)

Finally, you should consider visiting the Botanical Garden in Cluj-Napoca, the largest and, according to some, most beautiful in Romania. Besides the Rosarium in front of the building, a rose garden with many species, it has many unique sights like the Japanese garden and the Roman garden, both exquisite, which make this an interesting place to visit.
Springtime is the best time to visit it since over 40.000 tulips are on display, making it one of the biggest tourist attraction in Cluj. Find out more and about visiting hours on the official website.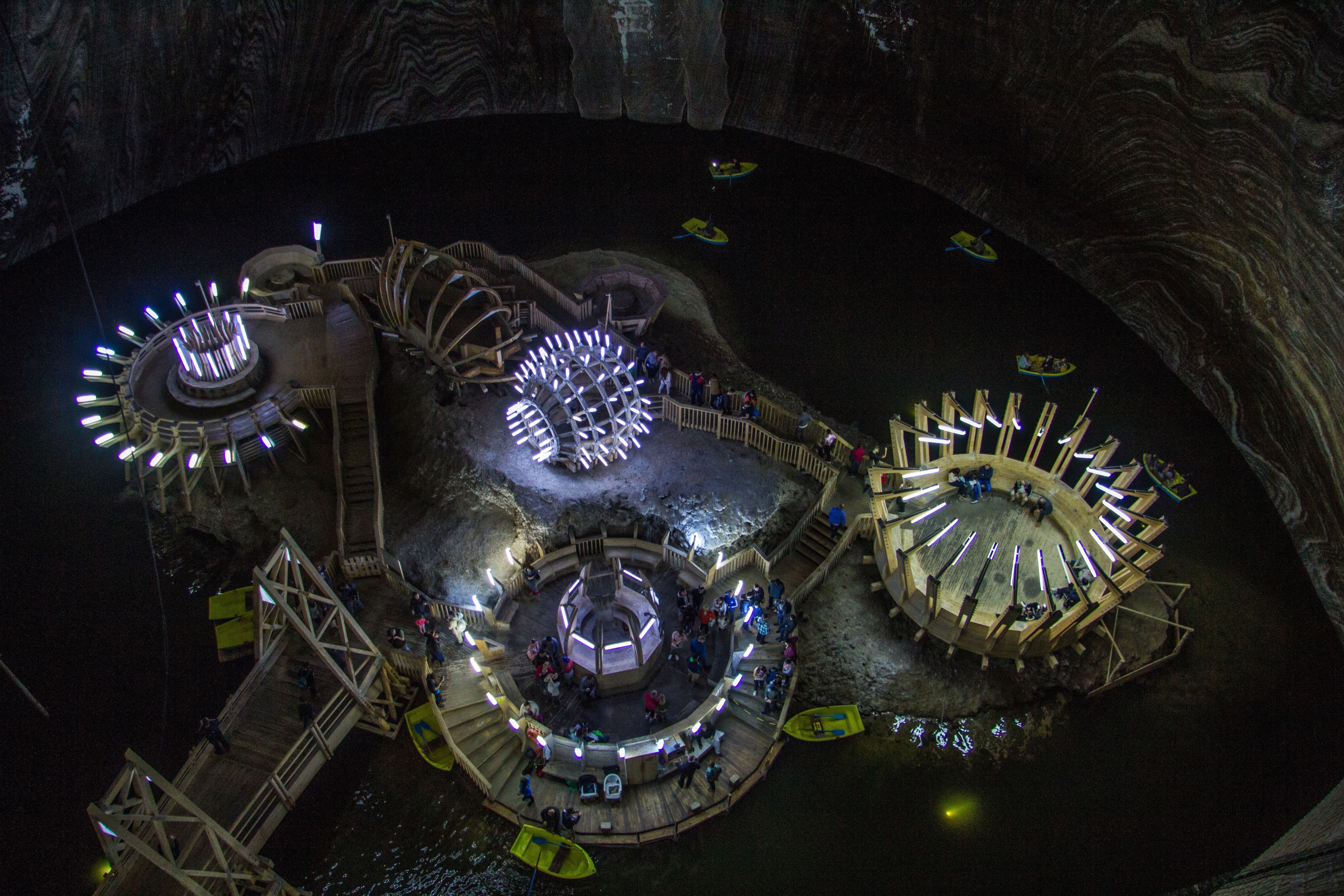 Turda Salt Mine is one of the best attractions you can visit near Cluj-Napoca


4. Day trips from Cluj-Napoca to visit Transylvania
Thanks to its location and well connected public transport, the city is a very good base for the many things to do in Transylvania and for visiting places harder to get to from Bucharest or other parts of the country. So going on short trips to discover Romania's attractions is one of the best things you can do while in Cluj!

Undoubtedly the main attraction near Cluj-Napoca is Turda Salt Mine. Business Insider named Salina Turda as #1 underground locations to visit with beautiful scenery thanks to artfully placed lighting installations.
Besides breathing salty air which is good for your lungs, there are some awesome things you can do down there too: imagine a 2,000 year old mine dating back to Roman Empire times with caverns so huge an underground Ferris wheel could be installed! Or boat rides on an underground lake. Wait... what?
Corvin Castle, the best preserved medieval castle in Eastern Europe

Corvin Castle, a 600-year old Gothic castle may not be the most famous castle in Transylvania. It's hard to compete with Bran Castle aka Dracula's Castle close to Brasov! But in our opinion it's the most interesting and authentic medieval castle in Transylvania, with real stories and fascinating legends. Unlike Bran Castle (4h away), Corvin Castle can be easily visited on a day trip from Cluj-Napoca.
On your way to Corvin Castle you can stop at Alba Iulia Citadel. The spiritual capital of Romania where the Great Union of 1918 took place when Transylvania joined Wallachia and Moldova, this five-point citadel dating back to the Roman Empire is worth a short trip.
A typical Saxon village in Transylvania

Among the other most popular places for tourists to visit Transylvania are the famous Sighisoara Citadel and the Saxon villages with fortified churches all part UNESCO heritage. On a day trip to these sights it will be easier to understand the complex Transylvanian history and culture, while admiring the beautiful views the region, famous for its mellow hills and picturesque village life.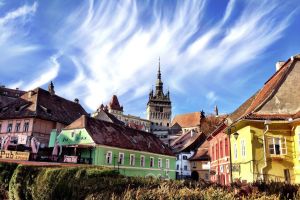 See details
If you're interested in authentic Romanian culture and want to experience the traditional rural life for which our country is so famous for, then Cluj-Napoca is the perfect place to go on trips to discover the traditional regions of Maramures (N-W) or Bucovina (N-E).
Both are equally considered the most authentic and ethnographically representative regions of Romania. They're famous for their local crafts (wood caving, egg-painting), for their many customs and traditions kept alive by locals, including how they dress up in folk costumes to go to church on Sunday.
Besides the jaw-dropping sceneries and homegrown delicious food, each region has many tourist attractions spread across villages in the region. In Maramures you can visit the UNESCO Wooden Churches, while in Bucovina the famous UNESCO Painted Monasteries. Whatever you choose - both regions are fascinating and perfect for slow travel meaning you'll need min 2-3 full days for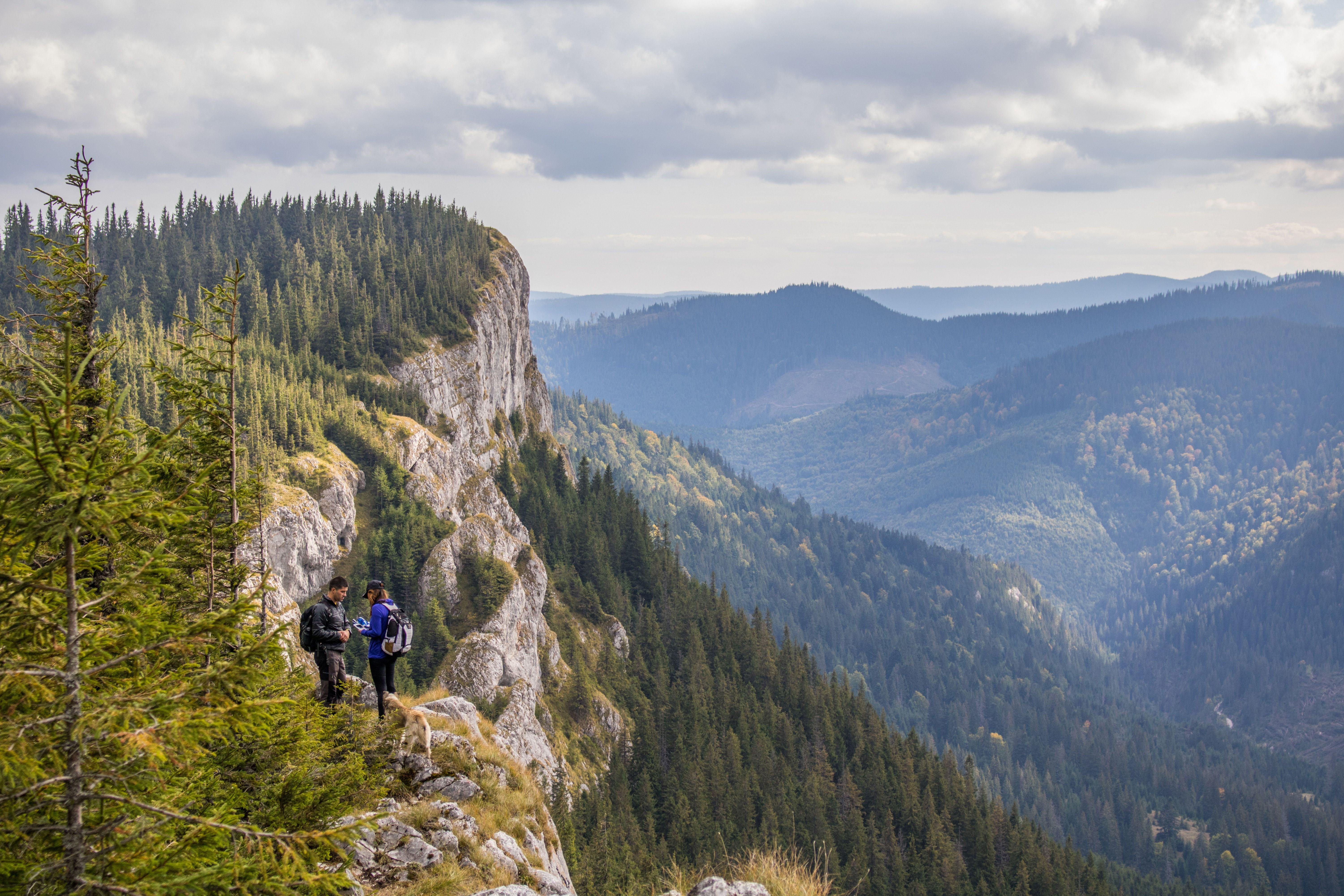 Amazing views in Apuseni Natural Park close to Cluj
One of our favorite and top things to do from Cluj-Napoca - that few people know about - is to go hiking in Transylvania. Our article will tell you more about Romania's huge and underrated outdoor potential.
Cluj Napoca is close to the Western Carpathian Mountains, locally known as Apuseni Mountains. Generally considered as mountains, the highest peaks are Curcubata Mare at 1,849m and Vladeasa Peak at 1,836m which can be summited in a one day hiking trip from Cluj with our experienced mountain guide.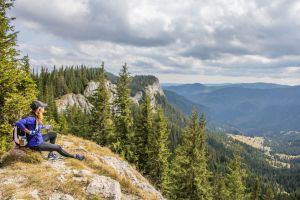 See details
Besides the numerous hiking trails for all difficulty and experience levels, there are lots natural attractions too such as Scarisoara Ice Cave, Rusty Ravine, Bride's Veil Waterfall, White Cliffs (Pietrele Doamnei) and Scarita Belioara Reserve.
These can be seen on hiking day trips or multi-day trips that will also take you through picturesque villages. And there are over 150 caves most of which you can visit and some perfect for caving and speological exploration!
And in Apuseni Mountains specifically in Apuseni Natural Park there is another ethnographically representative region known as Țara Moților where locals live as they used to decades ago, undisturbed by modern civilisation. So besides hiking and visiting natural attractions, this is the best place to experience life in rural Transylvania in an authentic way.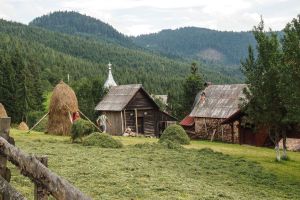 Start from: Cluj-Napoca or Sibiu
See details

Other popular natural attractions near Cluj are Turda Gorges a superb area that will close you off from civilisation with fresh air and lots of vegetation. A hiking trip in Turda Gorges to the top will last about 4h but you can also learn via ferrata with our specialist guide if you're up for it!
Another popular route - though more difficult - is Szekler's Stone (Piatra Secuiului) in the charming ethnic-Hungarian village of Rimeatea. Towering and imposing, this hiking day trip will be rewarding for sure.
Local tip: you may read about Tarnita Lake outside of Cluj; but other than private houses, there's no real infrastructure for tourists to enjoy the area - so I you bother going there.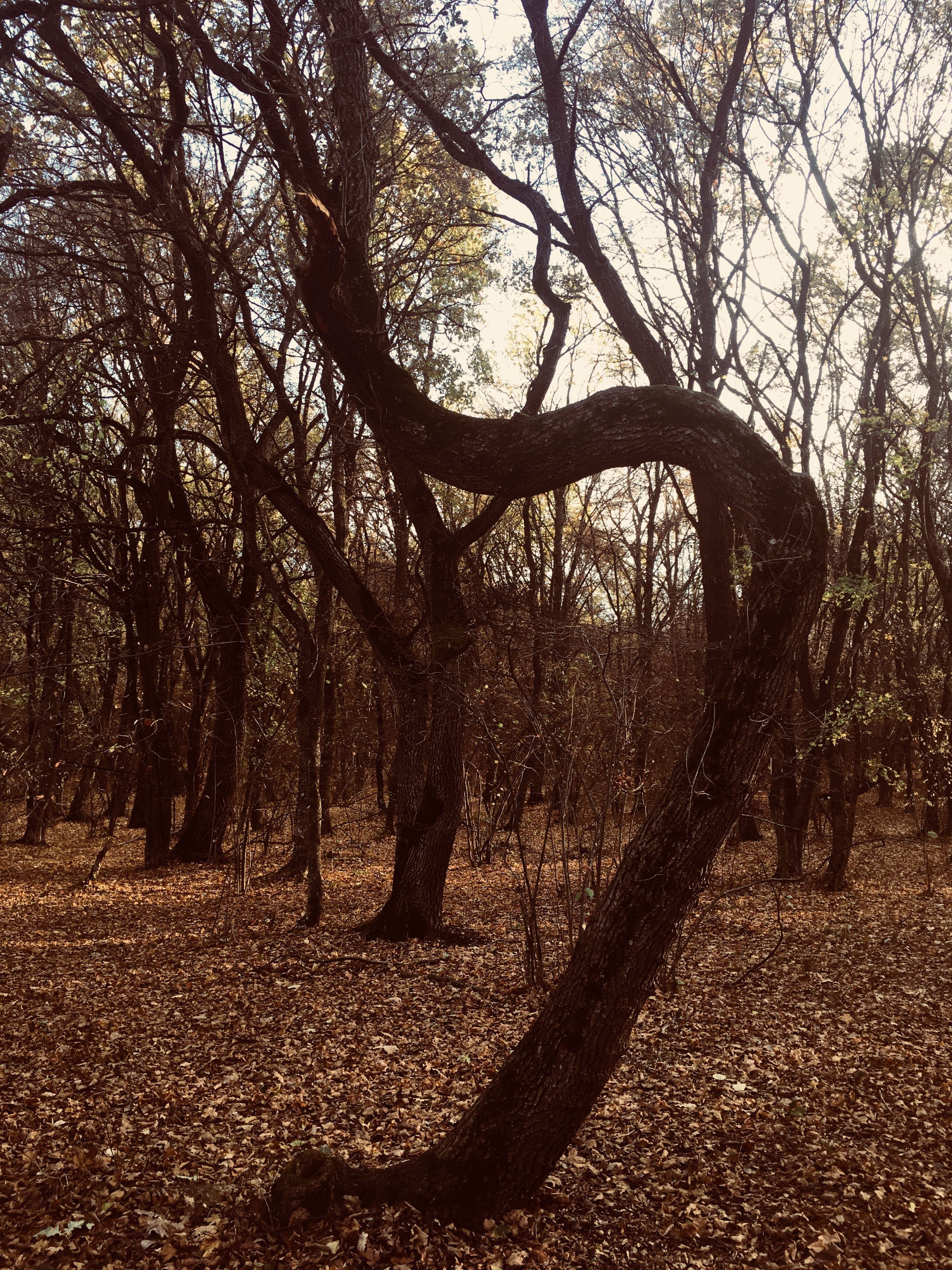 The haunted forest of Romania: Hoia Baciu
Now time for something completely different - did you know there is a forrest near Cluj-Napoca said to be haunted?
It's called Hoia Baciu after a shepherd disappeared here without a trace It's also where UFO sightings were photographed 50 years ago, with strange readings recorded ever since. And vegetation in the forest is... weird. Like, there's a where grass doesn't grow above a certain level. And, obviously, no one mows it!
I know what you're thinking - hard to believe! Same for me until I went with our guide who is super passionate about this attraction on a tour in Hoia Baciu forest with special measuring equipment. I like mysteries and this is by far a unique thing to do and unusual place in Cluj-Napoca!


5. Where to go out in Cluj-Napoca. Best restaurants in Cluj
Ok, back to normal! :)
After so much sightseeing in Cluj and on day trips, you're probably starving! The best places for that in Cluj-Napoca are Museum Square (Piata Muzeului), Union Square (though a little too touristy for our taste) and Potaissa Street. This is where you'll find the best restaurants in the city, with lots of bars, cafes and inspiring terraces.
Blend in with locals and make some new friends. If you're looking for places to go out in Cluj-Napoca, try the fancy menu at Via Restaurant, reinterpreted traditional Romanian food at Zama or delicious pasta at Tortelli. You can also try Casa Boema for Romanian tapas or Baracca for gourmet delicacies. Bulgakov and Casa TIFF are local favorites too.
If you're looking to try Romanian food beyond the typical sarmale (stuffed cabbage rolls), polenta with shepherd's cheese, papanasi (huge desert) and mititei most travel bloggers talk about - one of our guides is also a foodie.
He'll take you to the best places in Cluj to try authentic Romanian food, including a farmers' market to taste local produce, and tell you what local specialties to try. We love these walk, talk & eat local experiences when visiting other cities around the world so we created one for Cluj too: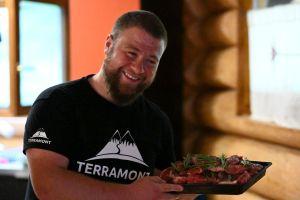 See details

Coffee lover? You're in for a treat! For almost a decade now, Cluj is famous in the entire country for its specialty coffee culture. Popular places to try: Meron, Narcoffee, Olivo, Let's Coffee and Frasca - a small and cozy place that will make you feel like at home and serve gentle low acid coffee.
6. Where to go out for drinks in Cluj
Museum Square is a perfect place to end up for drinks after dinner. For good wines try Crush Wine Bar although most hip bars will serve the best Romanian wines. Try Londoner's Pub or Hemingway's for cocktails and other great things to surprise your taste buds.
Piezisa Street is full of bars, clubs and street food eateries since there's a large student campus nearby – so prepare for a long night of music, dancing, shots and fun! For proper clubbing, check out /Form Space and Euphoria Music Hall who usually have live concerts followed by DJ sets.
7. How to get to Cluj-Napoca
The best time to visit Cluj-Napoca is generally April - September when there are lots of events going on in the city. A city break of 4-5 days is enough especially if you leave 1-2 full days for day trips.
Cluj has Romania's second-largest airport which is very well connected to European cities, mostly with flights from Wizz Air. Check our guide on traveling to Romania for more info on that.
From Bucharest to Cluj-Napoca the best way is to catch an internal flight. By car it may take 7-8h and we don't recommend it (unless you break for one night in Brasov or Sibiu) because driving in Romania long distances is very tiring. There is an overnight train too which takes 10h.
Unfortunately, public transportation in Romania is not very well developed so take that into account when planning your trip.


8. Public transportation in Cluj-Napoca. From airport to city center
From Cluj-Napoca international airport to the city center or Old Town area there are 2 options:

public buses number 5 or 8 that run every 10 min (20 min in weekends) from outside the airport, on the main road; journey time to the city around 30-45 min and tickets cost 6 Lei; you can buy tickets online or from the ticket machine in the bust station;
just outside the airport will find the official line of taxis in waiting, all safe and scam-free; you can even pay by card (just tell the driver before getting in); from Cluj airport to the city center it will cost about 6-10 Euro and take 25 min, depending on destination and traffic (for convenience and speed, this is what we recommend)
The best way to navigate Cluj-Napoca is by foot: the main landmarks and squares are all within walking distance. For anything else, take a taxi (Daniel, Nova, City) for 3,11 Lei / km. You can also use the ride hailing apps Uber or Bolt and pay cash or by card.
For more info on public transportation in Cluj-Napoca check the official website here. Bus and tram tickets cost 6 Lei for two rides but I doubt you'll need to use them. Renting public bikes is, unfortunately, not available for tourists (yet).


9. Where to stay in Cluj-Napoca
There are plenty of places to stay in Cluj around the Old Town area and main boulevards. Check on Booking.com or AirBnb to see options and you'll find everything from hostels to high-end hotels. Prices start as low as 20 Euro / night.
Generally I don't recommend you go further than Piata Operei or Parcul Central since you want to be within walking distance of the city center.

***

So - that's it! All my tips on how to visit Cluj-Napoca like a local with the best things to do in the city, must-see attractions and day trips from here.
I hope it will inspire you to come over for a quick visit – we can even grab a drink in some of the spots I mentioned and I'll tell you more about the best things to do in Romania since I'm so passionate about my job!
Your Romanian Friend
David
Other categories
Other tours nearby

Follow Romanian Friend on:
or
Share this with your friends: