Guides to Major Cities and Regions
Sibiu Travel Guide: Top Things to Do & Places to Visit
Sibiu, Romania is one of the most visited cities in Eastern Europe and for good reason! Dating back to the early middle ages, Sibiu's famous old beauty has been restored in a historic center with main squares that will steal your heart!
Other than that - why should you visit Sibiu?

to see a beautiful Old Town with a mixed cultural heritage
to meet friendly and proud Romanians with a taste for culture, fine foods and slow life
to get lost on small cobblestone streets with lovely old houses, and feel like you've traveled back in time
to discover authentic Transylvanian culture in the traditional villages on the outskirts of Sibiu (Marginimea Sibiului)
It is a 'must see' Romanian city and you'll need about 2 nights to explore it and its surroundings. Besides this Sibiu travel guide, you may be interested in our guide on how to plan your upcoming trip to Romania.
Here at Romanian Friend we want to help you have the best time in our country :) so contact us if you have any questions!
In this travel guide you'll find over 25 of the best things to do in Sibiu and the best places to visit in the city and surrounding area, so let's get started: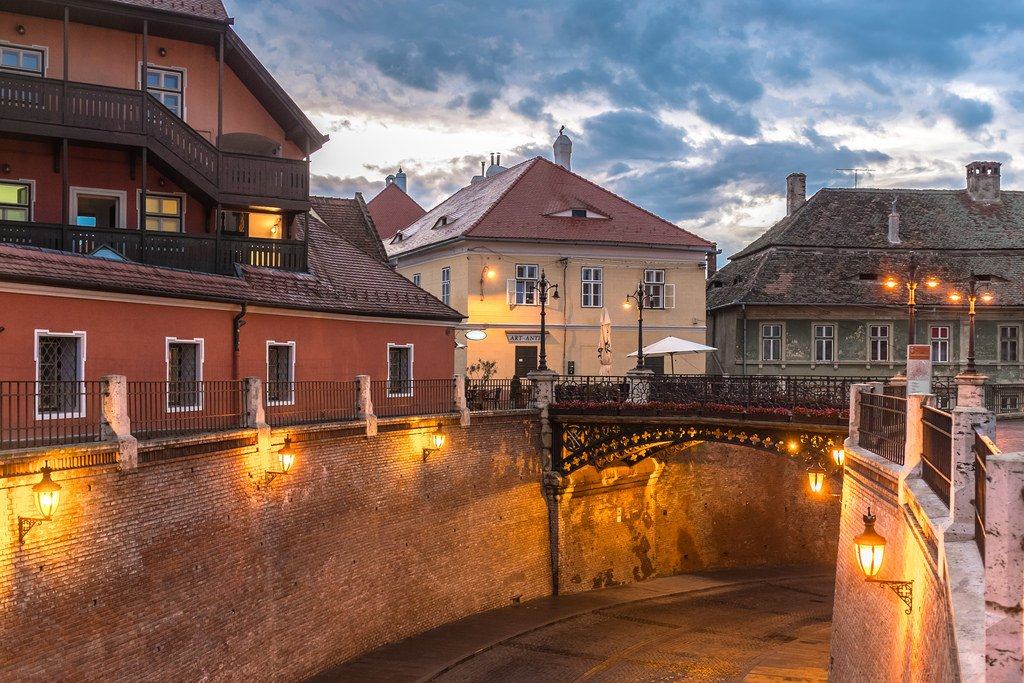 One of the best places to see: the Bridge of Lies


1. Sibiu: a medieval town weekend getaway
The city of Sibiu was the 2007 European Capital of Culture and is featured regularly in major travel magazines and guides such as Lonely Planet for good reason.
It's a beautiful city with a rich cultural heritage home to Romania's oldest museum in Brukenthal Palace and to the highly awarded ASTRA open-air museum.
Ranked as Europe's 8th most idyllic place to live by Forbes (the only one in Eastern Europe!), Sibiu is located in the heart of Romania and South of Transylvania.
In the distance you can see the Carpathian Mountains guarding the city - and eventually go explore them!
The city is filled with warm, welcoming people. Sibiu's Old Town with its stunning main squares called - ready for it? - Large Square and Small Square is one of the best places to see how locals enjoy the good life.
Go on short walks on cobblestone streets where in centuries old townhouses with their famous eyes of Sibiu you'll discover chic cafes and cosy wine bars (one of my favorite things to do).
On narrow streets you're also likely to find some of Romania's best restaurants serving reinterpreted traditional dishes with fresh locally sourced products from farmers in the area such as matured shepherd's cheese, Sibiu salami (a European trademarked product) and more.
The entire city is like an open-air museum and one of the best places for a weekend getaway for those who want to travel back to medieval times.
The city also has a moderately well connected airport - just search for Sibiu Romania to see what you find!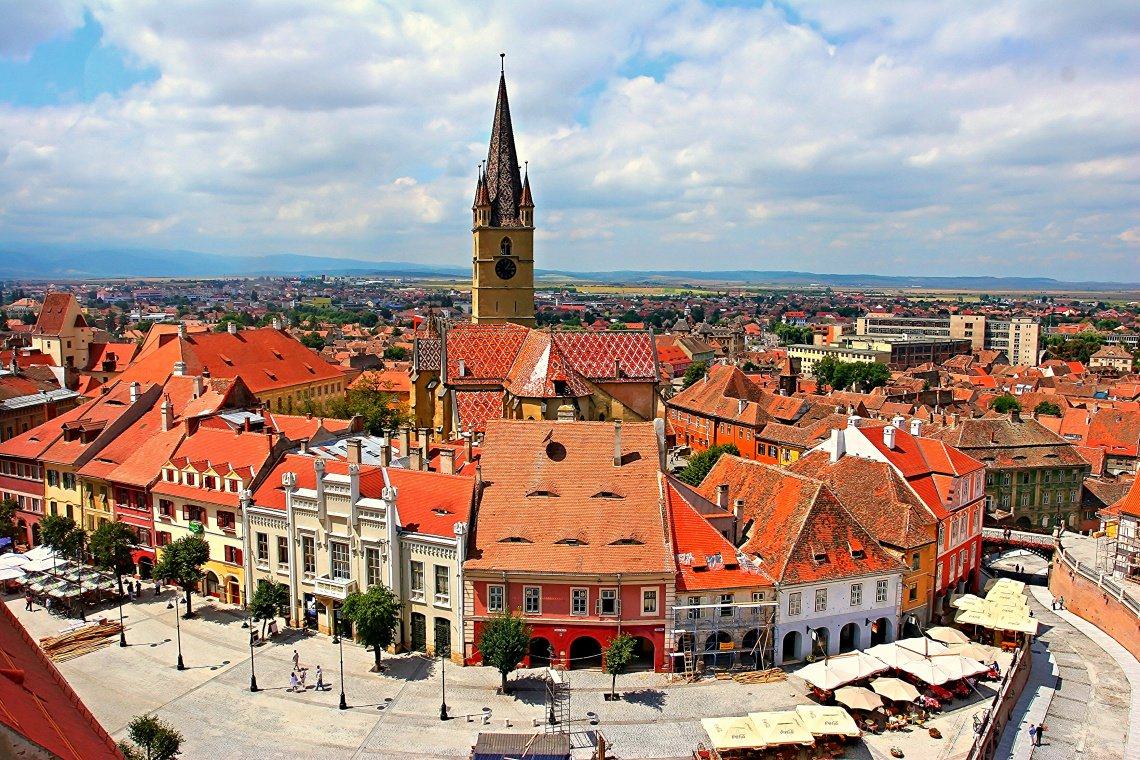 The Small Square in Sibiu


2. The history and cultural heritage of Sibiu
Also known as Hermanstadt in German, Sibiu was one of the seven walled citadel built by German Settlers in the 12th century who came here to defend Transylvania against foreign invaders. That's why you'll see fortified city walls and defense towers in the medieval city!
Similar to Brasov, numerous traders and craftsmen settled here. Due to its location at the crossing point into Wallachia via Olt River valley, it quickly turned into an important trading centre.
But unlike Brasov - the city of Sibiu was the seat of power for the governor of Transylvania when the region was part of the Habsburg empire starting from the late 18th century. So political and cultural life flourished and people from all over the empire came here.
So for a long time the city had a clear reputation as a major political, economic and cultural center in the region. That's how it developed its mixed cultural heritage for which Sibiu is known all over Romania.
That legacy is still alive today and kept by its proud locals: from the very well-preserved Sibiu Old Town with beautiful bourgeois houses to handmade artisan products, clothing and decorations and delicious foods.
From bohemian restaurants and coffee shops to the many cultural events exhibitions and shows that rival those from Bucharest or Cluj-Napoca. It won the cultural European capital title in 2007 when other Romanian cities were just starting to 'freshen up'.


The Sibiu International Theatre Festival brings many street shows


3. Best places to visit in Sibiu
So now let's have a look at the most important historical buildings worth visiting in Sibiu:


Sibiu's Old Town and main attractions
The city's historic center is the main tourist area. As you can already guess, the city's main attractions and best things to do are in this here. You'll know you're inside once you passed the fortified city walls! The Old Town is divided into:
the Upper Town which has the city's to places to visit: Clock Tower, Bridge of Lies, Sibiu Lutheran Cathedral, Holy Trinity cathedral and other historical buildings
the Lower Town once you pass the old city walls and 'go down' you'll find charming old houses, back alleys, lots of coffee shops and some of the best restaurants in the entire city
Most tourists tend to stay in the Upper Town because all the best places to visit are there. But during the Summer months which is peak tourist season it tends to get very crowded.
Local tip: get lost exploring the narrow streets and back alleys in the Lower Town, a place with many urban legends. This is where you'll find the city's authentic vibe with lots of small artisan shops, few tourists and lovely cafes and bars tucked away from the noise.
The main squares in Sibiu
The main squares in Sibiu's Old Town are named simply Piața mare (Great Square or Large Square) and Piața Mică (Small Square). There's also Huet Square for diversity :)
As a side note - I hate going into a new city in these large squares filled with beautiful, imposing buildings - and not knowing anything about them or what they represent! Don't you?
The Large Square was used as a trading spot bringing together all sorts of merchants, craftsmen and traders from the medieval city, the surrounding areas and other parts of Transylvania (especially Brasov, Sighisoara and Cluj-Napoca). It was also where the Infamy Pillar was located where the death penalty was carried out a long time ago.
The Small Square on the other hand was where the second-next tier of influential and rich people lived, and where guilds and groups would meet. Where delegations passing the city walls and the Lower Town would be welcomed. Now it's filled with many restaurants, cafes and small shops.
In Piata Mica as the locals call the Small Square is the Bridge of Lies named after urban legends according to which the bridge has ears. Whenever it hears a lie from people crossing it a piece of its scaffolding or a small rock detaches – thus signaling the lie. Couples often want to pass the test so this is the most Instagram-able hotspot in the city!


Brukenthal Palace in the Large Square
The Brukenthal National Museum is hosted in the palace built by baron Samuel von Brukenthal, a governor of Transylvania when the region was part of the Habsburg Empire.
He had a taste for fine art, culture and education and was also the wealthiest. So obviously he had the most beautiful house in the entire city! But more than that, he had a significant contribution to the development of Sibiu supporting many cultural and education initiatives.
Pro tip: from the late 18th century the freemasons had a lot of influence in Romania; Brukenthal was a master mason and there are lots of urban legends about this; we have a local guide who specialises in this topic and has special visitation rights to the room where the meetings were held... :)

Brukenthal Museum can be visited on your own or on a guided tour. It opened in 1817 making it the oldest museum in Romania!
Besides the exhibits of major Romanian painters, and temporary exhibitions, visitors can also see the personal and impressive art collection of the baron, as well as the famous Brukenthal library.
The museum is spread throughout the entire city and its collections are hosted in a variety of old buildings worth visiting like the Museum of Natural History in an old 19th century building near Cetatii Street.
There is also Brukenthal Palace in the nearby village of Avrig - that was his summer residence. The sumptuous building was restored and turned into a wedding venue, boutique hotel and restaurant and can be visited.


The most famous Gothic-style church in Sibiu, you can't miss the Lutheran Cathedral of Saint Mary in Huet Square. The church tower is 74 meters high and is one of the best places to get a superb panoramic view of the entire city and the area.
Up until the late 18th century all mayors, earls, and important public figures were buried in this historical landmark, the city's main Roman-Catholic Church (unlike most of Romania which is Orthodox). The last person to have this honuor was baron von Brukenthal who died in 1803 for whom an exception was made.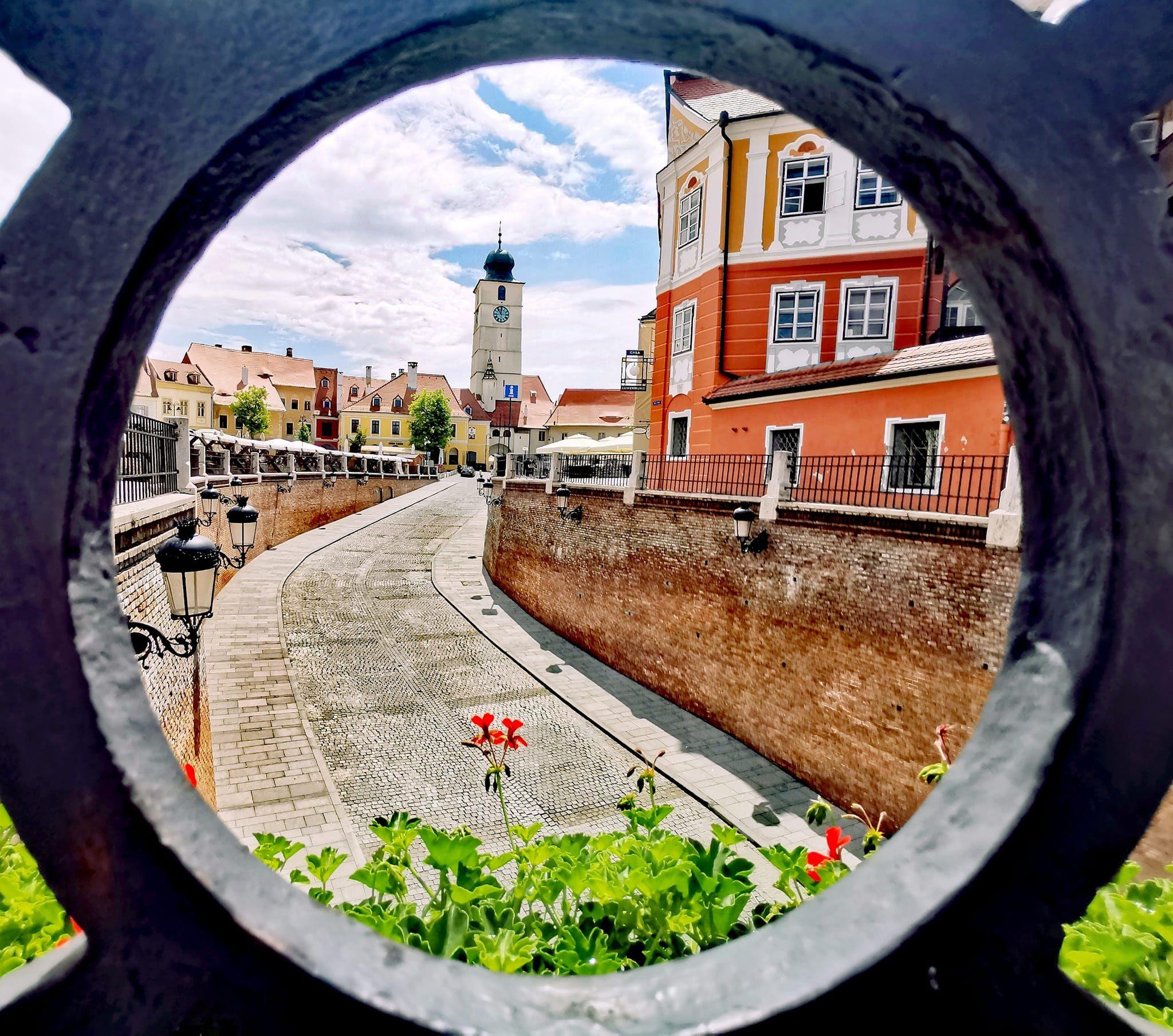 the Clock Tower in Grand Square
The Clock Tower, sometimes called the Council Tower, in the Large Square is a landmark of Sibiu dating back to medieval times. Lots of rehabilitation works have been done throughout the centuries as this is considered the most important landmark in the city.
The ground floor is the only one that has remained closest to its original construction and you'll find a restaurant here.
The tower is open for visitors has 141 stairs you need to climb to get to the top - although I'd recommend the Sibiu Lutheran Cathedral church tower which is worth the extra effort.


Coming from Union Square (Piata Unirii) or Continental Forum Hotel you'll come into Strada Nicolae Balcescu, the main pedestrian boulevard in Sibiu's Old Town. It connects Union Square and the grand square.
If you read a non-local Sibiu travel guide it will tell you this is the most beautiful street in Sibiu - but I disagree. Keep reading to find out one of my favorite places!
It's filled with many restaurants, coffee shops and all kinds of shops and locals love going on slow walks here - and so should you!
But one of the best things you can do here is look up and admire the beautiful buildings. Eventually you'll start noticing that the roofs have openings that locals call the eyes of Sibiu. On a guided tour of all these sights and more you'll find out why!


Strada Cetatii one of the best places to start a walking tour of Sibiu with a corner tower in the background!


4. Explore Sibiu on a short walk like a local
My favorite thing to do and the best way to explore the city of Sibiu starts from Citadel Street (Strada Cetatii) coming from Continental Forum Hotel.
This is one of the most beautiful streets in the historic center of Sibiu. You can see the massive city walls that protected the Upper Town with its corner towers for defence: the Potter's Tower and the Carpenter's Tower.
These centuries old fortifications and the colourful houses right next to them will quickly introduce you to the middle ages vibe that Sibiu is so popular for. The best time for this is in the late afternoon as evening begins and street lights come on - pure magic!
Continue your journey on the picturesque streets and don't miss Schiller Square before joining other tourists heading to the Big Square (Piata Mare on the street signs) that will capture your eyes and heart instantly!
This has been the city's beating heart since the mid 14th century. Lots of events, exhibitions, pop up shows or film shootings are happening here so keep an eye out for your dates!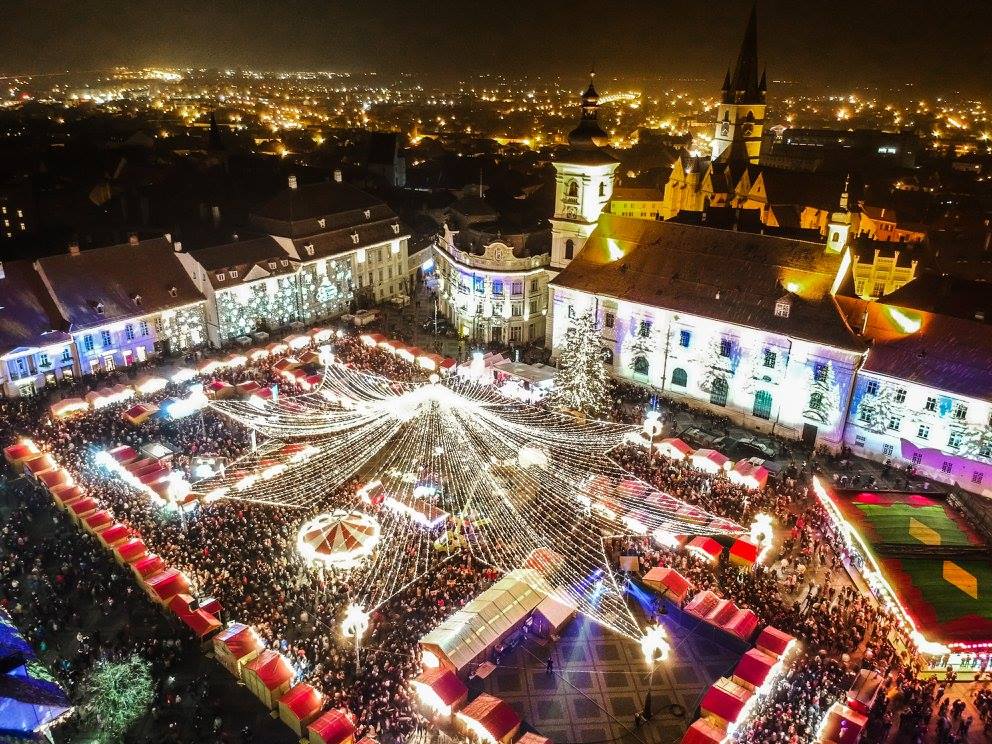 Pro tip: the Sibiu Christmas Market happens in the Large Square and is the best and most beautiful in the country! Visiting it is one of the top things to do if you're in Romania in December!

Back in the large square, the church you see is Jesuit. On its left is the City Hall and further on the left is the Brukenthal Palace.
Probably the most important attraction in the Big Square is the Clock Tower (Turnul Sfatului), a fortification-observation tower from the 13th century with a clock that echoes in the quietness of the city (if you're hiding on a lesser crowded street!).
At the base of the tower is the access passage leading into Small Square. Check the rooftops to see if the eyes of Sibiu are looking at you and head over to the Bridge of Lies (Podul Minciunilor) one of the best places to take a photo of what you've seen so far.
Local tip: during Summer months Atrium Café nearby has live piano concerts in the evening, so make plans for dinner (and a reservation!) - just don't forget the Bridge of Lies is very close :)

From the Small Square you can continue discovering the narrow streets of Sibiu and make your way to Huet Square another small square in Sibiu where you can visit the Evangelical Lutheran Cathedral built in the late 12th century.
When here you may see people in a queue - they're waiting to climb the Stairs Tower. This used to be part of the first wall of fortifications of the medieval town. It's the last of the defense towers still standing which makes it one of the best things to visit in Sibiu if you're looking to historic sights.
From there, the photo-worthy Stairs Passage will take you into the Lower Town which is the main spot where local craftsmen and manufacturers had their shops in the medieval city.
Even today you'll find lots of wonderful handmade jewelry, fashion pieces or decorations. Lots of cute and quirky trinkets too, some typical of Transylvanian Saxons other of traditional Romanian culture.
Pro tip: if you're looking for an authentic souvenir from Sibiu Romania – this is the place! unless there's an artisan fair in the city where you may find more choice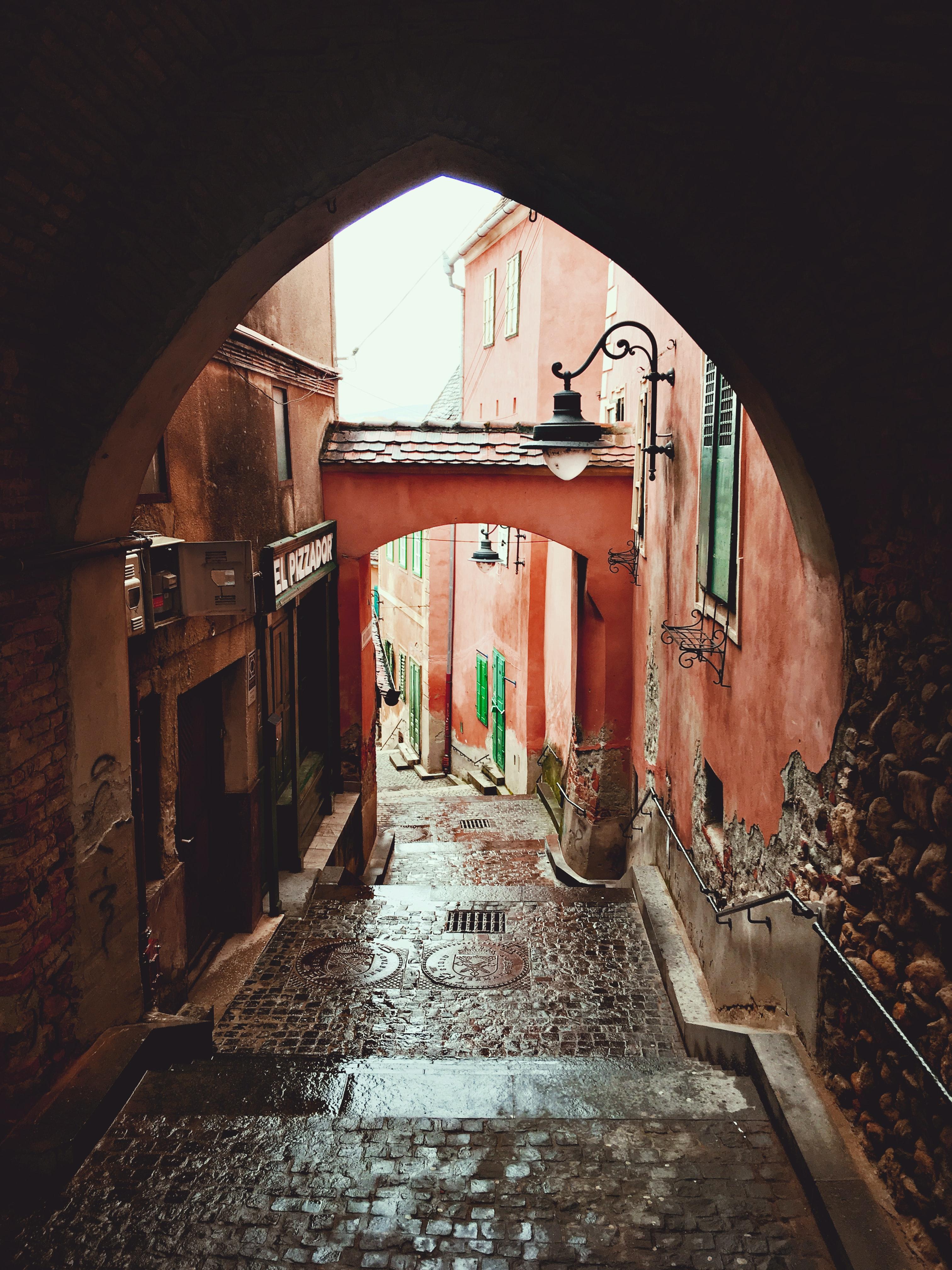 One of the best things to do in Sibiu: travel back in time!

From this point on, you'll have to explore and discover Sibiu's Old Town by yourself. Get lost on narrow streets, admire the beautifully preserved colourful houses and don't be afraid to ask locals for directions or suggestions – the people of Sibiu are very friendly!
The best way to understand the city of Sibiu and see all its best places is with a local guide who knows it inside out. The city's rich history and cultural heritage is much more interesting even if you visit Cluj the biggest city in Transylvania or Brasov, the most popular one.
The famous rural life of Transylvania


5. Activities and day trip ideas from Sibiu
Sibiu is a great place to set up base for a couple of days and experience some of the best things to do in Romania and especially to visit Transylvania since it's ideally located and well connected in the region.
So now let's see some of the best places to visit around Sibiu: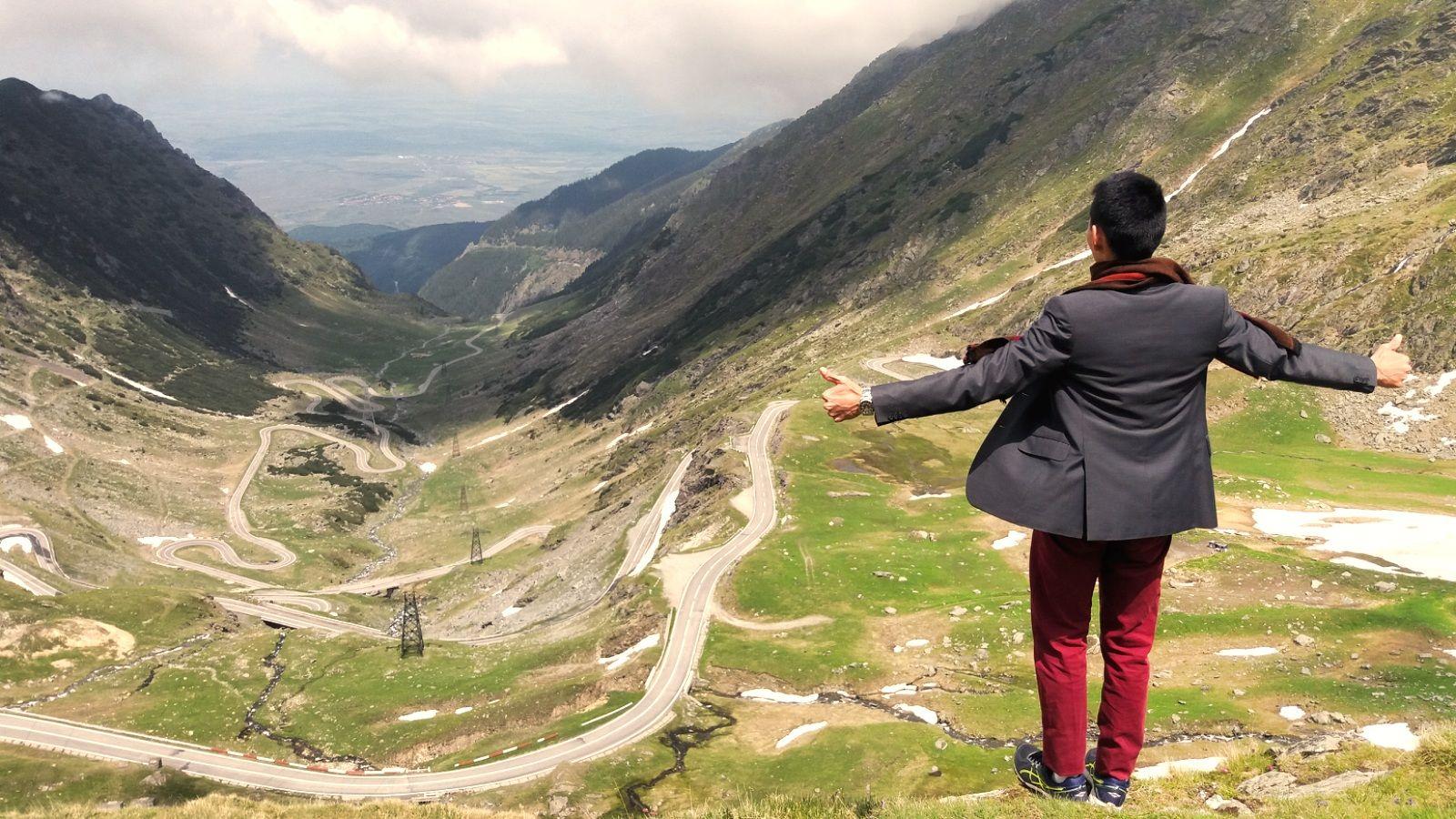 the famous Transfagarasan Highway
One of Romania's most popular tourist attractions is easily accessible on a day trip from Sibiu. This spectacular road crossing the mighty Fagaras Mountains with its twist and turns has been named the best driving road in the world by Top Gear's Jeremy Clarkson.
It's a thrilling road trip and the scenery is breathtaking! The road's highest point is at Balea Lake at 2,042m where you can go for a walk, have lunch and enjoy the cool fresh air. During winter the Balea Ice Hotel is here which is an experience in and of itself!
The spectacular part of the road is open for driving only from 1 July - 30 October. Outside this period there's a cable car that will take you to Balea Lake.
On a day trip to this famous sight our local guide will also take you to Carta Abbey and Clay Castle - lesser known but beautiful places to see!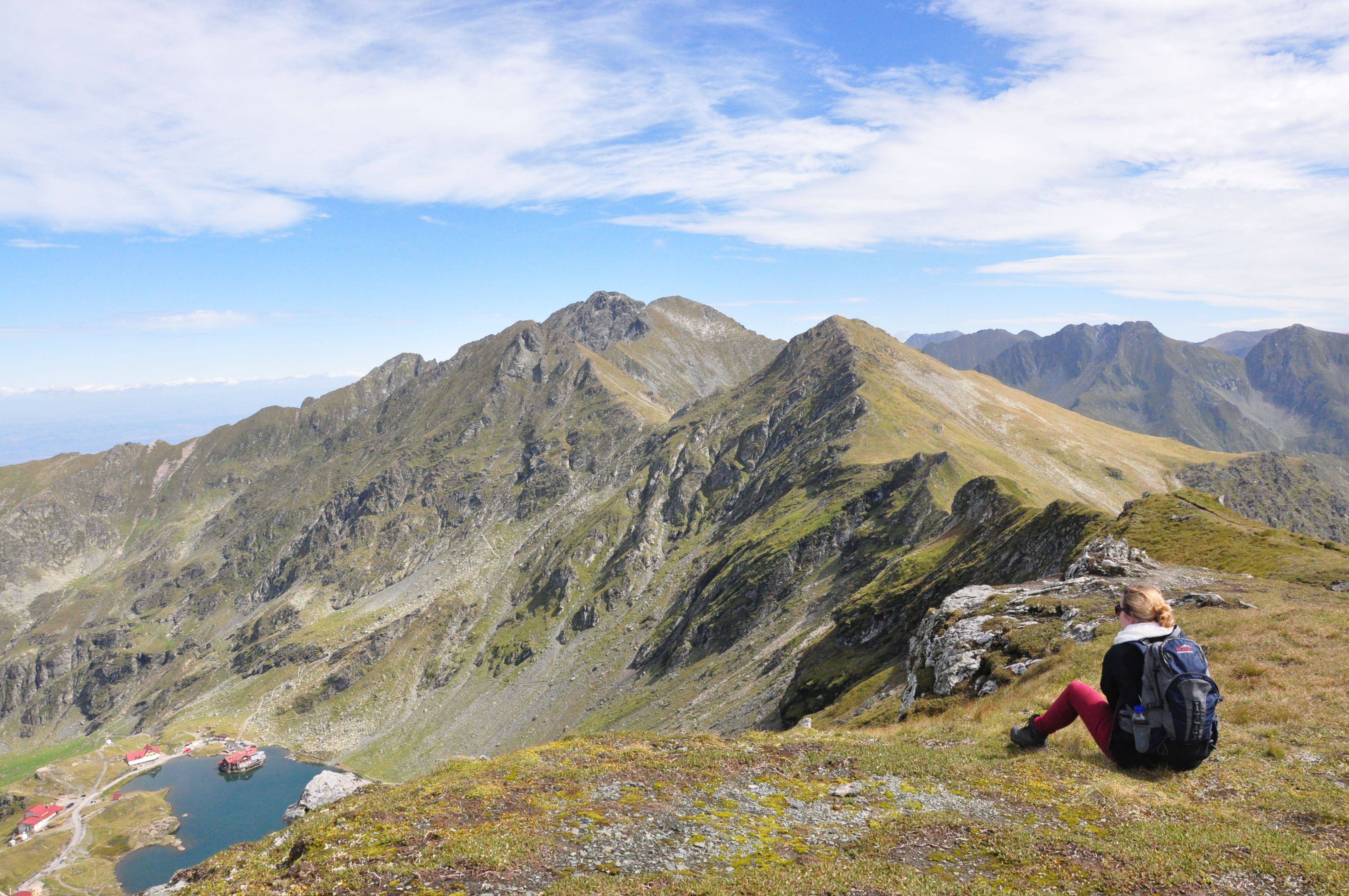 Balea Lake and Transfagarasan Highway look better from an altitude of 2,500m :)
go hiking in Fagaras Mountains
In case you didn't know, hiking in Romania is one of the best things you can do in our country!
And Fagaras Mountains, also known as Transylvania Alps, are the highest ones! The highest in the country is here: Moldoveanu Peak (2,554m) and also the second highest, Negoiu (2,535m). Medium to very good hiking experience and phyisical condition is required for both, as well as a 2 or 3 days hiking trip.
But even if you're not ready for this or don't have enough time, a hiking day trip starting from Balea Lake reaching a peak of 2,505m is a great choice and a wonderful experience! With the road trip on Transfagarasan included :)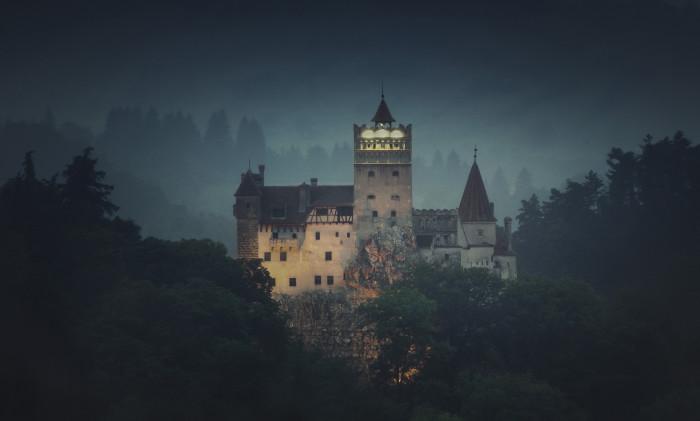 a day trip to Brasov and Dracula Castle
Romania is mostly known as Land of Dracula thanks to Bran Castle aka Dracula Castle, the home for Bran Stoker's fictional Dracula and inspiration for the 1992 movie.
So a day trip to visit Brasov and the castle, Romania's #1 tourist attraction, is one of the most popular things to do in Sibiu.
On the same day trip you can also explore the picturesque traditional villages of Magura and Pestera or visit the Libearty bear sanctuary.
But beware of vampire myths and Dracula marketing - don't expect that from our local guide! We care about authentic, sustainable and value-for-money tourism - but not everyone does!

Is Corvin Castle better than Bran Castle? Go find out!
the impressive Corvin Castle
Also known as Hunyadi Castle, this impressive Gothic Renaissance is the largest in Eastern Europe and the best preserved in Europe. It belonged to a powerful family from medieval times who ruled Transylvania and fought the Ottoman Empire.
Besides being an impressive sight, Corvin Castle has a much more interesting history than Bran Castle - just like Sibiu has over Brasov! Even the stories and urban legends have more truth to them than any vampire myths :)
Public transportation is not a good option to get there so the best way to visit Corvin Castle is by car. And on a day trip you'll also visit Alba Iulia Citadel - the spiritual capital of Romania where the Great Union of 1918 took place.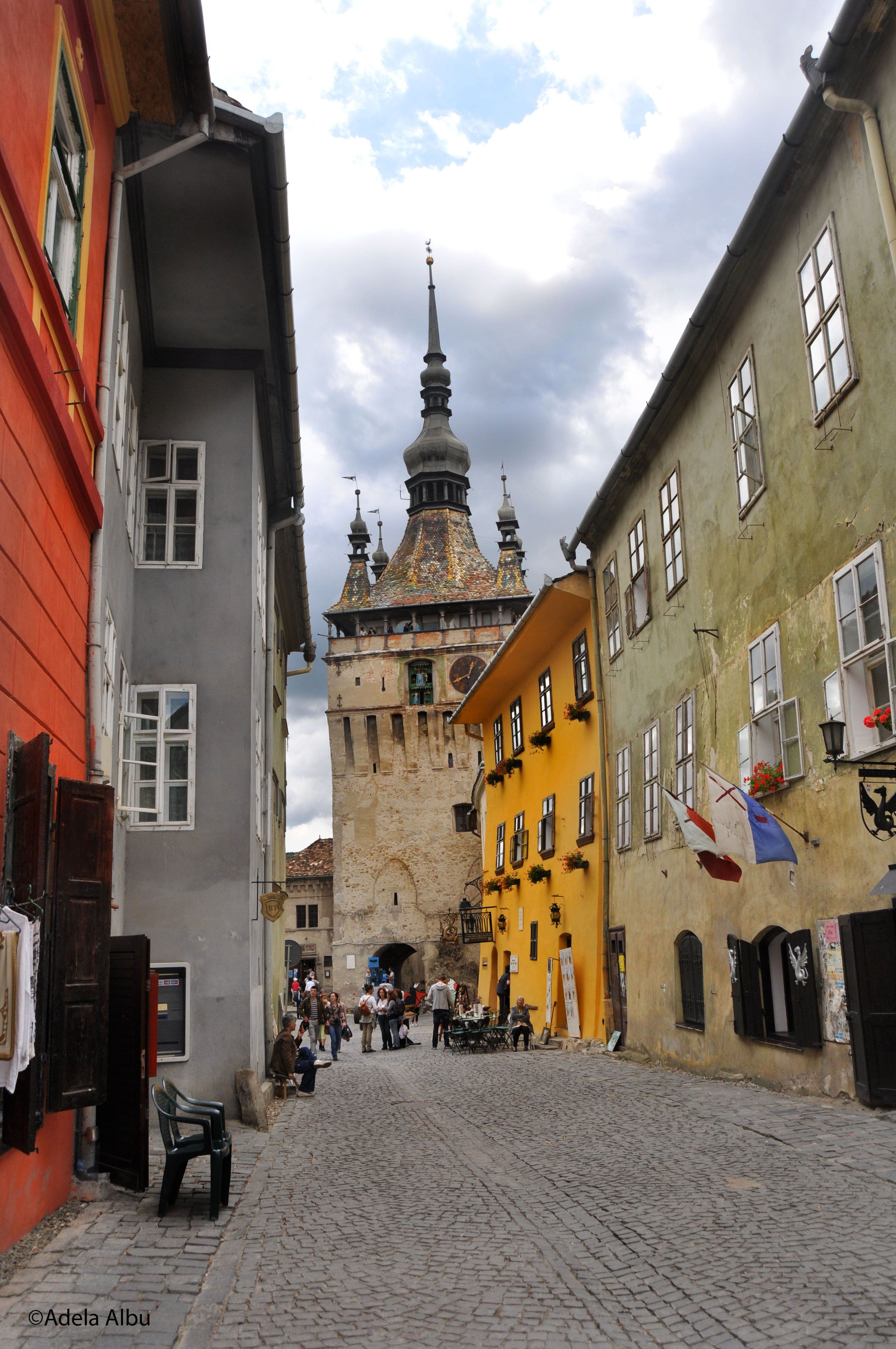 The Clock Tower in Sighisoara
the UNESCO Sighisoara Citadel and Saxon villages with fortified churches
German settlers started coming to Transylvania in the 12th century and by the 13th century they established a clear presence in the region. They founded villages, fortified existing ones and built the seven city citadels (including Sibiu and Brasov) that became known as Siebenburgen in German.
Sighisoara Citadel is one of these: located in the city of Sighisoara, the citadel is known for its well preserved medieval vibe and charming streets for which it is a UNESCO heritage site. Though much smaller than Sibiu's Old Town, it's perfect for a day trip by car from Sibiu.
By car you'll also get to explore some of the villages the Transylvanian Saxons lived in, generally called the Saxon villages of Transylvania. Most of them have impressive fortified churches which have been restored after being abandoned during communist Romania.
The most famous villages are Viscri (where the UK's King Charles owns a village house for his Summer holidays!), Biertan, Alma Vii, Richis, Mosna, Crit, Saschiz and over 120 others! :) Our guide can also organise a typical Transylvanian home-cooked lunch by a local family, the best way to experience Romanian food.


the ASTRA National Museum Complex
Back in Sibiu there's an open-air museum where you can spend half a day! ASTRA Museum of Folkloric Traditional Civilization in Dumbrava forest, around 4 km away from Sibiu Old Town (around 5 Euro per way from the town center).
The museum stretches over 96 hectares and hosts unique and original pieces that are representative for Romanian village life and culture.
It's so good that for 2 consecutive years it received 3 stars from the prestigious Michelin guide - and that says something! Check their official website to see what's on since they regularly host artisan fairs and exhibitions especially during the Summer months.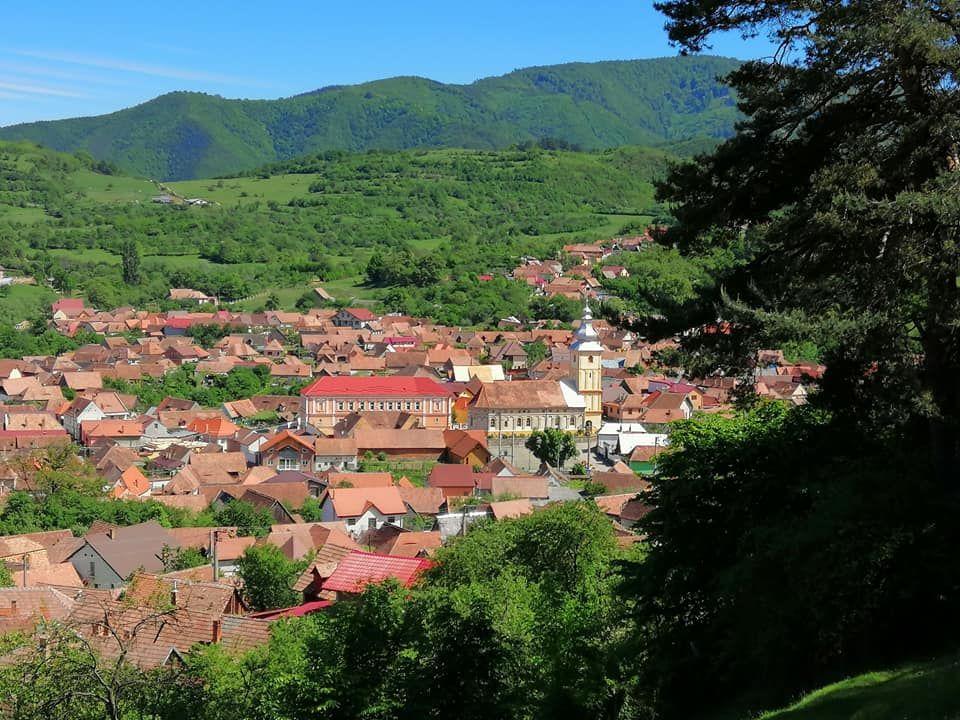 Typical village on the outskirts of Sibiu; this is Rasinari village


the traditional area known as Marginimea Sibiului (Outskirts of Sibiu)
18 villages on the outskirts of Sibiu form the ethnographic region called Marginimea Sibiului known for their authentic culture, well-preserved rural life and picturesque scenery. The most popular ones are Sibiel, Orlat, Rasinari and Raul Sadului.
Pro tip: Rasinari was named 2022 Best Tourism Village by the World Tourism organisation thanks to its well-preserved cultural heritage and rural life

Locals here live simply and are always smiling, grow their own food (including delicious cheese you must try!), help each other out and welcome anyone with food, drinks and stories!
This is one of the best places to see the famous rural life Transylvania is so beloved for, a great way to meet locals and experience rural the cultural heritage of Sibiu area directly.
The area is also perfect for a day out in beautiful nature and offers lots of hiking trails for everyone no matter the experience level, phyisical condition and weather.
The area around Raul Sadului is known for its picturesque valleys and hay huts where shepherds take their sheep up the mountains during summer - and are happy to prepare a traditional lunch for you!
6. Sibiu, a foodies' paradise
After so much walking, you're probably hungry by now and need to refuel. And you've seen lots of nice places to eat during your walks either in a lively square or on a quiet narrow street.
Sibiu has a high-end food scene with some of the best restaurants in Romania most of them in the city center. It prides itself with its regional cuisine and multi-cultural influences and reinterpreted recipes. So it's also on the pricey side compared to the rest of Romania.
Expect to pay around 15-25 Euro per person for a main dish with a drink and appetiser or desert of very good quality. Here's a local list of restaurants in Sibiu we trust.
If you want to enjoy a fancy dinner with traditional but modern Romanian food try Kulinarium Restaurant or La Cuptor. And if you're looking for unusual things to do - how about dining in the cellar of a 15th-century house? Try Sibiul Vechi which has traditional Romanian food from really old recipes, music, and a truly authentic atmosphere.
Or maybe you'd like to go into a typical farmers' market to see local producers and farmers selling their products and - why not - buying straight from the source! Our local guide will tell you more about Romanian food and you'll taste the best of what Sibiu has to offer:
Old cheese from local shepherds, pear brandy or fruit cakes and, of course, traditional Romanian cuisine with a modern twist are some of the best things you can eat in the city.
Coffee Archives (Arhiva de Cafea) offers delicious origin based coffee and Refresh is your place to go for smoothies, freshly squeezed juice or cereal yoghurt breakfast. Check our list with the best coffee shops in Sibiu to find out more!
7. Where to stay in Sibiu. Logistics
The best time to visit Sibiu is from April to late October. It tends to get very hot and crowded during August but that's when going on day trips outside the city is a good idea. December is also a great time to visit because of the Sibiu Christmas Market and beautiful decorations the city has.
During Summer months lots of international events take place in the city so everything gets busier and more expensive!
Where to stay in Sibiu? On booking.com and airbnb you'll find plenty of options! If you're planning to stay in Sibiu Old Town - expect old and small rooms, squeaky floors and very high prices.
The city is small and if you stay a little further from the historic center you'll probably find better conditions. You'll rarely need a taxi to get around the city, unless you want to go ASTRA museum.
Sibiu Airport is mostly served by flights operated by Wizz Air, Ryan Air and Lufthansa and is an excellent way to get here.
Sibiu train station is a good option of you're planning to travel to Brasov. But for Cluj-Napoca or Bucharest - you're better off taking a bus. Check our Romania public transport guide for more info.
That's it - I hope you'll come visit and enjoy Sibiu like I do!
Your Romanian Friend
Andra
Other categories
Other tours nearby

Follow Romanian Friend on:
or
Share this with your friends: