Welcome to the lively world of Romanian festivals where a mix of music, culture, history and good vibes will surprise and offer you an amazing experience and another good reason to visit our country!
Romania has a diverse and impressive festival scene with many cultural events for music lovers all over the world:
impressive electronic and alternative music at Untold festival and Electric Castle
the soothing classical melodies of George Enescu International Festival
the Transylvanian citadels medieval festivals in Medias or Sighisoara
– to name a few, but there are many more!
I don't know about you but I always check for local events, music, arts or film festivals when I'm traveling to a new place. Attending one is one of the best things I can do to experience local culture, discover new places and connect with people outside the typical tourist context.
So if you're planning to travel to Romania for your holiday, and wondering what cool festivals are happening during your visit, or maybe you've heard about a famous Romanian festival and want to find out more - this article will give you the best place to start.
Most of them take place in June - September which is also the best time to visit our country. So let's see the 12 coolest Romanian festivals:
1. UNTOLD in Cluj Napoca
UNTOLD festival is Romania's largest electronic music festival taking place over 4 days with an impressive lineup of world-renowned artists, bands and DJs across 4 stages.
This electrifying experience takes place every year in early August in the picturesque city of Cluj-Napoca. Since its first edition in 2015, UNTOLD festival has become one of the most awaited European music festivals known for its impressive stages resembling the ones found at Tomorrowland.
The 2023 edition took place from the 3rd to the 6th of August and featured headliners such as David Guetta, Martin Garrix, Armin Van Buuren (considered by many Romanians the best DJ), Boris Breschja but also artists from other music genres like Imagine Dragons, Ava Max, Bebe Rexha or Thievery Corporation. A record of over 300,000 participants from over 100 countries all over the world attended.
Past editions, the festival welcomed artists like Major Lazer, Don Diablo, G-Eazy, Jason Derulo or Black Eyed Peas. Slowly but surely, UNTOLD has built a solid reputation in the European electronic music industry and the organizers have ambitious plans for the future.
The renowned publication DJ Mag ranked UNTOLD on the 9th position globally in its 2022 poll based, overtaking more popular music festivals such as Burning Man, Lollapalooza, or Mysteryland.
Day tickets, full-festival tickets and VIP packages are available starting at 99 Euro. The sooner you buy them, the better. For more info about the 2024 Untold festival, check their official website.
The festival takes place in Cluj-Napoca's Central Park and the main stage is in Cluj Arena. Accommodation prices might get spicier as the festival approaches, so make sure you get one early.
While you're here, you'll be surprised to know that Cluj is Romania's 2nd largest city and Transylvania's unofficial capital. So there are many cool places to visit in Cluj.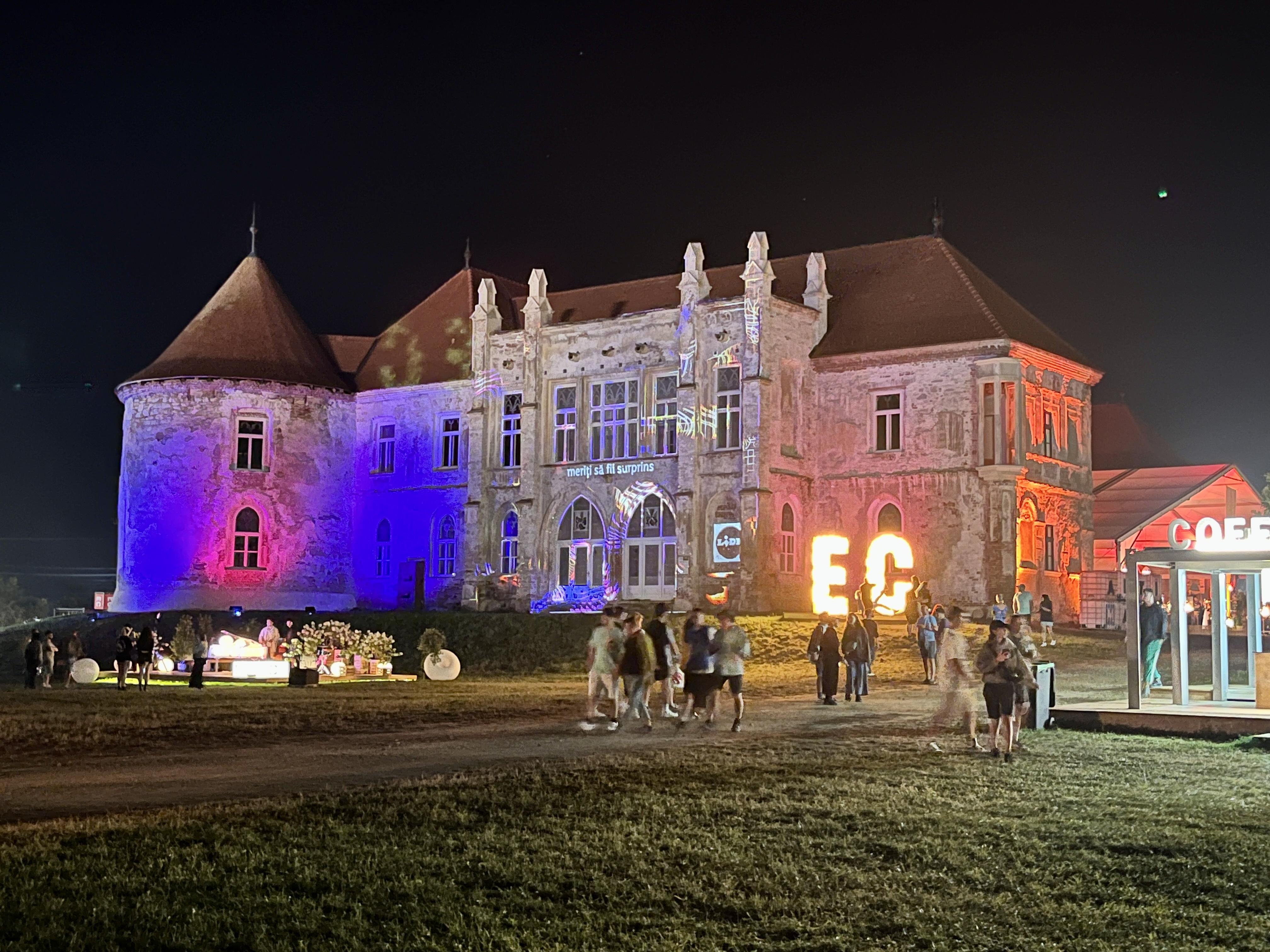 2. Electric Castle at Banffy Castle (Cluj)
Electric Castle (EC in short) is one of the unique music festivals in Romania thanks to its location: on the impressive and lush grounds of the 15th-century Banffy Castle. The ruins now restored are in the village of Bontida, 30-50 minutes away by car or train from Cluj Napoca.
Compared to UNTOLD festival, Electric Castle has 9 stages hosting a variety of music genres and artists, from electronic music, rock and reggae to hip hop, indie, drum'n'base and minimal. It has many areas to chill, three huge food courts with plenty of choices and a variety of activities and special events, including book launches, to keep everyone busy during the day.
Named best medium-sized festival at the European festival awards several times, this 5-day event is the largest music festival by size and the perfect place to discover local talent and immerse in Romanian youth culture and energy. It attracts a more free-spirited crowd with laid back vibes during the day and non stop throughout the night. The vibe comes very close to - what I imagine - happens at the famous Burning Man.
That's why it's our favorite annual festival that we go to (almost) every year and wrote an Electric Castle guide that you'll find very helpful since, as you'll see, logistics need to be planned in advance.
The festival takes place in mid-July and a full-festival pass starts as low as 90 Euro and goes up as the festival approaches.
In 2023 big names such as Macklemore, Sigur Ros, Iggy Pop, the Chemical Brothers, Nothing but Thieves, Pendulum, Morcheeba and Tash Sultana went up on the main stage, and 130 artists on all the other stages. Previous editions hosted Florence + The Machine, Alt-J, Moderat, Damian Marley, Fatboy Slim or Prodigy.
To check all the available ticket options, the full lineup and its schedule, visit their "official.
Electric Castle has something unique among Romanian festivals: camping accommodation and pre-pitched tents next to the festival's location for as little as 19€/night!


3. Summer Well in Bucharest
Summer Well festival is known for offering special shows and experiences by blending technology, art and good music.
The festival takes place near Bucharest, Romania's capital, on Domeniul Stirbey usually around mid-August. Besides the music concerts, this festival aims to place itself in the spotlight of modern Romanian cultural life with various decorative arts workshops, augmented reality studios and alternative or futuristic expression of arts.
Big names such as Florence + The Machine, the Chemical Brothers, Tom Odell, Arctic Monkeys, the XX and Röyksopp have delivered amazing concerts on the main stage, complemented by a list of DJs and bands representing local talent.
The total pass ticket is around €116 for all three days. What makes Summer Well one of the best music festivals in Romania is its burlesque location and alternative artists.
And if you're considering coming to this festival you should also consider some of the many things to do in Bucharest going from the Old Town area to major communist landmarks or Little Paris neighborhoods.
Check our guide for Bucharest airport taxis when you fly in, and then you can take the train to the festival's location.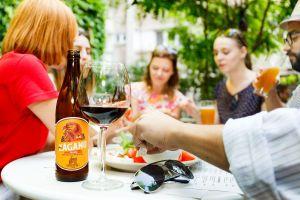 Start from: University Square
See details
Our capital is known for its many places to go out so if you want to keep the party going you've got a lots of options.


4. NeverSea, by the Black Sea in Constanta
NeverSea is the premier summer festival in Romania thanks to its location: on the beach by the Black Sea in Constanta.
This is mostly an electronic music festival and in previous editions hosted artists such as Lost Frequencies, Sean Paul, Steve Aoki, Rita Ora, Dua Lipa or Dimitri Vegas, so you can guess what it's about.
The NeverSea festival usually happens in early July. Day tickets for general access start from €49, while access for the entire festival is €139. Of course, special ticket passes for groups of four, five and six people will receive the most wanted friendship bracelet. Still, VIP passes can be purchased for those who want premium foods and drinks and exclusive hospitality services.


5. Medias Medieval Festival
OK - now let's change the tempo! The most famous tourist attractions in Romania include numerous medieval castles (Bran aka Dracula Castle!), citadels and small towns.
So naturally we have medieval festivals that include workshops, feudal combat demonstrations, theatre plays and medieval music concerts that will take you back in time.
One popular medieval festival takes place in Medias in the heart of Transylvania where the medieval fortifications are one of the best preserved in Romania. The 2023 event will take place between 9-11 July at the Greweln tavern in Medias medieval citadel.
Most activities are performed in locations close to one another, so you can freely participate. The festival is a great opportunity to get immersed in the Middle Ages culture.
This is one of the best traditional festivals with folk music, traditional costumes and art installations. To get to Medias you can fly into Sibiu or Cluj Napoca and from there it's a 1h drive by car.


6. Rockstadt Extreme Fest, in Rasnov
Are you into rock music? Then you'll be happy to find out about Rockstadt Extreme Fest which takes place on the grounds of Râșnov Fortress, close to the popular city of Brasov.
The Metalhead meeting festival usually starts in early August and lasts 5 days. More than 60 bands perform across three stages. Some of the best names of the rock community have participated at this event from Dimmu Borgir, Arch Enemy, Mayhem and While She Sleeps to Trivium, Obituary and Igorrr.
Day tickets are around €72, but the admission fee for the entire festival gets to €160. For rock music lovers with kids, know their tickets cost half the amount of regular passes. You can also camp at the site for €22 for the entire festival.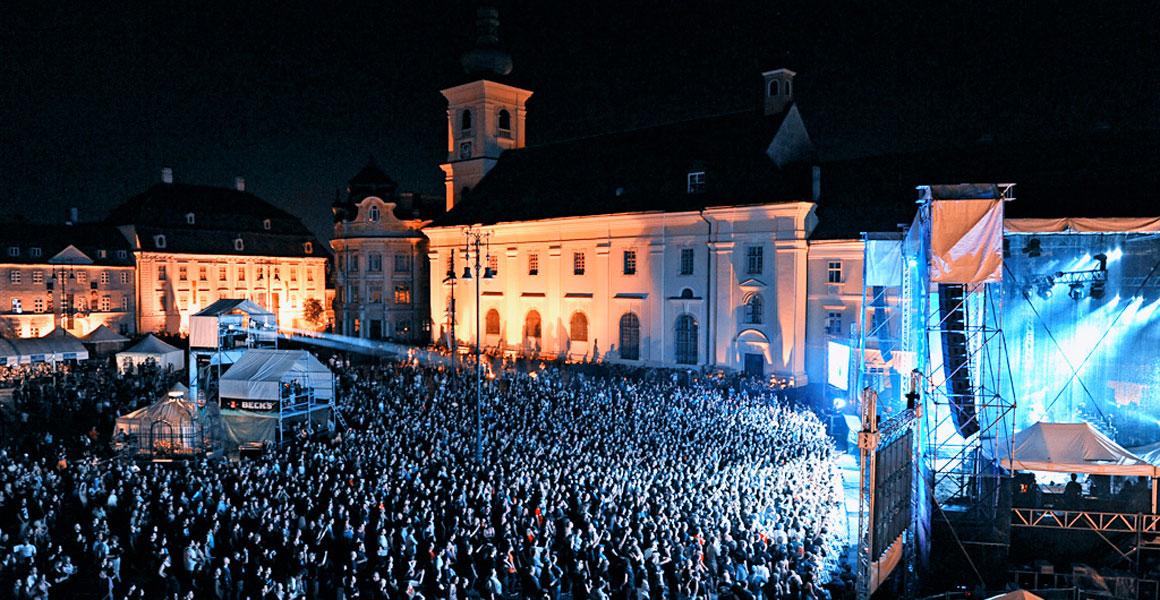 7. Artmania, Sibiu
Artmania is the first art festival in Romania in which art and entertainment blend beautifully. The three-day event explores different music genres, from psychedelic rock, neo-dark folk and progressive rock.
One of the best known moments from Artmania is when the band led by Steven Wilson, Porcupine Tree, sang at the 2022 edition.
The Artmania festival takes place around the end of July in the Great Square of Sibiu. This year's edition line-up includes names like Koiko, Sirenia and Asemic, but also Vulture Industries, Port Noir and Tesseract.
Artmania is one of the events that won the European Festival Awards for Excellence & Passion thanks to its unique combination of artistic expressions and the way in which it promotes unusual cinematic language forms.
Even if you're not going to the festival, there are many places to visit in Sibiu that will give you a taste of its bohemian atmosphere for which it is so well known in Romania.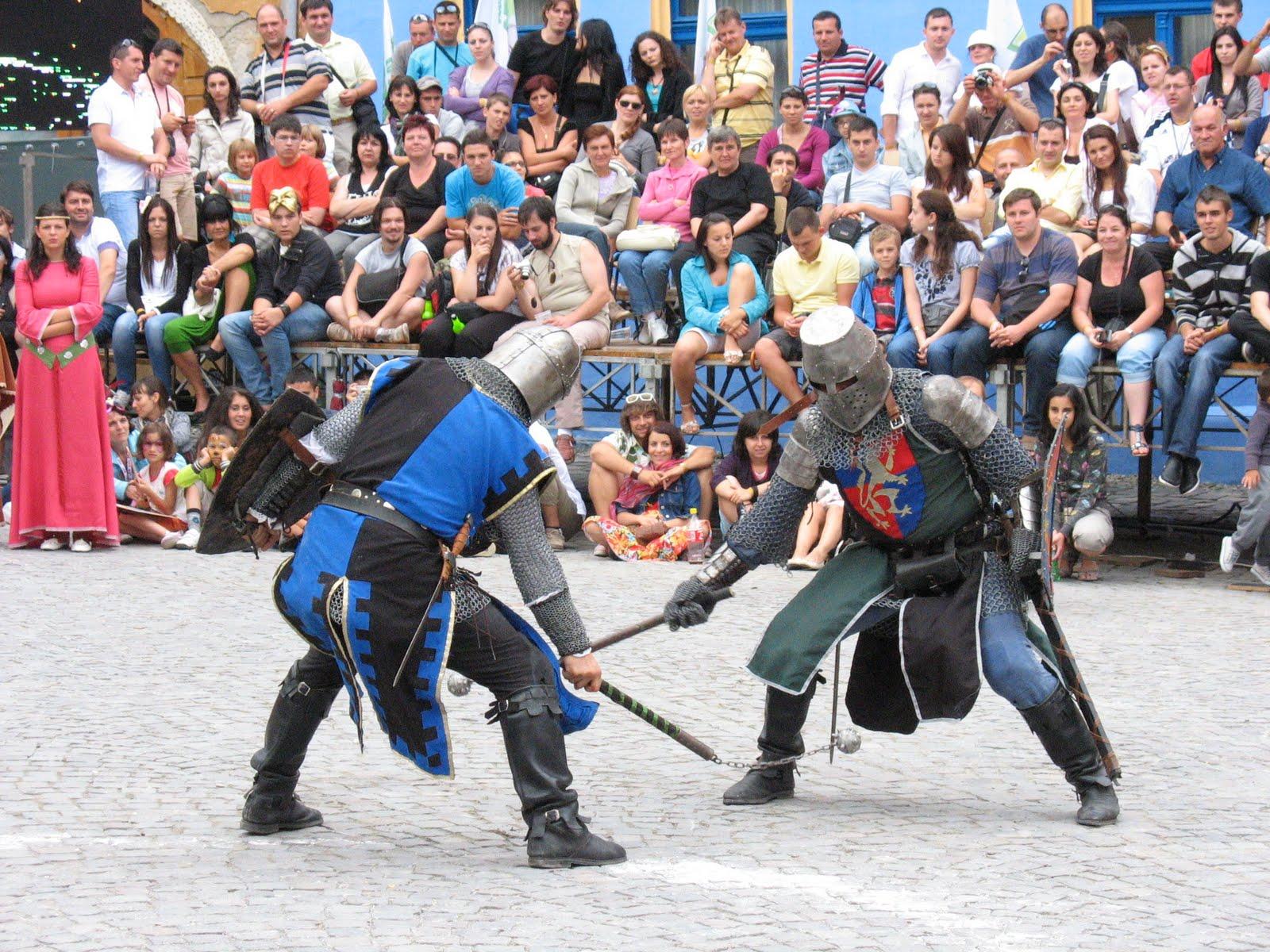 8. Sighisoara Medieval Festival
Sighisoara medieval festival is the most popular of its type and reached its 28th edition this year. It's known for showcasing local talents through medieval dances, theatre, workshops, and, most importantly, parades of knights, ladies, warriors and troubadours.
It includes traditional food, old music and impressive shows. Sighisoara Citadel is a great location for a medieval festival, as the historic center itself is a medieval citadel that's been part of the UNESCO World Heritage Site list since 1999.

Sighișoara is one of the most popular tourist attractions in Transylvania and is easily accessible by car (or on a guided tour) from Sibiu, Cluj-Napoca or Brasov, or by train.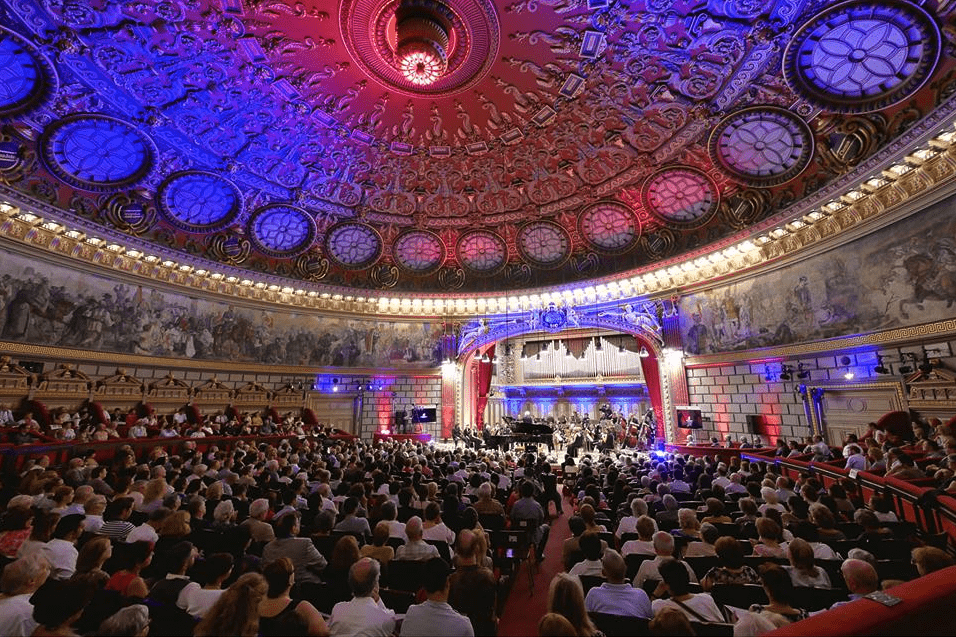 9. George Enescu International Festival, Bucharest
The George Enescu music festival has its name from the famous Romanian composer and violinist George Enescu, a very important figure in contemporary European classical music.
The festival typically lasts one month, starting at the end of August until the end of September. Every day different philharmonic orchestras and classical music troupes will hold a concert in Bucharest.
Big names from the European classical music scene such as the London Philharmonic Orchestra, the Vienna Philharmonic or the Royal Camerata Orchestra can be audited in the Romanian Atheneum, one of Bucharest's iconic landmarks.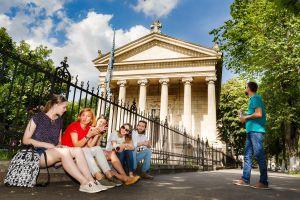 Start from: University Square
See details
There are many types of tickets available ― students can participate by paying only €15, but the prices can go up by as much as €40. Find more information about the festival's programme on the "official.


10. Jazz in the Park, Cluj-Napoca
Back in Transylvania, Jazz in the Park is one of the biggest festivals where jazz competitions are available to the public. The international competition takes place from the 1st to the 3rd of September 2023 at the National Ethnographic Park "Romulus Vuia" in Cluj-Napoca.
Some jazz artists that will perform include the Cinematic Orchestra, Billy Cobham and Mansur Brown, but Romanian jazz artists will also be present.
Tickets for the whole festival are about 76 Euro. Besides music in a natural setting you'll be surrounded by traditional Romanian village houses and get to know more about Romanian culture!
Since jazz music goes well with good food, we also recommend pairing your visit to Cluj-Napoca with a tasty and very informative culinary experience. What better way to get a complete taste of the city? (*wink wink*)


11. SAGA Festival, Bucharest
Saga Festival is another Bucharest-based music festival with a special venue: the Romaero Airport.
This electronic music festival is younger than the others but has big ambitions. It took place in June and had no less than 150,000 ravers and across seven stages.
Big names headlining this event include Lil Nas X, Skrillex, Loreen and Alan Walker. At SAGA, you can now "buy for the next year's whole event for 60€ or you can wait until later to buy day tickets.


12. Photo Romania Festival in Cluj-Napoca
Finally, we have a festival that covers music, photography and art. Its name is Photo Romania Festival and takes place - once again - in the city of Cluj-Napoca. Maybe you've noticed the many many events that take place here - which is why the city was informally nicknamed the biggest festival city in Europe.
The festival usually takes place in May allowing visitors to get through their first photography museum in Romania and see more than 70 exhibitions of Romanian famous artists, like Catalin Angel, but also foreign ones, like Sakis Dazanis.
The main attraction includes the appearance of foreign photographers, the photo stories conference and, most importantly, the international meeting of the managers of photography festivals.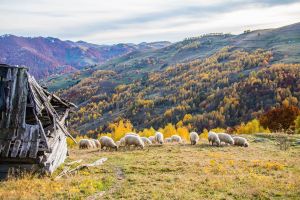 See details
With the help of the Cluj-Napoca City Hall, this important festival brings the city in the spotlight of Romanian cultural life with a mix of current trends and international acts. If you have a passion for photography and art, the area around Cluj is perfect for a photo trip!

***

So if you're still undecided about visiting Romania, why not time your visit with one of these unique music festivals or cultural events?
Romanians like to hang out, make friends and party. And artistic expression is deeply ingrained in our everyday life. So one of the best things to do if you really want to get a taste of Romanian culture is to come to one of these events.
You won't regret it :)
And don't hesitate to contact us if you need any help with planning your trip. That's what we're here for!
Your Romanian Friend,
Elena