Natural & Geographical Sights
Bucegi Natural Park
Situated in the Meridional Carpatians, the Bucegi Natural Park is one of the most impressive natural resorts in Romania. With more than 15 peaks over 2000 meters altitude - with Omu Peak (2505m) above all - Bucegi Natural Park is considered Romanias touristic cradle. Rising high, massive and bold above the horizon, with fierce peaks and steap valleys, alpine limestone grasslands, caves, springs and waterfalls, the Bucegi Mountains offer a breathtaking view, especially seen from the Prahova Valley.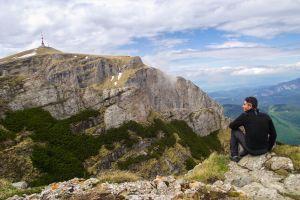 Start from: Bucharest OR Brasov
Book now
Check out our guide to hiking in Romania to find out more about how to plan your trip and tours suggestions!
Due to the versatile local geology, the fauna and vegetation are also very diverse. A number of endangered plants and flowers are to be found in the rocky valleys, such as edelweiss flower and the white ivy. The Bucegi Natural Park is home to more than 3500 animal species, such as the wood grouse, the rare and beautiful black chamois, bears, wolves, deer and the endangered lynx.
The Bucegi Natural Park hosts around 46 natural monuments, such as waterfalls, caves, chutes, glaciers, and unusual rock formations: towers, arcades and most interestingly organic shapes resembling old ladies, mushrooms and sphinxes. The most well-known are the peculiar rock formations named Babele (the Old Ladies) and the Sphinx, the Omu peak the waterfall Cascada Ialomitei, Abruptul Prahovean, Zanoagei chutes – only some of the many sights worth seeing. There are 39 marked trekking routes comprising the entire mountain. Climbers and cavers can also find challenging adventures in the Bucegi Mountains. There are many routes, chutes, valleys and headwalls which require technical knowledge for climbing, such as the Adanca Valley, Valea Poienii, rapa Zapezii.
For accommodation, there are many hotels and mountain cabins available (Padina cabin, Malaiesti cabin, Pestera Hotel, Omu cabin). There are also camping possibilities near the cabins and of course, we highly recommend our special tailored Photography Tour of Romania and 7 Stairs Canyon Tours.
Access to the Bucegi Natural Park is possible from multiple directions: the national roads through the towns close to the park - Sinaia, Predeal, Azuga, Bran, Busteni, Moroieni, Rasnov or Moieciu. Taking the train to Sinaia, Busteni, Azuga, Poiana Tapului or Predeal is also possible.

Other categories
Other tours nearby
Start from: normally, Brasov. pick up possible from OTP/Bucharest or Sibiu

Start from: Brasov or Sinaia or Busteni

Start from: Bucharest OR Brasov