If you're a fan of winter sports and wondering what Romania has to offer for skiing, snowboarding, splitboarding and winter fun & leisure - this is for you! This local will tell you the good and the not-so-good parts of why you should plan a winter holiday in our country -- and how!
So - let's get started:
What you need to know about skiing holidays in Romania
Let's start with the basics: despite the Carpathian Mountains occupying 28% of Romania's territory, our country's infrastructure for winter tourism is mostly underdeveloped: Romania has around 150 ski resorts (though most of them are small and only about 15-20 should be considered) and around 183 groomed ski slopes with a total length of approx. 160 km. The longest ski slope is in the winter resort of Straja (8.1 km) and the second longest in Poiana Brasov (5.3 km) - I guess these numbers speak for themselves. So Romania is your go-to-destination for Alps-like continuous skiing and does not have the winter infrastructure you can find elsewhere in Europe.
And now let me tell you the good parts of planning a ski holiday in Romania - and there are quite a few!
first, new territories to conquer - the best ski resorts (on this list) can offer a good run for skiers and snowboarders with many slopes to conquer (though shorter), challenging runs (mostly medium-difficult) and offering great views of our beautiful mountains. Why do you think parts of the Carpathians are called the Transylvanian Alps?
second, low prices - any one of the best ski resorts in Romania are MUCH more affordable compared to others in Europe and even our Eastern European neighbours. Generally speaking, Romania is a with low prices that will seem a trifle for foreign tourists, even for winter sports which are usually more on the expensive side. With a 500€ budget for 2 you're good to go for 4+ days of skiing in Romania.
third, accessibility - 5 of the best ski resorts in Romania are close to Bucharest and Brasov, so they're very easy to get to using low cost flights, cheap train, buses or taxi rides. And most ski slopes in Romania are well-equipped for English-speaking tourists: info points, maps and personnel.
fourth, adventure - having the wild Carpathian Mountains but an underdeveloped winter sports infrastructure means that Romania is a great destination for off-piste or backcountry free-riding for skiers, snowboarders and splitboarders looking for some adventures. Snowshoe trails and ski touring is also possible with many mountain ranges safe from avalanches. There are many routes to choose (especially around Brasov and Sibiu) but it's highly advisable to go with a professional winter guide - luckily, we know someone who does off-piste ski beginners lessons or backcountry and off-piste riding tours in the Carpathians of Romania.
finally, Romania is a great winter destination - while our country may not be a great choice for hard-core winter sports fans, amateurs and winter-holiday makers will be delighted: our cities are beautifully decorated with colourful lights, animated by Christmas Markets, smelling of of mulled wine and not without snow to complete the scene. And don't get me started on our winter food habits or the feeling you get while staying in the countryside - you might not even reach the slopes!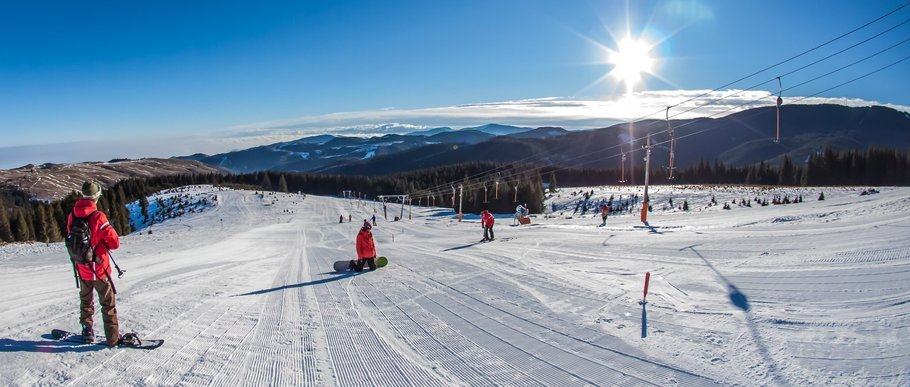 Overview of the best ski resorts in Romania
Now, back to helping you plan a skiing holiday. The best and most popular ski resorts in Romania (Poiana Brasov, Sinaia, Busteni, Azuga and Predeal) are located in Valea Prahovei region which is the area between Bucharest and Brasov, so your first choice should be to fly into Bucharest. Your second best choice is to fly or get to Sibiu for skiing in Balea and Paltinis or Cluj-Napoca and head for the Northern Maramures region. Other notable ski resorts such as Ranca, Transalpina, Straja and Suior are spread across the country (mostly in the region of Transylvania) and not easily accessible without a car. Have a look at our posts on travelling to Romania and getting around Romania to find out more about planning your travels here.
Cost-wise a 1-day ski pass ranges from 80 to 150 Lei (17-32€); accommodation starts from 25€ for a double room and breakfast in guesthouses but can become very expensive during Christmas or New Year, especially in Prahova Valley resorts; Booking.com or AirBnB are good places to start looking for accommodation. Renting equipment will set you back around 15€ - 30€ / day depending on gear type; mulled wine, hot drinks and small snacks at the slopes will be around 1-2€. All ski resorts have professional mountain rescuers, ski instructors and monitors. More English info about all the winter resorts in Romania, ski maps, prices and live webcams can be found here.
Ski season in Romania is generally between November - April, but some resorts and and mountain ranges see snow as early as September and as late as June! So it's best to be informed and check webcams before hitting the slopes! One other thing you should know: the most popular ski resorts are also the most crowded ones, and short-distance slopes means that you will meet a lot of people going downhill and queues at teleski or cable cars can become long, especially during weekends or holiday season.
Now let's see which resorts you should consider for a skiing holiday in Romania:
1 Poiana Brasov - the best ski resort in Romania
Poiana Brasov is the best and most popular ski resort in Romania. Located just a short drive away from Bucharest (2-3h) this resort is also the best option to go skiing from Brasov since it's only 12 km away from the city - so you can get the best of both! Having the longest slopes in Romania and being a favourite with the local high life, Poiana Brasov is also the most expensive and offering ski resort with many 4-5* hotels, fine dining and SPAs.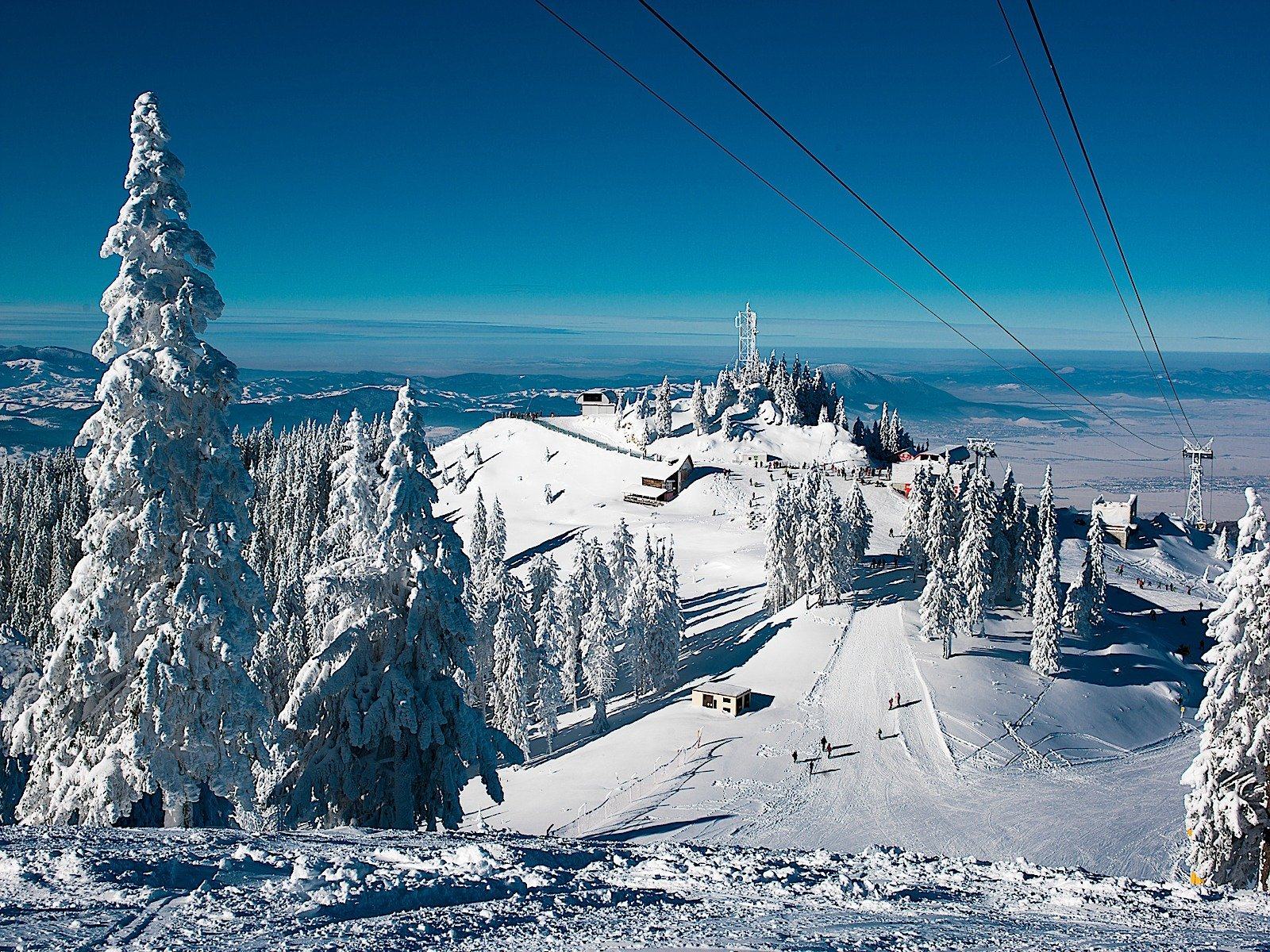 Located conveniently between dense pine forests and with slopes starting as high as 1800m, skiing in Poiana Brasov offers 22 km of runs (ranging from black to blue slopes), nocturne and a pretty nice scenery. Obviously, there are plenty of opportunities for apres-ski in the resort but also in nearby Brasov. More info on prices, live webcam and news here.
The downside with Poiana Brasov is that it gets quite crowded during weekends and holidays. However, if you want to get away from the crowds and try some adventure you can go off-piste riding in nearby Postavaru Mountain with our guide-partner.
2 Skiing in Sinaia - your second best choice for skiing in Romania
Sinaia is the closest ski resort from Bucharest (1h30 by train or car) and offers spectacular views from 1400m or 2000m as well as over 15 different slopes to choose from (4 easy, 8 medium and 3 difficult) totalling around 20km. The ski resort itself resembles a cozy mountain village in Austria and is also home to the famous Peles Castle, so it's easy to combine winter sports with a sightseeing holiday in Romania. In Sinaia ski resort you can shred snow until late April or even beginning of May!
From the centre Sinaia you can go up to 1400m via car, gondola or cable-car and start your descend from there, or you can continue upwards to the 2000m plateau of the Bucegi Mountains via ski lift, gondola or telecabin and enjoy mellow rides! Due to strong winds at this altitude the ski lifts leading from 1400m to 2000m are sometimes closed. More info on prices, slopes and maps of Sinaia
here.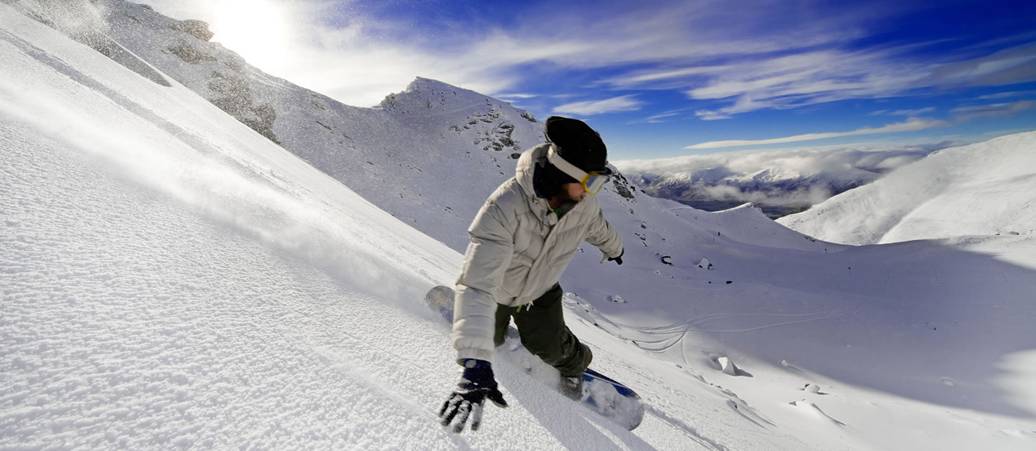 (snowboarding on Sinaia slopes)
3 Busteni, Azuga and Predeal - a skiing holiday 4-in-1
Also located in Prahova Valley are the popular winter resorts of Busteni, Azuga and Predeal which and offer a decent choice of slopes with modern infrastructure and nocturne, though they too get crowded during weekends and holidays. With plenty of hotels, guesthouses and restaurants to choose from, these resorts will not disappoint - but you need to plan and book ahead because they are the favourite choice with Romanian winter sports fans.
Together with Sinaia, these 4 resorts are very close to each other and located on the same route by train or car, with shuttle busses doing rounds between them. So the good news is that if you choose to spend 3-4 nights in the area you can have a pretty decent and complete ski holiday in Romanian!
4 Ski resorts around Sibiu: Balea and Parang
Close to famous Saxon heritage city of Sibiu is Paltinis (about 18 km away), the oldest ski resort in Romania and most popular with locals. With 8 slopes, the resort is a good choice for beginners and snowboarders. The resort also offers approx. 5km of cross-country ski trails, superb views of the area and a very good choice of hotels and guesthouses!
Near Paltinis resort there is a new and modern ski resort called Arena Platos (30 km from Sibiu) which features 6 slopes, night-skiing and the most modern fun-park in Romania built on 3 separate platforms (easy, medium, difficult) which can also be used during the night. Arena Platos is also known for the frequent sports and adventure events it hosts during summer and winter, ranging from ski/snowboard/MTB races, New Year's party and open air concerts at 1400m altitude! There are buses running twice a day from SIbiu - more info here.
A good option for adrenaline junkies and professional skiers/snowboarders is Balea in the Fagaras Mountain range. Though not technically a resort because it doesn't have well-groomed or technical slopes, Balea has some of the longest trails (14 km of medium to difficult slopes) and also snow until June - when Transfagarasan Road opens in the same spot!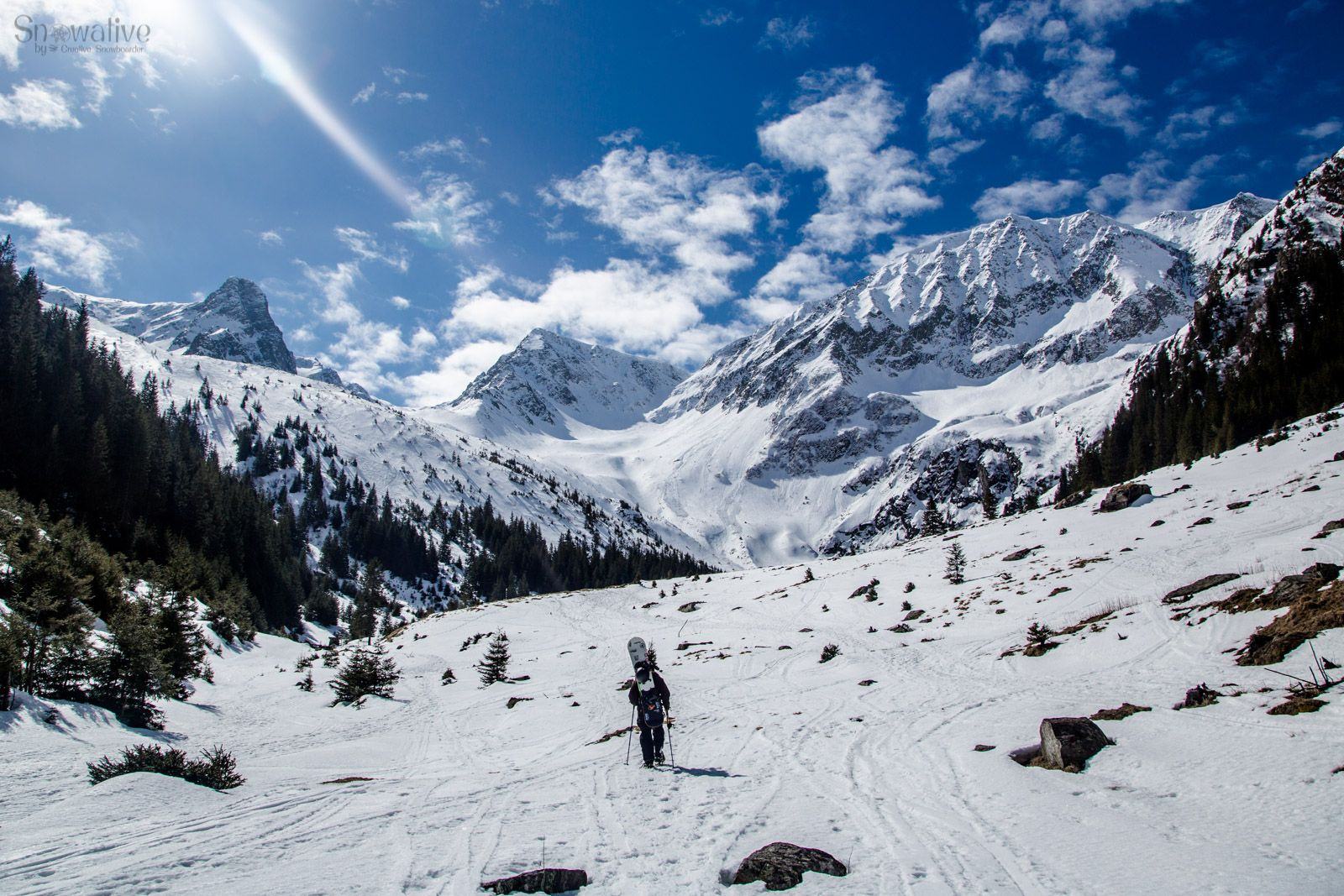 (Fagaras Mountains - skiing at Balea)
There are two areas for skiing - Balea Cascada (Waterfall) at 1234m and Balea Lac (Lake) at 2034m, both located at the two ends of a cable car. As during winter the road between the two (Transfagarasan) is closed, the cable car from Balea Cascada is the only way to get to Balea Lake, which is also where you will find the famous Balea Ice Hotel. The area is pretty rough and wild, not for the feint-hearted, but if you are an experienced skier/boarder or you're looking for splitboard backcountry riding tour - then this is the place for you and adventure is guaranteed!
4 Skiing from Cluj-Napoca: Suior and others
Though close to Apuseni Mountains and the Western Carpathians, there aren't any decent ski resorts close to the popular city of Cluj-Napoca. The closest is Baisoara (50 km), a rather old ski-resort with 2 slopes totalling 1,5 km which is a good option for a quick ski day trip from the city. A newer, modern resort called Buscat (right before the entrance to Baisoara ski resort) opened with 3 slopes, one for each difficulty level, with events and races frequently organised during winter and summer season. You can also do zorbing and parasailing in this area during summer!
A better option is to plan your winter holiday in the ski resort of Suior, closer to Baia Mare. Though having only 3,6 km of slopes and attracting many crowds from the area, being located in the famous traditional region of Maramures you are guaranteed to enjoy your time here. The locals' hospitality, good food, traditions and many attractions in the area will keep you very busy when off-piste!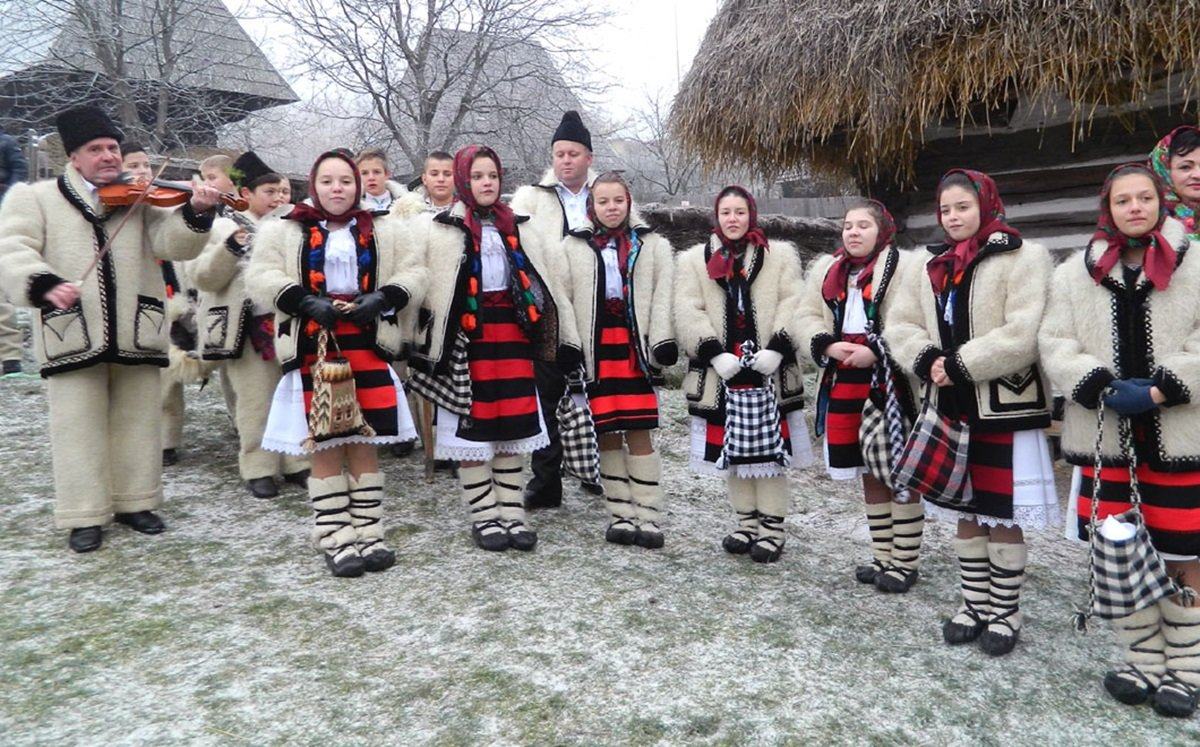 (Locals in Maramures during wintertime)

Other notable ski resorts in Maramures are Cavnic with about 8 km of runs and Borsa with only 3 km but boasting a 50m ski trambuline which is unique in Romania!
5 Other ski resorts - harder to get to, but worth it!
The up and coming Straja ski resort (in Hunedoara county) is a serious contender to Poiana Brasov: with a network of 26 km of slopes (including the longest slope in Romania) at 1400m altitude, the resort is very modern, incredibly cheap, with good snow and not at all crowded! Getting there might not be as easy but it is definitely worth it - info here.
The resort of Ranca (in Gorj county) which is accessible only by car driving on Transalpina Road made it on this list for one simple reason: the snow season here usually starts from September and lasts until May. Though only with 3,1 km of slopes, there are beautiful views of the area you can admire while riding on the very spacious and no-crowds downhill slopes.

Finally, near Ranca and continuing on Transalpina Road there is the Voineasa - Vidra - Transalpina Ski Resort (RO website) opened in 2012 and boasting an ambitious project to create 80 km of slopes in Romania at altitudes of 2.100m! Right now only 5,3 km of runs have been groomed and the resort is not easily accessible without a car, but the breathtaking views of the area coupled with the almost-virgin slopes means you - and us too! - should consider this resort for a ski holiday in Romania!

Aaaand that's it - the local guide to skiing in Romania! We hope this helped and that you will consider a visiting our country during winter! Just be careful - it's better to plan in advance and book ahead because Romanians love spending Christmas and New Year's in winter resorts!
Your Romanian Friend