Ask any Romanian what's their favorite thing about our country and most will say something about the breathtaking sceneries and natural beauty of the Carpathian Mountains!
No wonder - since the Romanian Carpathians take up almost 55% of our country's surface! This mountain range is the largest and highest in Eastern Europe and most of it is in our country. That's why it's sometimes called the Transylvanian Alps.
Besides the beautiful landscapes you expect when at high altitudes over 2,000m (6,500 feet), Romania's mountains offer a variety of impressive natural attractions, has many national parks rich with wildlife (including the largest population of brown bears!) and host lots of small villages where locals have preserved an authentic rural way of life.

But unfortunately our country is still an undiscovered destination with few tourist numbers for classical sightseeing. Most people have never heard about the Carpathian Mountains - let alone their size, heights, impressive natural beauty and tourist opportunities!
That's until they visit Romania for the first time, travel from flat Bucharest to the tourist town of Brasov and see the impressive 2,200m high Bucegi Mountains towering above! Seeing those awe-struck faces against the car's windows is priceless for us :)
What's even more challenging is that the Romanian Carpathians are very wild and tourist infrastructure underdeveloped - which makes it hard even for locals to explore their natural beauty in a safe way.
Let alone for foreign tourists who don't know what to expect, can't find accurate info and want to go hiking alone!

As a local company, since 2017 we've helped thousands of tourists discover the natural beauty of our country and go on safe hiking trips or wildlife tours with certified guides who are also friendly and passionate about what they do.
So in this article we'll going to give you more info about the Carpathian Mountains and:

a breakdown of this huge mountain range and its most popular subgroups
the best place to go for beautiful one-day hikes or a multi-day trek
the best time to do it and weather conditions

If you're looking for more in-depth info about planning your hiking trip, trails and how to stay safe in the Romanian Carpathians full of bears, check our dedicated guide for hiking in Romania.
This article will give you a brief overview of the most popular mountain ranges in the Romanian Carpathians and what makes each of them special:
Get your hiking boots ready!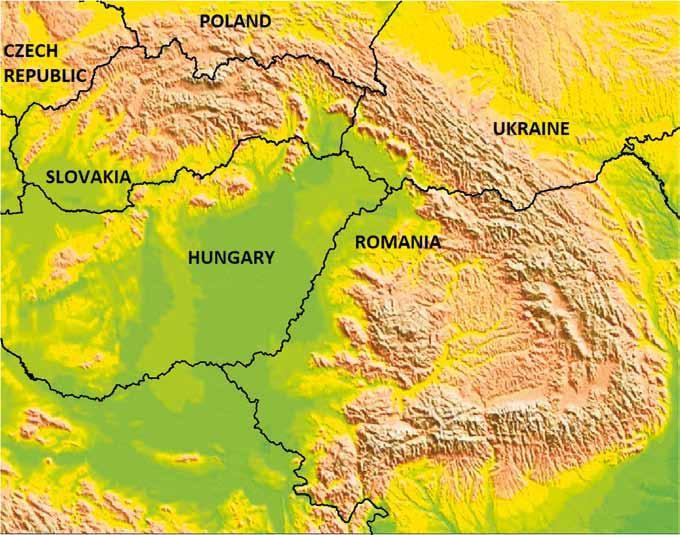 1. Approach the Carpathian Mountains of Romania
The Carpathian Mountains are the largest and highest in Central Europe spreading across Serbia, Romania, Ukraine, Poland and Slovakia.
Looking at their map you'll see the Romanian Carpathians form an arc over our country. They're the natural borders of the three regions that make up Romania: Transylvania (inside the arc), Wallachia (South until the Danube) and Moldova (East until the Prut river, from where the country of Moldova, once part of Romania, starts).
All these mountains and their foothills are divided into three major groups:
1. the Western Carpathians
Located between Oradea, Cluj-Napoca and Deva in Western Romania, these are medium-sized mountains with altitudes ranging between 1,200-1,800m. The highest altitude is reached at Vladeasa Peak at 1,836m in Vladeasa Massif.
Generally called the Apuseni Mountains, they're known for their picturesque sceneries dotted with mountain villages, numerous caves and high accessibility for tourists and hikers of all fitness and experience levels.


2. the Central Carpathians
Stretching from Timisoara in the SW to Brasov in central Romania, this group includes the highest, wildest and most difficult and inaccessible mountains in Romania.
Reaching altitudes of 1,800 – 2,500m with many rocky trails, many glacial lakes, deep valleys and dense forests - human population is sparse but wildlife is rich! Most trails are for hikers with a good physical fitness level, proper hiking gear and experience in the mountains.
The highest point in Romania is here at Moldoveanu Peak 2,544m in Fagaras Mountains, as well as the second highest peak, Negoiu Peak at 2,535m.


3. the Eastern Carpathians
Stretching from Brasov to Suceava in the North, these mountains are also pretty wild and probably the most underdeveloped for tourism and illegally exploited in our country.
With altitudes between 1,500 - 2,300m, popular mountain ranges include Calimani, Ceahlau and Rodnei Mountains in Bucovina.
***

Getting closer to the Romanian mountains or crossing them by car or train is not easy and you might want to read more about public transport in Romania. Your best bet is to get into the nearest largest city (Brasov, Sibiu, Timisoara or Cluj-Napoca) and prepare your trip from there.
Organising a hiking trip in different mountain groups of the Romanian Carpathians can also be a challenge. If you have less than 3 days, we recommend staying only in one. If you've got 3-5 days then you can do two, and if you have more than 5 days then you can plan for three.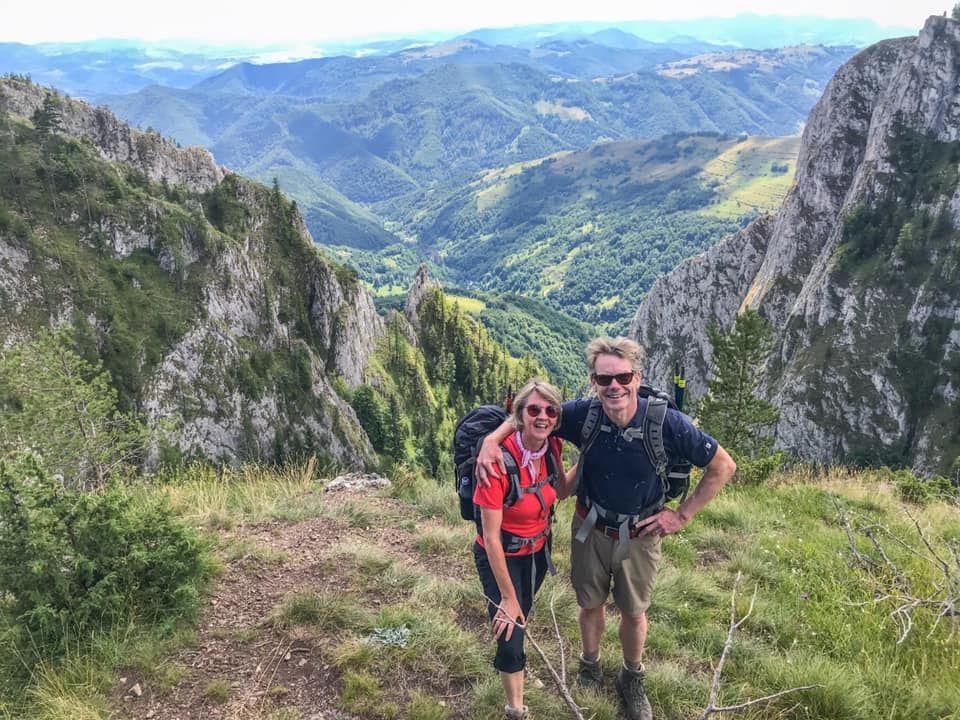 Happy hikers on one of our tours


2. What to expect in the Romanian Carpathians
All major mountain ranges have some key things in common that you must know about:
1. the Romanian Carpathians are very wild
Meaning: sparsely populated, dirt roads or inaccessible for most parts, poor phone reception, few mountain refuges and lots of wild animals.
While small towns and mountain resorts at the foot of the mountains are comfortable for regular and amateur hikers tourists, as you venture deeper into the Romanian mountains through dense forests or go up on high altitudes, you'll see less and less signs of civilization - if any at all.
There are lots of untouched areas where wild animals roam free: chamois, deer, boars, wolves, lynx, bison and brown bears. Besides large mammals, there is a rich variety of small animals, birds, as well as an abundance of plant species and vegetation types. That's why there are 30 national parks in Romania most of them in the mountains, except for the famous Danube Delta by the Black Sea.
Keep in mind that Romania has the largest brown bear population in Europe with an estimated count of 6,000. By comparison, the next country is Slovakia with an estimated count of 1,000 bears!


Local insight: did you know Romania was named Europe's last wilderness reserve and there are two documentaries about this: Wild Carpathia and Untamed Romania?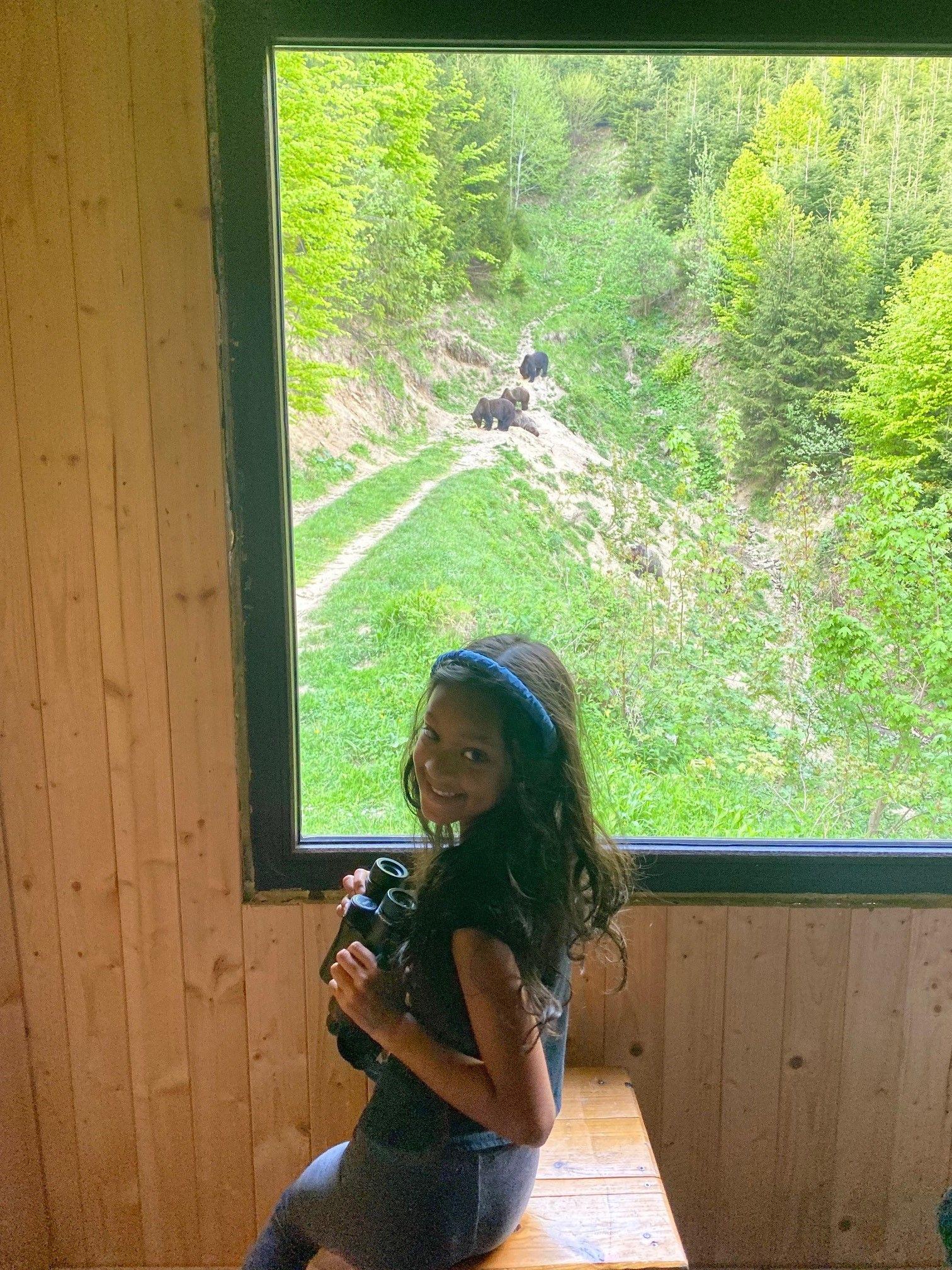 We organise safe wildlife tours with specialist guides
Brown bears are regular occurrences around hiking trails, mountain huts and camping grounds lured by the smell of food (ignorant) tourists bring - and the trash they leave behind.
This is one of the main reasons we highly recommend you go only with certified guides for hiking in the Romanian Mountains (like ours) who are equipped with pepper spray and know how to deal with these situations.
2. tourist hiking infrastructure is underdeveloped
Despite the Romanian Mountains' appeal and potential for tourism, local authorities are doing a very poor job at developing and expanding the infrastructure needed so more people can explore them in a safe and easier way.
Even if trails are generally well marked, there are few maps, manned mountain huts or refuges, especially at high altitudes.
And because of the low tourist numbers in the mountains, unless you're going during the weekend in a popular mountain range, don't expect to meet other fellow hikers on the trail.
So preparation is essential even if you're only looking for easy trails or one-day hikes. In our article about hiking in Romania you'll find more info about this. Or, save yourself the hassle of planning and go in the Romanian mountains with one of our certified guides.
3. you can't do hut-to-hut hiking in Romania
Whereas in other hiking destinations around the world hut-to-hut multi-day treks are quite common, because of the two reasons above hut-to-hut hiking trips in Romania are not possible. The only way to do this kind of hiking is on a camping expedition.
Most hiking trails are circuit and people go on one-day hikes and return to their starting point. Even if you stay overnight at a guesthouse or mountain hut, there are in the area you can get to.
However, when we plan a hiking trip for our clients we do our best to include hut-to-hut sections where possible, for example when crossing Bucegi Mountains from East to West.


4. best time to go in the Romanian Carpathians
Generally between May - October all medium altitude mountains (up to 2,000m) are accessible.
For example, Apuseni Mountains and Piatra Craiului Mountains are nice to explore all year round because they have a variety of trails and areas suitable for all fitness levels, hiking experience and weather conditions.
But Bucegi Mountains, all of Făgăraş range and Retezat Mountains are accessible only during Summer months and after the snow melts at altitudes over 2,200m – unless you're prepared and equipped to hike in winter conditions.
Keep in mind that during weekends, especially during Summer, it tends to get very crowded. The few mountain huts in the high mountains that offer bed and breakfasts tend to be booked well in advance.

***

We know from experience how excited people get about their hiking trip that's why we want to get the practical details clear first. So now when we get into the specifics of each mountain range we can see the differences between them.
For example, Fagaras Mountains known as the Transylvanian Alps for their high peaks and exposed trails are completely different from the winding and forest-heavy Apuseni Mountains or Ceahlău Mountains.
So now let's have a look at the most popular Romanian Carpathians:


3. Fagaras Mountains
Located in central Romania, the Fagaras Mountains are the highest in the Southern range. This area is probably the most visited of Romania's mountains due to its wild sceneries and high peaks - even if they have complicated logistics and are the most challenging for hiking.
The main attractions in Făgăraș Mountains is the famous scenic road Transfagarasan Road (open for driving June - October) which leads to Balea Lake, the largest of the glacial lakes in this area and the starting point for the most important hiking trails in the area.
Local tip: when Transfagarasan road is closed, there is a cable car going up to Balea Lake if approached from the North (Sibiu or Brasov); from Bucharest the road is closed and the only way to cross them is through the valley of the Olt River

With a surface 7.5 times larger than the nearby Bucegi Mountains, Fagaras Mountains have eight peaks higher than 2,500 m which attract hikers from all over.
The highest altitude of the Făgăraș range and the Romanian mountains is Moldoveanu Peak at 2,544 m, followed by Negoiu Peak at 2,535 m, the second highest peak. Vânătarea lui Buteanu Peak at 2,507 m stands out with its rocky crest and is a little more accessible.
Other attractions in the Făgăraș range are the ruins of Poenari Castle, Stan's Valley or Dambovicioara Cave.
These mountains are known to be among the wildest in our country and because of their exposed sides and deep valeys you may get lucky and see some wildlife or even spot golden eagles.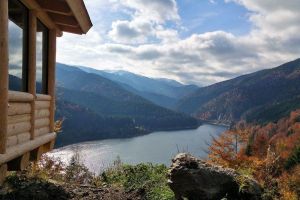 Start from: Rucar, Arges county
See details
The large cities of Brașov and Sibiu are close and elegant options for anyone who wants to combine classical tourism with nature. Travel by car to have better access to the main natural attractions.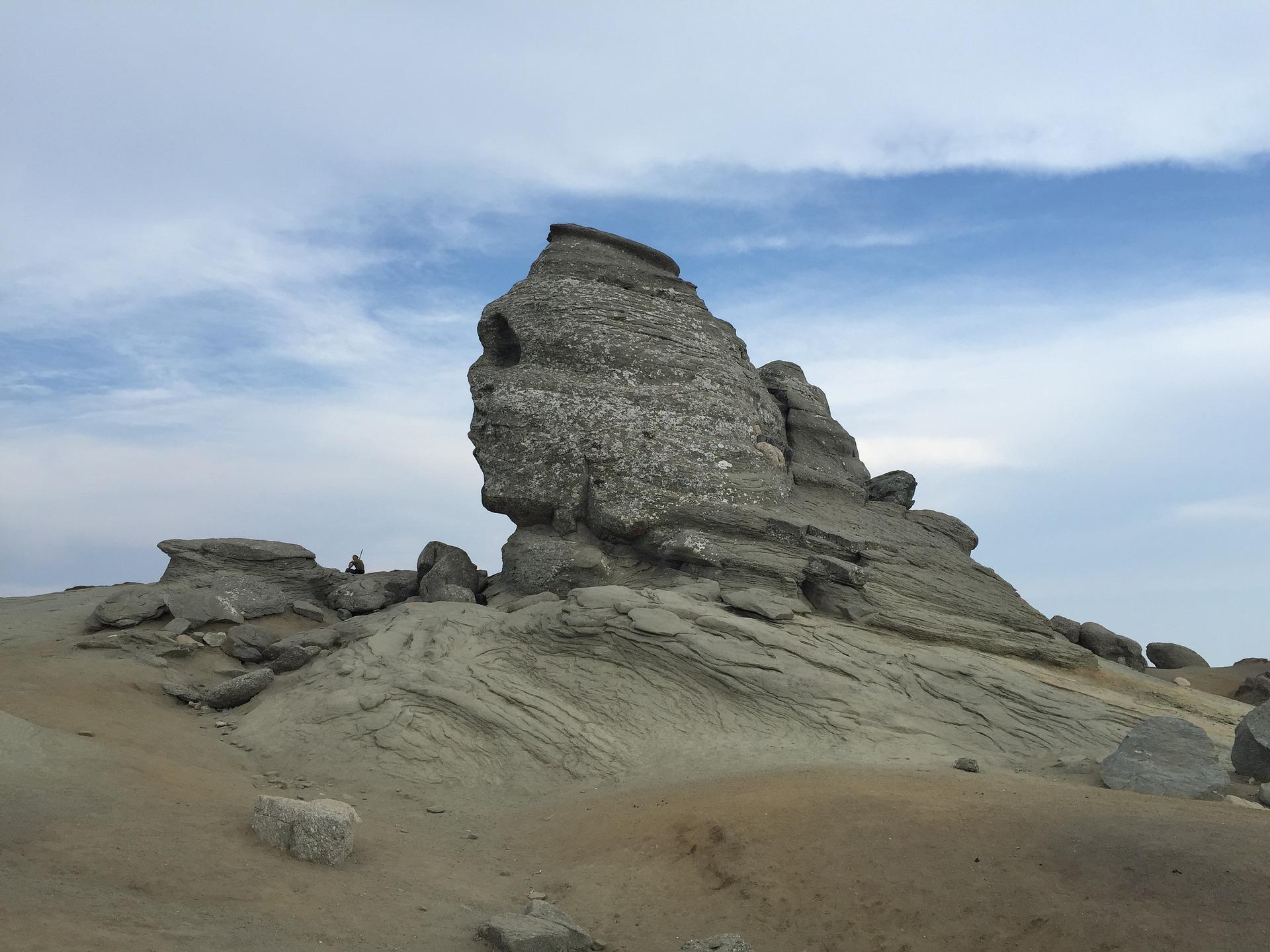 The Romanian Sphinx is a popular spot in Bucegi Mountains
4. Bucegi Mountains
The tourist gem of Prahova Valley, the Bucegi Natural Park is part of the Southern Carpathians of Romania. Bucegi Mountains host a range of trails, from the most accessible to the more challenging, longer ones. Most start from the small mountain resorts at the base which are quite accessible and frequented by lots of tourists.
The main attraction in the area consists of the Sphinx and Babele rock formations on the Bucegi plateau, accessible by cable cars from Busteni. There are several easy trails, like the hike to the Urlătoarea waterfall, or easy yet long ones, such as the trail leading to the Diham hut.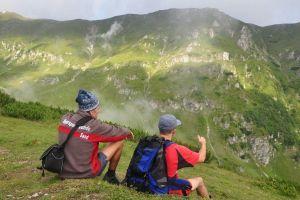 Start from: Brasov or Sinaia or Busteni
See details
Despite being one of the most accessible national parks, Bucegi Mountains are full of wildlife. Caution and good information are recommended when venturing out on trails. Apart from the brown bears everyone warns against, you can come face to face with deer, wolves, black chamois and even the elusive lynx.
Omu Peak is the highest point in the Bucegi at an altitude of 2,541 m and it ranks 11 on the list of Carpathian high altitudes and sixth among the Romanian Carpathian peaks. Up to 5 trails are leading up to it most of which are not recommended in winter. They vary in duration from 3 to 8 hours and go from accessible to complex.
If you're wondering what to do in Bucharest to get you closer to the great Romanian outdoors, Bucegi Mountains are your best choice. You'll have the best time in resorts such as Busteni, Sinaia, Predeal, Bran and other nearby small villages most of which are accessible by train, bus and car.

A typical hike through picturesque mountain villages near Brasov
5. Piatra Craiului Mountains
Piatra Craiului National Park has been a protected area since 1938. Its narrow, saw-like limestone mountain ridges with a total length of 25 kilometers is unmistakable and freakin' impressive!
The most common activities here are trekking and mountain biking through the spectacular Zarnesti Gorges. The collapse of a cave roof led to the formation of a narrow limestone canyon we now know as the beautiful deep gorges of Zarnesti, a great place to see (and most hiking trails start through here) and take in the scenery as you walk on a dirt road.
A walk through the gorges will take you to the starting point for trail leading up to Curmatura Hut. You will go through dense forests and mountain pastures. Although strenuous, this is one of the easy trails.
Most trails are medium-to-high difficulty. Those who want to cross the main ridge of Piatra Craiului or reach its highest peak, La Om at 2,206m will need to be in good condition with their fitness and have the right technical skills for their hiking as some sections are rocky, exposed and quite dangerous.
Going on a trip in Piatra Craiului is one of the best things to do in Brasov, which is Romania's most popular tourist city. The famous Dracula Castle going by its real name, Bran Castle, is also nearby.


6. Retezat Mountains
Also part of the Southern Carpathians mountain range, the Retezat Mountains are home to the Retezat National Park, Romania's first national park. These mountains are so wild because they're inaccessible and unpopulated, there's not even a mountain hut here!
Over 185 species of birds and 55 species of mammals live here. The diverse scenery, with its glacial lakes, waterfalls, peaks, and gorges are simply incredible. True outdoor fans will love Retezat Mountains - but they must be well prepared!
Home to an extensive network of glacial lakes, one of the main attractions here is Bucura Lake a glacial lake spread over 8,9 hectares at an altitude of 2,030 meters. The Peleaga Peak, at an altitude of 2509 meters, is the highest here.
Despite Retezat Mountains being so popular, they're not very accessible for most people who don't have a very good fitness level or hiking experience.
But for those who do - this is one of the best places in Romania to plan a multi-day camping expedition. Our local guides will provide everything you need for this. And, anyway, there's no other accommodation option in the area and one day hikes will be too short!
You can access Retezat National Park from Cheile Butii (Butii Gorges) and stay at the resort with the same name. Another popular entry point is Carnic. Both of these are accessible only by car though.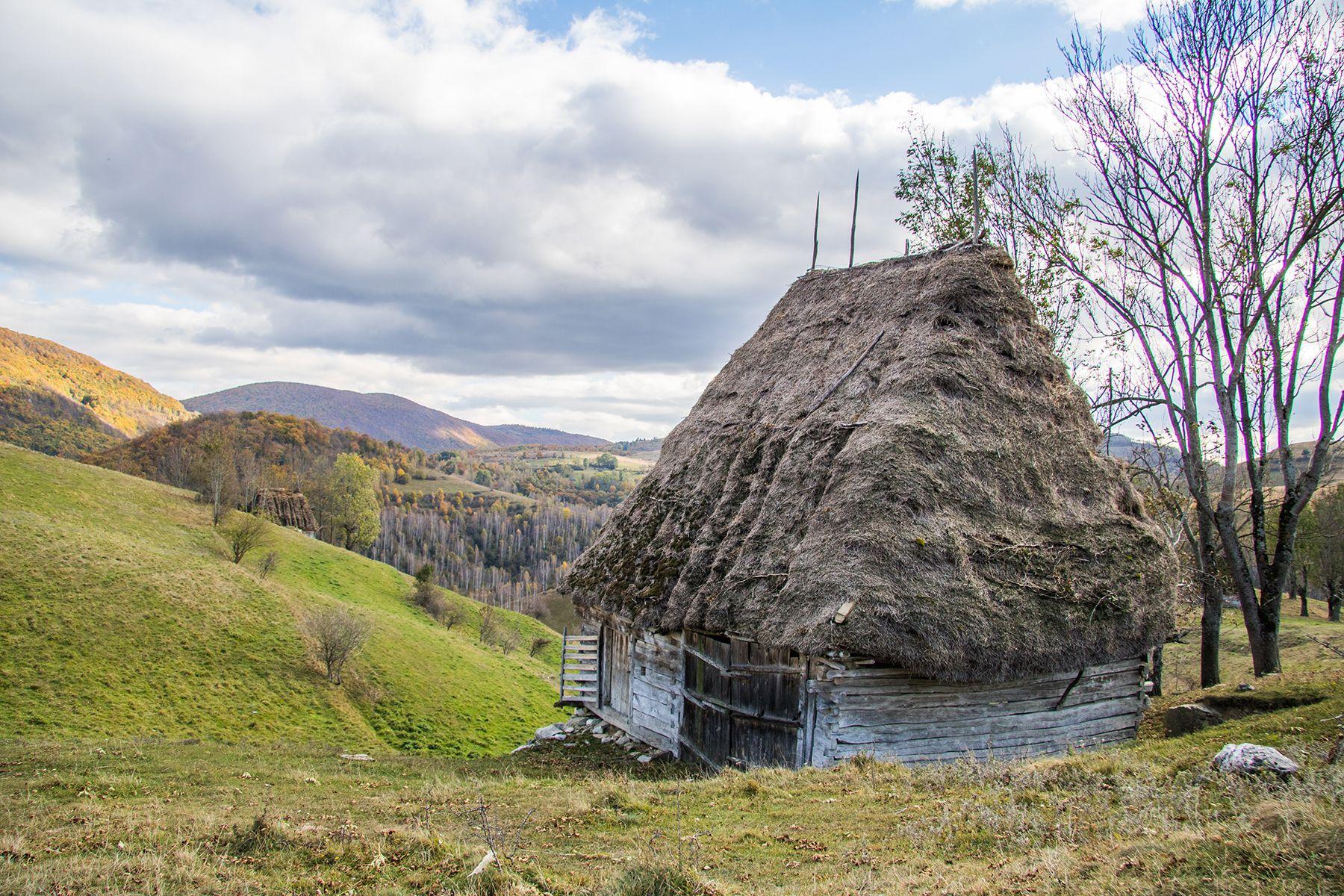 Typical sceneries in Apuseni Mountains
7. Apuseni National Park
Called by CNN one of the "best-kept secrets in Eastern Europe", Apuseni Mountains are a charming tourist destination in the Western Carpathians for outdoor fans. They are most accessible from Cluj-Napoca, Romania's 2nd largest city and Transylvania's unofficial capital.
With medium altitude mountains reaching as high as 1,836m at Vladeasa Peak, this area is known for its picturesque valleys and traditional villages where friendly locals are ready to welcome you in their homes.
Hikers with a passion for geology will be fascinated by the karst formations, the deep valleys, gorges, and the karrens. In Apuseni National Park there are over 400 caves to explore, created long ago by underground river streams. The most popular one is the Bear Cave, where the fossils of a species of bears thought to have disappeared 15.000 years ago were found. ​
​Various species of deer have their natural habitats in the Apuseni Mountains, like the roe deer (Capreolus capreolus), the chamois (Rupicapra rupicapra) and the deer (Cervus elaphus).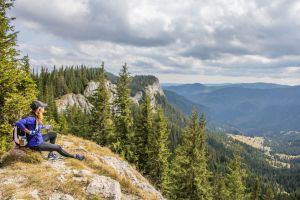 See details
Many tourists appreciate the mountain villages in the region, offering a peek into the fascinating rural lives of mountain people in Romania. You can find room and board, observe traditions, and even participate in many of the activities people in the area still undergo to ensure their livelihood in the middle of nature.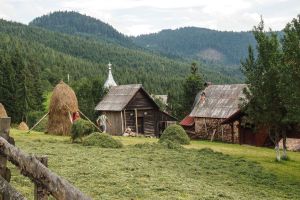 Start from: Cluj-Napoca or Sibiu
See details
You can find accommodations, from fancy hotels to boutique B&Bs, uniquely decorated local huts, and even villas run by locals in places like Arieseni, Pietroasa, Matisesti, Albac, or Vartop.
If you wish to encourage sustainable tourism, you can opt for one of the many local B&Bs run by representatives of the local communities. People will also prepare food from what they grow in their own gardens, making everything delicious and ethical.
A day trip into Apuseni Mountains is one of the most popular things to do in Cluj. This modern and vibrant city has much to offer tourists, from museums and fancy restaurants to some of the best festivals in Romania such as UNTOLD, Electric Castle or TIFF.
If you are in Bucharest these mountains are too far away for a one or two day trip. So either you fly to Cluj and approach the mountains from here, or you go hiking somewhere closer such as Bucegi Mountains.


8. Ceahlau Mountains
Bordered by Bicaz Gorges (with a scenic road passing through) and the beautiful Bicaz Lake, Ceahlau Mountains are part of the Eastern Carpathians and the highest mountains in Eastern Romania. Its most prominent peaks are Ocolasu Mare at 1907 meters and Toaca at 1904 meters high.
​Venturing up the mountain, you will notice the diverse flora, including the endangered Lady's Slipper and Edelweiss (which you are forbidden from picking!). One hike alone might take you through various sceneries, from lush forests to trails covered in juniper bushes, leading up to impressive rock formations.
Despite the general notion that these trails are accessible, you must be in good physical condition, as some may prove strenuous. Locals practice religious pilgrimages up the mountain, going past Fantanele Hut to Dochia Hut and spend the night at the religious edifice on the plateau.
Another popular attraction is the Duruitoarea waterfall which at 25 meters high is very impressive. A local recommendation is to see the waterfall when returning from Dochia. Going up the very high and steep rocky steps can be horrible for your knees.
Its location in the northeast makes the average temperature lower all year round in this mountain group compared to the other mountains of Romania. So, make sure to keep an eye on weather conditions constantly and be well equipped!
Accommodations and restaurants can be found in the small towns of Durau and Ceahlau which are also close to the starting point of most hiking trails.
There's one interesting legend in the area. As you approach Durau resort, you will see the Mountain Stream Lake with one big rock in the middle called the Devil's Rock. Locals swear by the fact that, when nobody's looking, the 26 meters-high rock moves!

Since no explanation was found for the phenomenon, the locals have filled in the gaps and concluded that the devil is moving the rock around. If you see locals making the sign of the cross and muttering something whenever they pass by it - it's because everyone who has tried climbing it ended up dead...
Testimony to this are the numerous metal crosses you will see around it. Make sure to look at this natural and supernatural oddity.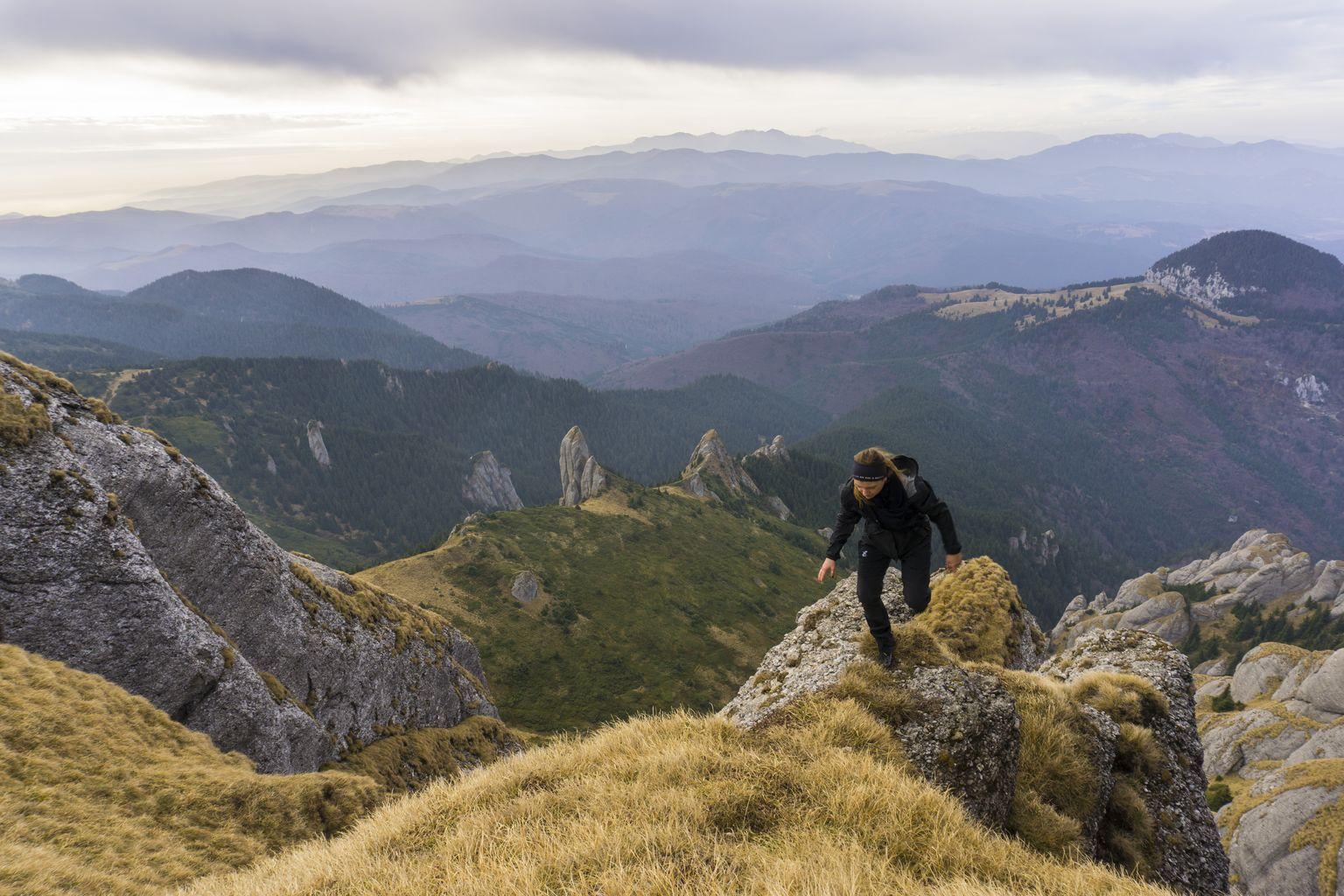 One of Romania's mountains best kept secrets
9. Ciucas Mountains
Close to Brasov, Ciucaș Mountains are part of the Eastern Carpathians and can be seen looking East from Bucegi Mountains. They are seen as part of the Curvature Carpathians, and their scenery is unique. This mountain range is spectacular with hiking routes open all year long making it perfect for climbing, hiking, and mountaineering.
​
Make no mistake: Ciucas Mountains are on the high spectrum, reaching a maximum altitude of 1,954m meters at Ciucas Peak. But there are still some accessible trails, making it an easy hike even for beginners on one-day hikes from Bucharest or Brasov.
This is one of the best places to observe some unusual and exciting karst formations.
Therefore, geology lovers will appreciate the tall cliffs and unusual rock formations which wind and rain have shaped throughout the years.
Creative locals quickly named them:

"Babele la sfat"- old women having a chat
"Mana Dracului" - the Devil's Hand
"Goliat's Tower"
"Tigaile Mari si Mici" - big (cooking) pans and small pans
You can choose from up to 12 trails most starting from Cheia mountain resort which is accessible only by car.
Although the trails are short and you can still do them in one day even with children, the best views of the mountains are at sunrise or sunset. To catch that, you should spend the night at the Ciucas mountain hut.
Apart from the Cheia small resort at the foot of the mountains, the city of Brasov remains the best option for anyone looking to mix an experience of the Romanian Carpathians with the comfort of modern tourism.
​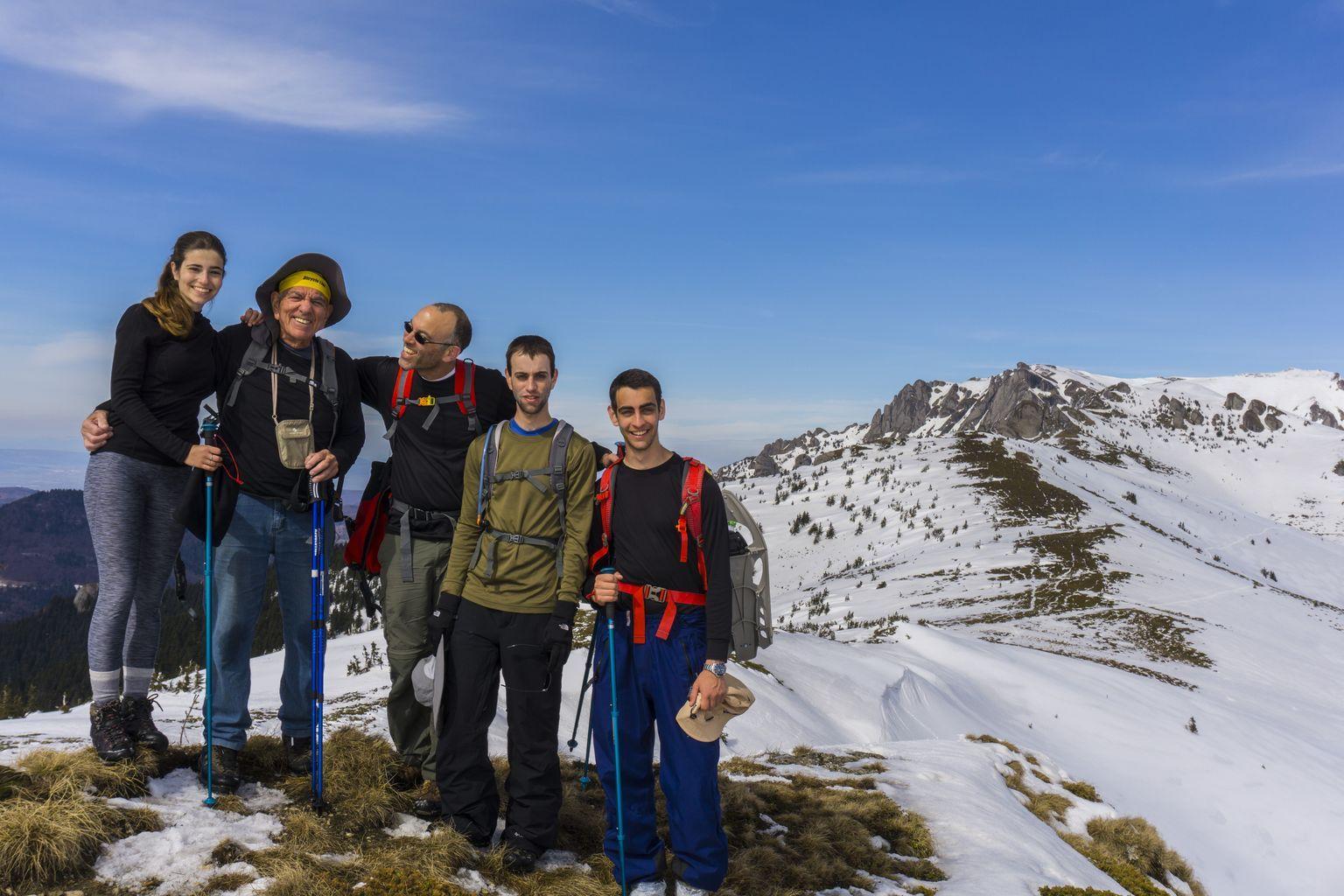 A family of hikers on one of our tours
Conclusion
The mountains of Romania, though mostly unknown as a tourist destination, will impress nature enthusiasts from around the world. From Apuseni Mountains in the West, Ceahlau Mountains in the East, or Făgăraș Mountains in the South, I hope I was able to show you how each mountain range has its own allure. ​
But before you start planning to travel to Romania remember the things that make the Romanian mountains unique: their wilderness.
Which makes it even more likely that hiking in Romania's mountains will give you an experience you won't forget anytime soon. There are things you won't see anywhere else in Europe, from picturesque villages with a traditional lifestyle, to fascinating geology, varied flora or numerous wild animals.
So, ready to explore?
Your Romanian Friend,
Elena