Other than Count Dracula, Simona Halep, Nadia Comaneci or Gheorghe Hagi – what are some other famous people from Romania?
You'll be surprised to know there are many Romanian celebrities and talented people that had a significant contribution in the world of sports, culture, politics and science.
Very few people visit Romania even though our country has beautiful natural diversity with a rich, Game of Thrones-like history. But it's the people of Romania that make our country great. We're friendly, hospitable, with a strong sense of community and an appreciation of life's simple beauty.
That's why we prepared a list of famous people from Romania who we think proudly represent Romanian culture and values beyond our national borders.
So if you're planning to visit Romania soon or haven't thought about it – but are curious what makes our country great and who are some famous Romanians – read on!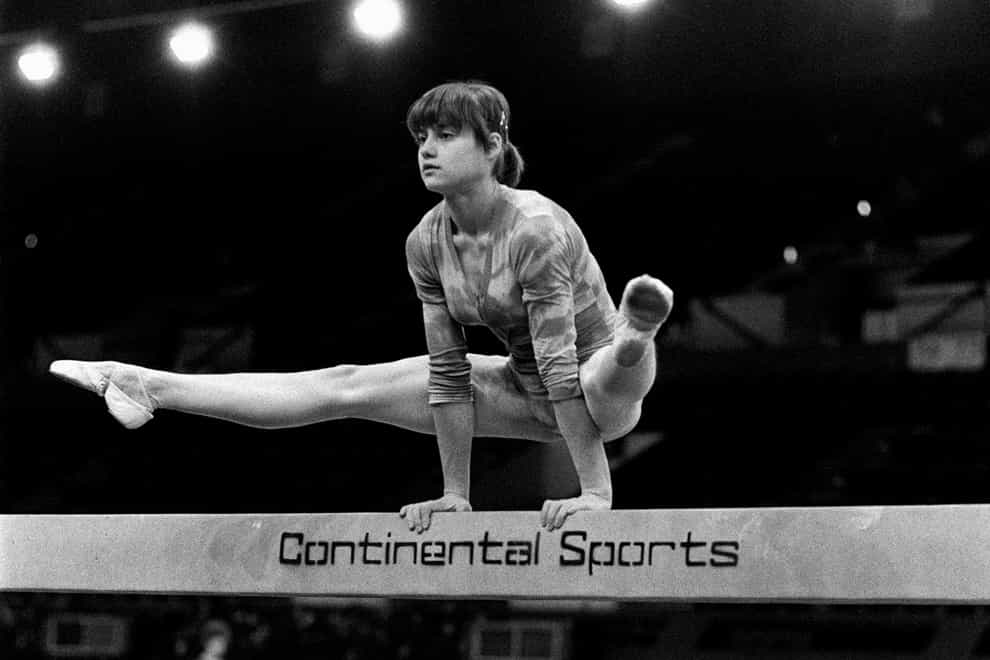 At 14 years old Nadia Comaneci achieved international fame
1. Nadia Comaneci: First Gymnast with a Perfect Score
Nadia Comaneci made history at the 1976 Summer Olympics in Montreal. Not only is she one of the most famous Romanians but she is among the best-known gymnasts in the world.
She was the first gymnast ever to be awarded a perfect score of 10 points for her performance on the asymmetric bars, thus becoming one of the best-known gymnasts in the world. This incredible feat marked the start of an extraordinary career for the Romanian athlete who went on to win five Olympic gold medals, three silver, and one bronze medal.
In 2004, she was included in the International Gymnastics Hall of Fame and has even been featured on a Romanian postage stamp. In 2012, she lit the Olympic Flame at the London Olympic Games.
Today, Nadia Comaneci is still actively involved in gymnastics, coaching and mentoring young athletes in her special facility in the United States.
You can visit the monument for the Romanian Women's Gymnastics Team at the 1976 Montreal Olympics in her hometown of Onești in Bacău county. Behind it is the training facility built during communist Romania in a time of great austerity.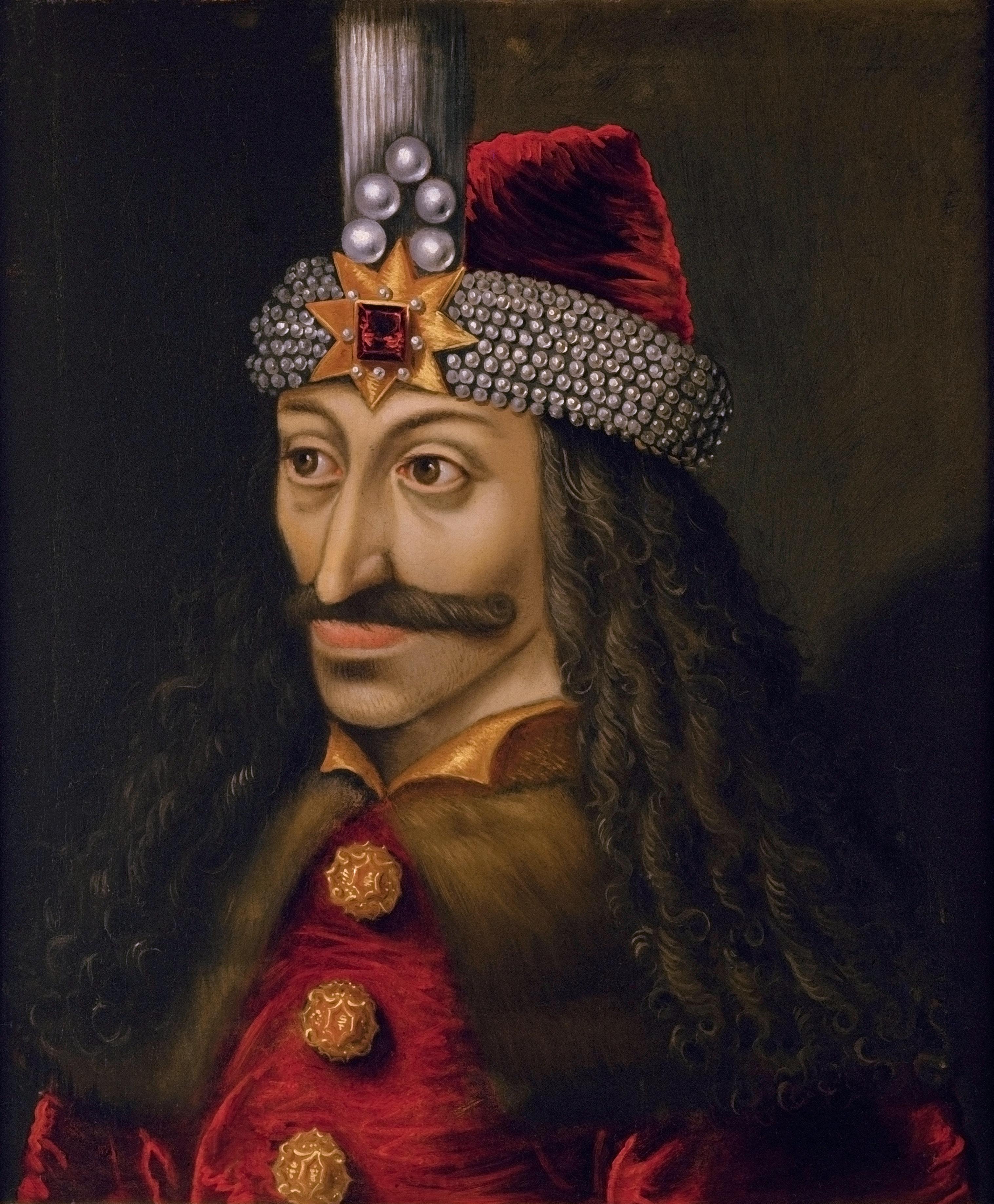 Vlad Dracula made Romania famous with his reputation
2. Vlad Dracula who Inspired Bram Stoker & Count Dracula
Undoubtedly one of the most famous people from Romania is Vlad Dracula (aka Vlad the Impaler or Vlad III), a 15th-century ruler of Wallachia.
Vlad Dracula was a courageous and tenacious leader. During his rule he fought off Ottoman Turks who invaded parts of Wallachia (Southern Romania).
He's best known for his cruelty and ruthlessness in punishing thieves, traitors and enemies through his favorite practice: impaling them and leaving them for a slow, exemplary death. This earned him the name Vlad the Impaler and a legendary status among Romanians who see him as a national hero even today.
400 years later his reputation inspired Bram Stoker to write his famous novel Dracula which takes place in Transylvania. His story became very popular especially in the United States and inspired many other writers, artists, video games and horror films – even though much of it has nothing to do with historical reality.
Bela Lugosi who played Count Dracula in the 1931 movie made a great role but has little to do with the "original" Vlad the Impaler. The same can be said about the 1992 Dracula movie

That's why so many tourists visiting Romania look for Bran Castle tours believed to be the home of Vlad Dracula and Romania's #1 tourist attraction.
Visiting Bran Castle is one of the most popular things to do in Brasov because tourists want to find out more about Vlad Dracula and if there's any truth to all the stories and legends about him. Just know there are many other Romanian castles worth visiting!


3. The most famous Romanian composer: George Enescu
George Enescu (1881 - 1955) is widely considered one of our country's most talented people and famous Romanian composer. Enescu also had a successful career as a violinist, pianist, and conductor and he excelled in various musical styles, from symphonic to chamber music.
His works are still very popular even today and he is remembered as a genius musician by his Romanian contemporaries and international peers, especially in Europe. He combined modern expression with traditional elements of Romanian folk music and many consider him the greatest composer of Romania's post-classical period.
One of the most beloved works signed by Enescu is the Romanian rhapsody – check it out below:

The George Enescu Festival is one of the most popular cultural events in Romania. A month-long festival, it's held annually in September in Bucharest to pay tribute to Enescu's most famous works and promote classical music. Attending the festival is one of the reasons why people visit Bucharest and even if you're not into classical music concert tickets are sold individually.
It attracts some of the world's best musicians, orchestras and composers together with local and international visitors who want to experience classical music through live performances on stunning stages, including the Romanian Atheneum.

A short summary of the main ideas of Mircea Eliade


3. Mircea Eliade: Historian of Religions
Probably one of the most famous Romanians on the cultural and literary arena, the scholar and writer Mircea Eliade had a significant contribution on world's body of knowledge.
An eminent historian of religions (who also inspired Joseph Campbell), fiction writer, literary critic, philologist, and philosopher, his work impacted many fields. He was called a theologian of the sacred and declared multiple times he never ready any newspapers.
Eliade was born in Bucharest in 1907 and was one of the first Romanian writers to gain international recognition. He had a French-style education and upbringing in Bucharest which was very common for the Romanian elites of the early 20th century.
He went on to spend three years in Calcutta thus opening his appetite for spiritual knowledge. His advanced religious studies have taken him to some of the most prestigious university centers in the world. He was a cultural attaché in London in 1940, got transferred to Lisbon in 1941 to 1944, taught in Paris at the Sorbonne between 1945 and 1957, and eventually settled in the United States at the University of Chicago.
His writings have been translated into over 60 languages with some 30 volumes published posthumously. Eliade is the leading interpreter of the religious experience and his seminal work on the History of Religious Ideas is appreciated all over the world.
In 1993 he was posthumously awarded a National Order for his contributions to Romanian culture and literature and his extensive work researching the Romanian language.
If you're looking for off-the-beaten path things to do in Bucharest take a guided tour that includes Mantuleasa Street. Look past the iron fences at the old houses which is where Eliade grew up.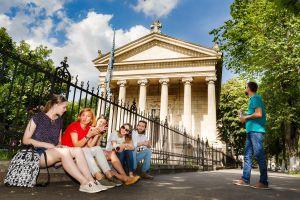 Start from: University Square
See details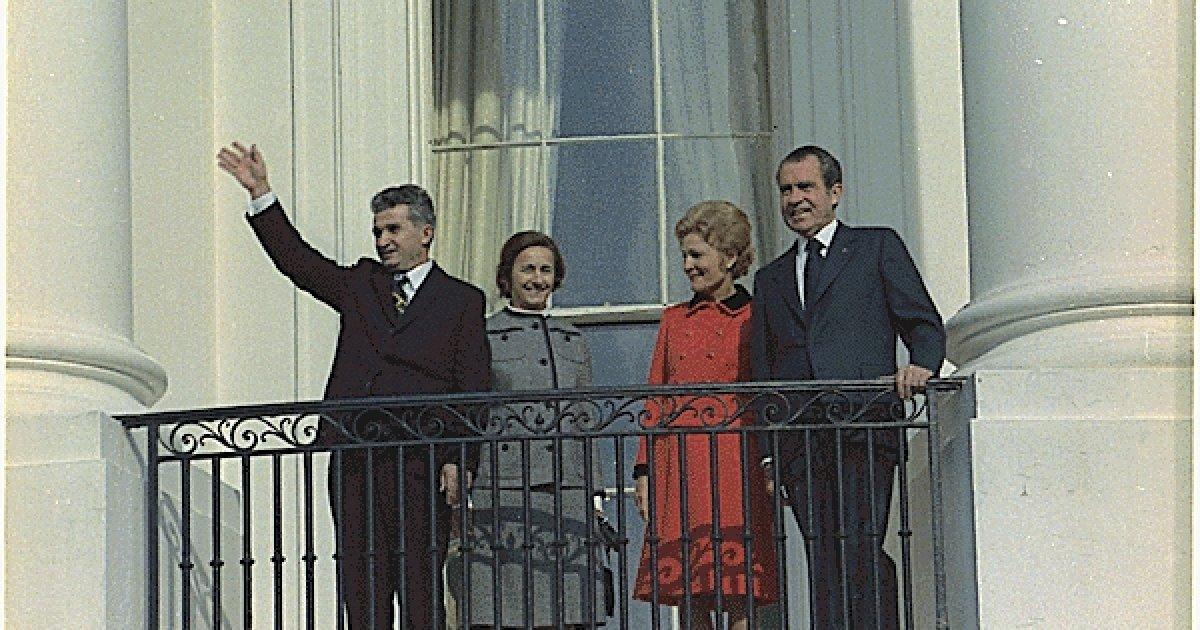 Nicolae Ceausescu the only communist leader who visited the United States
4. The Infamous Communist Leader Nicolae Ceausescu
Nicolae Ceausescu is one of Romania's most famous people - even if for the wrong reasons - and his legacy is still felt today.
After starting off as a member of the Romanian Communist youth movement, Ceausescu became a powerful Communist leader holding the title of General Secretary of the Romanian Communist Party. He was elected as President of Romania in 1974.
Under his rule, communist Romania had a significant boost of industrial and agricultural production, and major infrastructure projects were developed. For a while, everything was good.
But after a visit to North Korea he became fascinated with having a personality cult and developed a obsession with huge, questionably viable projects such as the Palace of Parliament which is has a damned reputation even today.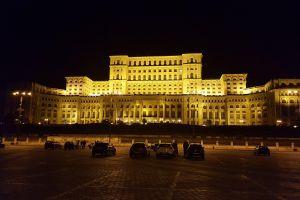 See details
To fund his megalomaniac projects, he limited citizen freedoms, introduced harsh censorship laws, started limiting food and basic supplies, restricted imports and boosted exports.
As is often the case in dictatorships, Nicolae Ceaușescu and other communist leaders were well off and enjoyed a life of luxury while ordinary Romanians were starving, felt humiliated and lived in fear.
Local tip: if you want to find out more about life in communist Romania – which is similar to any dictatorship – then visit Ceausescu's private home in Bucharest and then the apartment of ordinary people preserved as a time-capsule museum to experience the contrast of those times

This is the context in which the Romanian revolution started in December 1989 in the larger context of USSR disintegration (Romania was NOT part of the Soviet Union!). But the power structures of communist Romania were not ready to let go of control so violent clashes ensued with shootings, victims and deaths all over the country.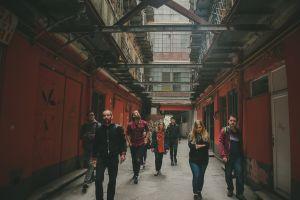 Start from: Piata Romana (Romana Square)
See details
On 25 December 1989 as the anti-communist Romanian revolution was in full swing he was found guilty of genocide against the people of Romania by an impromptu tribunal set up in a military garrison in Targoviste and swiftly executed in the courtyard for his crimes along with his wife, Elena Ceausescu.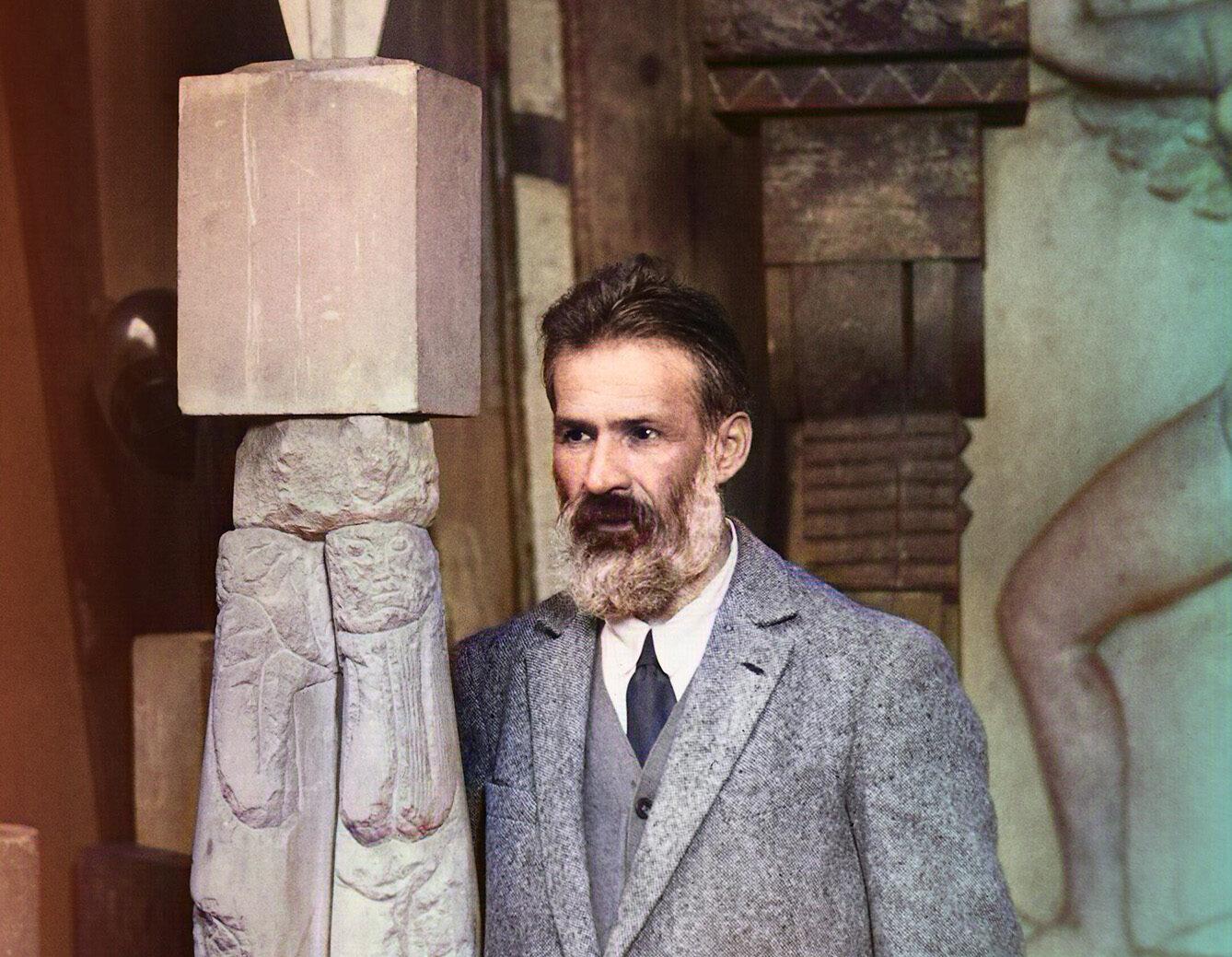 The sculptures of Constantin Brancusi can be freely visited


5. The Abstract Sculptor: Constantin Brâncuși
Constantin Brâncuși is Romania's most celebrated sculptor, and a pioneer of modernism. Born in 1876 in a small village in Southern Romania, Brâncuși was always a free and creative spirit.
He studied art in Bucharest and, following a dispute with the public administration who refused to pay him part of his commission for work he had been assigned to do, he set out to travel to Paris by foot in 1904.
In 1905, he was admitted to the greatest artistic institution of the time in Paris and was offered work alongside Auguste Rodin considered the founder of modern sculpture - but he refused because he wanted to carve his own path in art. An interesting fact, if not crazy, for those times.
Which he did. His work became iconic for its simplified forms and abstract shapes. Soon he was acclaimed for his sculptures and joined the ranks of famous artists in Europe. During his time, Brâncuși developed many distinctive features which made him part of modern cultural heritage worldwide.
His most famous work The Infinity Column (Coloana Infinitului) became a national symbol for the people of Romania and is a tribute to those who died during World War I. In 1938 it was placed in the city of Târgu Jiu in Southwest Romania where it can be admired today along with his other works.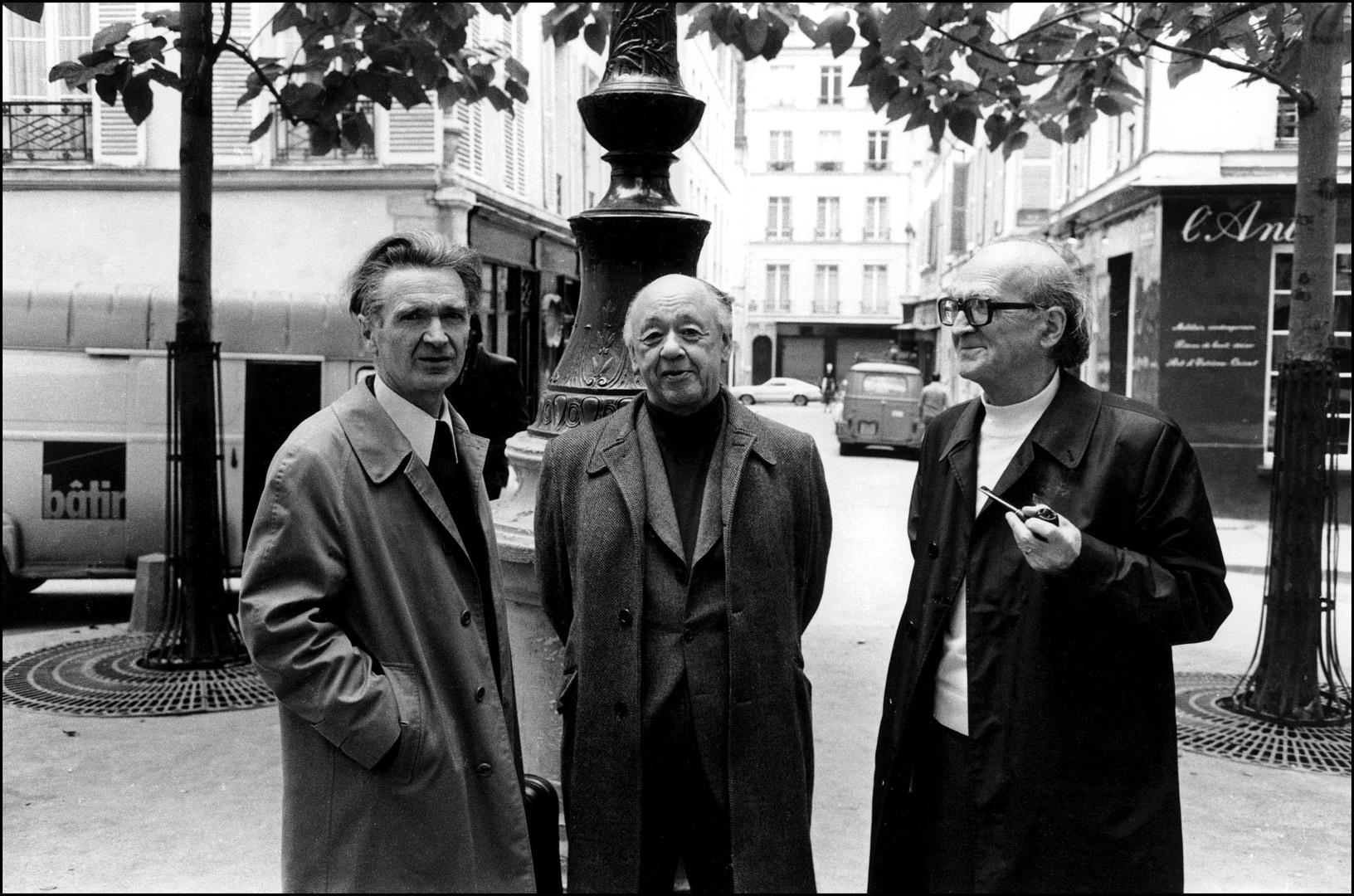 Take Ionescu (left), Eugen Ionescu and Mircea Eliade (right)
6. Pioneer of the Theater of the Absurd: Eugen Ionescu
Continuing our list of famous people of Romanin origin is Eugen Ionescu, a symbol of Romanian theater and a pioneer of absurd theater. Born in 1909, he was a contemporary and close friend of Mircea Eliade and Emil Cioran, the intellectual powerhouse of Romanian culture before World War II.
Ionescu's theatrical career is centered around absurdist comedy plays such as "The Bald Soprano" and "Rhinoceros". His works became some of the most influential plays in the theater of the absurd genre. Ionescu's style was marked by dark humor and biting satire.
He paved the way for surrealists and postmodernists alike and his influence still resonates today among playwrights, directors and famous artists on worldwide theatres.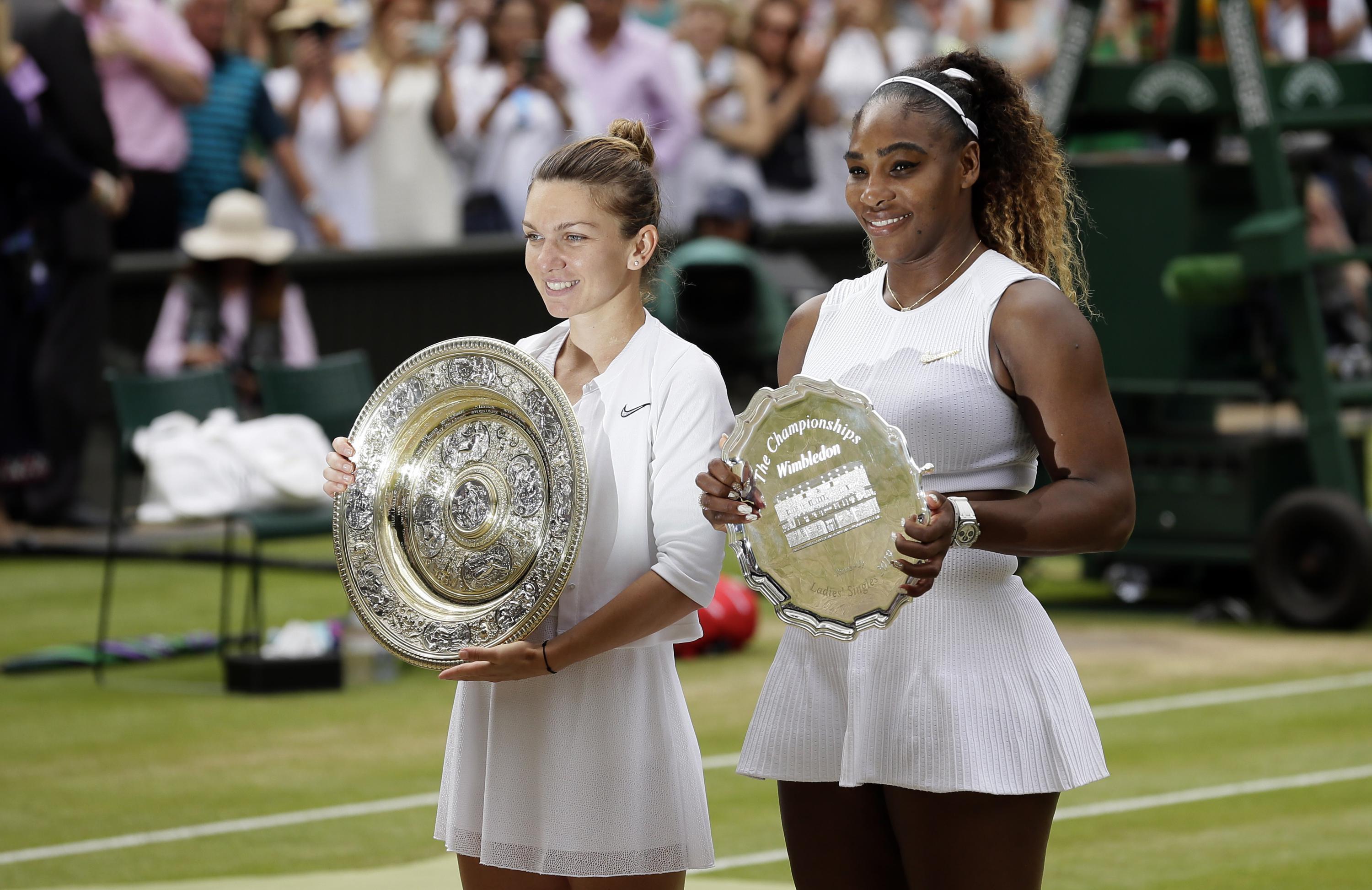 Simona Halep beat Serena Williams in the 2019 Wimbledon Final
7. The Romanian Tennis Player Simona Halep
Simona Halep is one of the most famous sportspeople in Romania and has made a name for herself as one of the best Romanian professional tennis player among women. Halep's career started at an early age when she was four in her hometown of Constanta and since then she won 19 singles titles and three doubles championships.
Halep became the first Romanian woman to win a Grand Slam title when she won the 2018 French Open. Earlier that year, she also achieved a career-best ranking of world number one after reaching the semifinals at Wimbledon.
She won the 2019 Wimbledon championship after beating Serena Williams - her biggest career achievement.
She also received numerous honours at home, including having two stadiums named after her, becoming an honorary citizen of Bucharest and inspiring a whole generation with her sports performances and mindset.
Halep is not just an incredible athlete: she also used her fame to support social causes such as raising awareness about bullying during her visits to schools and universities.
Simona Halep was for a long time the second-highest ranked Romanian player in WTA but due to several injuries and, more recently, a doping scandal that has not been settled, she lost her ranking.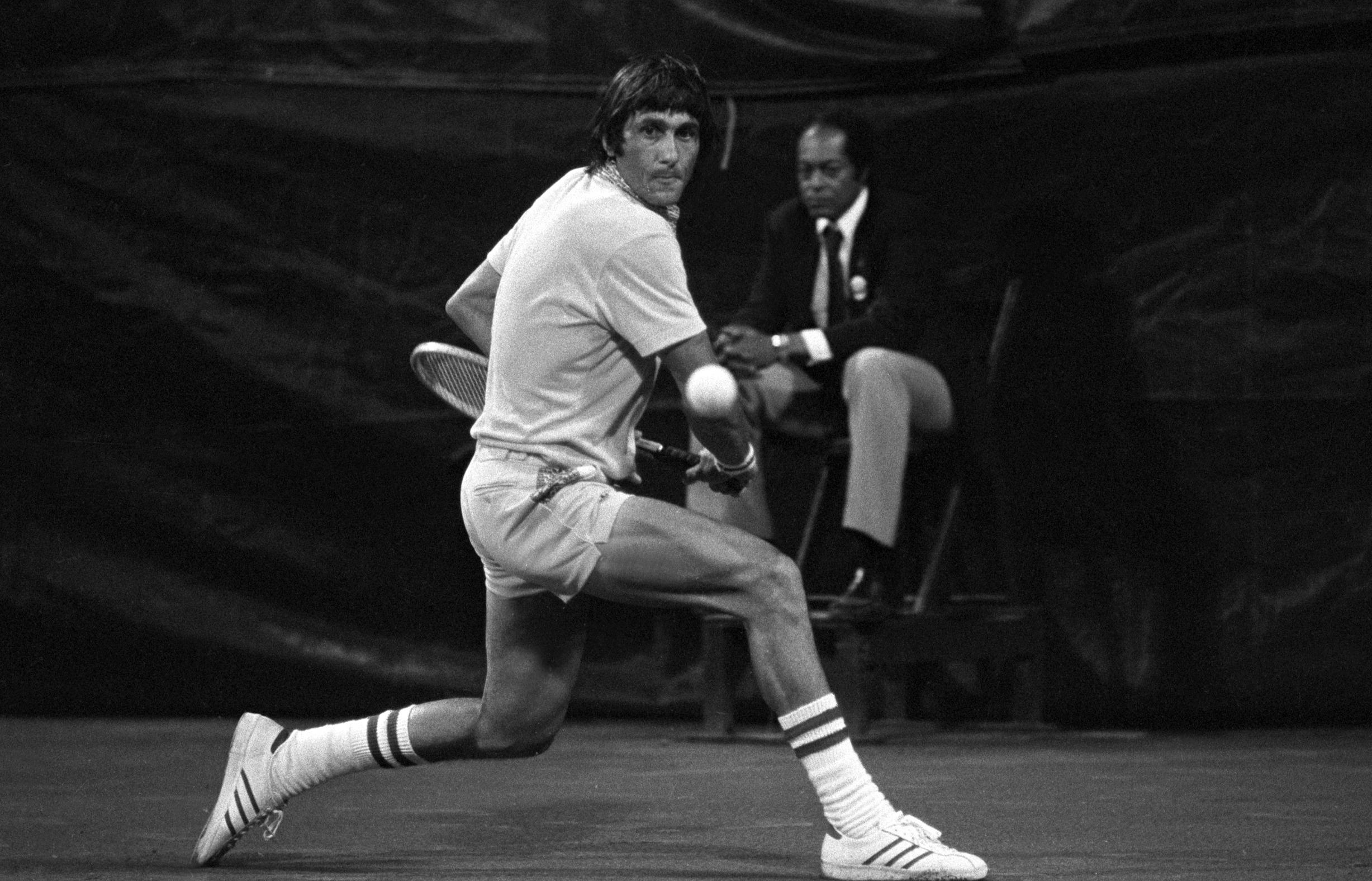 8. Ilie Năstase – Another Famous Tennis Player
The famous Romanian tennis player Ilie Năstase was the first Romanian ranked No. 1 in the world by the Association of Tennis Professionals (ATP) in 1972 and 1973.
He also reached the finals of both Wimbledon and the US Open twice, making him the first Romanian professional tennis player to be recognized internationally. Năstase won seven doubles titles and was a runner-up for two Grand Slam titles.
Along with Simona Halep, Năstase remains even today an example for young Romanians of what talented people who work hard can achieve.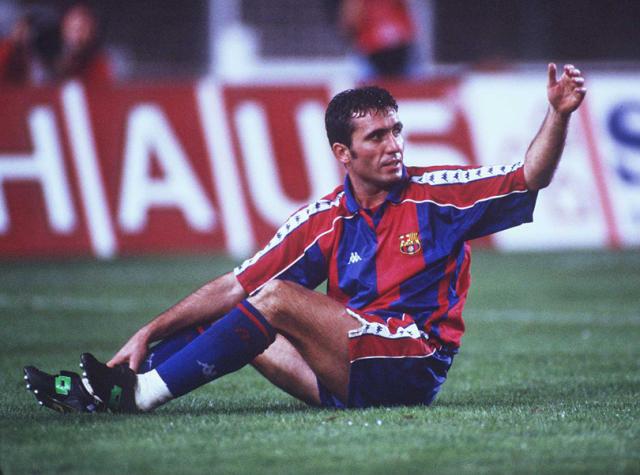 Gheorghe Hagi playing for FC Barcelona
9. Gheorghe Hagi the Famous Romanian Football Player
We stay in the world of sports for another beloved figure among Romanian celebrities: Gheorghe Hagi. And in case you were wondering, football is king in Romania :)
Once nicknamed the Maradona of the Carpathians Gheorghe Hagi had an international career that spanned over two decades from 1983 to 2004.
During his career, he played for famous European football clubs including Real Madrid, FC Barcelona, and Galatasaray. He scored 159 goals in all competitions even though he was a midfielder.
With a total of 124 appearances for the Romanian National Team as captain, the people of Romania placed all their hopes on him during challenging games.
As a soccer player Gheorghe Hagi was best known for leading Romania to a magical run in the 1994 World Cup in the United States. He was also the captain of FC Galatasaray of Turkey when they won their only Champions League title in 2000 against Arsenal.
Hagi is now a successful coach in Romania at FC Farul Constanta who won the title in 2023 and is heavily invested in preparing future generations of Romanian football players having set up his own academy in the city of Constanta. So if you're interested in football you could find out more about his work during your holiday in Romania's Black Sea resorts!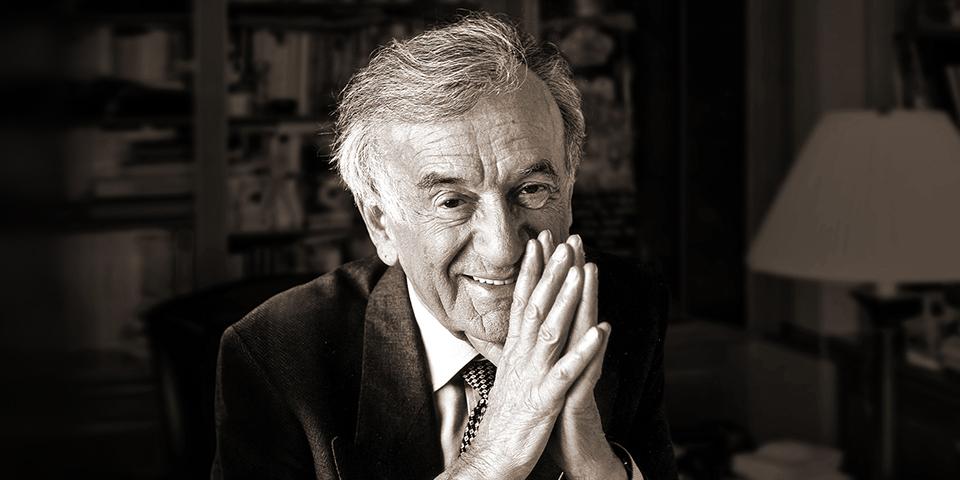 Romania's most famous political activist
10. Elie Wiesel: Writer and Political Activist
Eleazar Eliezer Wiesel was one of Romania's most influential public figures. He was a renowned writer and political activist focused on promoting peace, human rights and their cause of remembrance.
Born in 1928 in Sighet, Romania, Wiesel was a Holocaust survivor. He wrote over 50 books about the Holocaust, Jewish faith and ethics, and politics.
Many consider his best-known work to be Night an autobiographical account of his experiences in several concentration camps during the Holocaust and World War II. It has been translated into more than 30 languages and has sold over 10 million copies worldwide.
For his decision to present "his own personal experience of total humiliation" in Hitler's death camps and for his "practical work in the cause of peace" the Norwegian Nobel Committee called him a "messenger to mankind."
Elie Wiesel also strongly advocated establishing a Holocaust museum in Jerusalem to honor and remember those who perished in the Holocaust. He was a professor of philosophy at Boston University and was awarded numerous awards and honors, including the Presidential Medal of Freedom and the United States Congressional Gold Medal.
Apart from the Nobel Prize for peace awarded to him in 1986, Wiesel earned several honorary degrees and awards through his works and public service activities. He continued to use his fame as a platform to spread awareness about human rights abuses until his death in 2016 in New York at the age of 87.
Besides being a a Nobel Peace Prize laureate for his work, it's safe to say that Elie Wiesel is one of the most famous Romanians worldwide on this front. You can visit his memorial house in Sighetu Marmatiei where the Victims of Communism Memorial is also located.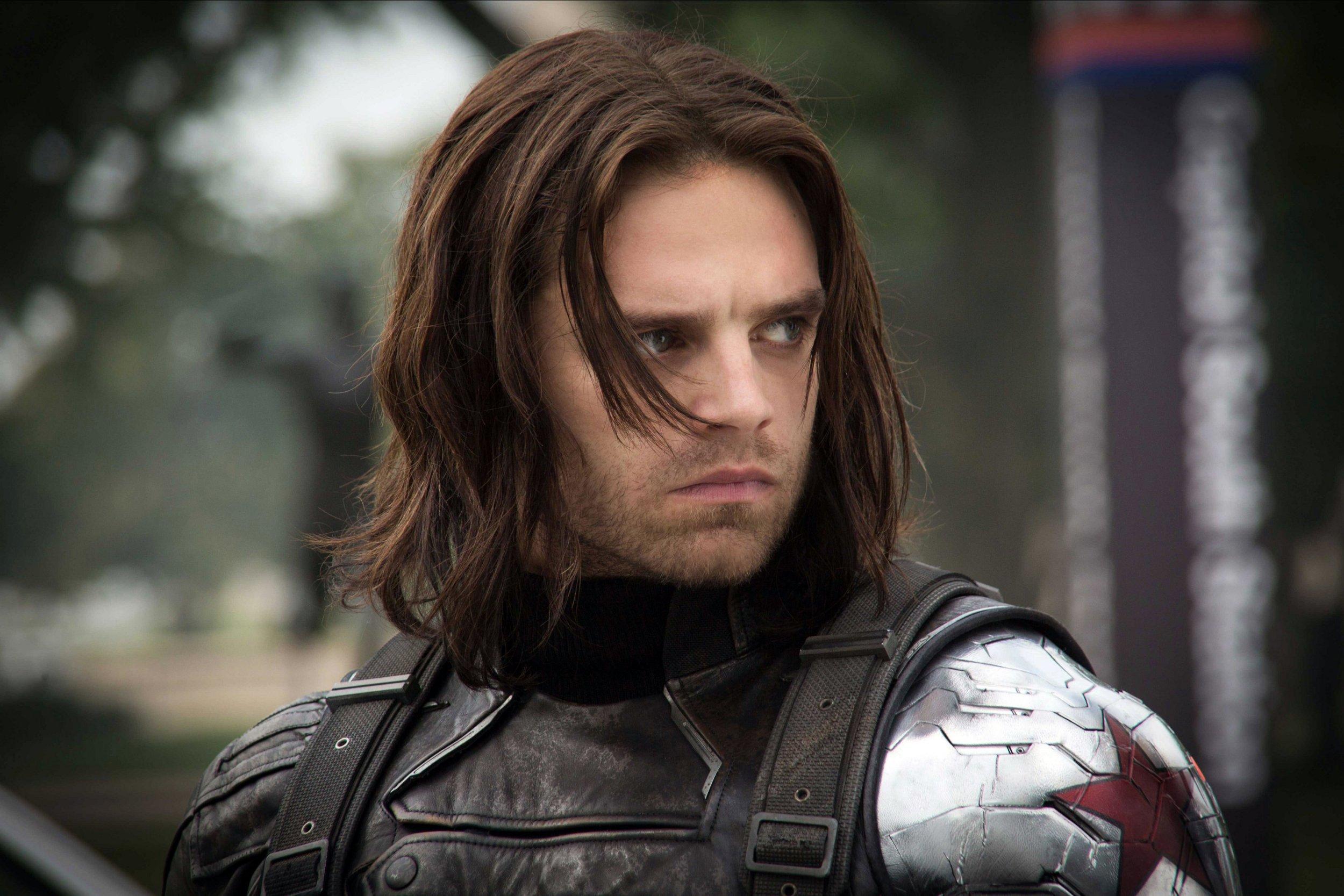 There are lots of famous Romanian actors you didn't know about!
11. The Romanian Bucky Barnes: Sebastian Stan
Romanian-born American actor Sebastian Stan achieved international fame with roles in Marvel's cinematic universe with the Captain America film series like Winter Soldier playing the role of Bucky Barnes. You could say he's the first Romanian to appear in blockbuster movies :)
He also had memorable roles in Black Panther, Gossip Girl, Once Upon a Time, and other popular shows and films.
He moved to the United States at age 13 and studied at the Mason Gross School of Arts at Rutgers University in New York. Stan performed a lead role in the 2009 series Kings.
His acting skills were noticed when he starred opposite famous screen actors such as Robert De Niro and Michelle Pfeiffer in Stardust.
Sebastian Stan went on to star in The Apparition (2012), The Frozen Ground (2013), As I Lay Dying (2013), I Tonya (2017). He earned several accolades including an Emmy Nomination for the Pam & Tommy (2022) miniseries and a Critics' Choice Award nomination for best actor.
Sebastian Stan is originally from Constanta, the hometown of Simona Halep and Gheorghe Hagi, and currently dating American actress Annabelle Wallis. He is not related to Alexandra Stan, the famous Romanian singer who also achieved international fame.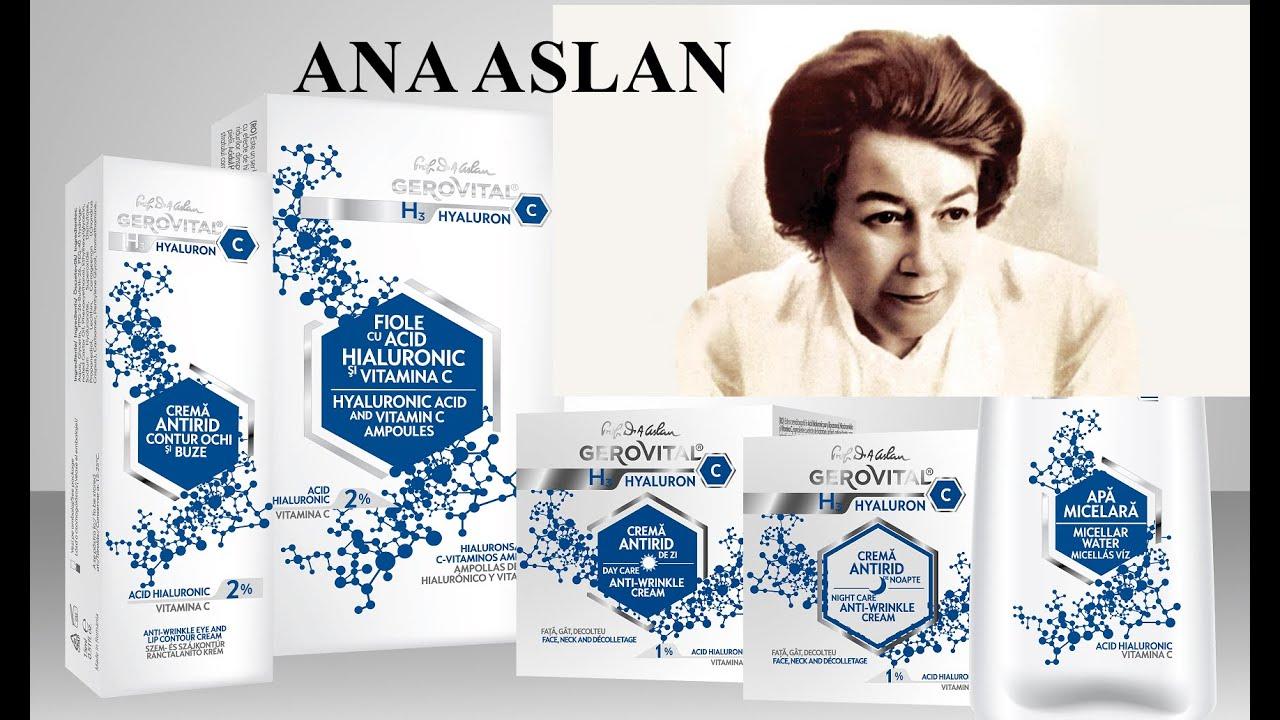 One of the most famous Romanians that can make a difference in your life!
12. Ana Aslan: Anti-aging Cosmetics Queen
Ana Aslan was a Romanian biologist, gerontologist, and creator of the Gerovital H3 cosmetics brand. Born in 1897, she was the first Romanian at home and internationally to approach gerontology (the study of aging) as a science and her work in the field earned her international recognition.
Aslan is best remembered for the formulation of Gerovital H3, a form of procaine that is used as an anti-aging injection or applied topically. She promoted it extensively up until she died in 1988.
In Romania Ana Aslan is honored as one of the pioneers of Romanian scientific research. She even has a university named after her - The Ana Aslan International University of Medicine and Pharmacy, Bucharest.
Local tip: when in Romania, go in any supermarket or cosmetics store and ask for Gerovital products (both men and women). It's a great – and useful – Romanian souvenir to buy!
She is also remembered for founding an institute dedicated to aging research - The National Institute for Geriatrics, Gerontology and Geriatrics Aslan Ana, where many books are dedicated to her memory.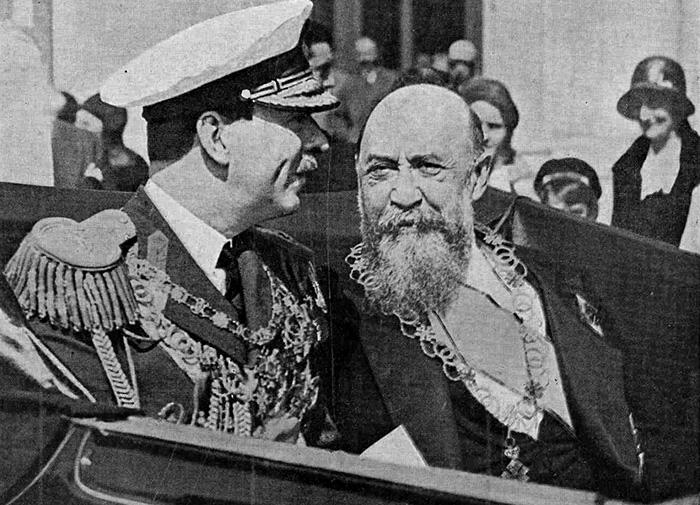 Prime Minister Nicolae Iorga with King Carol II in 1931
13. Nicolae Iorga: Literary Critic and Romanian Culture Expert
Nicolae Iorga was a famous Romanian politician, historian, literary critic, poet, playwright, and essayist from the late 19th and early 20th centuries. He is especially well-known for his extensive study and works on Romanian language, culture and history.
Iorga dedicated his life to researching Romania's history from the Middle Ages to modern times, from political, social, and cultural perspectives. His work explored folk culture and how it influenced Romanian education, theater, and music. He also wrote extensively on Romania's traditional folklore and customs, as well as its architecture and monuments.
An interesting fact about him was his obsession to interpret the works and hidden meanings of the most influential Romanian poet Mihai Eminescu.
Iorga was also known for his influential political career. Disappointed by the work done by the political parties that succeeded one another in a short period of time, Iorga decided to take action. He was Prime Minister of Romania in 1931-32 and a significant player during the Second Balkan War.
Thanks to his entire body of work, he is considered as one of the most prominent figures on Romanian language and culture. Some of his work has also been translated in English in case you're interested.

How about some jazz music from a Romanian celebrity you didn't know about?


14. Romanian Jazz Singer and Composer: Anca Parghel
Anca Parghel was a renowned Romanian Jazz singer and composer. Her career spanned over two decades. She had a knack for composition from an early age and started writing her own songs before she even released her first album.
Anca was known for her unique mix of Romanian folk music with jazz elements just like George Enescu had in his compositions. Her energetic live performances have captivated audiences all over the world.
Anca has released 17 albums over between 1986 and 2008 and has also appeared on various compilation albums of Romanian folk music, as well as jazz compilations.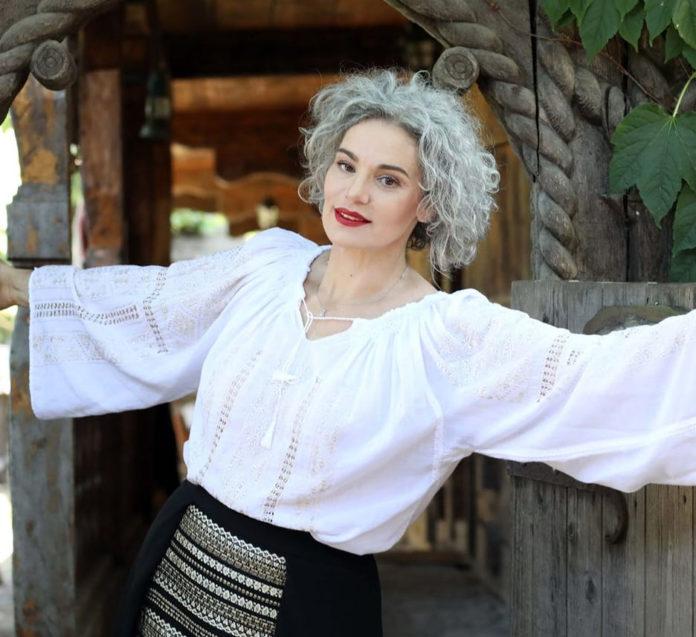 One of the most famous Romanians on screen and on stage
15. Maia Morgenstern, the Most Famous Romanian Actress
Maia Morgenstern is an acclaimed Romanian actress who appeared in several movies that won dozens of awards. She earned international recognition for her incredible talent in portraying Mary in the critically acclaimed movie The Passion of Christ featuring Mel Gibson in the lead role.
She is one of the most recognizable faces in Romanian cinema winning numerous awards, including best actor in a feminine role at the Cannes Film Festival and Transylvania International Film Festival.
Local tip: one of the best things to do in Cluj if you're visiting during 9 June – 18 June is to attend the open air TIFF festival
She's a leading figure in Romanian cinema playing major roles in movies for both Romanian and international audiences. Her other notable works include roles in films like Balanta (1983) and in Miss Christina (Domnisoara Christina), an adaptation of a novel by Mircea Eliade directed by Romanian film director Alexandru Maftei.
Maia Morgenstern is also a popular stage actress in Romanian theatre regularly appearing in major plays. She's seen as one of the most talented people coming from Romania whose commitment to fine arts and culture inspire people around the world.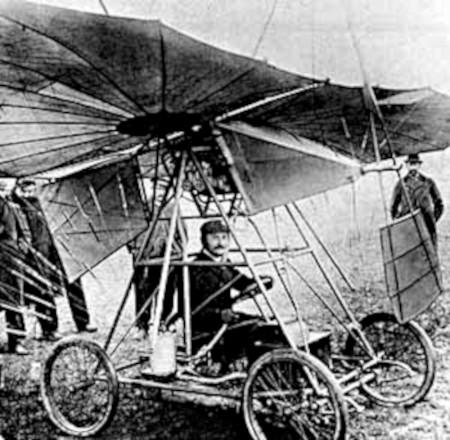 The first Romanian to fly in 1906!
16. Traian Vuia, Pioneer of Modern Aviation
The Romanian inventor Traian Vuia lived from 1872-1950 and helped to pave the way for modern aviation.
He had a significant contribution in the development of the helicopter and focused on vertical take-off and landing. He is credited with inventing the first aircraft which took off with its own power.
In 1906 Traian Vuia took off and flew for 12 meters with a self-propelled vehicle at a Paris airshow. It was an incredible success and a world premier that showed the potential of flying machines at the time.
He also developed a powerful engine that could provide the lift necessary to take off and land vertically. This engine was used in many prototypes designed by Vuia himself, later adopted by other inventors of this period (Wright Brothers included).
Vuia's invention has been recognized worldwide and included in numerous exhibitions. He was awarded several impressive prizes for his tremendous achievements that changed aviation forever. His work paved the way for other great Romanians like Henri Coanda an aerodynamics pioneer and another famous Romanian.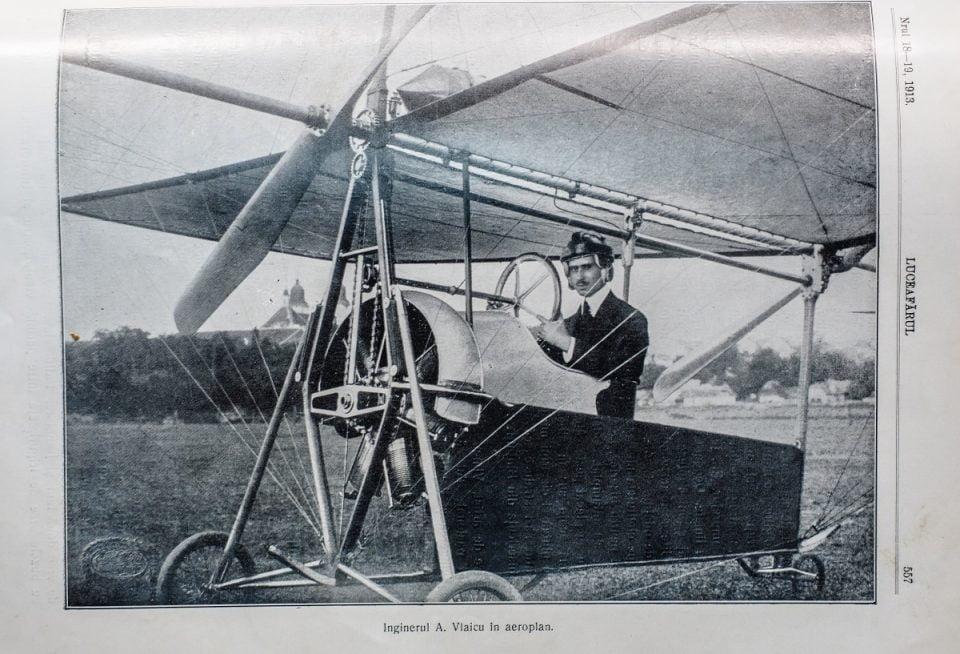 Another famous Romanian aviation pioneer
17. Aurel Vlaicu - engineer, inventor, and aviation pioneer
Aurel Vlaicu, born in 1882 in Hunedoara County, was a talented engineer, inventor, and aviation pioneer. He was also the first Romanian to have ever flown a significant distance on the first attempt in an aircraft designed by him, Vlaicu I, without any modifications needed.
In 1913 he attempted to cross the Romanian Carpathian Mountains form Bucharest going over Brasov to prove the capabilities of his latest Vlaicu II model. A strong gust of wind destabilised him and he died in the crash. He was considered a national hero and his Vlaicu III model was finalised by his collaborators.
Vlaicu's legacy lives on through his famous monuments across Romania and by inspiring aeronautics students to reach high ambitions, this is why he'll always remain one of Romania's most famous figures.
Though Aurel Vlaicu only lived to the age of 38, he managed to set world records for altitude, speed, and distance in aeronautics.

***

There are many others who didn't make it to our list of famous people. Maybe we'll add them later :)
I hope I gave you an idea of the diversity of fields Romanians have contributed to on the world stage. If you're planning to visit, one of the best things to do in Romania is to ask locals who they think the most famous Romanians are.
And you can surprise them by mentioning some names from this article!
Your Romanian Friend,
Anita