The Wine Tour of Romania: Cellars, Manors & Wine Tasting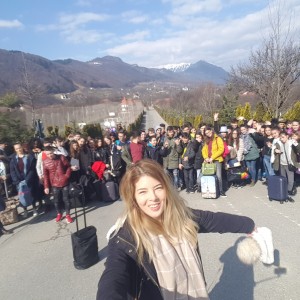 With: Alina

6
Did you know that Romania has been making wine for centuries and is the 6th producer in Europe? No? On this day trip from Bucharest you will get a full introduction to Romanian wines: we travel to countryside hills terraced with vineyards, visit an old 'boyar' manor, do a tasting with premium wines, visit wine cellars and enjoy a delicious wine-paired lunch!
---
What you need to know about this wine tour of Romania:

This is a private day trip starting from Bucharest. Duration: 8-10 hours. 2 days advance booking required
Included: transport (aprox. 240 km), guidance, a wine tasting sessions with 5 wines, 3 course traditional meal and entrance to Bellu Manor Museum
You will visit a premium wine producer, visit their cellars and taste 6 varieties of wine (from 20 available) with a sommelier's guidance, paired with local cheese, bread and oil
Next, we visit Bellu Manor, a traditional and well-preserved 'boyar' house now turned museum, to learn about Romanian wine-making history
You will enjoy a delicious and traditional 3-course meal with local products at a superb manor-restaurant
We can do a 2nd wine tasting at another winery (15 Euro/person extra) instead of visiting Bellu Manor.
Please book the tour as much as you can in advance, especially Aug - Sept - Oct when demand is high and wineries are booked.

Additional information

If you plan on doing the tour during Autumn harvest, you will also see parts of the wine production process live and taste grapes!

Pick-up & drop-off to your hotel / accommodation included.
---
Moments to expect in the wine tasting tour of Romania:
Visit an old and beautiful countryside manor

We start our trip from Bucharest by driving to the small town of Urlati where we visit a superb manor-now-museum built in the 1850s in a typical Romanian architectural style: Bellu Manor. Its owner was a 'boyar', a rich landowner class from feudal times, influential in Romanian politics and economy. This is a marvellous example of old Romanian lifestyle and culture with many original, well-preserved exhibits.

A premium wine tasting with local cheese and superb views!

Next we drive to Ființești village to visit Lacerta Winery, one of the most modern in the region and a premium wine producer. We will visit their splendid vineyard, production areas and cellars, and then choose 6 wine varieties (out of 20) to taste, accompanied by a wine lesson from their staff. You will also enjoy a platter of local cheeses to go with the wine! And the views... superb!

Enjoy a delicious meal in a superb setting!

We then drive to Vinalia Cellars and Manor in Ceptura, another traditional boyar house once the home of Prahova county's richest. Here we enjoy a traditional 3-course meal with locally sourced products in the beautifully decorated restaurant.

[Extra option] Second wine tasting and cellar visit

Learn more about the wine-producing history of the region and enjoy a delicious second wine tasting during your meal in Vinalia Manor. You will see the cellar of this beautiful Manor, learn about their history and taste more wines.
Extra cost 15 Euro/person
Cancelation & refund policy
Easy
Sends us or the guide an email 24h before the tour informing us you can't make it and you'll get a full refund of your payment, no questions asked.
Location details
Starting point:

Bucharest

Nearest airport:

Bucharest International Henri Coanda Airport

Nearest train station:

North Train Station

Landscape:

Hills and countryside
Other tours nearby
Start from: Dealu Mare wine area (or Bucharest)
Subscribe to our Romanian quarterly magazine
4 times a year we prepare a newsletter with local stories, places and our special insights about Romanian culture and local life that will inspire you to visit our country and have an authentic local experience. Would you like to get it?