Romania is a great destination for hiking, mountaineering and all sorts of outdoor adventures and sports – yet few travellers are aware of this! With 55% of our country occupied by the rugged Carpathian Mountains and their foothills, boasting wild sceneries, a rich wildlife hidden in vast woodlands, traditional villages still untouched by civilization - no wonder Romania has been dubbed Europe's last wilderness reserve!
If you want to see the natural beauty of our country, plan a hiking or multi-day trekking trip, or just want to visit the most popular natural attractions, we've prepared this guide to hiking in Romania with lots of practical info and suggestions on where to go and experience nature . Be sure to check the hiking tours we recommend with licensed mountain guides and if you need help with planning your trip just contact us!
Romania is, without false modesty, one of the luckiest in the world: endowed by nature with a variety of geographical formations, outdoor enthusiasts will discover a peaceful land with charming meadows, towering mountains and superb natural landscapes dotted by remote villages. Life in the mountains of Romania has yet to be changed by modern civilisation, and villagers still live in perfect communion with nature. Vast woodlands are home to many wild animals and a rich biodiversity while the hills of Transylvania have impressed all travellers who've roamed through them.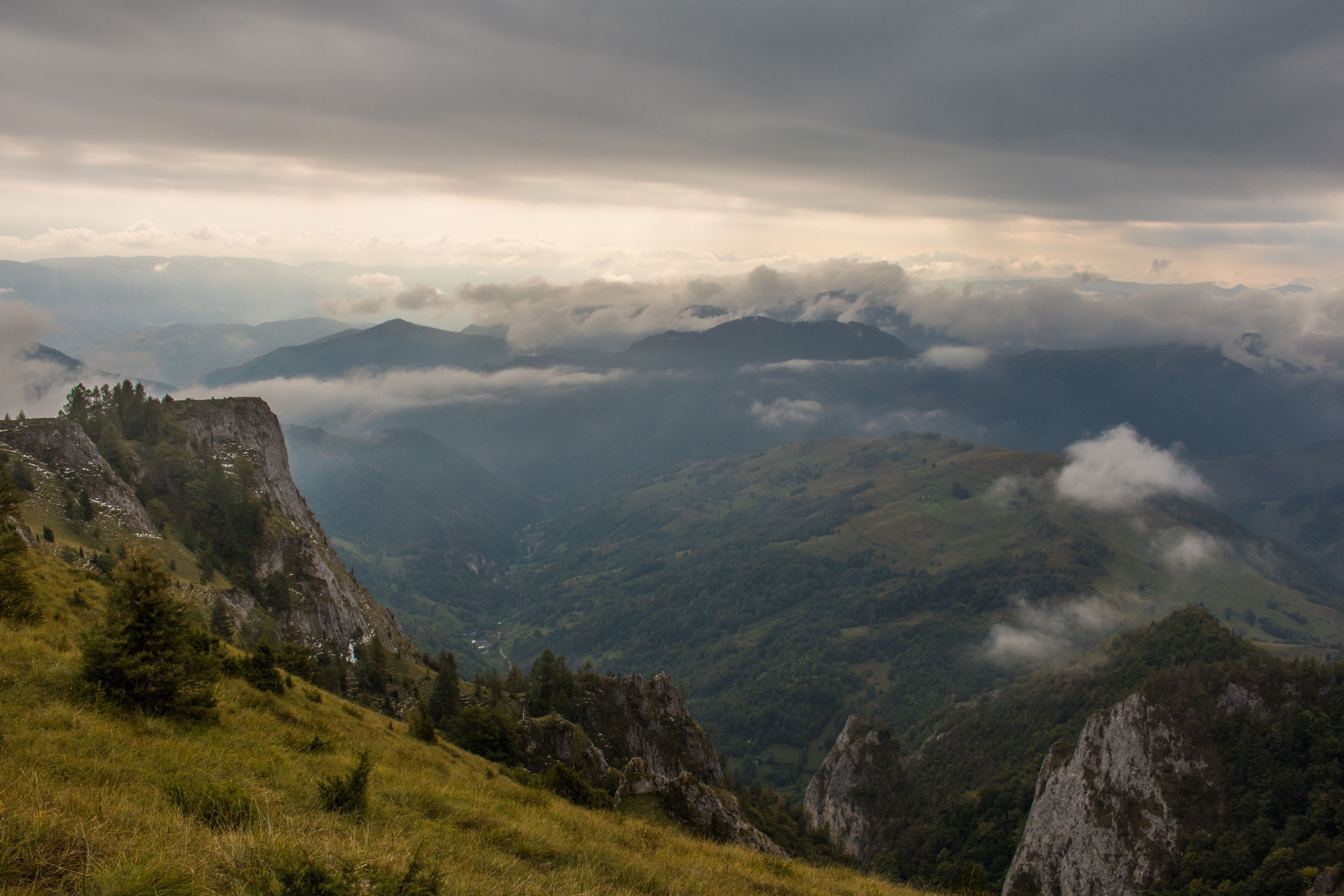 Hiking in Apuseni Natural Park
So, let's get into it:
1. Hiking in Romania: the basics
The Carpathian Mountains are Europe's second-longest mountain range stretching 1,500 km through 6 South-Eastern European countries: Serbia, Romania, Ukraine, Slovakia, Czech Republic and Poland. Most of the Carpathian range is in Romania where it occupies a whopping 55% of our country's land area. Forming an L-shaped arc, the mountains were used as a natural border for the 3 historical provinces that form our country: Transylvania (inside the arc), Wallachia or Țara Românească (between the Southern Carpathians and the Danube) and Moldova (between the Eastern Carpathians and Prut river).
The highest peak in the Carpathian range is in Tatra Mountains at 2,600m but all the second highest ones are in Romania: Moldoveanu Peak at 2,544m in Fagaras Mountains is the highest in Romania, followed by Negoiu at 2,535m also in Fagaras and Omu at 2,514m in Bucegi Mountains. And then there are 10 other peaks over 2.500m and 47 exceeding 2,400m. Towering guardians that offer amazing sceneries!
But don't worry - you don't have to be a hardcore mountaineer to enjoy Romania's natural beauty! There are many places to go hiking in Romania and each can offer a variety of scenes, challenges and attractions:
in some parts such as Apuseni Natural Park (close to Cluj-Napoca) or in Piatra Craiului National Park (near Brasov) you will see picturesque and traditional villages scattered on charming hills that preserve a simple, quiet and traditional way of life
in Fagaras (home to the famous Transfagarasan Road), Parang or Retezat mountains, the wild uninhabited landscapes with virgin forests, glacial lakes and little signs of civilisation will completely immerse you in the impressive and raw beauty of nature
in ranges such as Bucegi, Ciucas, Cernei or Calimani you will be rewarded with superb panoramic views and natural attractions such as Danube Gorge and King Decebal's Statue, the Sphinx and Babele or idyllic lakes such as Colibita
2. When to go hiking in Romania
The best time for a hiking trip in Romania is between April – October for most ranges and trails (1,500-2,000m) and from June till first snow in early October for treks above 2,000m. For example, Fagaras, Parang and Retezat mountains are still covered in snow in mid-May but other areas such as Apuseni Mountains are good for a hike as early as April.
Romania's climate is temperate continental but even so temperatures and weather conditions can be very tricky at high altitudes, so make sure to always check local weather forecasts. Mornings and evenings are particularly cold (0-10 Celsius) and the higher you go in altitude, the colder it becomes with increasing chances of precipitations. Except during the warm season (July-August), precipitations at 2,200m altitudes will be in the form of drizzle and snow. Weather conditions can rapidly change at high altitudes so it's important to be well prepared.
3. Where to go hiking & see Romania's top natural attractions
With 14 national parks and 16 natural parks (full list and map here), many natural wonders and attractions - there is no shortage of options to consider when planning a hiking trip in Romania. The Carpathian Mountains can be divided into 3 groups: major (over 2.000m), medium (1.500 – 2.000m) and foothills (800 – 1.500m). Each mountain range has 2-4 massifs, peaks or crests, depending on their geological composition.
The most popular mountains for hiking in Romania are Fagaras, Bucegi, Piatra Craiului, Retezat and Apuseni with Parang, Ciucas, Rodnei, Rarau and Ceahlau coming in at second place – you can check a map of Romania's mountains here. Hikers looking for a serious challenge prefer Fagaras range (where many of the highest peaks in Romania are located), Bucegi (with Omu Peak, Valea Cerbului, the Sphinx and Babele), Retezat (with many glacial lakes and completely wild scenes) and Piatra Craiului (hiking the limestone ridge). Some trails in these mountains need serious planning, adequate equipment and can take 2-4 days to complete, so we highly recommend hiring a mountain guide.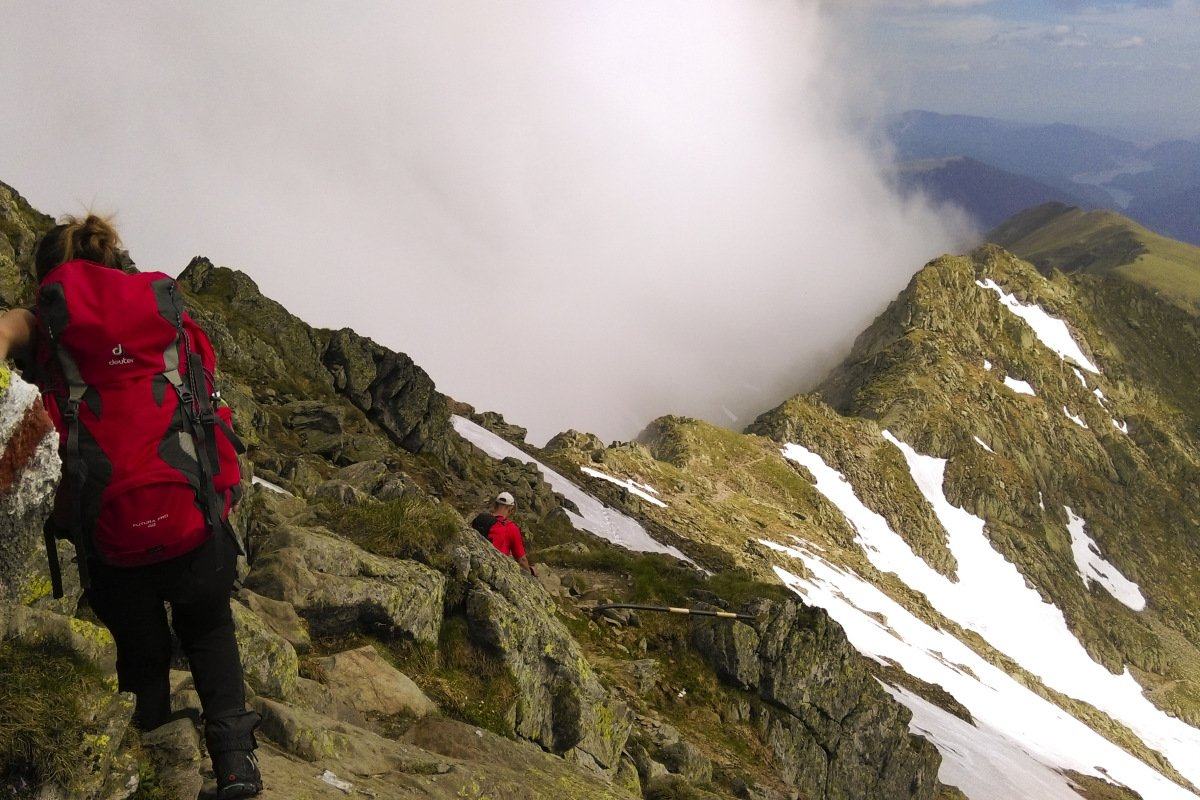 Hiking the Fagaras Mountains crest

But then again, with so many foothills and medium mountains, there are many accessible hiking areas and trails you can consider for a shorter, easier-to-plan trip. Apuseni, Ciucas, Piatra Craiului, some trails in Bucegi and the mountains near Timisoara are great options. And even in Fagaras there are trails suitable for less experienced hikers that can be done in 1 day. Those who want to go hiking in Transylvania should set up base in Brasov, Sibiu or Cluj-Napoca and from there there are plenty of options available.
Among the many natural parks in Romania the ones considered to be most beautiful are Apuseni, Bucegi, Danube Gorge (Portile de Fier) and in the mountains of Maramures. As for national parks the most popular for outdoor trips are Piatra Craiului, Buila-Vanturarita, Bicaz Gorge-Hasmas, Rodnei, 4 parks close to Timisoara (Cheile Nereu-Beusnita, Domogled-Valea Cernei, Semenic and Retezat) and the famous UNESCO Danube Delta.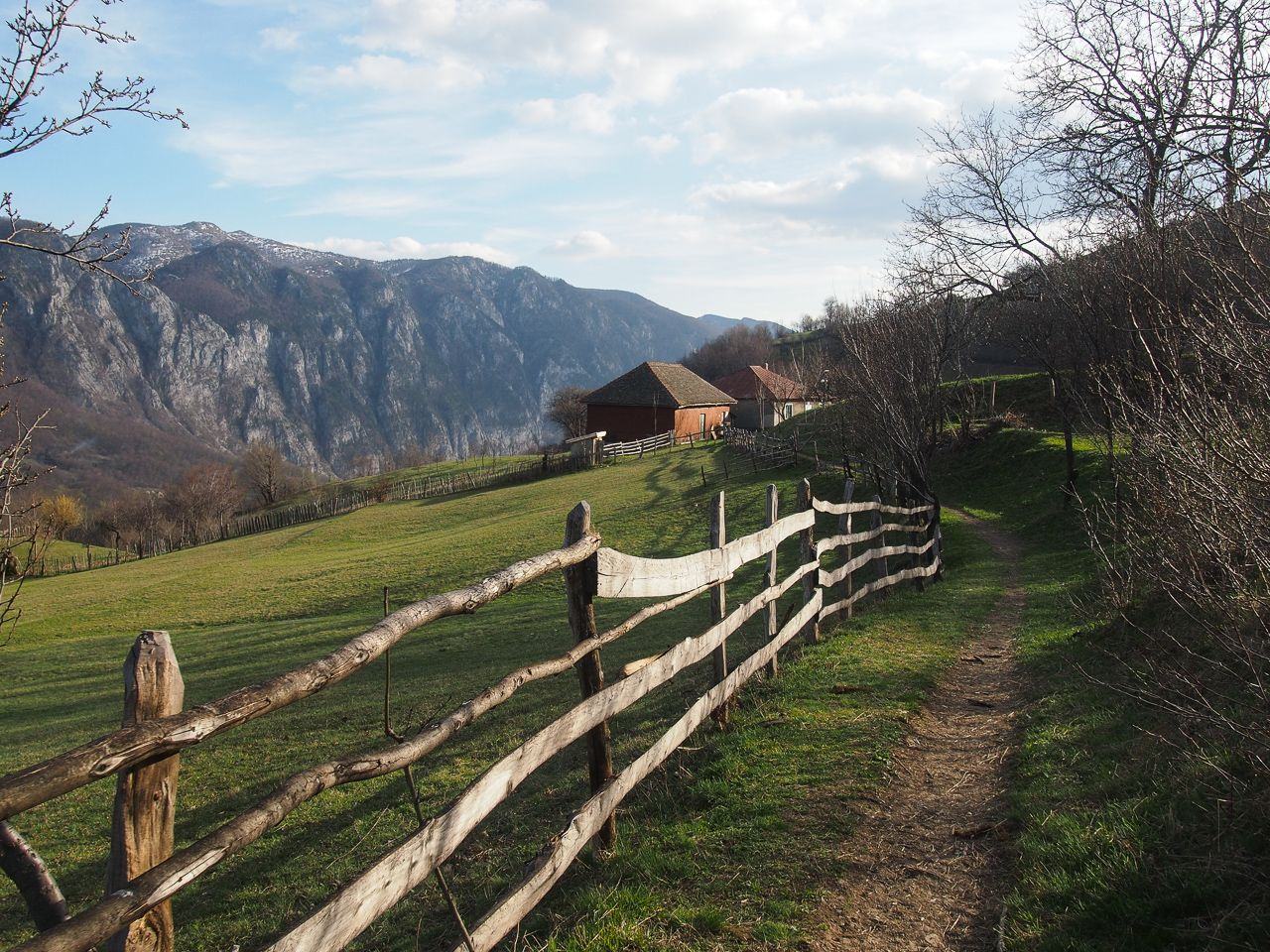 Hiking near Timisoara in Valea Cernei Park

You'll be happy to know that close to every major city in Romania there are mountains, parks or natural attractions that can be visited on 1 day hiking trips. Here are some suggestions for quick hiking trips - some of which can you can book with Romanian Friend:

from Bucharest:

from Brasov:

Bucegi, Piatra Craiului, Ciucas, Fagaras, Ceahlau and Calimani mountains
7 Stairs Canyon, Zarnesti and Bicaz Gorge, Curmatura Hut, Piatra Singuratica, Transfagarasan Highway
from Sibiu:

from Timisoara:

from Cluj-Napoca: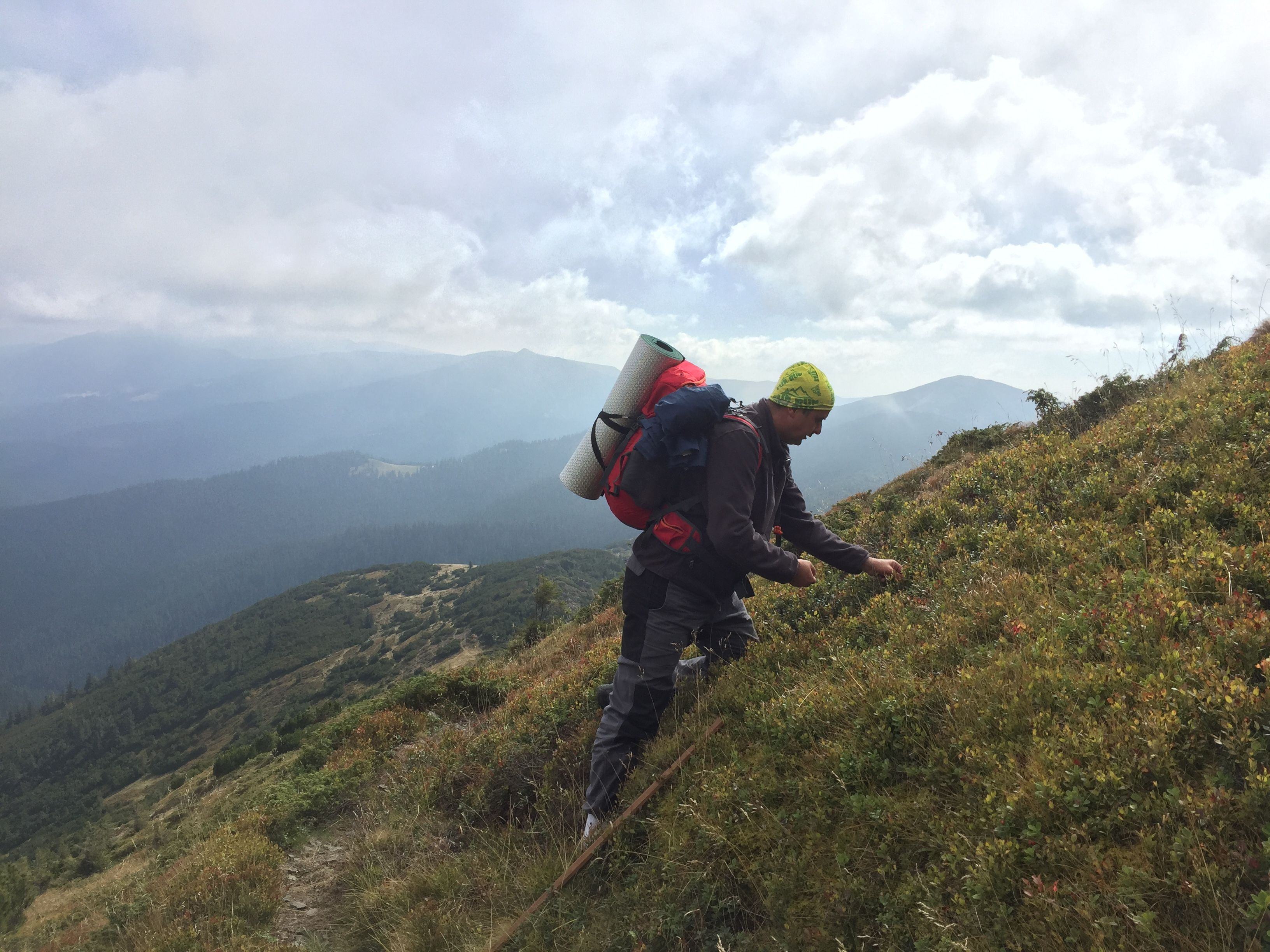 4. Difficulty, equipment & technical hikes
The Carpathian Mountains offer an incredibly diverse range of trails, routes and options to choose from. No matter your fitness level, if you're a true mountaineer or not, looking for adventure and extreme sports or just want to enjoy a day in the outdoors, there's always going to be a hiking trail or area you suitable for you. We can help you plan your hiking trip by connecting you with one of our licensed mountain guides who specialise in different hiking areas in our country and can recommend trails suitable for your interests and physical condition.
Fagaras, Retezat, Bucegi and Parang ranges are known to be more challenging and usually require camping gear and careful planning. Bucegi, Apuseni or Piatra Craiului are suitable for people with a medium or average physical condition, but there are also routes that are more difficult – and equally rewarding. Then again, even in these mountains there are trails that can be completed in 3-4 hours and stay at lower altitudes, so it really depends on where you go.
Most hiking trails do not require any technical equipment except for the standard hiking gear (boots, windproof or fleece jacket, thermal clothing, energy snacks, hiking sticks). However, there are some areas such as Turda Gorge where you can exercise your mountaineering abilities on via ferrata routes or the famous 7 Stairs Canyon where you need to climb vertical iron ladders to get to the top. Hardcore mountaineers looking for adventures like rock climbing can also find destinations suitable for their interests.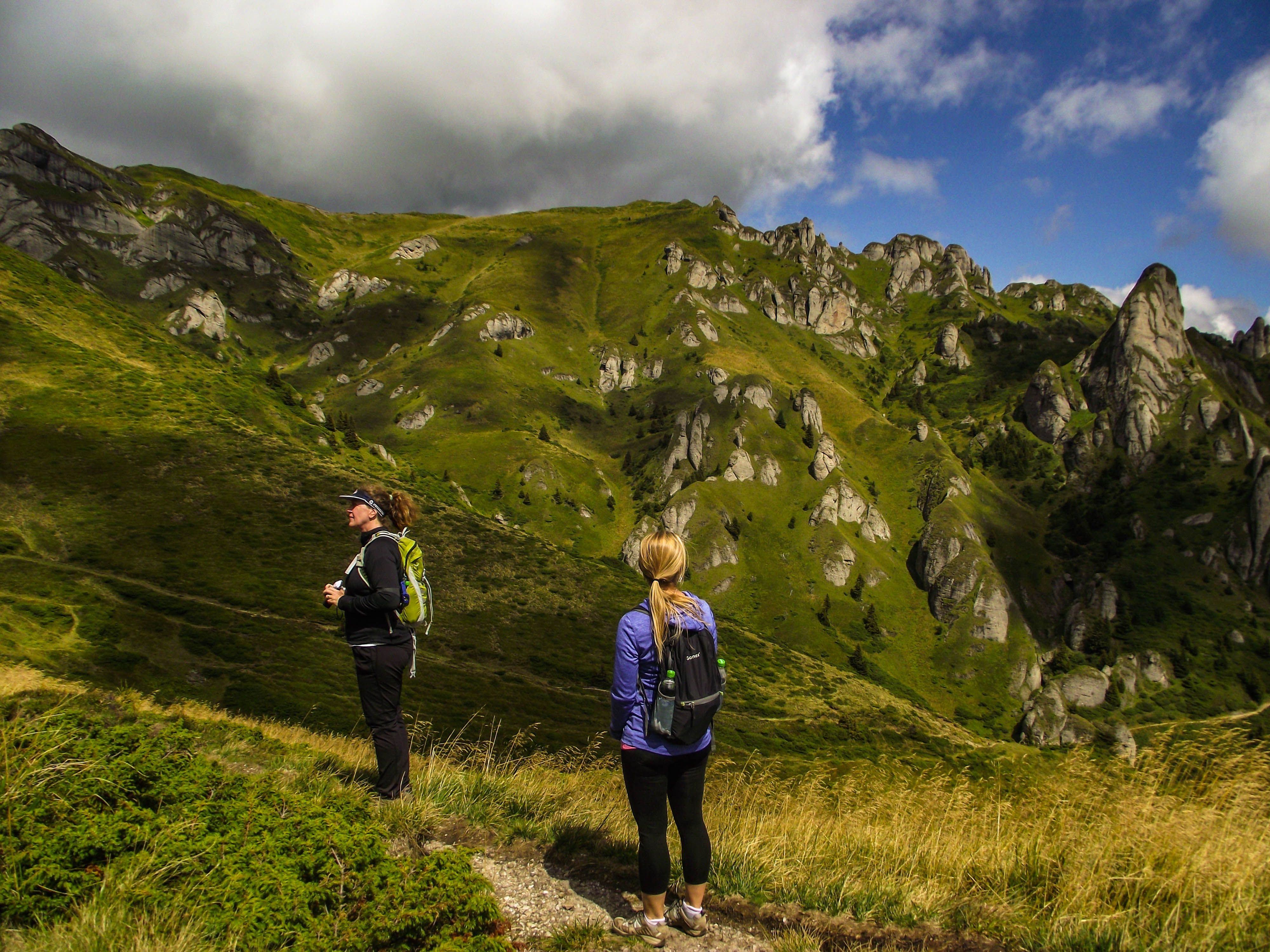 Hiking near Brasov in Ciucas Mountains
5. Planning a hiking trip in Romania
For non-locals, planning a hiking trip in Romania can be challenging and frustrating because up-to-date information in English about trails, maps, weather conditions and signs is very hard to find. That's why we at Romanian Friend are here to help and have prepared this hiking guide.
The first thing you should know is that getting around Romania can take a considerable amount of time, especially if you're traveling into remote parts in the mountains. Many small towns and villages have train stations but getting from there to the starting point of your trail can be tricky and you will probably need a car or someone to drive you there. In areas with foothills and high mountains public transport is mostly done via van shuttles called maxi-taxi, but for info about specific routes and times you need to ask locally. It's best if you plan for 1 day of travel before starting your hiking trip.
As foreign tourist numbers are low and our country is not well known as a hiking destination, there are no group or shared hiking tours in Romania you can join. And we're reluctant to recommend any since national regulations require 1 mountain guide for every 6 people on a hiking trip. So most guided hiking tours are private, although there are some multi-day trekking tours scheduled in advanced with limited number of spots.
As for hiking trail signs, labels, maps and information, most of them are directed at locals. We've heard that there are some English boards in the most popular ranges (Bucegi, Piatra Craiului and Fagaras), but we can't confirm this. Staff at national parks and in the mountains might know some English, but even if they don't they're probably friendly and eager to help anyway. If you want to do a self-guided hiking trip you will need to do a lot of research and planning on your own. Info about the signage system is here, but you will need to use Google Translate to figure it out. General information about the Romanian Carpathian Mountains you can find here.
Finding accommodation in the mountains can be easy at lower altitudes as there are plenty of guesthouses called pensiune or vila offering double rooms and meals for 25-30 Euro/night. At higher altitudes (over 2.000m) will find wooden huts that offer basic accommodation (bunk beds, common rooms or even private rooms), warm food, drinks, snacks and other basic supplies. On very high hiking trails you will also come across mountain refuges where the basic, common sense rules of mountaineering apply: use it and leave it as you would like to find it. During peak hiking season (July-August) finding accommodation can be difficult so it's important to book in advance, if possible. And always make sure to have Romanian cash (Lei) with you.

For many reasons (convenience, safety and fear of missing out!) the easiest way to plan a hiking trip in Romania is to hire a licensed mountain guide. Not all guides are trained for hiking and trekking trips and we strongly advise you to check the credentials of a guide before going on a trip with him. We at Romanian Friend have used our native knowledge to find and work only with the best and friendliest licensed mountain guides who have local, on-the-ground knowledge about certain mountain ranges in our country. You can book hiking tours with them or ask us for help with planning a custom itinerary.
6. Safety in the mountains
Finally, always be prepared when going on a hiking trip in Romania. The Carpathian Mountains are wild and uninhabited in many parts (a.k.a. no roads, signs of property or people) and locals living in mountain villages are unlikely to know English. Weather conditions can quickly change causing temperatures to drop, especially at higher altitudes, so nature can become a danger to your safety.
Be sure to double check trails, maps and names before you go and be prepared with adequate gear and supplies appropriate to the weather conditions and mountains you are heading to. If you happen to run out of water while on a trail, be sure to drink only from wells or springs marked 'izvor'. Always have Romanian cash on you if you want to buy something from the locals.
The mountain rescue service in Romania is called Salvamont and their website is packed with useful information, unfortunately available only in Romanian. The emergency telephone number is +40725826668 but be aware that cellular reception is variable in the mountains.
Most importantly – Romania has a rich and large wildlife population. Besides lynx, wolves, deers, wild goats, foxes and other mountain-dwelling creatures, our country is home to the largest brown bear population in Europe. There are many reports of close encounters and bears going on a food-finding expedition lured by the smell of cooked food from campers or mountain huts, especially in the areas around Brasov and Harghita.
7. The most popular mountains for hiking in Romania
The wilderness and rugged character of the Carpathians offers hikers a magical experience: besides landscapes you've never seen before, you will soon discover the raw beauty of nature untouched by man. If you're interested in going hiking in Transylvania, set up base in Cluj-Napoca, Sibiu or Brasov and explore options in the area. Of the many groups and ranges in Romania, here are our picks of the most beautiful, interesting and accessible hiking destinations in Romania:
Fagaras Mountains
Also known as Transylvania's Alps, Fagaras Mountains are located in the heart of Romania and undoubtedly offer the most dramatic and wild landscapes of Romania while crossing rocky crests and narrow trails. Breathtaking views await along with that incredible top-of-the-world feeling hikers love! I've done it so I know.
But there's a way even for non-hikers to experience this wonderful feeling: nestled between towering the towering ridges of Fagaras Mts. lies the majestic Transfagarasan Road, one of Romania's top tourist attractions easily accessible for the general public. The road crosses from one side of the mountains to another and at its heighest point of 2.200m (Balea Lake) it offers great views of Transylvania's plains. Read more about visiting Transfagarasan on our link above.
But mountaineers will be the most satisfied: the highest in Romania is here but the trail to conquer him is challenging; his brothers are no less easier, but the rewards are simply breathtaking: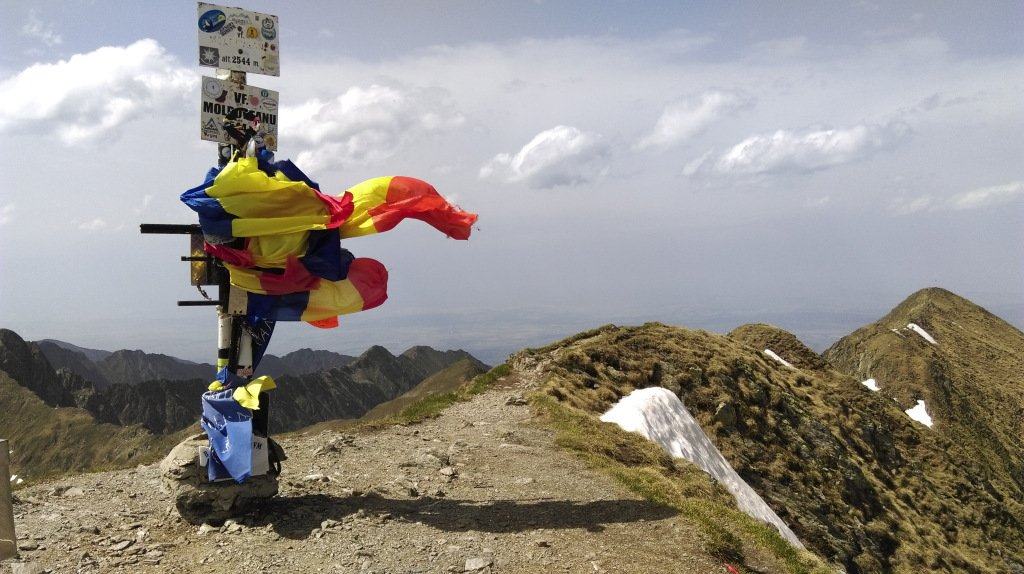 Hiking to Moldoveanu Peak (pictured above) at 2,544 will be the highest point in Romania, and Negoiu, the 3rd highest, will be a memorable experience. To conquer them you need to prepare a 5-day trekking trip during which you will explore ridges at 2.500+ m high with spectacular views. Except for mountain huts and refuges, there are no other signs of life at these altitudes so it's best your route is very well prepared and you consider hiring a guide, since weather conditions can change very quick and losing the trail can be very dangerous.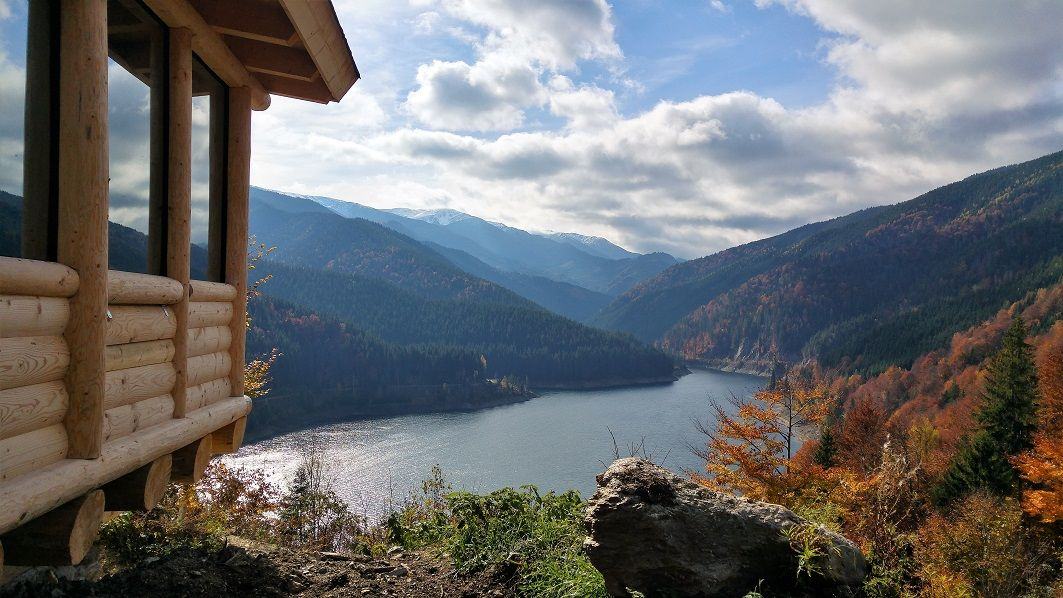 Wildlife observatory in Fagaras Mountains

In the Western part of Fagaras range (towards Brasov) there is a different scenery: complete wilderness. A large area here (over 20,000 ha) is part of a wilderness reserve where a variety of wild animals live in a hunting free zone and forests are protected. If you want to experience one of the few remaining areas in Europe where nature still has a hold, we highly recommend a hiking trip with Iulia who works at an eco-friendly non-profit operating in the area that owns unique wildlife observation hides and does guided trips with mountain rangers. But if you're short on time and just want to see bears in the wild, the most popular thing to do in Brasov is to go on a bear watching tour. Romania is, after all, home to the largest brown bear population in Europe. They are easily accessible starting from Sibiu or Brasov, while Bucharest and Cluj-Napoca are a bit further away, but can be done on a guided tour.
Bucegi Mountains
Probably the most accessible mountain range for self-guided hiking trips, Bucegi Mountains are well known for the Sphinx and Babele attractions, two rocks sculpted by the power of wind and high altitudes. Caraiman Cross a WWI memorial overlooking Prahova valley is also nearby. But Omu Peak the 2nd highest in Romania at 2,505m is in this range range, as is Valea Cerbului, a truly frightening sight. Thousands of tourists beat these trails each year so it's also the most crowded in Romania, in case you're also considering overnights at mountain cabins.

At the base of Bucegi mountains are Romania's most popular mountain and winter resorts: Sinaia, Busteni, Azuga and Predeal which are great bases to explore the area with plenty of accommodation options, although a bit pricier during high season. Any train from Bucharest to Brasov will stop here, so they are also easily accessible. A cable car from Busteni will take you up to Babele and one from Sinaia will take you to a soft plateau at 2,200m where breathtaking views await and you can easily go on a hike on your own.
And with world-famous attractions such as Peles Castle or Cantacuziono nearby, this area has to be on your list! Hiking in Bucegi Mountain is easy to do on day trips from Bucharest or Brasov.
Piatra Craiului Mountains and Natural Park
Probably the most picturesque mountain range in Romania, Piatra Craiului Mountains can be seen in the distance from Brasov. Its unmistakable white and continuous ridge scratches the ski with limestones formations that will please hikers looking for a challenge on a 2-day trip. The highest peak sits at 2,238m but at lower altitudes hikers will be rewarded with beautiful scenes from the traditional villages of Magura, Pestera, Moeciu or Sirnea. You will likely cross paths with many sheep and cow herds while hiking these mountains, including some overly-protective dogs; but mostly locals minding their daily lives. When in the villages of Romania, it's polite to nod your head as salutation when passing somebody.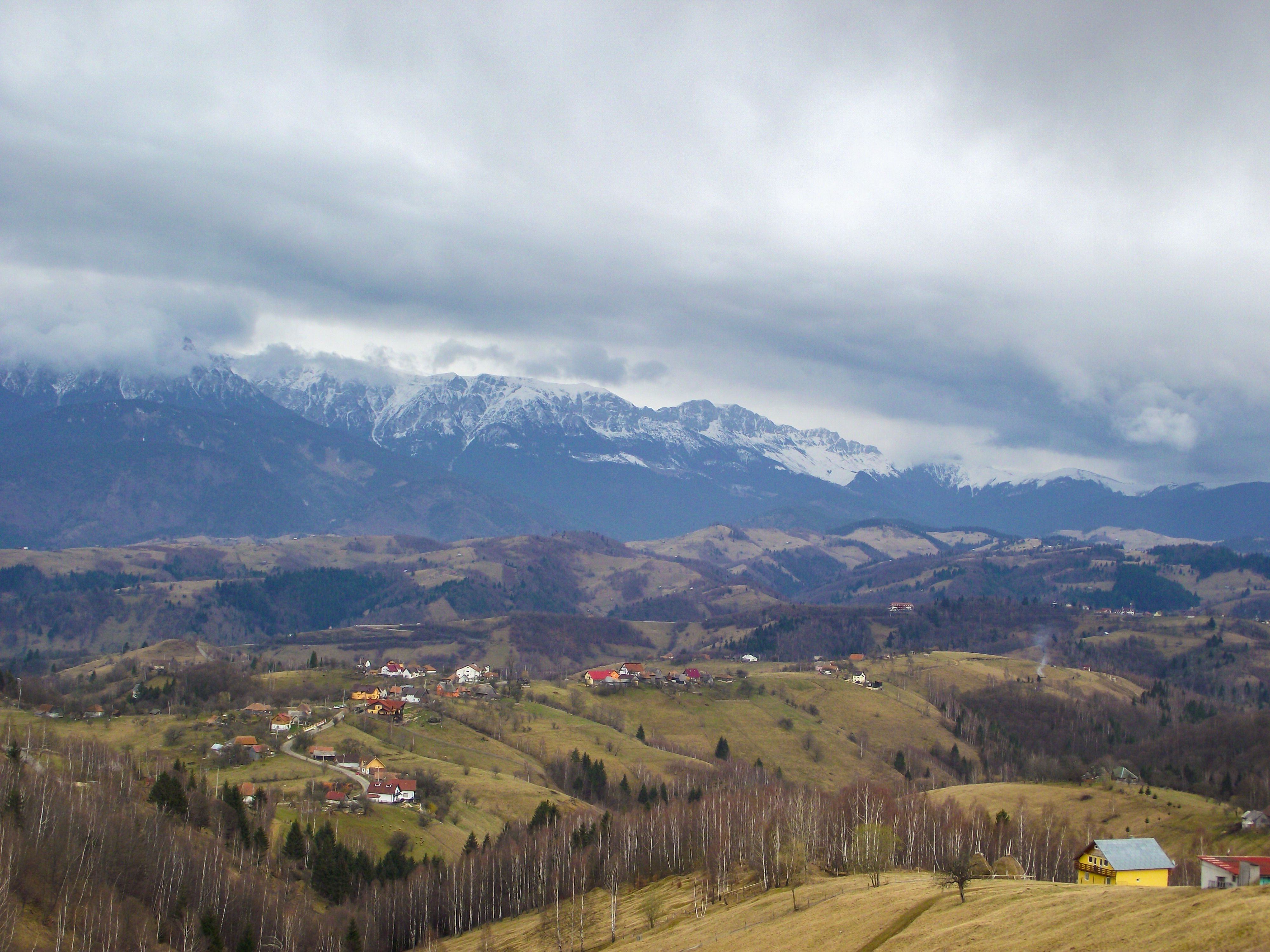 Piatra Craiului and Magura village

On our hiking tour in Piatra Craiului you will visit a shepherd farm and taste local cheese or you can visit Bran Castle first and then go for a hike. Inside Piatra Craiului Mountains you shouldn't miss Zarnesti Gorge – a narrow canyon with protruding that will isolate you from the outside world. And while you're hiking in the mountains, be sure to look for Bran Castle perched on a ridge nearby!
Piatra Craiului is one of our favourite hiking destinations in Romania and we have day hikes from Brasov and Bucharest that can book!
Apuseni Mountains and National Park
The Apuseni Mountain range is the most popular in Romania's Western Carpathians. While it doesn't stand out with remarkable heights (Bihor Peak is the highest at 1,849m), the natural wonders found within and mountain villages spread across the hills will exceed your expectations. Apuseni Natural Park also contains the ethnographic region known as Motilor Land (Tara Motilor) and is one of the most popular hiking and outdoor destinations in Transylvania: over 200 caves are open for visitors, deep caving and speological exploration; some remote areas are perfect for dark sky observation; karst formations with narrow canyons are ideal for mountaineering, rappelling, via ferrata and even white water rafting and other extreme sports.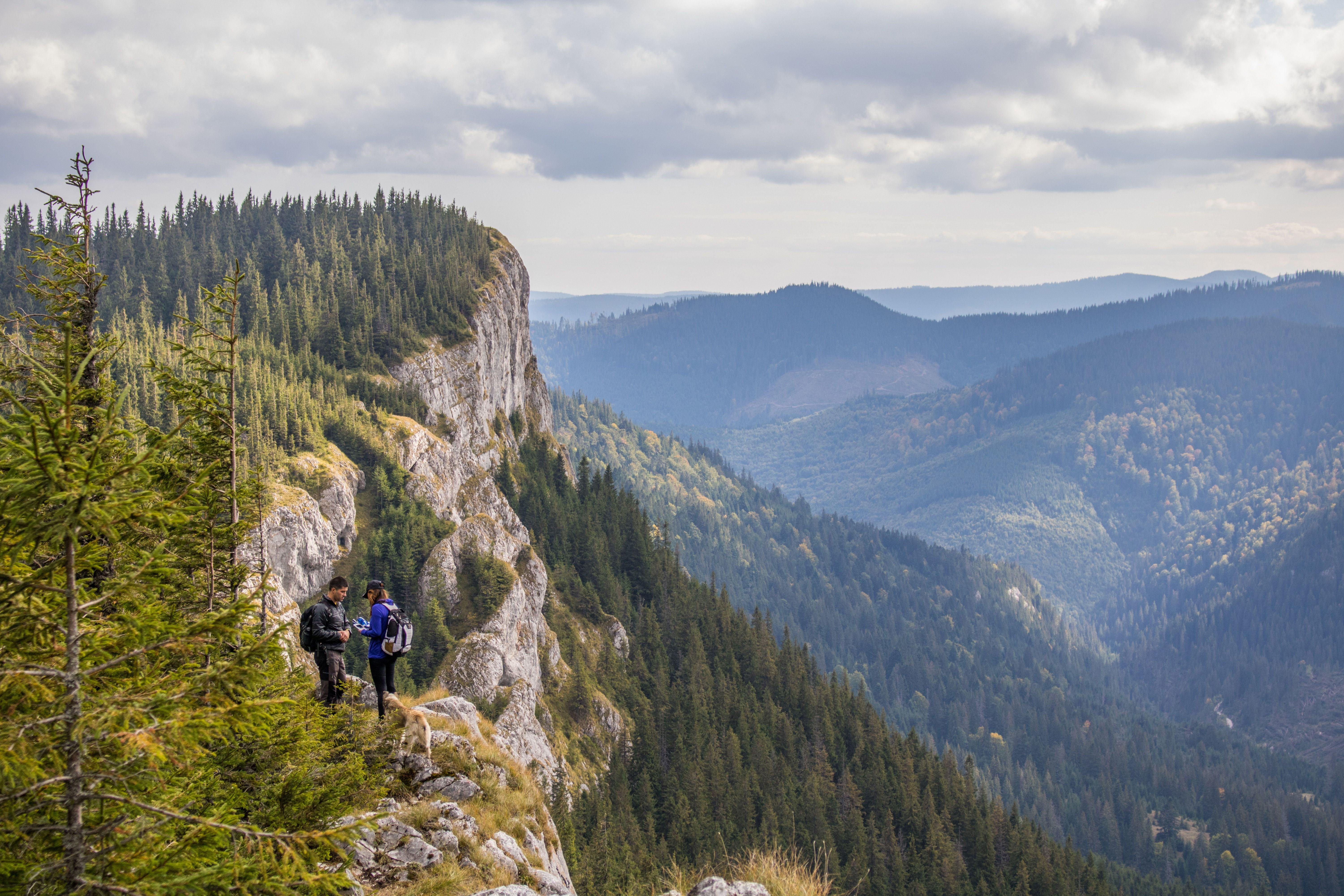 The most popular sights in Apuseni Natural Park are: Scarisoara Glacier and Ice Cave, the Rusty Ravine, Scarita Belioara Reserve, Bears' Cave and Bride's Veil Waterfall. Nearby is also Turda Gorge, an enclosed miracle oasis of nature also popular for hiking and via ferrata adventures. Apuseni Mountains and Natural Park are easily accessible from Cluj-Napoca, but also from Oradea and Timisoara.
Retezat Natural Park
The hidden jewel of the Carpathians, the Retezat Mountain range in South-Western Romania (near Timisoara) was a couple of votes away from being included in the list of New 7 Wonders of Nature. This pristine, uninhabited piece of land is part of the Southern Carpathian group and offers wild scenes with glacier lakes and spectacular views like no other. Most hikers choose between the* lakes trail* or climbing to Peleaga Peak which at 2.509m will reward the brave with a great adventure and spectacular views.
Retezat Mountains are among the least friendliest of Romania's mountains and hikers should have an above average physical condition and adequate camping gear, since there are very few accommodation options in the area. Multi-day trekking tours from Timisoara and Bucharest are possible and require some serious planning. Close to Timisoara you can also go on a hiking trip to Domoglead - Cernei Valley Natural Park or Nera – Beusnita National Park which have natural wonders of their own such as Bigar Waterfall.

***
If there's any information missing, please let me know and I will add it. I hope I convinced you that Romania's natural beauty is worth visiting - but if you need 'more' then check out this drone video taken around Piatra Craiului and Fagaras Mountains near Brasov:

Your Romanian Friend
Marius