How it works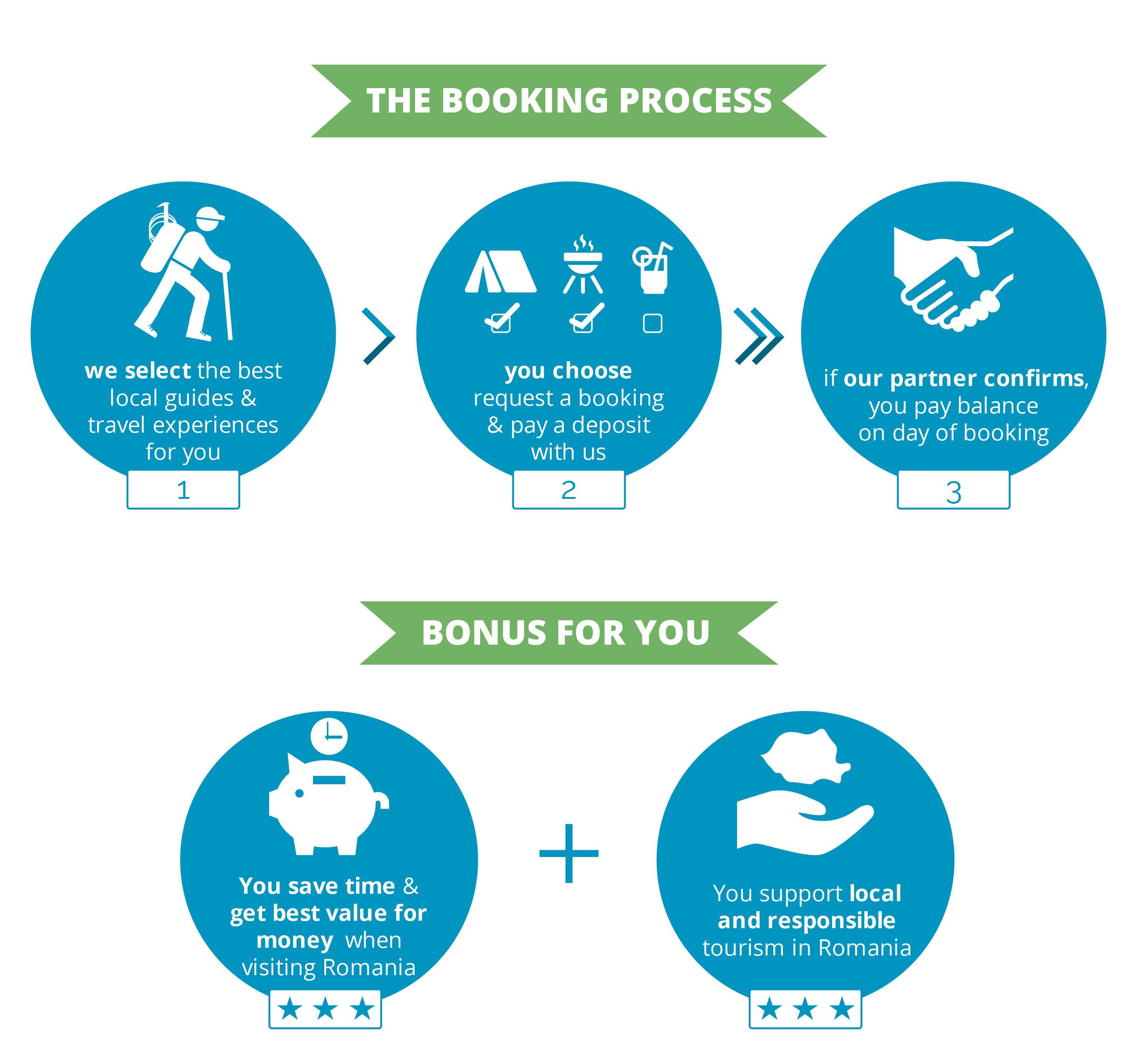 Contents:

1. What is Romanian Friend?

Put simply: we're here to help you.
1. Romanian Friend is a locally-run website with information about visiting Romania and an online booking platform that connects independent travellers to our carefully selected guide-partners, people who share our passion for Romania's authentic beauty. We're dedicated to making Romanian tourism better for everyone - read more about us


2. All partner-guides are handpicked and researched locally by Romanian Friend after a careful screening process. We personally meet or talk with them, check their credentials and licenses, look for reviews and recommendations from our local network. We work only with people that can show you a great time in Romania, are knowledgeable about our history, culture, specific regions or travel interests and offer safe, professional and licensed tourism services.

3. All our tours and trips are carefully selected, reviewed or created by us so that you get the best of Romania when booking a tour with us! As locals, we know the best places to visit and the most interesting things to do in our country. We also know the real costs of tourism in Romania and want to make sure you get a great value for money on our tours. Have a look at the reviews about Romanian Friend tours, guides and services!
Romanian Friend is also on a mission: to support responsible tourism in Romania, a form of tourism that benefits both travellers and host communities through local, cultural immersive experiences based on mutual respect and understanding for the world's diversity - read about our mission how we do it and how you can help us.

What this means for you - short version - is that tours and trips on Romanian Friend don't include hotels, uptown restaurant meals or just plan sightseeing. On our tours you will experience local life up-close, the realities of Romanian society, culture, and life. You will travel to lesser known regions or areas, stay in traditional guesthouses, eat meals with homegrown or locally sourced products and meet locals, craftsmen and artisans with interesting stories to share. This doesn't affect the quality or comfort of your travel experience, it just makes it a Romanian experience that you won't find anywhere else on the internet :)
2. Requesting a booking & checking availability for a tour
Romanian Friend offers instant support at any stage of this process.

4. Booking a tour. Romanian Friend is a travel agency with hired guides; we work with pre-approved and independent guide-partners all over the country who make their own schedule. We prefer flexibility and this is how we can find the best, most knowledgeable people all over the country.
If you want to check availability or book a tour on our website, this is done through the process of requesting a booking for your exact dates and number of people. This is easier and more reliable than sending them a message (which takes longer for them to respond) because if you get a 'yes' today, it might be a 'no' one week later.
5. Pay a deposit. For us to process your booking request, send it to our guide-partners and ask them to block their calendar for your dates, you need to pay a deposit of the total tour price. The usual rate is 10% but for multi-day trips we sometimes charge 30% at our partner's request to cover initial preparations and bookings. The you will pay in cash on the day of your booking (or as agreed with your guide). This is how we incentivise our guide-partners and give you more flexibility and trust.
Electronic payments are securely processed through PayPal or MobilPay (a Romanian e-payment solution) using Visa, MasterCard or Maestro issued bank cards.

6. Wait for confirmation. Our guide-partners are independent licensed guides or small guesthouses, and not large travel agencies. Depending on their schedule, they will or your booking request within 24 hours. If they confirm, you will get a second email with contact details and the guide will get in touch with you. If they decline, you will get a refund of your payment within 2-3 days.

Romanian Friend helps you save precious time by finding the right guides and tours for you, making sure all the details are there and that you get a simple, easy and secure booking system, instead of endless emails. In exchange, we only ask for a 10% service charge on each booking, refunded if declined.
We can also be a travel advisor that helps you plan your trip with tour suggestions and information. If you want a custom, tailor-made trip to match your interestes, dates or large group - we can help with that too and connect you to the right local guides. Just contact us
3. What happens after sending a booking request
Romanian Friend does not know the availability of our guide-partners and has no control over their schedule. The only way to know this is to request a booking which they will answer faster than a message.

7. If your booking is confirmed – you are set and ready to go! You will receive the contact details of your guide or host to arrange the final details of your trip and will pay the remaining balance on the day of your booking, either in local currency (Lei) or Euro, as agreed with your guide.
There are no shared, group or bus tours in Romania because of low tourist numbers. And we don't trust those anyway - it's just mass, commercial tourism. That's why all tours on Romanian Friend meaning it's just you and your group.

8 If your booking is declined – we will refund the amount you paid within 2-3 working days.
4. Romanian Friend cancelation policy

9 Before canceling your booking, you should ask your guide if he or she can do the tour on another day. Most of the times, they are flexible.
If you're no longer able to do the tour and want to get a refund, please send an email to your guide and to contact@romanianfriend.com according to the following cancelation policies:
easy: 3 full days before the booking date
medium: 7 full days before the booking date
custom: applicable only if expressly mentioned on tour page
for most tours and trips on Romanian Friend (unless otherwise mentioned on the tour page) is the easy cancelation policy. Please always check the 'Additional information' section of the tour page to see if a specific cancelation policy applies. You agree to this cancelation policy when making a booking request.
For example, a booking made on the 10th must be canceled on the 6th by 23:59 at the latest (Romanian local time), according to the easy cancelation policy.
If you cancel after more than 30 days when making your booking request, you will not be refunded the Romanian Friend finder's fee (service charge) but only the deposit payment of tour price. In case of no-shows no refunds are possible.
For more information, please check our terms and conditions.