Why should you visit Romanian churches? Why are the churches in Romania so famous? What's so special about them and is it worth seeing them? In short – yes. No matter your religious or spiritual beliefs – if any at all, Romanian churches are beautiful and lavishly decorated both inside and out, of great historical and cultural significance in Romania. Most of them are hundreds of years old and are well kept. Romanian churches are connected to significant events in our history and are the keepers of lots of stories and legends!
Christian Orthodox religion and values play an important role in everyday life so visiting churches is a great way to discover Romanian culture, identity and rural traditions. So in this article we'll tell you Romanian churches and which are the
We recommend visiting with a guide who can tell you more about them since churches are not tourist attractions in the traditional sense! You'll be surprised how visiting them will be an interesting and worthwhile experience on your holiday in Romania!
How do I know? Because when I visit countries with a different culture or religion such as Thailand or Morocco, I'm fascinated by places of worship where I can see locals, learn about their spiritual beliefs and how they shape their everyday life. For me churches, mosques, temples or pagodas are more than just sacred places - they are a gateway into a nation's heart and soul. And this is true also for Romanian churches!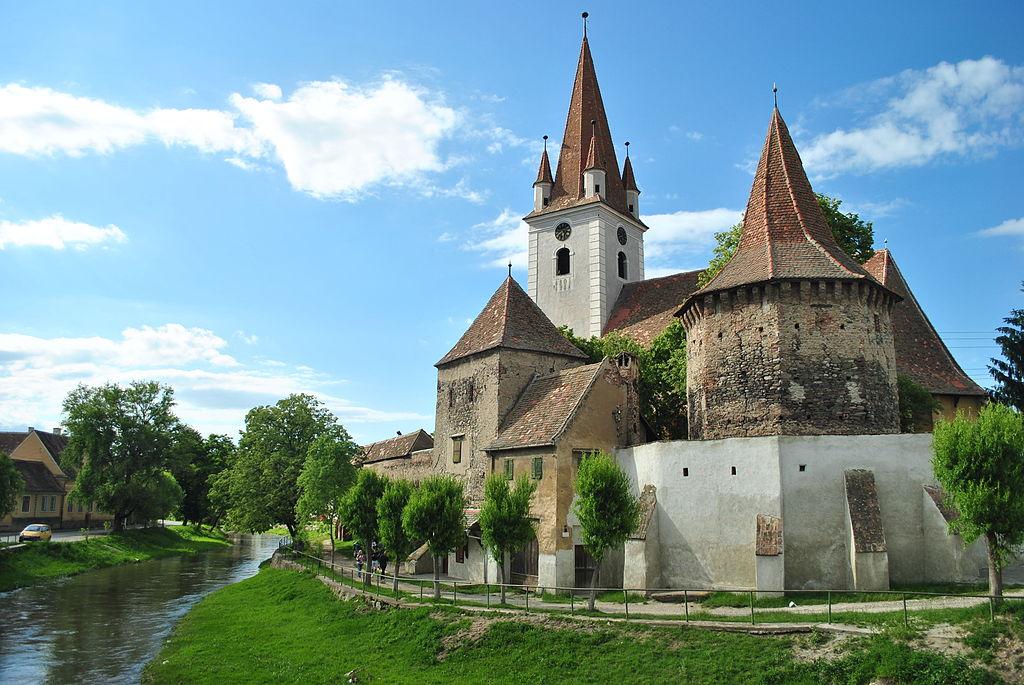 The Fortified Church in Cristian, near Brasov
Why visit Romanian churches
Christianity has several churches and branches, the main ones being Catholic (50%), Protestant (37%) and Orthodox (12%). Romania is firmly in the Eastern Orthodox Christianity camp, together with Russia, Greece, Bulgaria and much of Eastern Europe and the Caucasus (despite its Latin language and lifestyle!). Orthodox Christianity is considered more formal and conservative compared to other branches of Christianity, but also promotes closer relationships between the church and its followers.
So historically the priest played an important role in people's lives especially in rural areas. A leader equally important, if not more so, than the mayor, the priest's voice had authority in a community's social, economic and even political affairs. This was true for almost all of Europe during its medieval and modern years, and in some parts still is today.

But one reason why the Romanian churches played an important role is because until 1918 large parts of present-day Romania was under foreign rule. In Transylvania which was under Austrian and later Hungarian (Catholic) control church service in Romanian was not allowed and Orthodox priests were persecuted. Romanian language, history, culture and customs were banned from schools and public institutions. So people had to gather in secret which strengthened their religious beliefs, commitment to the Romanian identity and desire to liberate themselves from foreign control.

So churches were the only refuge where Romanians could gather and be themselves – even though they were by far the largest ethnic group (over 75%) among all people living in the historical provinces. This is why it is said Romanian churches played an important role in keeping our national identity united, alive and sharing it across generations. Here are some examples of how some famous churches in Romania were more than just places of worship:
the numerous Wooden Churches of Maramures seven of which are part of UNESCO heritage, were built through the shared effort of villagers who needed a place to worship and for their community to gather, since Romanians were not recognized as a nation (with their language, culture and history) by the ruling powers
the Painted Churches of Bukovina were built by Stefan the Great, one of Romania's most prominent leaders, who resisted numerous Ottoman invasions (pagans) aiming to conquer Moldova
the Fortified Churches of Transylvania are churches-turned-citadels by villagers who wanted to have a place of refuge against the numerous invasions and battles in the Middle Ages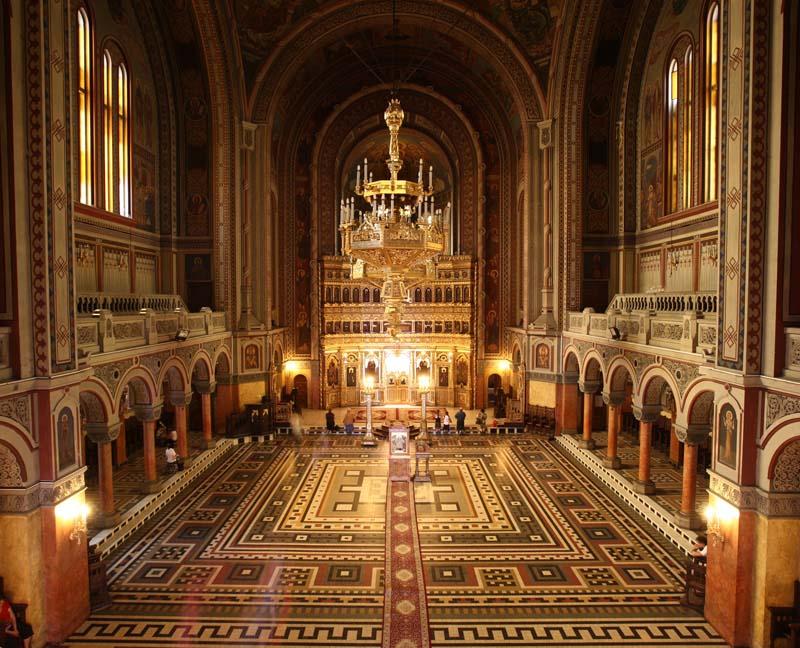 Inside Timisoara's Orthodox Cathedral


So why visit Romanian churches? Because they're more than just places of worship – they are the physical guardians of our country's history, culture and traditions, with lots of stories to tell. It's why we included it on our list of best things to do in Romania!
A second reason is because Orthodox churches are richly decorated on the inside unlike Catholic or Protestant churches. But the later ones are usually bigger and built in an impressive Gothic architecture, common throughout Europe.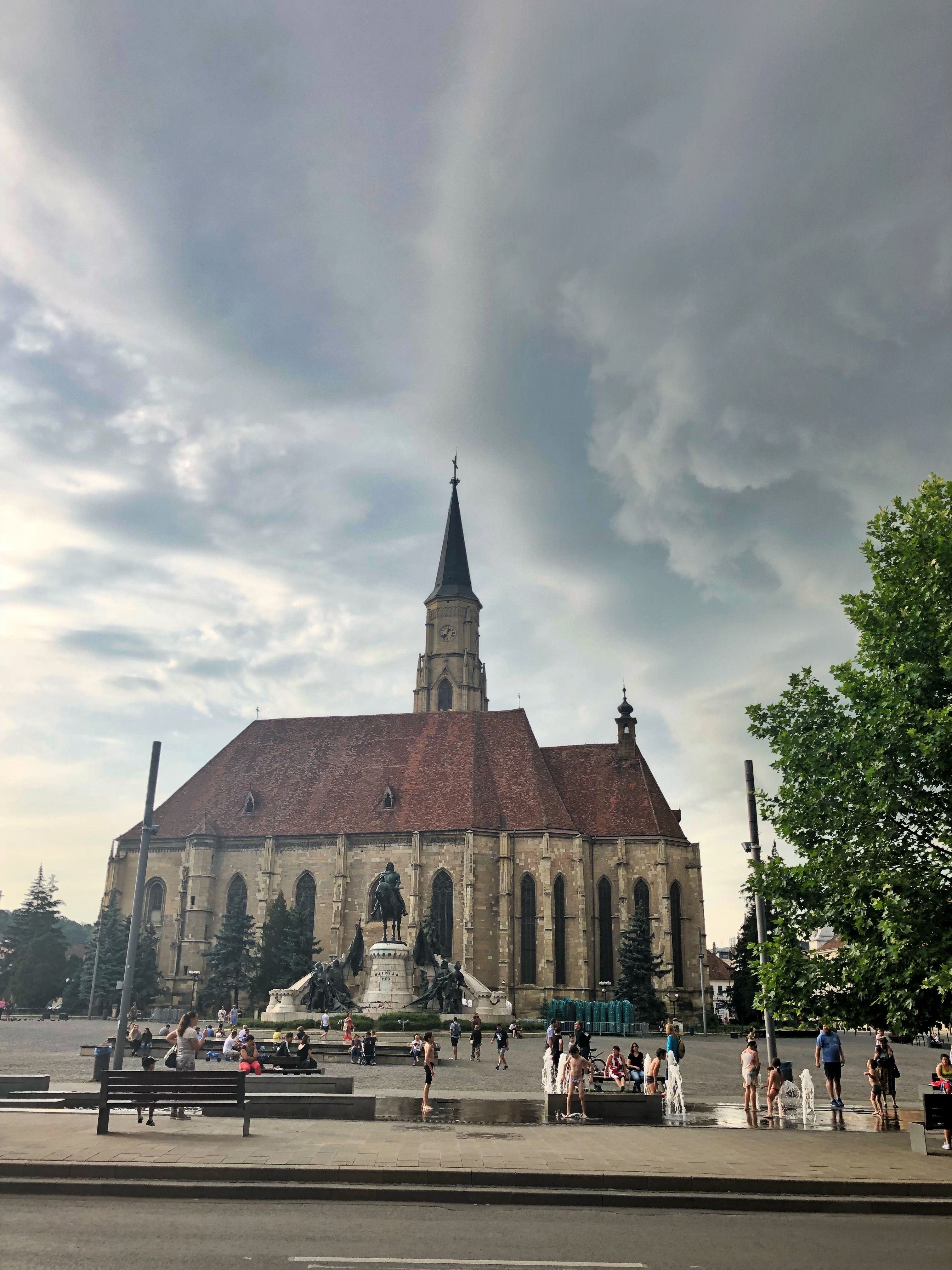 Saint Michael Cathedral in Cluj-Napoca
Religion in present-day Romania
85% of all Romanians are Orthodox Christians. A vast majority of people believe in God and go to church on major holidays such as Easter or Christmas. A significant part of the population are practicing Christians who go to church regularly and observe lent (fasting) periods and other customs. Important moments in Romanians' life such as marriages, births or deaths are always accompanied by a religious ceremony.
Religious beliefs and traditions play an even bigger role in the everyday life of rural communities as opposed to major cities. In the Romanian village, the church and local priest still have a crucial influential role in the community's life, just like in the old days. That's why we say that Romanian village life is well preserved and it's where you can discover the authentic essence of our culture.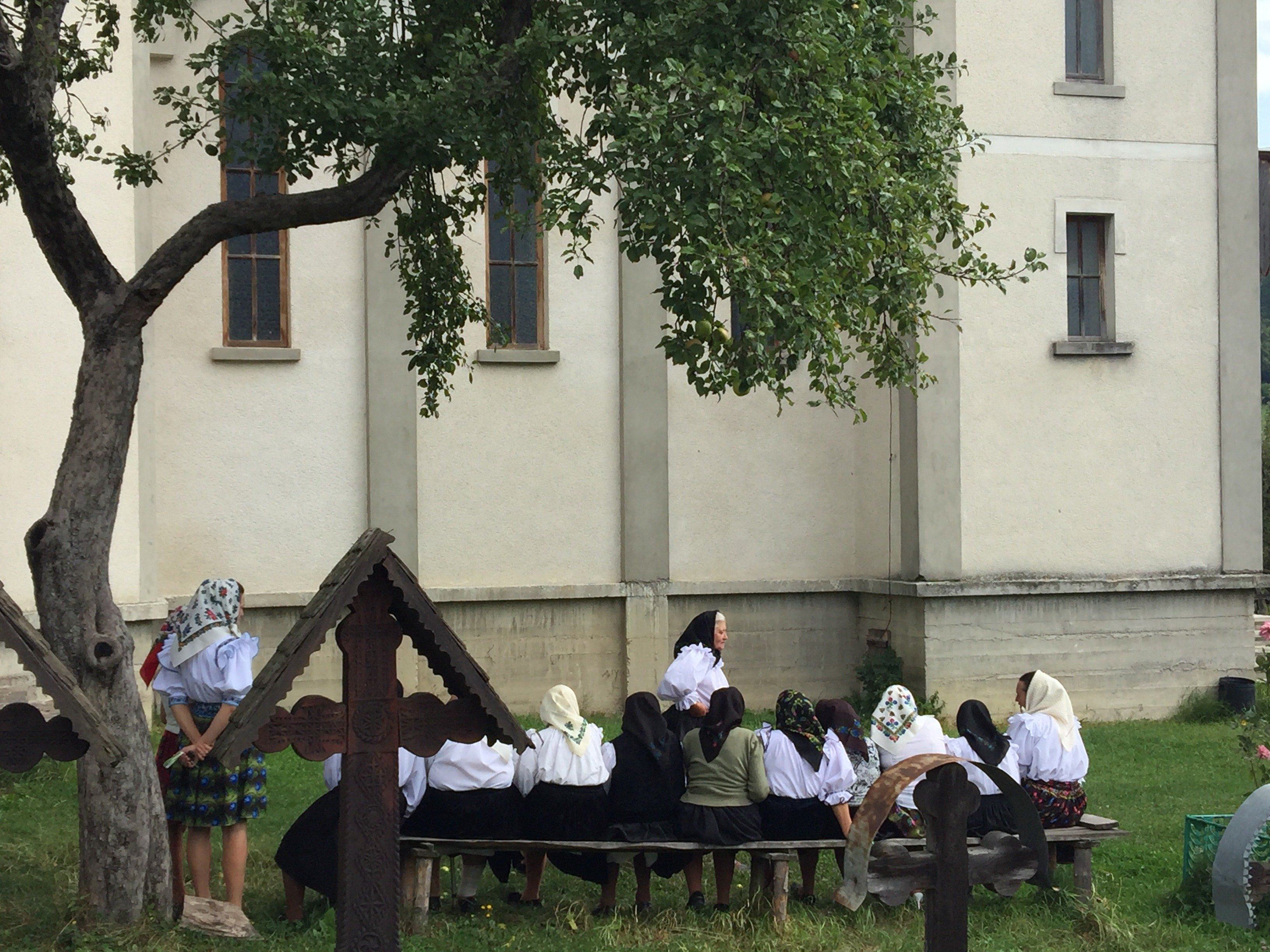 Locals in Maramures after church service

In the traditional regions of Maramures and Bucovina, people wear traditional folk costumes when going to church on Sundays. During Summer there are all sorts of local and religious celebrations where people gather after service, start a hora (traditional Romanian folk dance), eat and have a good time together. If you'll go on a tour with our guides they'll know what's going on, where and how you can participate at this wonderful experience.
Due to this important historical role, during the communist regime in Romania (1947 - 1989) churches and priests were marginalized, persecuted, demolished and imprisoned. They were considered dangerous to the communist regime's political and social vision where freedom of speech and dissent was not allowed, and incompatible with the communist vision of a secular society. So the Romanian Orthodox Church didn't receive any support from the state which meant many churches were abandoned and religious ceremonies and customs were banned or kept very low.

After 1989 and in the tumultuous years that followed as Romania transitioned to a democratic regime and capitalist economy, the Orthodox Church saw a significant resurgence in its number of followers, social support and influence. People turned to the church and priests once again partly because their religious beliefs were never completely suppressed despite the communist persecution, and partly as a way to make sense of the changing – and challenging – times they were dealing with, both collectively as well as individually.
So today the Romanian church once again has a significant influence in people's lives and is often vocal on important social issues in the community. Religious gatherings were allowed even during the Covid pandemic! Therefore, it's important to understand just how religious Romanians and what role the church plays in our society. And to be respectful when visiting churches which are – first and foremost – active places of worship. So wear decent clothing (no flip flops!), no selfie sticks, talk in low voice or not at all.
Which churches in Romania to visit?
Now this is a good question – because there are lots of beautiful and interesting churches in Romania! Every major city has at least one or two impressive cathedrals or churches you could visit. They're iconic landmarks often representative for the city or tied to important historical events, such as Timisoara's Orthodox Cathedral or Brasov's Black Church.
If you're visiting Cluj-Napoca, you're in luck – this charming city is home to some of the country's most impressive churches and religious landmarks such as the Gothic-style St. Michael's Church, the Orthodox Dormition of the Theotokos Cathedral, and the baroque-style Franciscan Church. Check out our Cluj Napoca travel guide for more information.
Besides famous cathedrals or groups of churches part of UNESCO heritage, there are also many smaller churches popular for their own reasons (e.g. unique architecture). Then there are monasteries of great value for Orthodox Christianity because of famous priests such as Father Arsenie Boca who painted Draganescu Church. Finally, there are some churches that house the remnants of holy people, or those turned saints, where followers go to pray hoping for miracles. Pilgrimages are regularly held at these churches.
A word of caution: many Romanians believe in God and a good part of those who do are devout Christians, especially in rural areas. Respect religious views and if you're going to visit any of these churches be civil and don't act like an inconsiderate tourist snapping selfies in front of the altar as you might actually get in trouble.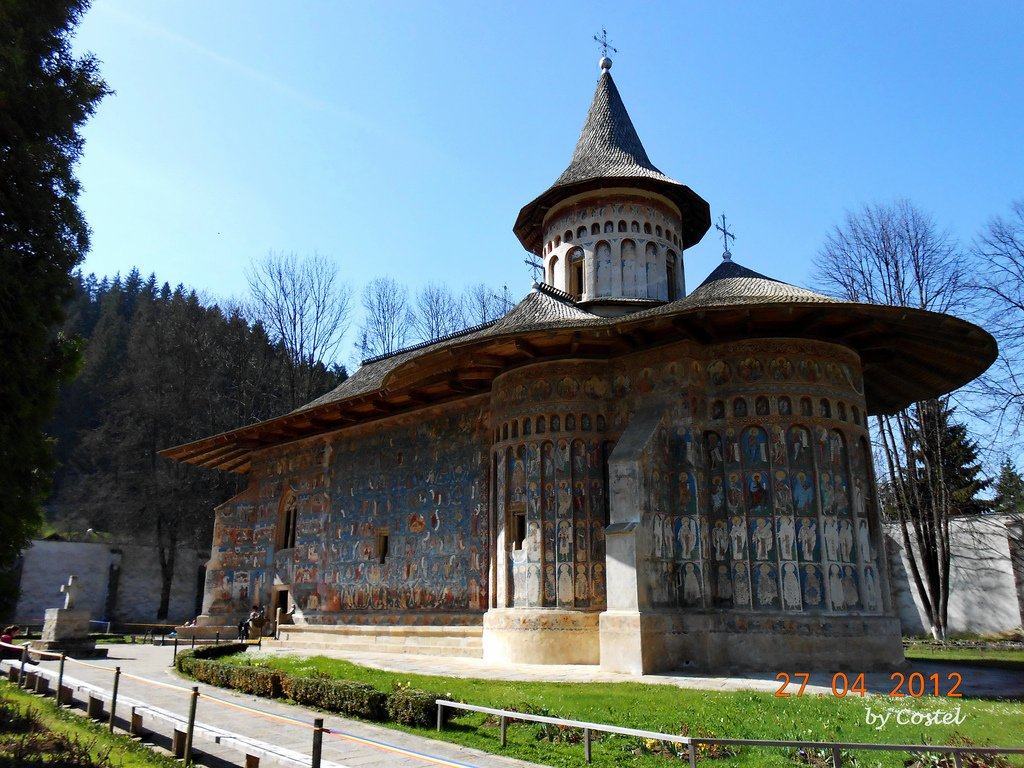 Voronet Painted Church
1. Painted Churches and Monasteries of Bucovina
Recorded in the catalog of great monuments in the world in 1993, the painted churches and monasteries in in the North-Eastern region of Bucovina are worth-seeing even if there's a considerable logistical effort involved. They're a 5h drive from Cluj-Napoca or Brasov, and 8h drive from Bucharest. It's best to spend a minimum of 2 nights in the region so you can actually visit the churches which are spread among different villages. The region of Bukovina is also famous for its ethnographic culture, beautiful scenery and local traditions, such as decorative egg painting.
Stefan the Great, ruler of Moldova and major figure in Romanian history, built these monasteries in the 15-16th centuries to celebrate his victories against the Ottoman Empire who constantly tried to conquer the province. What makes these churches special are their exterior frescoes which are beautiful, intricately complex and incredibly well-preserved even after hundreds of years. The paintings are portraits and images highly representative for the Romanian Orthodox Church including famous scenes from the Bible, life of Jesus, images of angels, demons and saints, as well as scenes representing Heaven and Hell.

The painted churches of Bukovina on UNESCO's World Heritage Sites are: Voronet, Humor, Patrauti, Probota, Suceava, and Sucevita. These edifices are a majestic mixture of art, religion, history, and architecture which makes them worth to be added on your bucket list whether or not you are a religious person.
Which church should you visit and why? Each of the painted churches of Bucovina has its own charm that makes it worth visiting. Yet, if you are tight on schedule, you should go for Sucevita and Voronet churches.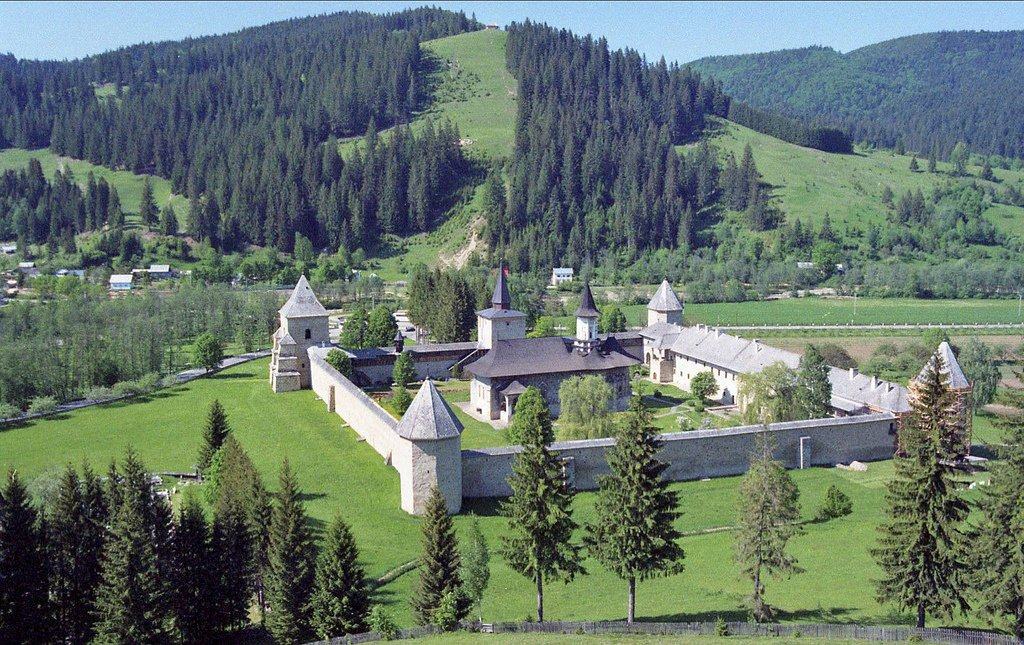 Sucevita Monastery

Last of the 22 painted churches of Bucovina, Sucevita monastery in Romania has the largest number of painted images. Its high walls and heavily fortified towers give Sucevita church the appearance of a fortress. Inside, you can also find a museum that presents an outstanding collection of historical and art objects that will take you on a trip back to the 16th century.
As for Voronet church in Romania, also known as "The Sistine Chapel of the East", it is perhaps the most famous and beautiful of all the painted churches of Bucovina. Founded by one of the most iconic historical Romanian figures, Stephen the Great in 1487, the church is incredibly well preserved until this day which makes it a real mystery even now.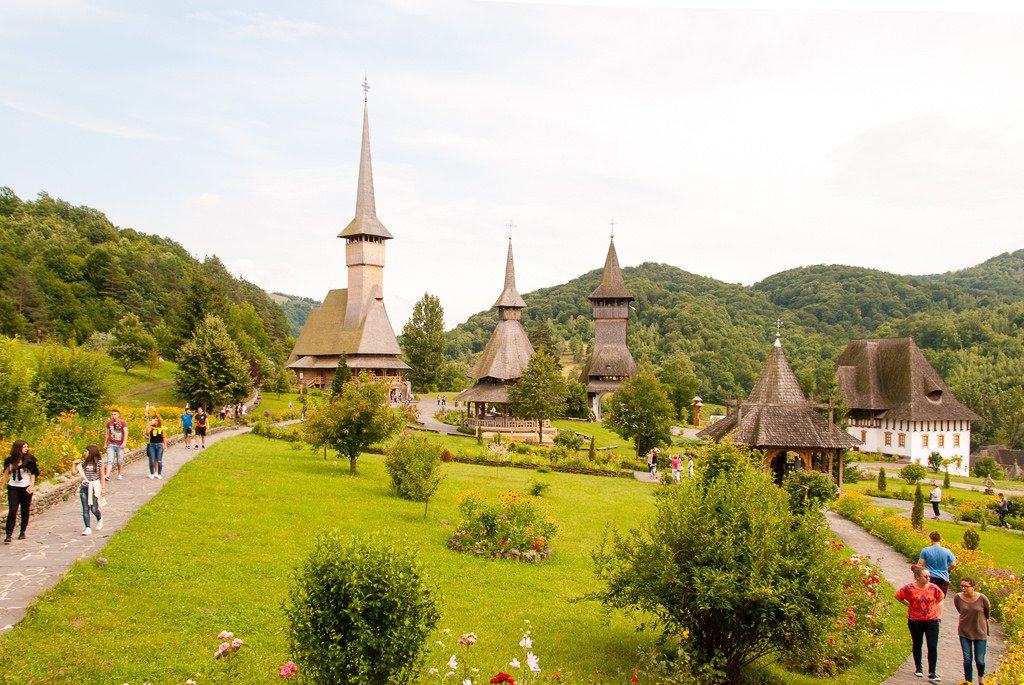 Barsana Monastery complex in Maramures
2. The Wooden Churches of Maramures
Across Romania but especially in villages across Transylvania there are about 1.500 wooden churches. As Romanian Orthodox religion was not recognized under Catholic rule, villagers had little money or support to build churches, so they resorted to wood as it was cheaper and easier. These churches built three, four or even five centuries ago are impressive thanks to their unique architecture, simplicity and authentic rural decorations. They're unlike anything you've ever seen!
The most impressive and well known of the wooden churches of Maramures which were included in UNESCO's World Heritage list are in the villages of Budesti, Desesti, Barsana, Poienile Izei, Ieud Deal, Surdesti, Plopis and Rogoz.
As with Bukovina, we recommend you spend at least 2-3 days in the region so you can travel between villages and visit other sights in the region. Maramures is known as Romania's traditional region with representative customs and folk culture. On Sundays locals dress up in traditional costumes to attend church service, and after that there are usually local celebrations or gatherings for villagers to get together, eat and dance in a hora (traditional Romanian dance) even now during Covid!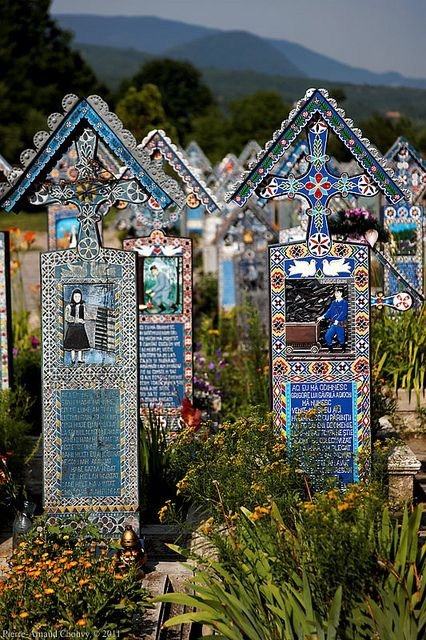 Merry Cemetery of Sapanta
Other attractions in the region include the village of Breb, considered to be among the most beautiful and well preserved, almost as famous as Viscri! The Merry Cemetery of Sapanta is also a popular attraction because where else can you find a happy cemetery that tells people's life stories in a joke-y story on their cross? Finally, there is the Victims of Communism Memorial in Sighetu Marmatiei, a former communist prison turned into an impressive interesting museum where you can learn about this dark period in our country's history.
3. Fortified Churches of Transylvania
Due to the constant threat of invasion from migrating (pagan) peoples back in the 13th century (e.g. Cumans and Tatars), the King of Hungary (which ruled Transylvania at that time) resettled Saxons from the Western part of Holy Roman Empire in South-Eastern Transylvania so they could build fortifications and defend the border.
Since then, fortified churches in villages and small towns became a typical feature of Transylvania. Churches were seen as the central point of the community and thus were fortified and turned into mini-citadels to protect the people living there. There are more than 150 fortified churches remaining, some very well-preserved, others restored and a few in a poor state. Most of them are still in service today!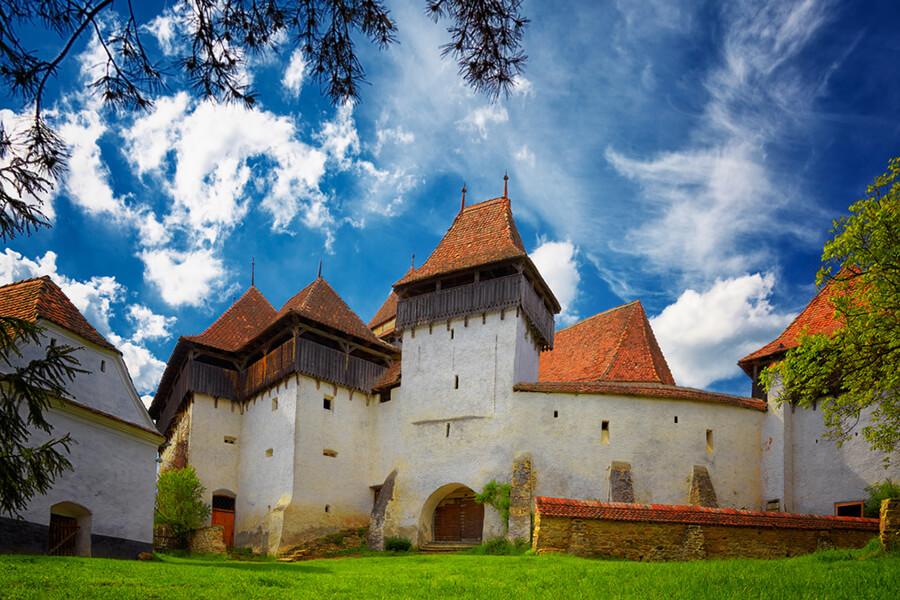 Viscri Fortified Church
Due to their historic and cultural significance, and unique architecture, some of the fortified churches of Transylvania were included in UNESCO's World Heritage list: Viscri, Biertan, Prejmer, Calnic, Saschiz, Darjiu and Valea Viilor. So if you'll visit the famous region of Transylvania, you should consider renting a car or booking a guided tour to hop around villages, see picturesque views, visit some of these churches and discover why Transylvania is famous for its rural life.
Which fortified churches should to visit if you're short on time? I would go for Viscri, Biertan, Prejmer, Saschiz and Alma Vii.
Known as the "White Church", Viscri is perhaps the oldest fortified church in Romania. Thanks to an ambitious community project of rediscovering and reviving traditions, the village Viscri is also the place where you can learn more about the culture and local life of Transylvanians.
Biertan is among the first Saxon settlements in Transylvania in the 13th century. It is home to the Fortified Church of Biertan which was used as safe haven in times of trouble. There is also an interesting legend about the so-called "prison cell" of the church where, according to the legend, married couples who wanted to break up were locked inside for two weeks to 'solve' their differences.
The fortified church of Prejmer is the largest and most defended church across entire Eastern Europe. Due to the frequent attacks of invaders, the church has impressive fortifications.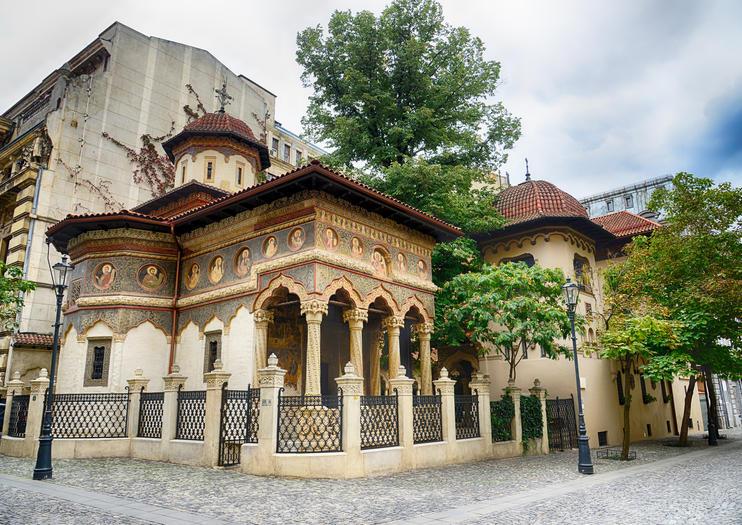 Stavropoleus Church in Old Town, Bucharest
4. Most beautiful churches in Bucharest
The many churches in the capital of Romania, Bucharest, aren't just inviting architectural gems but also represent true mirrors of Romanians' highly religious spirit and culture. Many of the churches of Bucharest were built in the 17th and 18th centuries and are some of the oldest buildings in the city.
Some of the oldest and most impressive churches include the charming Stvaropoleos Church in the Old Town built in the unique Romanian Renaissance style, Antim Monastery which was the first public library in Bucharest, and the Church of Saint Nicholas built by the initiative of the Russian ambassador in Bucharest.
Another interesting fact about the churches in Bucharest is that some of them were saved from demolition by the communist authorities by being moved or 'hidden' behind large apartment blocks. The dictator Nicolae Ceausescu wanted to "clean" Bucharest of any buildings not in line with communist ideology. Antim Monastery and Lady's Church are great examples of this and you can find out more about their history on our communist-themed tours.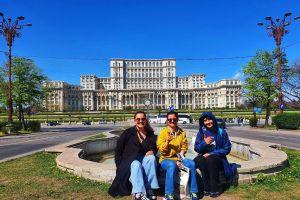 Start from: Revolution Square next to the Rebirth Memorial (The patatoe)
See details
5. Other famous churches in Romania
Here are other famous and interesting churches, monasteries and cathedrals in Romania tourists interested in finding out more about our country's culture, history and spiritual life:
Sinca Veche Rock Monastery
Located between the cities Brasov and Fagaras, the village Sinca Veche is home to the Temple from Sinca Veche, also known as "Temple of Fate". A monastery dug in rock is formed of five rooms, containing two sanctuaries and rock walls that are beautifully decorated with different signs and text in an unknown language.
The mystery of the place lays in a portrait of who it is believed to be Jesus and the two symbols representing David's Star and the Yin-Yang circle. With this description, no wonder this is one of the most fascinating and mysterious sights in Romania. Sinca Veche Monastery is considered to be the oldest church in Romania and can be seen on a private and custom day trip from Brasov.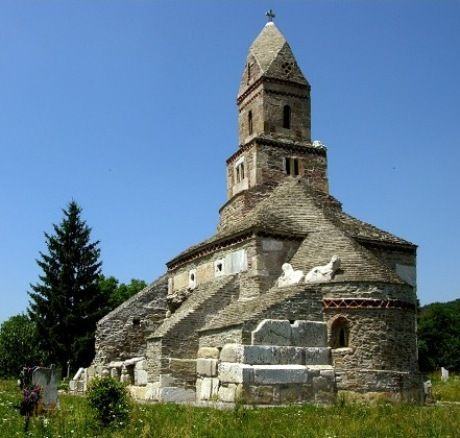 One of the first Christian Orthodox churches built in Romania, Densus Church is located in the village Densus and can be visited on a day trip from Timisoara. The church was built in the 13th century with materials from the ruins of the Dacian fortress at Sarmizegetusa dating back to the Roman Empire.
Some legends say that the church was built on the place of an ancient temple that was originally dedicated to the God of Mars. Another stories claims that the church actually originally served as a Roman pagan temple from the 4th century which adds even more mystery to its unknown origins. In any case, thanks to its looks and age, Densus Church is undoubtedly a unique church and building in Romania.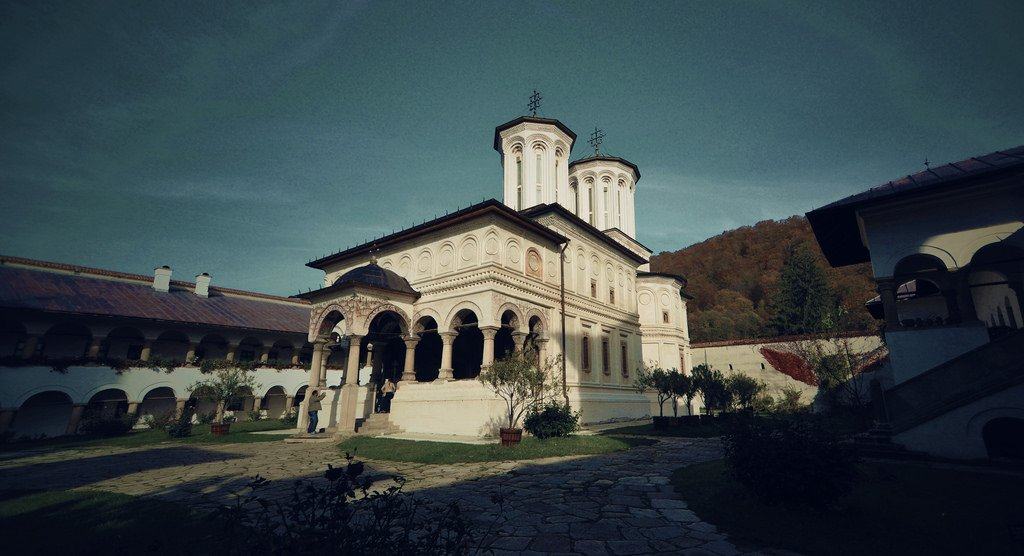 the UNESCO Horezu Monastery
Founded by Prince Constantin Brancoveanu, a famous ruler of Wallachia between 1688 until 1714, Horezu Monastery has great historical and cultural value for Romania. Located in Horezu, the monastery is highly representative of the Romanian architectural style known as Brancovenesc characterized by architectural purity and balance, votive portraits and richness of sculpted details. Thanks to its beauty and the unique ceramic painting style, Horezu Monastery is now part of the UNESCO's list of World Heritage sites.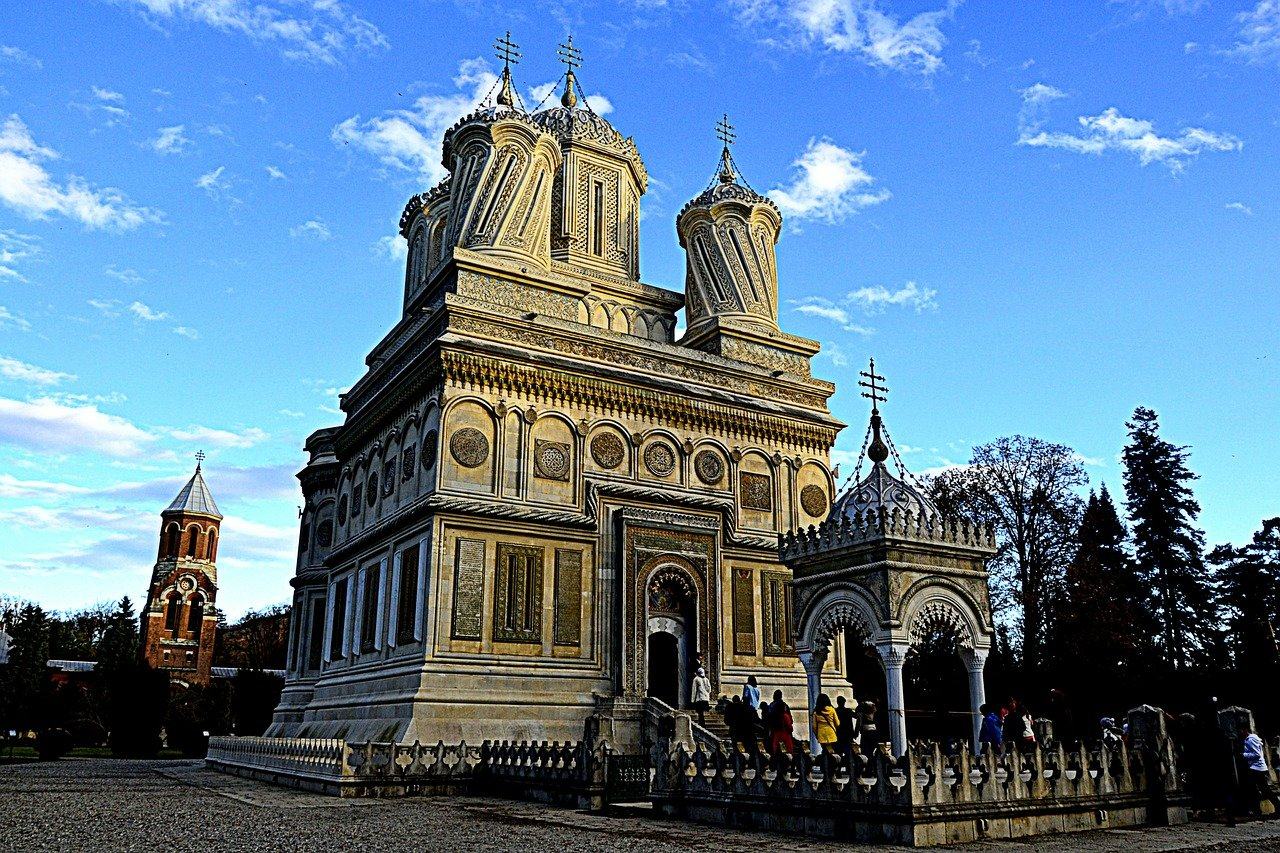 Curtea de Arges Monastery
This is burial place of Romania's Royalty: King Carol the 1st , King Ferdinand, Queens Elisabeta and Maria which makes this imposing religious sight one of the most significant places in Romanian history. Located in Curtea de Arges, Romania, the monastery is one of the most representative thanks to its unique Byzantine architectural style, spectacularly decorated with Moorish arabesques. It can be visited on this day trip from Bucharest.
The monastery is the center of one of the most popular Romanian legends that tells the story of the biggest sacrifice a man can make. The legend talks about Manole, the main builder of the monastery, who had to watch all his day work destroyed during the night. In the end, in order to be able to finalize his work, the constructor had to sacrifice his wife by placing her inside of the walls of the church while he continued to build. A guide can tell you the significance of this story and why it's so important in Romanian culture.
Located in Brasov, Romania, the Black Church has over 600 years of history. Its dimensions are simply monumental, being over 90 meters long and 65 meters tall. It is undoubtedly one of the most beautiful Gothic monuments in Romania. When in Brasov it's impossible to miss it as it's one of the main tourist attractions in the city.

***
I hope I was able to make you see that Romanian churches are not just places of worship. They are of great significance in Romanian history, culture and everyday life.
That's why we think tourists who want to visit and understand what Romania is all about should consider visiting them. If you need help with planning your trip in Romania contact us!
Marius