As an avid traveler myself, I can honestly say that Bucharest's nightlife scene is one of the best in Europe and can easily compete in the world's top 10.
It's a bold statement, I know, but keep reading to find out why and get a local's top choices on the best bars, clubs and wine bars in Bucharest!
Everyone thinks the Old Town (Lipscani) area is the centre of Bucharest's nightlife scene but the best bars and clubs (aka where locals like to party) are not there! So we've prepared this great guide to show you where to go out on a Saturday night in our city.
As the city emerged from a complicated communist past and transitioned to a modern social life, generations that matured in the late-2000s (Millennials) had a clear I want to enjoy life! message.
So you could say the nightlife scene in Bucharest is quite mature with clear demands for great customer service, affordable prices and amazing music.
Nowadays, without quirky design or great views, Instagram-able menus and a great atmosphere most bars don't have a chance to stand out in Bucharest's crowded list of the best places to go out. We're always looking for the newest, coolest and trendiest places to go out and our expectations are high since we helped the capital city of Romania obtain its famous reputation for nightlife, clubbing and wild parties.
If you're looking to go out and party in Bucharest this nightlife guide will tell you how to prepare and what to expect, where to find the best bars and clubs and how to blend in with the locals for the maximum fun. Our pub crawling and craft beer tours are great ways to discover Bucharest's nightlife scene with a local so check them out! And if you need to organize stag or hen parties, special events or nights out with your group contact us and we'll create a specially tailored experience for your taste!
Why is Bucharest's nightlife so amazing?
In short: diversity, social status and a true 'I enjoy going out' feeling.
No matter what kind of music you like, your drinks budget, noise-sensitivity, party or sleeping hours - there's a bar for everyone in the Romanian capital:

student bars with basic decorum, drinks at affordable prices and loads of fun and energy
a huge range of bars, pubs and clubs for most people to spend or dance the night away in all sorts of music styles (contemporary, live, karaoke, jazz, electronic, rock, etc)
cozy and stylish wine bars to hang out with friends
hotspots for eccentric fashionistas or die-hard rock music fans
up-market clubs where the high class and well-off in Bucharest goes for a glamorous night out
rooftop bars with amazing views or hidden gardens far from the bustling city
One thing all these places have in common? Amazing music. Whether it's background music, a playlist or DJ at work, it's usually a combination of music genres, mainstream popular songs on the radio mixed with last season's hits or lesser known artists, foreign and local ones. When the partying starts (usually after 23:00) only one rule applies: find the music to dance the night away!
And besides the great music, the competition between the best clubs in Bucharest is also on design and decorations: whether industrial, urban or posh and luxury, they're all stylish and inspiring. Club owners in Bucharest are really making an effort to offer the most interesting and welcoming settings for their guests and that's what makes partying here so great!
Another thing that makes Bucharest by night truly unique is the importance and preparations Romanians put into the 'going out' part - we never know what can happen! Guys might go out for a beer at their usual spot but us Romanians never have only 1 drink. In many cases, one thing leads to another and a casual outing might turn into an all-nighter pub crawling - so better prepare and do it in style since everyone else will be!

As for the ladies, folk wisdom says that even when going to the local grocery store prince charming may be waiting - so they should always look at their best! On top of this, Romanian women are blessed with natural beauty, have very high self-esteem and invest a lot of effort (and money!) into looking at their best and wearing the latest fashion. So this means you'll be seeing beautiful Romanian ladies whenever going out by day, and especially by night!
Lastly, the Romanian culture of going out is special here: it's not just something we do on occasions like going to the theater or that we enjoy like riding a bike. It's an important part of our daily and social lives: much like the French or Italians, our Latin blood makes us want to spend hours over coffee, drinks and dinner, chatting about everything and nothing, as long as we're with friends and having a good time in a cool place.
So if after a couple of drinks the nightlife vibe starts to set in and we feel like moving to another place or do a couple of dance moves, Bucharest's diversity of bars and clubs comes to the rescue! :)
In Bucharest, the vibrant nightlife scene transcends age boundaries, proving that a good time knows no age limits. Even though young people might prefer energetic clubs, while seasoned individuals might seek sophisticated venues, Bucharest caters to all party-goers.
Everyone may choose their favorite environment to have fun and make lasting memories thanks to the city's wide variety of bars, live music venues, and cultural events. No matter your age, Bucharest embraces the spirit of celebration and welcomes everyone who wants to take part in its upbeat energy.
Exploring the nightlife of Bucharest is not just about immersing oneself in the energetic ambiance but also delving into the rich cultural tapestry that defines this remarkable city.
And while Bucharest's nightlife scene is undoubtedly captivating, I cannot miss the opportunity to remind you to not limit your exploration to just the nocturnal hours.
Bucharest has so much more to offer, and its daytime charm is equally, if not more, intriguing. Embrace the opportunity to discover the city's architectural wonders, stroll through its picturesque parks, and immerse yourself in its rich history and culture. Don't miss the chance to discover the many facets of Bucharest, both day and night, and let the city captivate you with its charm and allure.
When to go out, dress code & practical tips
Start the evening with dinner: it's always better to eat before you start a night of partying in Bucharest :) Locals go for dinner and drinks between 7 and 9 pm and we highly recommend you book a table in advance if you have a particular spot in mind.
Evening pre-drinks don't start before 8 pm and this is when bars in Bucharest do a good job by creating the right atmosphere. At first, locals don't want loud music or intrusive service - they want to catch up with friends over a couple of drinks. As the evening progresses some bars turn up the volume and change the music to transform into big clubs where everyone starts dancing and goes into party mode. Go to Uanderful, Biutiful, E3 or Nomad to experience this!
Bucharest nightlife starts at midnight! By 10 pm most bars are already crowded, but the real partying begins at around 11-12 pm. Go into clubs before that and you'll find them empty with staff still preparing! Most bars stay open until late into the night while party clubs go on until early morning hours.
Although most clubs in Bucharest are open Monday to Sunday (seven days a week), it's vital to keep in mind that each club may have different opening days and hours. Thursday, Friday, and Saturday nights have historically been the busiest for clubbing in Bucharest, with these days providing the liveliest and busiest nightlife experiences. Clubs that cater to various tastes and specific audiences may, however, also be open on other days of the week. To be sure the clubs you want to visit are open on the day you want to go, it is a good idea to check their schedules and event listings.
One great thing about the Bucharest nightlife is that there are which means that most places stay open for as long as people have fun!
Make a reservation, especially on weekends: as the most popular spots to go out in Bucharest are crowded and even 2nd tier places are full on weekends, it's best to always book your table in advance if you have a specific place in mind or your group is larger than 4 people. While booking a table is not a must, some clubs won't let you in if they're overcrowded while others tend to get very crowded. So unless you're comfortable with being squeezed and dancing with the crowds, having your space might be a better choice. Most casual bars and restaurants don't require a minimum consumption when booking a table, but clubs known for their parties will require a minimum of 100 Euro (and you usually get a bottle of something with soft drinks).
Wear something stylish to blend in: as mentioned above, when people in Bucharest go out they like to look at their best but there are also some commonly accepted dress code rules you should know about to enjoy Bucharest's nightlife in full.
Regular bars and clubs in the Old Town area don't have a specific dress code but if you're going to posh locations in the North of Bucharest you should be wearing a shirt or trousers (guys), a nice dress or your best evening look (for ladies) to get in. You should wear jewelry, high heels, perfume, makeup and style your hair if you don't want to feel underdressed and completely blend in with the locals!
Be careful: wearing flip-flops, shorts, tank tops and sportswear will keep you out of most places!
Entrance fees and security: given the wild nights and parties most bars and clubs in Bucharest have seen, there's almost always a bouncer at the entrance and bodyguards mixed with the crowds, especially in popular or fancy clubs. Rare brawls and conflicts are swiftly and forcefully dealt with, but minor thefts do sometimes happen, particularly with ladies' bags.
Ladies will most of the time get in for free (and benefit from special offers) but guys might have to pay an entrance fee (25-50 Lei) to some places, but that usually includes a drink. Entrance fees are a good sign: fewer bar hoppers and people who really want to party there!

Transportation: The main nightlife districts in Bucharest are easily accessible and provide a variety of transport choices to guarantee a fun and safe experience. Buses, trams and the metro are all part of the city's well-connected public transit infrastructure, which makes finding the most popular clubs and bars pretty simple.
In neighborhoods like the Old Town of Bucharest and the University Square, a lot of the energetic clubs, bars, and entertainment spots are conveniently situated within walking distance of each other and we recommend getting there with the metro.
Local tip: check our guide on Bucharest taxis to make your navigation between clubs easier

Depending on which area of the Old Town you want to tackle first, you can get off at either Universitate or Piata Unirii metro station. Taxis and ride-sharing services are also widely accessible and provide a convenient and dependable mean of transportation for those traveling a little further. To ensure fair pricing and a secure journey, it is advised to use authorized taxi services or reliable ride-sharing apps.
Safety: as always, if you're cautious, aware of your surroundings and stay out of trouble - you'll be fine! Read our Bucharest safety guide for more info on the topic and typical tourist scams.


Neighbourhoods and places to go out in Bucharest
So what parts of town should you go to for a party night in Bucharest?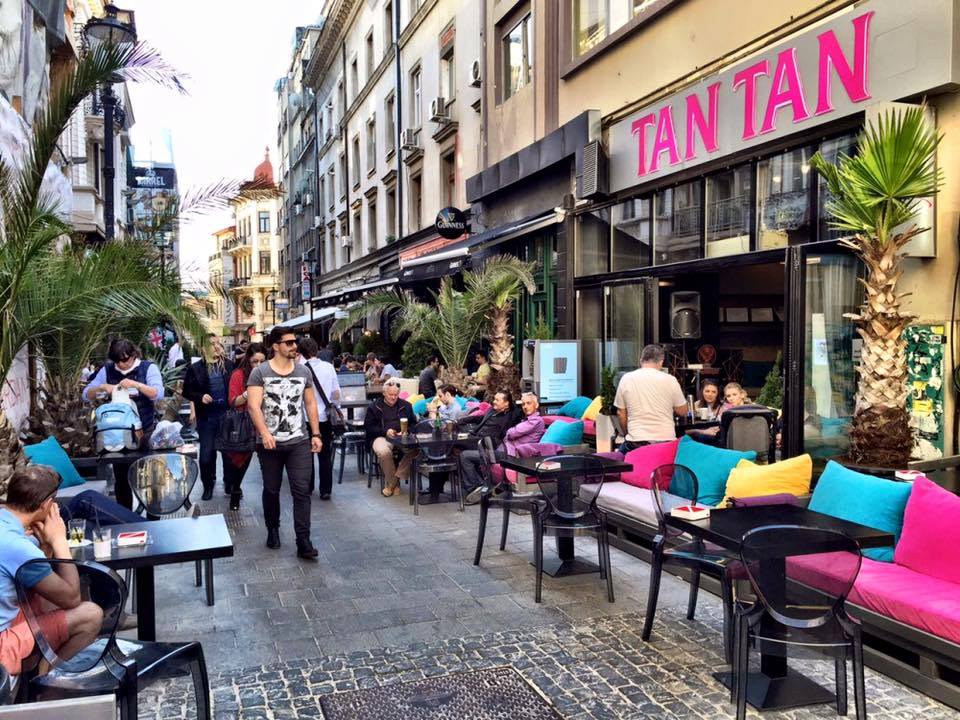 Old Town Bucharest for nightlife
Let's start with the most popular and crowded spot in Bucharest: the city center. That includes the Lipscani, Smardan, Gabroveni and side streets between Piata Universitatii, Piata Unirii and Calea Victoriei (known as Old Town or Centrul vechi for locals). Here in the center of Bucharest, you'll find over 100 cafes, bars, pubs, restaurants and clubs. This is where most locals and tourists go out because with so many choices finding a spot is not a problem. Every weekend starting from 10pm and well into the night or early morning the area transforms into a booming outdoor disco with crowds rushing to the next bar, pretty hostesses inviting you for a drink, queues for shaorma or gyros and... disoriented people :)
The Old Town has its charm: miraculously untouched by WWII bombs or communist bulldozers, there's something about old buildings, some abandoned, others restored, mixed with cobbled streets and old world architecture that makes partying here so unique. If you're looking for the throbbing heart of Bucharest's nightlife - this is the ideal place to be. It's also a great place for pub crawls, stag or hen parties and whatever else you can think of for a crazy night out!
Our favorite bars and clubs here: Urbanist, Shoteria, Club A, Fire, Nomad Skybar, Interbelic and many more!
University and Romana areas for a cozier night out
Locals looking to avoid the Old Town crowds generally head to the University and Romana areas in central Bucharest, particularly on the side streets of major boulevards. Hipster cafes, cool bars, pubs with personality and non-touristy restaurants will be perfect for a fun night out. As most of these spots are popular with locals, it's best to book a table in advance.
Our favorite bars and clubs here: Fix Me A Drink, Gradina Eden, Happy Pub, J'ai Bistrot, Salon Golescu, Green Hours

Northern Bucharest for fancy bars and upmarket clubs
If you're the type who prefers a slightly more exclusive clubbing scene then head into the Northern Bucharest neighborhoods of Floreasca and Herastrau. Here you'll find bars and clubs where sophistication, elegance, status and 'fine-partying' are at home. Prices are a bit more expensive and you can't get in if you're not dressed to blend in with the locals (think smart casual, fashionable or elegant). Delicious food, premium wines and excellent cocktails are best enjoyed from 7-8 pm. After 11 pm most places turn into all out clubs where beautiful people party until dawn. In our opinion, this is THE place to experience the best of Bucharest's nightlife!
Over the summer most bars and clubs here (especially those on the shores of Herastrau lake) set up beautiful terraces where partying moves outdoors in 'summer mode' and in the sunset light.
Our favorite bars and clubs here: E3 by Entourage, Beraria H, Fratelli, Biutiful, Uanderful

Grozavesti and Regie for a fun and cheap night out
The Grozavesti and Regie areas in West Bucharest host most University-owned halls of residence, so here you'll feel young again (or old!) by partying with students enjoying Bucharest by night. And since everyone knows students like to have fun but don't have a lot of money, there are some very cool - and affordable - places to go out here. Cheap prices, laid-back vibes, and a young crowd make Grozavesti and Regie a popular spot to hang out.

The best bars and clubs in Bucharest
📍 Strada Ion Brezoianu no 23-25, Palatul Universul
Bucharest's first 'botanical' bar, Fix Me a Drink or Fix MAD is where cocktail creativity is taken to new levels. With a menu that changes regularly using the best quality and seasonal ingredients, here you can experience unique cocktails and flavors. Located inside a beautifully restored palace, the small and cozy decor contributes to the general artsy-hipster vibe of the place, and the bar stays open until after midnight. This is one of our favorite Bucharest bars!
📍 Strada Constantin Mille no 4
Control switches from live music to electronic music events, hosts well-known artists ranging in music styles from contemporary underground to indie. During the day, workshops, vinyl sales and art exhibits are organized occasionally, and at night, dancing and great music are mixed with socializing and tasty beverages. This bar also has a cool and beautiful terrace open during warm season where you can enjoy your drinks and meals during the day or party in the night!
📍 Strada Căldărari no 3
The Urbanist presents an interesting social concept for the Bucharest party scene, mixing music with fashion and style. This street-smart bar in the Old Town is a non-mainstream urban provider of good time. Focused on well-being and well-living, you can enjoy the music of local DJs, snacks and a variety of craft beers. You may be shocked to discover that in this Bucharest bar you can shop for fashion you like on display, such as t-shirts, caps and waist bags from local designers and artists. Now that is a great souvenir to bring home! After your shopping spree make sure you try their gin & tonics - they're famous!
📍 Calea Victoriei no 107
If you're a fan of chill, green spaces, then Eden Garden is a super cozy place to hang out and a secluded spot to enjoy Bucharest by night with friends. Set up in the lush backyard of Stirbey Palace on Calea Victoriei (translated Victory Avenue), this laid-back venue operates only during the warm season. There are no waiters so you need to order your drink at the bar, but their selection will not disappoint, especially for beers. During hot summer days this is a very good place to cool down and rest far from the city's hustle and bustle. In the evening it's cooler than most places and at night various electronic music events and concerts are hosted here.
📍 Strada Șelari no 17
Bucharest's first shot bar, Shoteria offers only shot drinks! Their combinations are unusual, interesting and delicious - so this is the perfect place for a pre-drinks session. Because of its good location, right in the heart of the Old Town (strada Șelari), from here you can continue your bar hopping adventure all night long, taking advantage of the many options available in the area. What's great about this bar is that they serve some anti-hangover drinks as well, so no need to worry about getting a headache if you've drunk too much. The specialist bartenders are friendly, the music will get you into party mode and when you hear cheering or see flames in the area - shots are being prepared with a show!

📍 Şoseaua Pavel D. Kiseleff no 32
Once you step inside Beraria H you'll get an instant Oktoberfest vibe. Located in a huge hall on the shores of Herastrau Lake, people of all ages gather around long tables to drink beer and enjoy the many live music events regularly hosted here, along with other cultural events. It's actually the largest beer hall in South-Eastern Europe, but it's so popular that it's always swarming with people. They have great food, well-paired to go with many pints of beer. If you don't mind loud crowds, this is a good spot to hang out after visiting the North of Bucharest.
📍 Şoseaua Pavel D. Kiseleff 32
Right across of Beraria H, you'll find Hard Rock Cafe. This iconic location combines top-notch food with rock 'n' roll history and live entertainment. Visitors enter the space and are instantly enveloped in a lively environment with intriguing rock-inspired design and classic musical items all around them. The Hard Rock Cafe meets all of your expectations, whether you're a die-hard music fan or just looking for a few drinks and a special dining experience. Even the pickiest palates will find something delicious on the menu, which features a mouthwatering selection of American favourites and local delicacies. Live performances by talented local and international musicians enhance the atmosphere as you enjoy your meal.
Happy Pub, Beer O'Clock and Zaganu Romanian Craft Beer Bar
📍 Strada C. A. Rosetti no 10 (Happy Pub)
📍 Strada Gabroveni no 4 (Beer O'Clock)
📍 Calea Victoriei no 91-93 (Zaganu Romanian Craft Beer Bar)
You'll be surprised to know that the Romanian craft beer scene is quite serious and tasty! Local big brands such as Ursus, Silva or Ciuc come in the usual varieties (pills, lager, black or IPAs) but in recent years craft beer producers have been booming offering a variety of tastes and funny, retro brands. Beer-lovers were pleased and there are even craft beer festivals regularly organized! If you go to specialized bars in Bucharest, you'll be offered a great selection of beers no matter what your preferences are! Look for Sikaru, Ground Zero or Hop Hooligans or check our craft beer tour to go for a tasting while learning about Romania's beer making tradition.
📍 Strada Smârdan no 29 (Club A)
📍 Strada Covaci no 7 (Fire Club)
The classic and oldest rock pubs of Bucharest, Club A and Fire Club play only rock music and host live concerts. Oldies, goldies, contemporaries - you name it, but the music is always good and pleasant. You'll find the usual selection of drinks and the basic setup for pubs where people come together to enjoy drinks and good music. You cannot go wrong with them!

📍 Calea Griviței no 55
Of the many other bars you'll find in beautiful townhouses, this bohemian garden with an urban-chic interior is one of our favorites. At J'ai bistrot you'll find superb dishes, a lot of drink options and friendly vibes. This bar is a classic choice for locals and hosts regular brunch events (always crowded!). It has a laid-back atmosphere and it is located in a beautiful place, perfect for going out during the evening (with a reservation) but also during the daytime.
You'll find similar concepts at Simbio, Lente and Journey Pub, also very popular.
Open Gastrobar (Deschis Gastrobar)
📍 Splaiul Unirii no 160
Hosting workshops and urban cinema events during the day, at night, Deschis Gastrobar is the place where open-air parties take place. Open only during the summer months, this bar/club is on the rooftop of a former factory near Dambovita River, so you can enjoy sunset views, good music and a drink! Just check in advance to see if there are special events or parties.

📍 Strada Nicolae Golescu no 17
One of the coolest bars in Bucharest, Salon Golescu combines groovy vibes by night, with a chill atmosphere for lounging and eating by day. This upscale bar/lounge in the Romana neighborhood has an impressive menu with great drinks (their cocktails in particular are very good) and the interior is classy and retro. In the evening the atmosphere is great and the music just perfect to take you from drinks with friends into party mode!
📍 Strada Smârdan no 30
Upmarket restaurant, bar and club by night, Nomad's rooftop view of Bucharest's Old Town area is what draws people in. You'll discover a dynamic ambiance and a large variety of cocktails, wines and whiskey at the bar. It's also a place with good food, but that's not what draws people to the place. During weekends, DJ nights and live music projects create a fun atmosphere but beware - this bar is almost always overcrowded so either go in early or book your table! And if you're interested in more rooftop bars, here's a few more recommendations: Upstairs Rooftop, Pura Vida Sky Bar and Linea / Closer To The Moon (this one is perfect for an intimate setting).

📍 Calea Floreasca no 111-113
E3 by Entourage on Calea Floreasca is the place for serving lunch and dinner in a fancy setting with a bar/lounge atmosphere that quickly turns into a club. E3 by Entourage knows how to create an excellent experience that keeps the energy flowing and the dance floor alive, from hip parties and DJ sets to live performances and themed events. This is where you should go to see how locals in Bucharest party in style.
📍 Izvor no 2-4
Visitors seeking spectacular views and creative inspiration will find a really remarkable experience at the MNAC Terrace, which is perched atop Bucharest's famous Palace of the Parliament. This breathtaking rooftop hideout, which is a part of the National Museum of Contemporary Art (MNAC), offers an exclusive perspective over the city's skyline while being surrounded by magnificent structures. The MNAC Terrace is unique for other reasons besides the view it offers, though. Because the terrace serves as an extension of the museum's aesthetic concept, it is also a location where exhibitions, installations, and cultural events are occasionally hosted. Our recommendation is to pair a drink on this terrace with a visit of the Palace of the Parliament, the grandiose palace built during the communist regime.
H. Best party clubs in Bucharest
📍 Strada Lipscani no. 17
Interbelic is a veteran of Bucharest's clubbing scene: great music played all night long paired with proper, large-sized cocktails mixed by some of the best bartenders in Bucharest. And decent prices - 5€! The industrial design and low-lights make it a perfect place for partying the night away! Sometimes there's an entrance fee but I was never disappointed after paying it :) On their website you can also find free tickets for certain events.
📍 Strada Doctor Constantin Istrati no. 1
Rock bands, local artists, Romanian DJs – at Expirat each weekend hosts different events and parties. This club is located in a former industrial hall and combines industrial design with lights and basic decorum. The music is very good, contemporary and combining all styles made for dancing, but when you want to take a break Expirat has a spacious courtyard where you can chill and have a quick bite.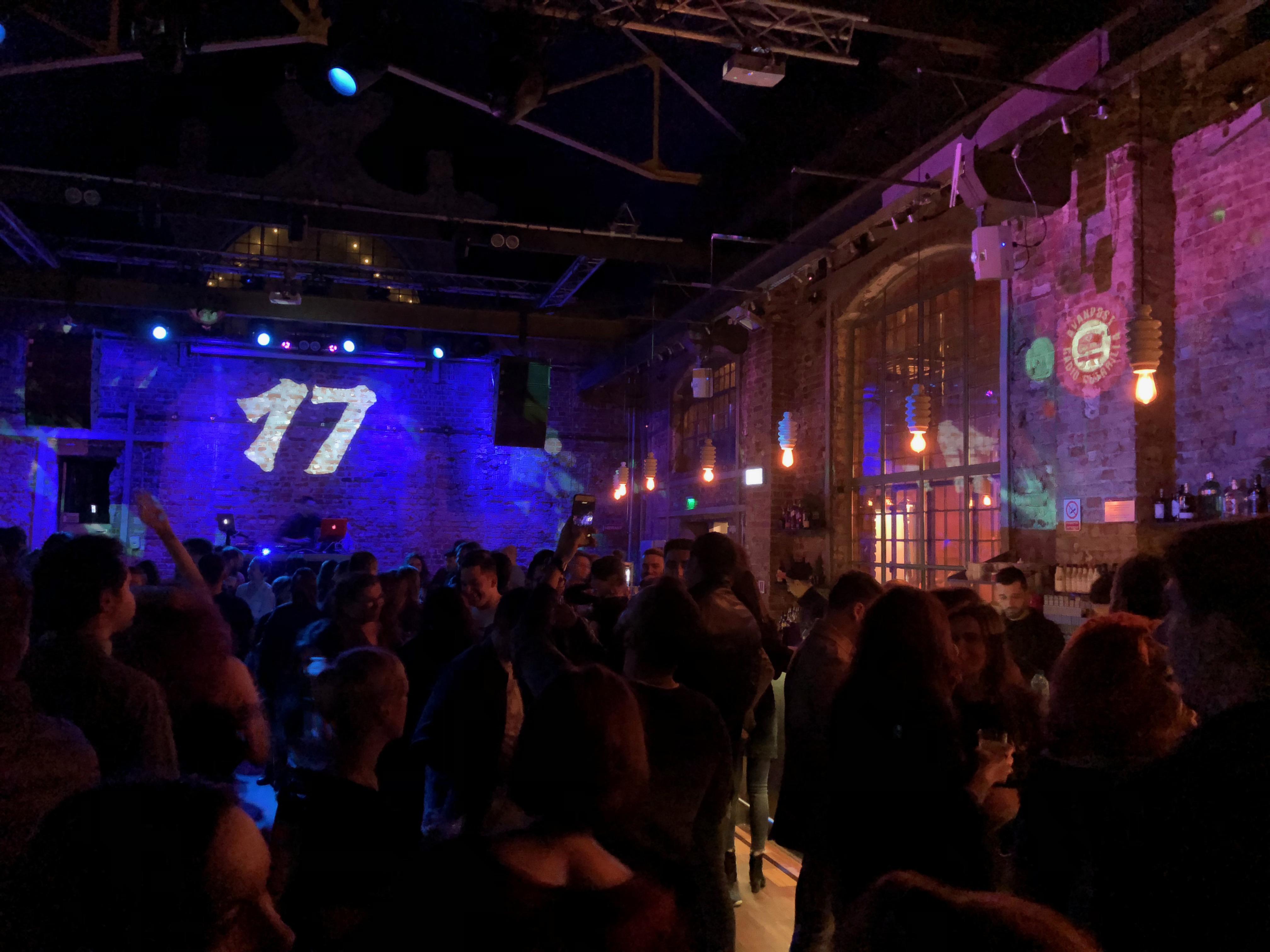 📍 Strada Sfânta Vineri no. 4
Electronic music tracks combined with commercial hits or rock classics, Kulturhaus is students' favorite club in Bucharest. Unpretentious interior, filled with positive vibes and offering cheap alcohol, this club will always offer a good dose of entertainment when in the Old Town area. Note: Kulturhaus Bukarest is temporarily closed. To check its updated status, please check their website
📍 Strada Lipscani no. 43
El Dictador club, located in the center of Bucharest's bustling nightlife scene, stands out as an alluring place for people looking for an outstanding experience. El Dictador transports visitors on a thrilling trip through time by portraying the mood of a bygone period with its unique concept and vibrant atmosphere. The outstanding DJs create a contagious atmosphere that keeps the dance floor active by delivering a varied mix of music that includes both classic hits and contemporary beats. P.S: For a club located in the historic center of Bucharest, it has reasonable prices, which makes it a top pick for many locals. for a similar vibe, also check out El Comandante Junior.
📍 Strada Ion Brezoianu no. 23 - 25, Palatul Universul
From 90s theme parties to all Romanian music nights to mainstream pop songs, Apollo 111 has its unique vibe and stands out in the market as a club with unusual events. There is a wine bar available at this venue and more than enough room to dance, so people like it anyway. The big colorful globe in the center will put you in disco mode guaranteed!
📍 Calea Victoriei no. 120
There's no party like a live jazz party! At Green Hours you can take a break from radio or electronic music and enjoy a chilled ambiance in a secluded garden. Usually less crowded than the other clubs but not less popular with locals, here you'll experience a more relaxed but equally lively atmosphere. Local artists hold live events or jazz sessions in the evening, some of them free!
📍 Strada Gabroveni no. 14
A multifunctional bar in the Old Town area, Mojo offers a karaoke bar on one floor, a regular bar on the ground floor and a bar-club in the underground. The club also organizes live music shows and karaoke parties to show off your talent are held every weekend. This is surely the best place to go to in Bucharest for karaoke enthusiasts!
📍 Strada Glodeni no. 1-3
Fratelli is probably the most representative and well-reputed brand on the luxury clubbing scene in Bucharest. If you want a genuine clubbing experience with good taste, beautiful people, amazing music and atmosphere, this is probably the best club in Bucharest. Prices are higher, the club is usually crowded and the fancy dress code applies - but partying in a posh setting in Northern Bucharest is worth it! You'll find this combination in Uanderful, Biutiful and Fratelli Mamaia!
Local insight: during Summer season the posh nightclubs of Bucharest (Fratelli, Loft, etc) switch to beach mode and move to Mamaia the most popular and luxury of the Romanian Black Sea resorts. Parties are on the beach and last until Sunrise which makes it a memorable experience!
📍 Piata Montreal, no. 1
Pool parties in the summer season and iconic Bucharest nightlife events all year long. Player is one of the best clubs in Bucharest with parties that last until early morning. With a fancy, futuristic design, beautiful dancers and friendly bartenders, the electronic music will keep you dancing. Go here during summertime for amazing outdoor parties!
📍 Splaiul Unirii no. 165 (Biutiful Downtown)
📍 Șoseaua Nordului no. 3 (Biutiful By The Lake)
The setting of this posh lounge-bar-club concept is just as the name suggests: simply beautiful! With two locations in Northern Bucharest one of which on the shores of Herestrau Lake, both venues serve premium dishes and drinks during the day. In the evening the transition to an all-out dancing club comes natural and this is a great place to discover the beautiful and stylish side of the Bucharest's nightlife!
📍 Beijing Blvd, Pescarus Entrance, Herastrau Park
Another veteran of Bucharest nightlife scene, this club in the posh Northern part of Herastrau Lake starts partying as early as 3 pm on Saturdays to catch that wonderful Summer vibe and light! So if you want to sip cocktails at 6 pm and be tipsy by 11, this is the place to be! The lake views make the place even more inviting and seeing people having fun non-stop will carry you away quick! The club is known for its funky themed parties so check them out before going so you're not under - or not - dressed! :)
Loft and Gaia Boutique Club
📍 Strada Grigore Alexandrescu no. 89-97 (Loft)
📍 Piața Presei Libere no. 1 (Gaia Boutique Club)
Two different upmarket Bucharest clubs with a similar concept – Loft and Gaia host eccentric parties for fashionistas with fun party themes, special events and good dancing music. These clubs are on the expensive side but the pretentious crowds don't mind. They're a top choice for both locals and tourists looking to enjoy a fancy night in Bucharest.

📍 Bulevardul Regina Elisabeta no. 34
Dance music lovers will have an outstanding experience at Kristal Glam Club, which is renowned for its cutting-edge music, top-tier DJs, and cutting-edge sound system. A mesmerising fusion of colourful lights and pounding beats welcomes you inside and immerses you in an out-of-the-ordinary sensory experience. There is plenty of space to dance, mingle, and take in the electric atmosphere of the audience thanks to the club's modern aesthetic and open structure. There is something for everyone's taste at Kristal Glam Club thanks to its varied lineup of local and international talent, which features a variety of electronic music genres. No matter if you're an avid fan of techno, EDM or house music, the club offers an immersive experience that keeps the vibe upbeat all night long.
What about strip clubs? We have those as well. For customers seeking to partake in adult entertainment, there are lots of quality places that provide a blend of sensuality, amusement, and refinement. Talented performers that attract audiences with their mesmerizing dance routines and seductive presence can be found in the strip clubs in Bucharest. These locations foster a cozy and exclusive ambience with their chic decor, dim lighting, and varied seating options. It's vital to keep in mind that each strip club may have its own rules and guidelines, so it's a good idea to familiarise yourself with them before going. There are plenty of strip club options, especially in the Old Town area, so if you're interested, it's always a good idea to start your research there.
Best wine bars in Bucharest
Bars are cool and clubs are for dancing - but wine bars have a different atmosphere and Bucharest offers some very good choices. And before we get on with our choices for the best wine bars, we highly recommend you try Romanian wines - though not as popular outside of the country, they'll surprise you with quality, taste and affordable prices! You can also sample them in most of the above bars and clubs!
📍 Strada Băcani no. 1
Experiment with different wine flavors by visiting Corks. A wide selection of wines by the glass are served here, and the prices are usually affordable. Make sure to try their veal tagliata, which goes perfectly with your favorite type of red or the waiter's recommendation.
📍 Aviatorilor Boulevard no. 8
Visit GastroLab for a complete gastro-wine experience in an elegant setting. You can choose your drinks from the wide display of wines and try out Romanian cuisine with a special twist, courtesy of the talented young chefs. Our pick for the best wine bar in Bucharest!
📍 Strada Șepcari, no 19
Industry Wine Bar is a hidden gem for wine enthusiasts and connoiseurs, located in the centre of Bucharest. The intimate wine experience offered by this charming and stylish restaurant mixes together passion, expertise, and a hand-picked assortment of fine wines. Visitors are guided around the amazing collection by the knowledgeable staff, who are committed to assisting them in discovering an extensive selection of varietals, regions, and vintages. Every palate and preference can find a wine that suit them, from crisp whites to bold reds. The artisanal cheeses, charcuterie and gourmet bites that Industry Wine Bar offers to combine with the wines enhance the whole sensory experience.
📍 Strada Nicolae Tonitza no. 10
A small and cozy place in a quiet area of the Old Town that serves lots of different types of wines paired with a selection of cheese, including Romanian specialties. With a minimalist decor and soft music in the background, Abel's is a fusion bar that regularly hosts wine tasting events.
Best music festivals in Bucharest
Bucharest, the center of Romania's nightlife, provides a diverse and energetic range of experiences after sundown. However, the city's appeal extends beyond its vibrant club scene and energetic dance floors. A wide variety of music festival are also held in Bucharest, showcasing local as well as international artists, resulting in an unparalleled blend of music and culture.
Even though there are many daytime events and activities during Bucharest's music festivals, the real partying happens at night. The festival grounds become energetic centers of excitement when the sun sets and the stars come out. The crowd comes alive under the dazzling lights, and the atmosphere becomes thrilling as the beats get louder. Bucharest's music festivals unleash a nightly magic that invites attendees to dance, connect, and enjoy the magnetic energy.
The annual SummerWell festival is held in the picturesque surroundings of Bucharest and goes beyond the realm of music to engage participants in the fascinating worlds of art and nature. The multi-genre lineup of the event lure music lovers from all over the world.
SummerWell offers a captivating experience where indie, rock, and techno sounds mix together against the backdrop of a lovely green park. Visitors to the event may explore immersive art installations, savour delicious food from nearby vendors, and take in the energetic mood as the music fills the air.
SummerWell provides a venue for musical exploration and a celebration of creativity with concerts from both well-known and up-and-coming musicians.
Renowned DJs and fans of electronic music from around the world come together for this unique event to provide a memorable experience. The festival grounds are transformed into a sound wonderland by SAGA, which places throbbing beats and captivating images against the city's landscape.
SAGA offers a wide variety of electronic music genres on multiple stages, from house and techno to trance and beyond, to suit all musical preferences. Festival-goers can lose themselves in the immersive ambiance as the music reverberates through the night while dancing with like-minded people who share a passion for electronic sounds.


With its soulful rhythms and fascinating performances, the Bucharest Jazz Festival is a melodious festival that mesmerises music lovers. A harmonious combination of classic and modern jazz genres is produced each year by the festival, which annually gathers a wide range of great jazz musicians from both the local and worldwide scenes.
The festival displays the extraordinary variety and adaptability of jazz music, from soothing melodies to electrifying improvisations. The Bucharest Jazz Festival offers a vibrant platform to experience the pure enchantment of live jazz, whether you're a diehard jazz fan or a newbie just learning about the genre.

***
Aaaand that's it! Remember to drink responsibly and stay out of trouble. Other than that - have fun!
In the morning you can enjoy a delicious - and strong - cup of coffee, so be sure to check our list with the best coffee shops in Bucharest -- you'll be surprised!
And if you're interested in taking a break from the energetic Bucharest nightlife scene, why not explore some of the city's top attractions during the day? From impressive historical landmarks to fascinating museums, there's no shortage of things to see and do in this vibrant capital city.
Check our Bucharest guide to find out what the capital of Romania has to offer!
Marius