Romania's Black Sea coast is - much like the rest of our country - an unknown tourist attraction for foreign tourists. If you travel to Southeastern Romania to the main city of Constanta, 2h away from the capital Bucharest, you'll find 15 Romanian Black Sea resorts each with their own atmosphere, style and tourist facilities.
What do they have in common? The golden, soft sandy beaches that lead you into the calm, warm waters of the Black Sea where sunrises are magical and the sea breeze and sounds soothing.
So if you're planning to visit Romania during your summer holiday and want to check out the beach resorts on the Romanian Black Sea coast then this article has all the info you need to plan your trip.
You'll find out

practical info about the Romanian seaside and how to prepare for your trip
a short description of the Romania's main sea resorts to help you decide where to stay
places to visit and things to do, and how to visit the Danube Delta

I don't know about you but for me it doesn't really matter if I'm going on the Mediterranean coast in Europe, on a Spanish or Greek island or in far-away beaches of Asia - all I want to do is make the most of my time, get great value for money and relax.
That's what this article is about. So let's get started!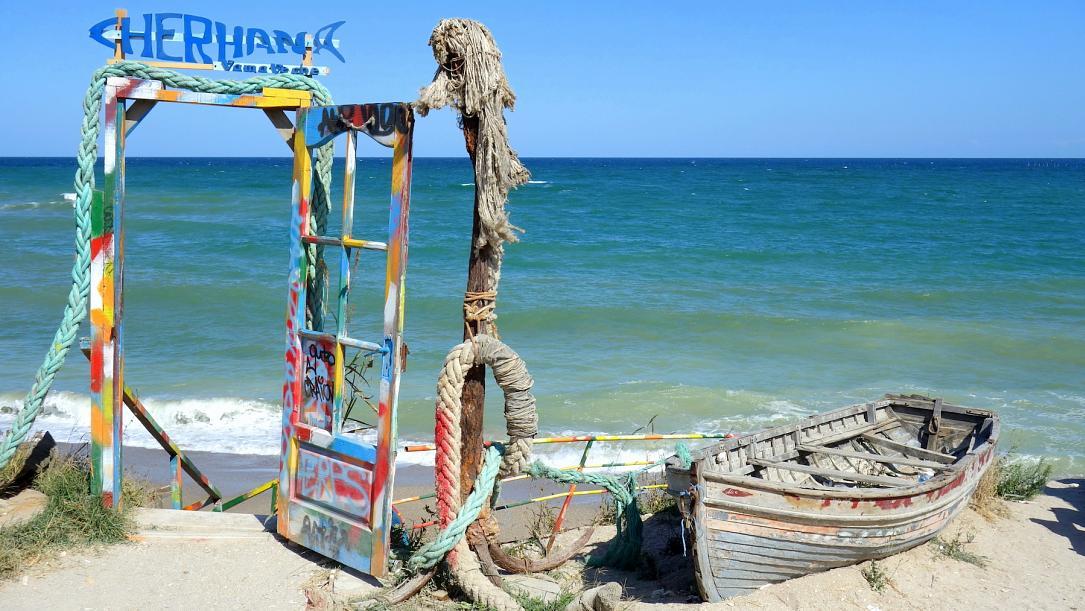 A cherhana is a restaurant that serves only fresh fish
General info about Romania's Black Sea coast
Stretching from the Danube Delta in the north all the way to the Bulgarian Black Sea coast in the extreme south, Romania boasts approximately 245 kilometers of coastline with nearly 150 kilometres of sandy beaches and 15 beach resorts attracting local and foreign tourists alike during the summer season.
Many of the settlements located along the Romanian Black Sea coast still bear the marks of ancient Greek culture. Numerous ancient ruins date back to the 7th century BC when sailors founded the first trading colonies in the area.


How to get to the Romanian Black Sea coast
Constanta is the largest city in the region and Romania's main port on the Black Sea coast, with a rich history and a variety of cultural, natural and archaeological sites. The city is just a two hours drive from the country's capital Bucharest via the A2 highway.
Local insight: on weekends during Summer season traffic becomes congested on the highway as, on average, 70,000 people 'commute' to the main beach resorts for a quick weekend getaway
The Mihail Kogalniceanu International Airport - simply known as Constanța airport - is 34 km from the centre of the city and operates both commercial and charter flights which makes it easy for foreign visitors to get to.
The city of Constanta also has a well connected train station served by main train routes. Public transport in Romania is not exactly the best but it's affordable and for some routes, such as Bucharest - Constanta, it's a good choice.
To visit the Danube Delta you have to travel to the small town of Tulcea, 130 km North of the city of Constanța. So it's not possible to the beach on one day, and visit the Delta the next. See more info below.


The best time to visit the Romanian Black Sea coast is between 1 May - late September when Summer season is officially opened, meaning most hotels and restaurants operate. But this period can be further broken down:

for sightseeing the city of Constanta, Dobrogea region and if you want to see the Black Sea air, anytime during Summer season
for a proper holiday by the sea (sunbathing, sun lounging) or partying, go between 15 June - 30 August when the warm climate peaks
if you want to visit the Danube Delta the best period is between end of April - late September as you'll see in the section below

Romania has a temperate climate and average temperatures vary around 27-33°C during Summer season. Heatwaves are frequent especially in August and, as you can probably guess, UV protection is essential.
The water temperature is around 18-20°C creating excellent conditions for baths, water sports and fun by the beach.
The Black Sea is generally calm with moderate currents and not a lot of waves. However, this can change depending on weather out on the sea. As long as the red flag is not posted (meaning bathing is not allowed) you should be ok.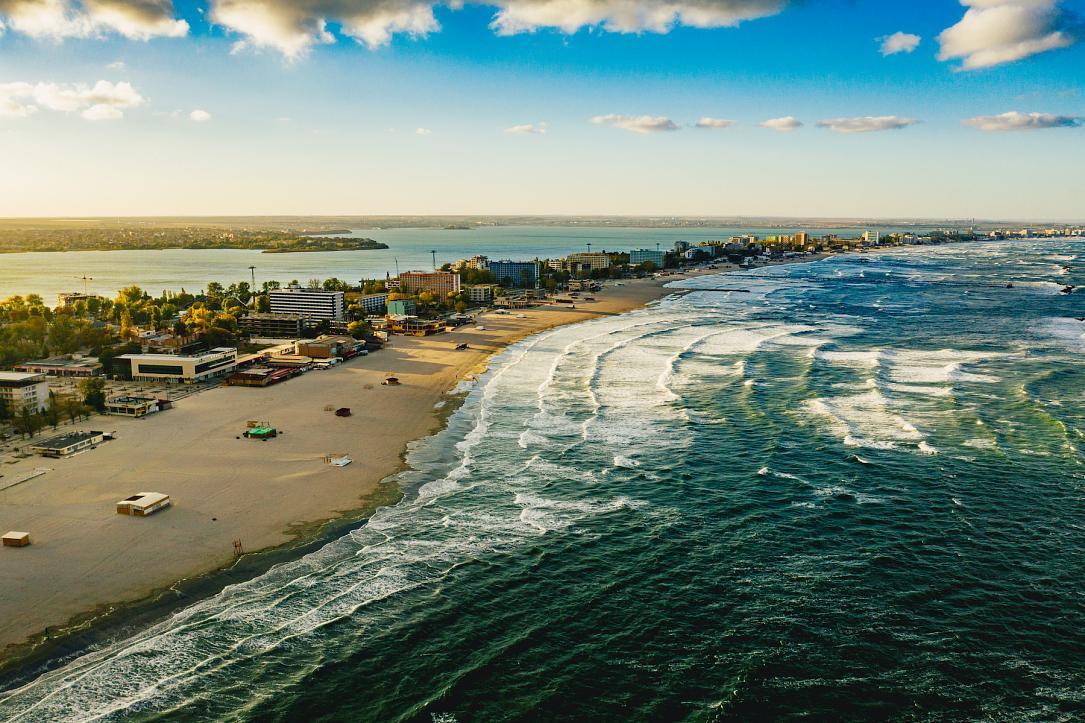 There are some fine resorts waiting for you
The Romanian Black Sea resorts. Where to stay.
Romania's Black Sea resorts are varied and cater to different crowds, interests and budgets. Based on the type of holiday you want, choosing which resort to go to is an important decision before you look for places to stay.
Here's a quick breakdown of Romania's main sea resorts and, yes, their names were inspired from Greek mythology:
Mamaia is known for its soft sandy beaches, luxury hotels, exclusive restaurants and animated nightlife; it's considered the most popular summer resort due to its size, variety and offering for foreign tourists
Vama Veche is the traditional students' resort with a laid back vibe and a distinct hippie atmosphere, with numerous bars, night clubs and unpretentious accommodations
Eforie Nord, Eforie Sud and Navodari have long been a favourite choice for young families looking for a more relaxed, classical summer holiday by the Romanian seaside
Neptun and Olimp are two summer resorts that were particularly popular during the communist period with large hotels and quality services, away from the hustle and bustle of party hotspots; particularly suited for older crowds
the small seaside resorts of Cap Aurora, 2 Mai or Mangalia are not particularly worth considering except if you're travelling by campervan

The Romanian Black Sea resorts offer tourists a variety of accommodation options to suit all preferences and budgets. Throughout all of them you'll find a wide range of accommodation options, typical for Western tourism. Check on Booking.com or AirBnB to find yours.
As you'll expect, you'll find a variety of places to stay at the Romanian seaside:
luxury 5-star resorts that provide guests with all the modern comforts such as flat-screen TV, air conditioning, room service, outdoor pool, entertainment facilities and beautiful views of the coastline and a private beach serviced by their staff
classical 3 or 4-star hotels with quick access to the beach
many guesthouses (pensiune) and apart-hotels, but not a lot of hostels
camping areas and campervan parking

Demand for accommodation is very high especially in Romania's main sea resorts listed above. And because a lot of people go during weekends, it's best to book your accommodation at least 1 month ahead if you're planning to go during the Summer season, and 2 months if you're travelling during the weekend.
Budget and prices at the Romanian Black Sea
In modern resorts such as Mamaia, accommodation prices during peak season range from 250 RON per night in a double room at an average hotel to 1,000 RON or more at a 5-star hotel (50 - 250 Euro).
For example, the price for a deluxe room at the Phoenicia Royal Hotel which is considered the best 5-star hotel on Romania's Black Sea coast starts at 2,680 RON (550 Euro) for two nights minimum stay.
Resorts like Eforie Nord and Navodari offer more affordable options starting at 150 RON per night.
Vama Veche, though a student resort, is not necessarily budget friendly, especially during weekends when demand is crazy. Expect prices starting from 250 lei upwards.

Most accommodations charge higher prices for weekends and a minimum stay policy of 2 nights. Other hotels only sell 5 or 7 day packages during the Summer season.
All prices usually drop 50-70% beginning 1 September.
Foodwise, mains at restaurants range between 40 to 100 RON. Renting 2 sunbeds and an umbrella is on average 100 RON (20 Euro) per day. Once again, there's a lot of variety so it really depends where you're going!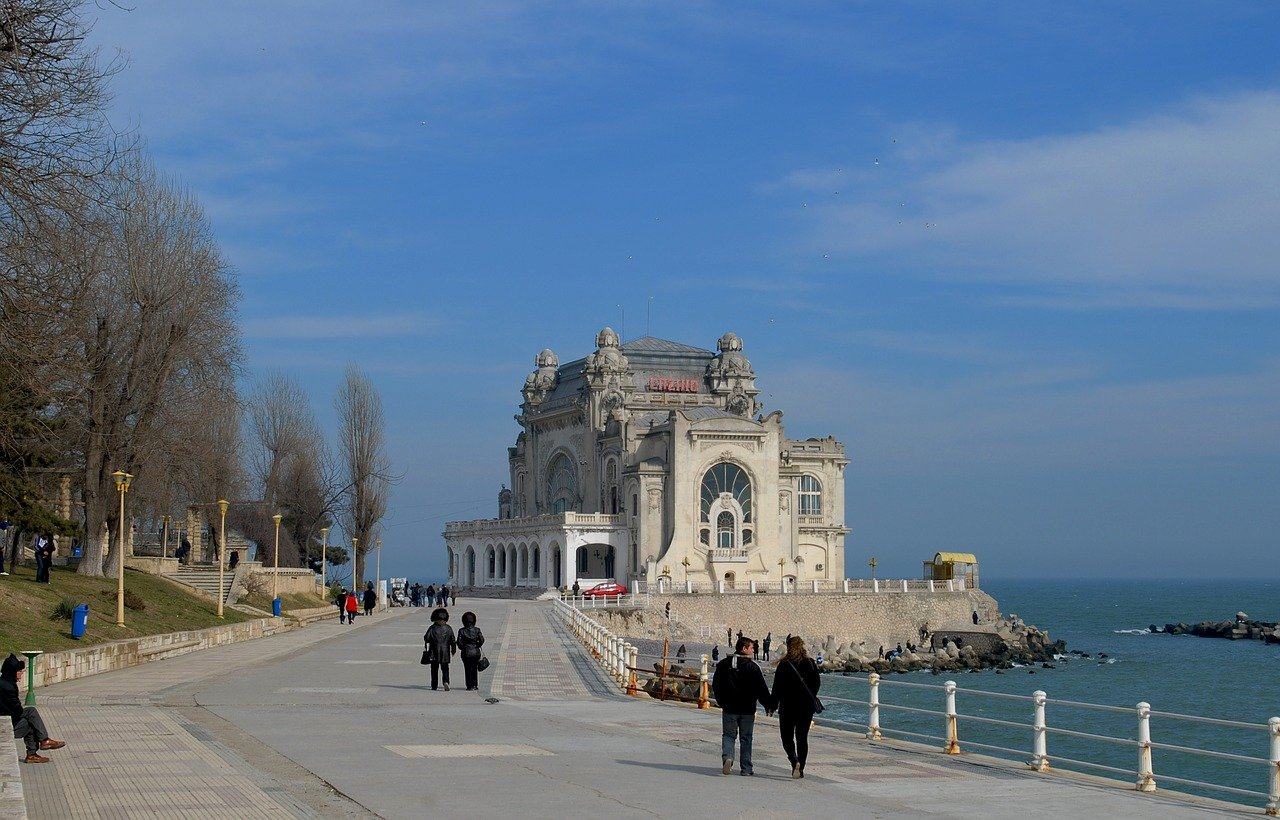 The Constanta promenade is beautiful even outside Summer season
Things to do at the Romanian Black Sea
Although not as long as the Bulgarian Black Sea Coast, the Romanian seaside boasts some very nice beaches.
Since all of them are part of the same long stretch of sand that borders the Black Sea they are similar in terms of topography: miles of fine sand beaches, clear sea beds, no high cliffs or rocky patches.
However, they differ widely in the way they are organized and the services they provide.
Important resorts like Mamaia, Neptun or Eforie Nord mostly have private beaches maintained by hotels or beach bars, and only a few free areas. These beaches also tend to be perfectly manicured and offer all the modern facilities one can wish for.
There are 6 blue flag beaches in Romania. Even though all of them belong to hotel resorts, they're not exclusively reserved for their clients so you can also pay to stay there:
Vega Vintage in Mamaia resort
Marina Regia and Phoenici in Năvodari
Citadel in Eforie Nord and Azur in Eforie Sud
Phoenicia Blue View in Olimp

At the other end of the spectrum, we have wild beaches such as Corbu, Vadu, Sulina or Gura Portitei that are unspoiled by human hands providing an escape from civilization. These are not part of any resort (except for Sulina which is in the small town of Sulina inside the Danube Delta) and are only accessible by car.
Popular water sports and fun activities such as swimming, sailing, rowing or renting a jet ski are easily accessible. Luxury hotels also have SPAs open to everyone.
Local tip: mud baths (with a special type of mud from Techirghiol Lake) are very popular and known to have therapeutic, anti inflammatory benefits; they're very popular in Mangalia SPAs but you can also find locals selling buckets on the beaches of small seaside resorts

The Aqua Magic water park in Mamaia is the best place to keep the entire family busy. Eforie Aqua Park in Eforie Nord is also a good choice for young people.
As Constanta is the hometown of Simona Halep and Gheorghe Hagi, both famous Romanians for their tennis and football careers, you can easily find a football or tennis court and people to play with.
And then there are many coffee shops, restaurants and beach bars along the shoreline where people like to hang out, listen to some good music and escape from the scorching sun.
Now let's take a look at some of the most popular beach resorts at the the Romanian Black Sea: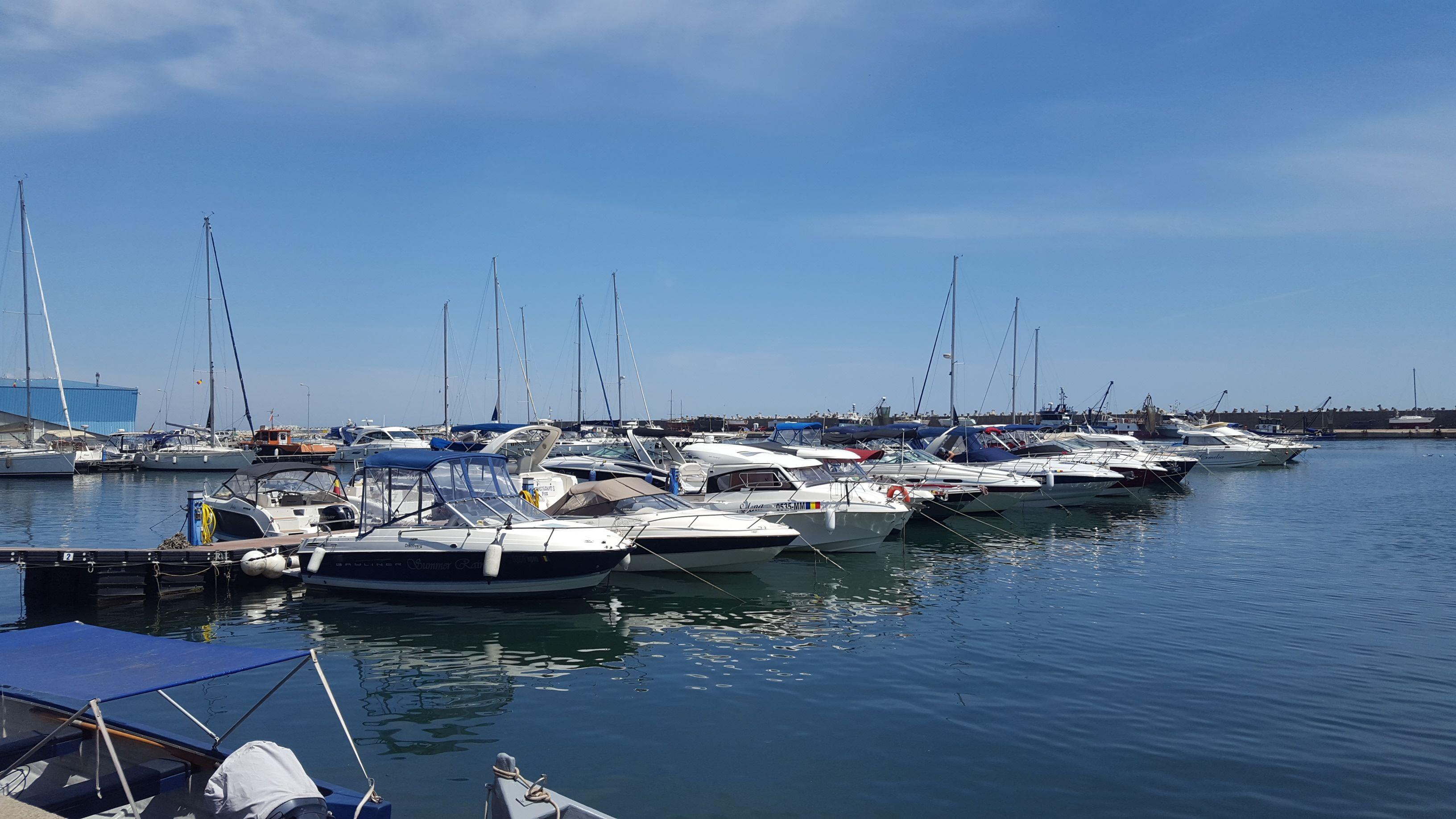 Constanta
Constanta is one of the main cities in Romania and capital of Constanta County. It's the oldest continuously inhabited settlement in the country with a history that goes back more than 2,500 years.
Know historically as Tomis, over the centuries Constanta has developed into a major commercial centre and serves today as Romania's principal port on the Black Sea coast.

As a port city and a major trading centre, it has a distinct multicultural atmosphere that you can experience only if you visit Timisoara in the opposite part of the country!
The city's rich history and culture gets reflected in its unique architecture, blending ancient monuments, neo-Byzantine style churches, mosques and Roman edifices. In the Old Town area you'll find remnants of ancient Greek culture and an archeological museum.
The grand Constanta Casino – a masterpiece built in the art nouveau style now in a state of beautiful decay and hopefully going to be restored - is undoubtedly the city's landmark. Going on a walk on the Romanian Black Sea riviera you will inevitably see it!
In recent years the beaches in the city have been restored and upgraded, increasing their size and appeal.
In the north of the city, Faleza Nord beach offers plenty of space to sunbathe and modern facilities, including toilets, showers, sun chairs and umbrellas, lifeguard services and bars.
Trei Papuci and Modern beaches are equally popular with locals and tourists alike as they're close to a variety of restaurants and shops. Neversea festival, one of the most popular music festivals in Romania, takes place here.
So Constanta is not just a gateway to the Romanian Black Sea resorts but also a major tourist city on its own. That's why visiting it is one of the most popular things to do in Bucharest.

The city of Constanta also has the Delfinarium where shoes with dolphins regularly take place. And near the Casino there's also the Aqua Museum where live species of fish and water creatures will surprise you and your kids.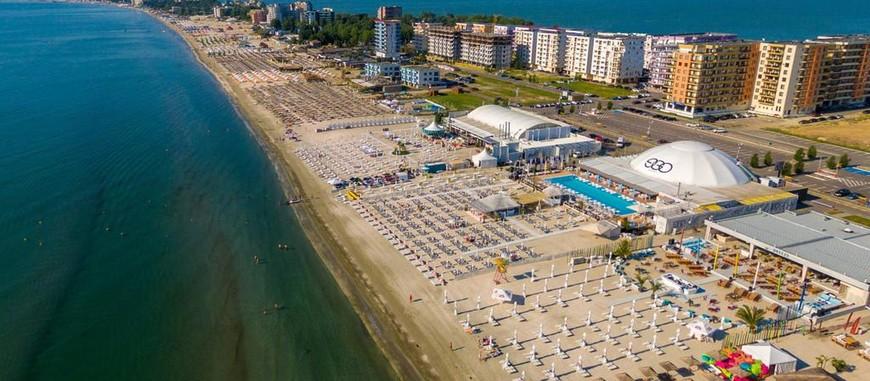 Beach clubs that turn into night clubs make Mamaia a popular destination
Mamaia
Arguably the most important resort on the Romanian Black Sea coast, Mamaia is situated immediately north of the city of Constanța, on a narrow land slice that separates the Black Sea from Lake Siutghiol.
The entire coastline is dotted with modern 4 and 5-star luxury hotels, deluxe rental villas and apartments. Fine restaurants, beach bars and clubs, many coffee shops - really, everything you want!
The resort also has numerous shopping areas, a recently upgraded beachfront promenade, an amusement park for kids, a gondola that goes above the promenade and the biggest waterpark in the country, Aqua Magic. On Siutghiol Lake you can also go fishing!
Over the years Mamaia established itself as the premier summer destination on Romania's black sea cost attracting a lively crowd due to its famous outdoor pool parties, private beaches and exclusive events.
Prestigious clubs and posh crowds from the Bucharest nightlife scene such as Fratelli and Loft move to the Romanian seaside during the Summer season and the parties are wild! The Summer Waves music festival is also held here!
Unfortunately, because it's such a popular destination for young people looking to have a good time - especially during weekends - Mamaia also tends to be very expensive and crowded especially during peak Summer season and weekends. So it's not a good choice for those travelling on a budget or looking for a family holiday.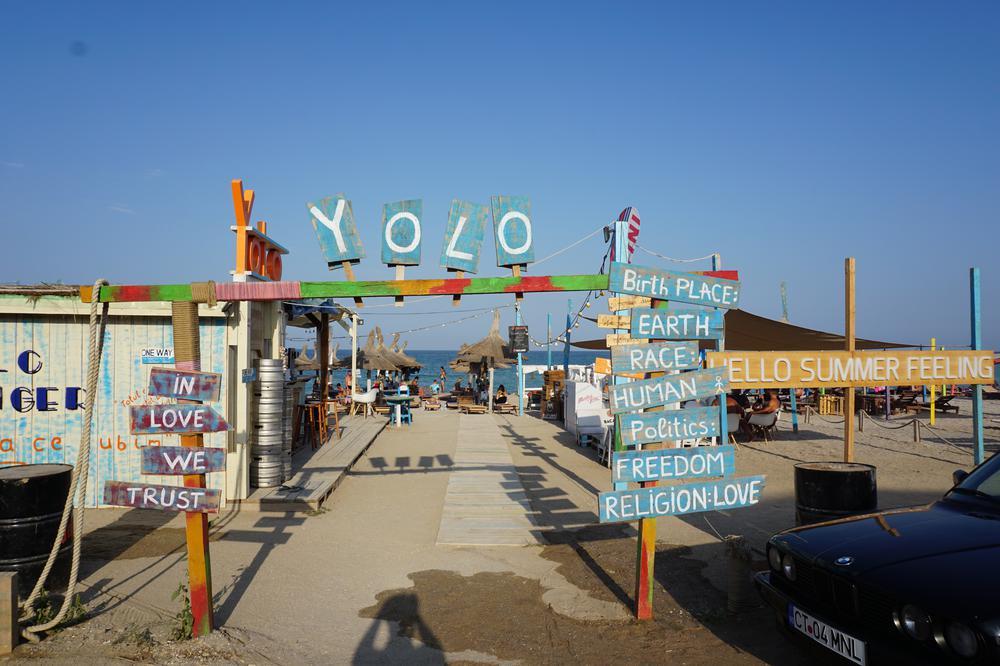 Very popular with young people for its hippie atmosphere
Vama Veche
Vama Veche is in the extreme South of the Romanian Black Sea coast, close to the border with Bulgaria.
Initially a small fishing village, Vama Veche turned into a place of legends during Romania's communist period. Hippies, intellectuals, rockers, nature lovers and free-spirited individuals used to gather here to listen to a variety of music styles and enjoy the natural beauty of the Romanian seaside.
It was a place of freedom, community and laid-back vibes. And since it was the most Southern resort it was also kind of 'left alone' for all the misfits to gather in a small act of rebellion.
Although things have changed over the years and the hippie atmosphere was partially replaced with tacky commercial tourism, Vama Veche has preserved parts of its bohemian air and nonconformist character, remaining to this day a popular destination for young people and open-minded folks.
This is also the best place for bachelor parties or those looking to make friends or travelling on a budget.
Camping is the most popular form of accommodation in the area, although there are also some hotels, hostels and guest houses to choose from.
There are also several popular bars that come to life in the evening and great eateries that serve fresh fish food, but most people choose to visit this one-of-a-kind beach resort for the parties - and not so much for the beach experience!
Local tip: if you're looking for fresh fish cuisine search for cherhana a simple a la carte restaurant that only serves fish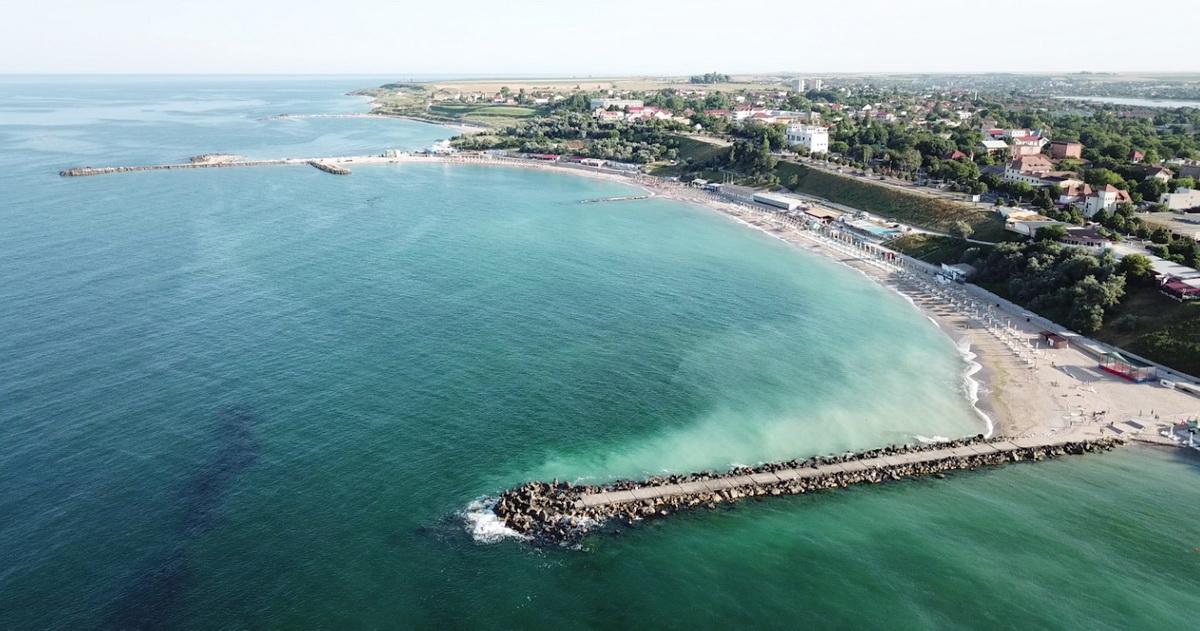 Eforie Nord is a good choice for your Summer holiday in Romania
Eforie Nord and Eforie Sud
Located a few kilometres south of the city of Constanta, Eforie Nord and Eforie Sud are two fine resorts that despite being less modern than Mamaia still appeal to a large number of tourists, be they families with kids or young people looking for some fun in the sun.
Although there's no shortage of entertainment options, with many restaurants, terraces and clubs scattered along the coastline, the resorts are mostly coveted for their wide sandy beaches, clean shallow waters and relaxed atmosphere.
Eforie Nord is especially popular for its balneotherapy treatments using the healing and therapeutic properties of the mud from the neighbouring Lake Techirghiol. Taking a mud bath means staying covered with mud for a few hours before going into the sea to wash it off!
Recent investments in the area have contributed to the resorts' increasing popularity, meaning that the beaches can be somewhat crowded and noisy, but the prices are still lower than in similar locations on the Romanian Black Sea coast.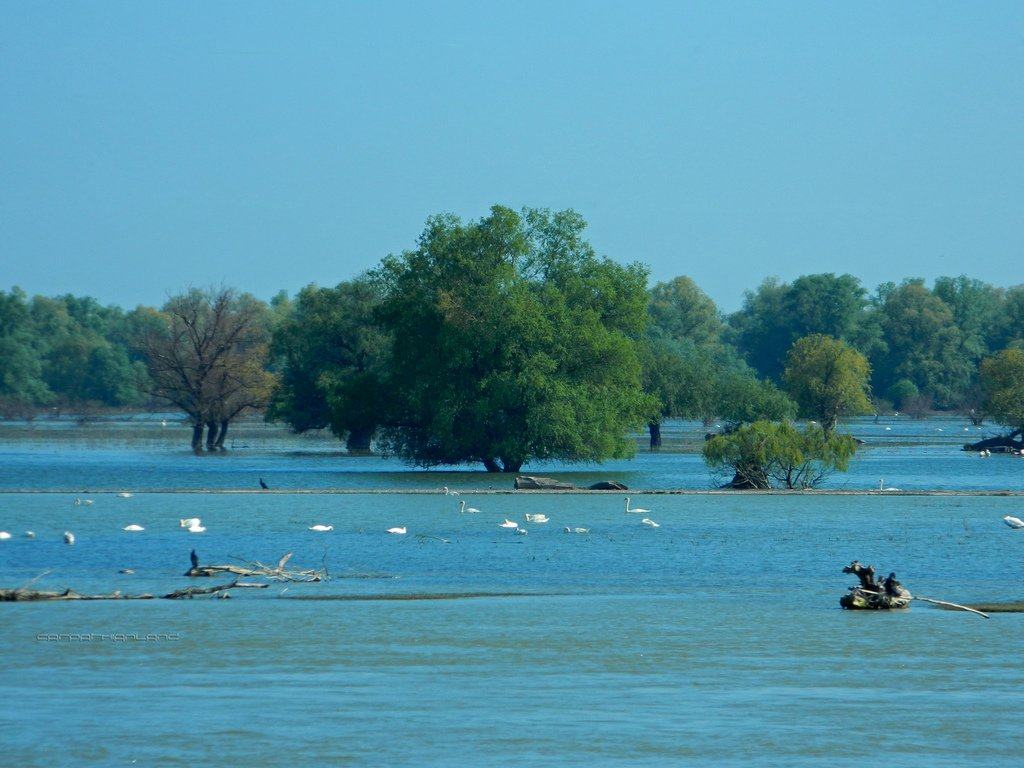 Unique, beautiful views in the Romanian Danube Delta
The Danube Delta
The Danube Delta, which forms the northernmost part of the Romanian Black Sea coast, is Europe's best-preserved and largest remaining natural wetland and a UNESCO World Heritage Site since 1991.
The small town of Tulcea serves as the main entry point into the Danube Delta and can be reached by car or train from Constanta in about two hours. From Bucharest to Tulcea it will take approx. 4,5h by car.
With an approximate surface area is 4,100 square kilometres, the Romanian Danube Delta is Europe's largest wetland and a place of mesmerising beauty. Made out of an intricate network of water canals, lakes, small islands, shallow bays, rivers and fishing villages.
In order to protect the local biodiversity and maintain the region ecologically intact, the best - and only way - to visit Danube Delta is by boat, which makes for quite a unique travel experience. But travelling by boat is slow and that's why to visit this region you'll need an organised trip preferably of at least 2 days.
Over 350 species of birds live here, 3,000 plant species and 70 mammals and small animals live here, so it's undoubtedly a wildlife paradise.
Beyond its incredibly diverse ecosystem, the small fishing village of Letea is the most popular destination for tourists looking to see how locals live. And then there is Letea Forest with its spectacular trees growing out of water that you will reach after walking through the desert!
The shores of the Danube Delta also host several small villages such as Murighiol, Crisan, Sf. Gheorghe where people live almost untouched by modern civilisation. This is where you can discover a unique fish cuisine with stews and recipes unlike anywhere else. So it's no surprise the Danube Delta is one of the best Romania tourist attractions for nature enthusiasts!

***

So, what's your plan for the Summer vacation? If you were thinking of visiting the Romanian Black Sea resorts I hope this article was helpful!
And if there's anything we can help you with - don't hesitate to contact us, we're here to help!
I hope to see you on my Constanta day trip!
Your Romanian Friend,
Alina