2-Day Danube Delta & Birdwatching Tour from Bucharest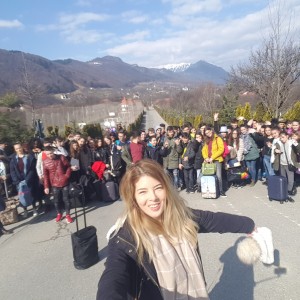 With: Alina

5
A beautiful and untouched natural garden, the UNESCO Danube Delta is the second largest wildlife biosphere in Europe, home to over 320 species of birds and a huge variety of fish and plants. Villagers here have a unique lifestyle adapted to the environment - with a delicious fish-based cuisine! On this trip we'll see as much as possible of the beautiful Romanian Delta!
---
What you need to know about this Danube Delta tour from Bucharest:

This is a 2-day private trip from Bucharest to the Danube Delta. Minimum booking of 2 people required
Included: transport by car/ van (500 km), guidance, one 3h bird watching boat trip, 1 night accommodation with breakfast. Not included: other meals and expenses
On the 1st day we leave early morning and drive 4-5 hours to the Danube Delta. First visit the Delta Museum in Tulcea to learn about the formation of the Delta, then arrive in a Danube Village to we do the bird watching boat trip
On the 2nd day we visit the city of Constanta and enjoy views of the Black Sea. Or you can choose to stay in the Danube Delta area and go for a second boat and birdwatching tour
Overnight in a local, family-owned guesthouse in the traditional village of Murighiol (double room with en-suite and breakfast)
You will also see how locals live in the Delta area and can enjoy regional fish-based specialties that are unique in Romania!

Additional information

Please bring sun protection and mosquito repellants.

Recommended to wear appropriate clothing depending on season.

Cancelation policy: 3 days advance notice to get a full refund.
---
Moments to expect in the Danube Delta tour from Bucharest:
The Danube Delta - a natural wonder!

We will start our Danube Delta tour by visiting the Delta Museum in Tulcea. This is the best place to learn about the Delta's history and formation, birds and fish species living here, the Delta's massive importance as a biosphere and how locals adapted their life here. The museum features an amazing aquarium where you can see the most important fish living in the Danube!

Life in the Delta

Villages in the Delta are unique in their layout, architecture, cuisine and local customs. We arrive in Murighiol, a village representative for the Delta and settle in our accommodation, a family-owned guesthouse.

Exploring the Delta by boat

We are then guided by a local on his slow-traveling boat to navigate the Delta's canals and admire its natural beauty. We will see numerous wild birds, luxurious vegetation, sparkling lakes and understand why this patch of nature needs to be protected. The Danube Delta is one of our planet's greatest wetland areas and is worthy of being a UNESCO-protected site. After this 3-hour boat ride you will see why!

City of Constanta and the Black Sea

Next morning after breakfast we will leave for the city of Constanta. Known as Tomis 2,000 years ago, this is one of the oldest documented cities in Romania and was a major trading port on the Black Sea. It has a rich mix of Greek, Roman, Ottoman, Tatar and Armenian culture and we will visit the Old Town area, main squares and, of course, the Black Sea promenade and the Casino Palace, the city's famous landmark. If weather allows we can also spend some time on the beach!

[Customize tour] Spend the 2nd day in the Danube Delta

Instead of visiting Constanta, you can choose to spend the 2nd day in the Danube Delta! You can relax and explore the area on your own or we can go on another boat ride [not included] on a different canal route to do more birdwatching! Return to Bucharest late evening.
Extra cost for the boat ride: 50 Euro/person

[Extend the tour] 2 nights in the Delta + visit Constanta

Why not turn this into a 3-day tour? After the boat ride on the 2nd day, spend the 2nd night in the Delta at the same guesthouse. Enjoy some free time to explore the area, see how villagers live, relax and take it slow! On the 3rd day we visit Constanta, see the Black Sea and then return to Bucharest in the evening.
Cancelation & refund policy
Easy
Sends us or the guide an email 24h before the tour informing us you can't make it and you'll get a full refund of your payment, no questions asked.
Location details
Starting point:

Bucharest

Nearest airport:

Bucharest Otopeni International (Henri Coanda)

Nearest train station:

North Train Station

Landscape:

Wetlands
Other tours nearby

Subscribe to our Romanian quarterly magazine
4 times a year we prepare a newsletter with local stories, places and our special insights about Romanian culture and local life that will inspire you to visit our country and have an authentic local experience. Would you like to get it?