Medieval & Historical Attractions
Best Castle in Romania: Corvin (Hunyadi) Castle
Intriguing, impressive and with a fascinating reputation, Corvin Castle, also known as Hunyadi Castle and many other names, is one of the most impressive castles in Europe and a unique architectural masterpiece.
It's also one of Europe's largest castles and probably the best-preserved Gothic Renaissance castle in the world!
And in our opinion - Corvin Castle is one of the most beautiful castles in Romania thanks to its significant history, beautiful architecture, well-preserved state and and legends connected to it.
We think it's much better than the over-hyped, touristy Dracula Castle (in reality Bran Castle, Romania's #1 tourist attraction). So if you're interested in authentic Romanian history and medieval castles then you should definitely visit it!
So in this article we'll tell you why and how to do that!
Corvin Castle: an underrated tourist attraction in Romania
Just to be clear, it goes by many names: Hunyadi Castle (or Hunyad Castle), Castelul Corvinilor, Castelul Huniazilor - but it's the same located in South-Western Transylvania in the city of Hunedoara in Hunedoara County. So sometimes it's simply called Hunedoara Castle.
Geographically it's located in a valley that was used to cross the Carpathian Mountains into the Southern historical region of Wallachia. So you can already guess defense was its primary purpose!
Since Romania is a lesser known tourist destination, few people know about this castle compared to more popular ones Bran Castle (Romania's #1 tourist attraction) and the royal Peles Castle in Sinaia.
And due to its difficult access and limitations on public transport, even fewer tourists actually visit it. In 2021 it attracted only 276,000 visitors compared to 880,000 visitors in Bran.
Which means you can actually have a great experience visiting one of the seven wonders of Romania (according to local travel experts) without being worried about queues and people everywhere with selfie sticks!
Owing to its imposing structure, the castle inspired and appeared in several world-famous movies, another reason to visit a place that inspired popular culture. It's no surprise that the Huffington Post ranked it as the second most frightening building worldwide!
It's an ideal place to visit with tour guides on a day trip from Sibiu, Cluj-Napoca or Timisoara. But much harder to see from Bucharest or Brasov as you'll see in the section below.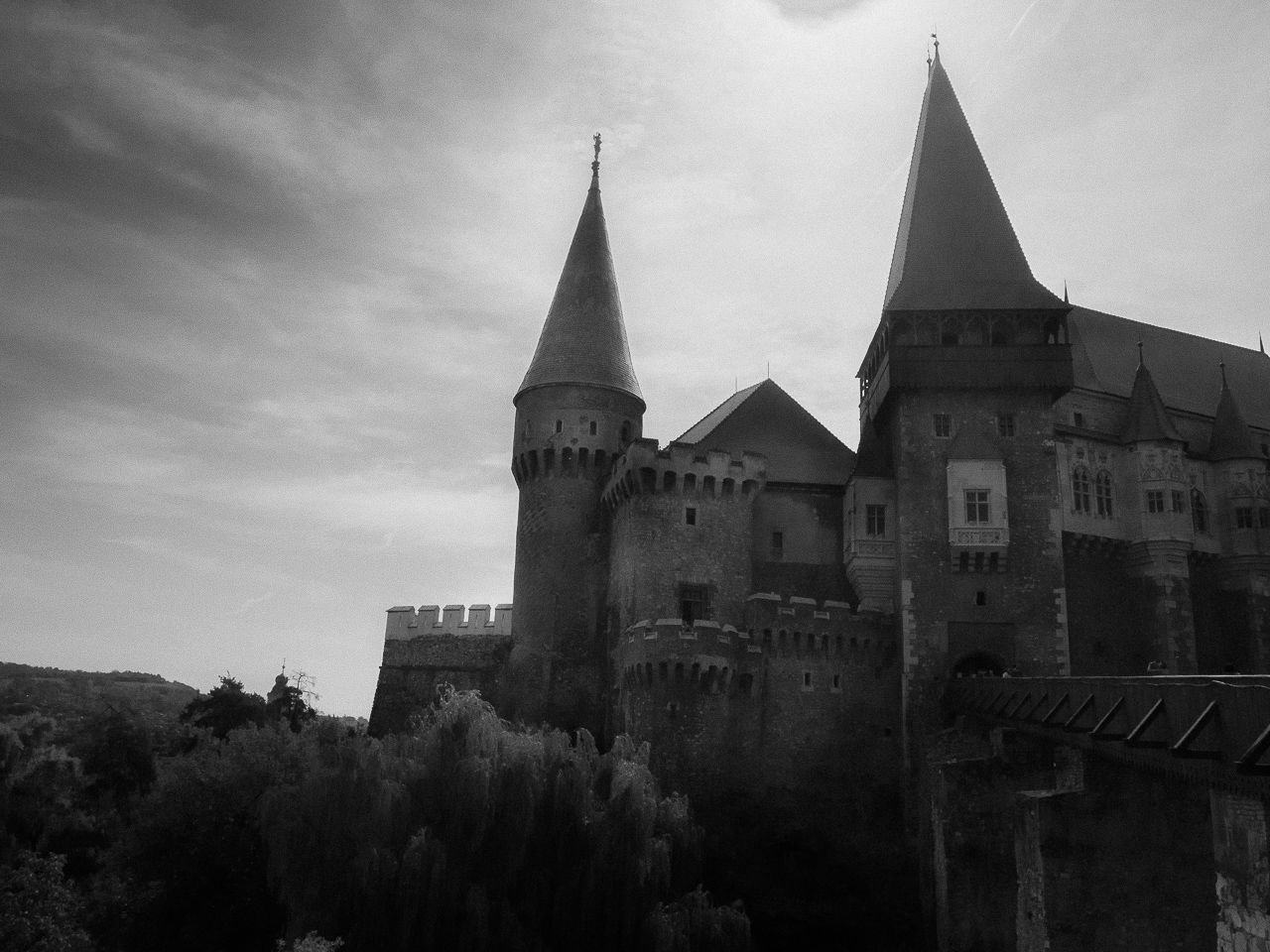 1. Brief history of Hunyadi Castle
Let's travel back in time. It's the 15th century and South Eastern Europe is threatened by the Ottoman Empire. This will be a predominant theme in the region until 1918 and a reason why lots of Romanian medieval stories involve Turkish prisoners and important figures!
At that time, Transylvania was the furthest Eastern province part of the Kingdom of Hungary, itself part of the Holy Roman Empire. So when the Ottoman Empire conquered a large part of Serbia today and was threatening to expand, Hungarian military leader John Hunyadi or John of Hunedoara (Iancu de Hunedoara in Romanian) was tasked by King Albert to defend against the invaders.
He wanted to renovate King Charles I of Hungary's old fortified castle which was a ruin from the mid-14th century strategically built on a rock surrounded by a moat and a small river. John Hunyadi liked the elevated position because it would help him see his enemies better and from a distance and started the construction of the castle in 1446.
Because he was among the few noblemen to succeed in defeating the Ottoman invaders, he became Hungary's supreme military leader and a 'ruler of the land.' So the castle became a sumptuous residence for Transylvania's voievod (ruling prince) where the king of Hungary was later born.
So the fortress started being known locally as Castelul Huniazilor (Hunyadi's castle). Iancu de Hunedoara died in 1456 but work to expand the castle continued. By 1480 it was already known as one of the largest buildings in Eastern Europe.
Castelul Corvinilor was continuously expanded to reflect the importance of the family, status and wealth at the time. So besides its military purposes, it was now a seat of power so it's only natural it became one of the most impressive castles in Europe!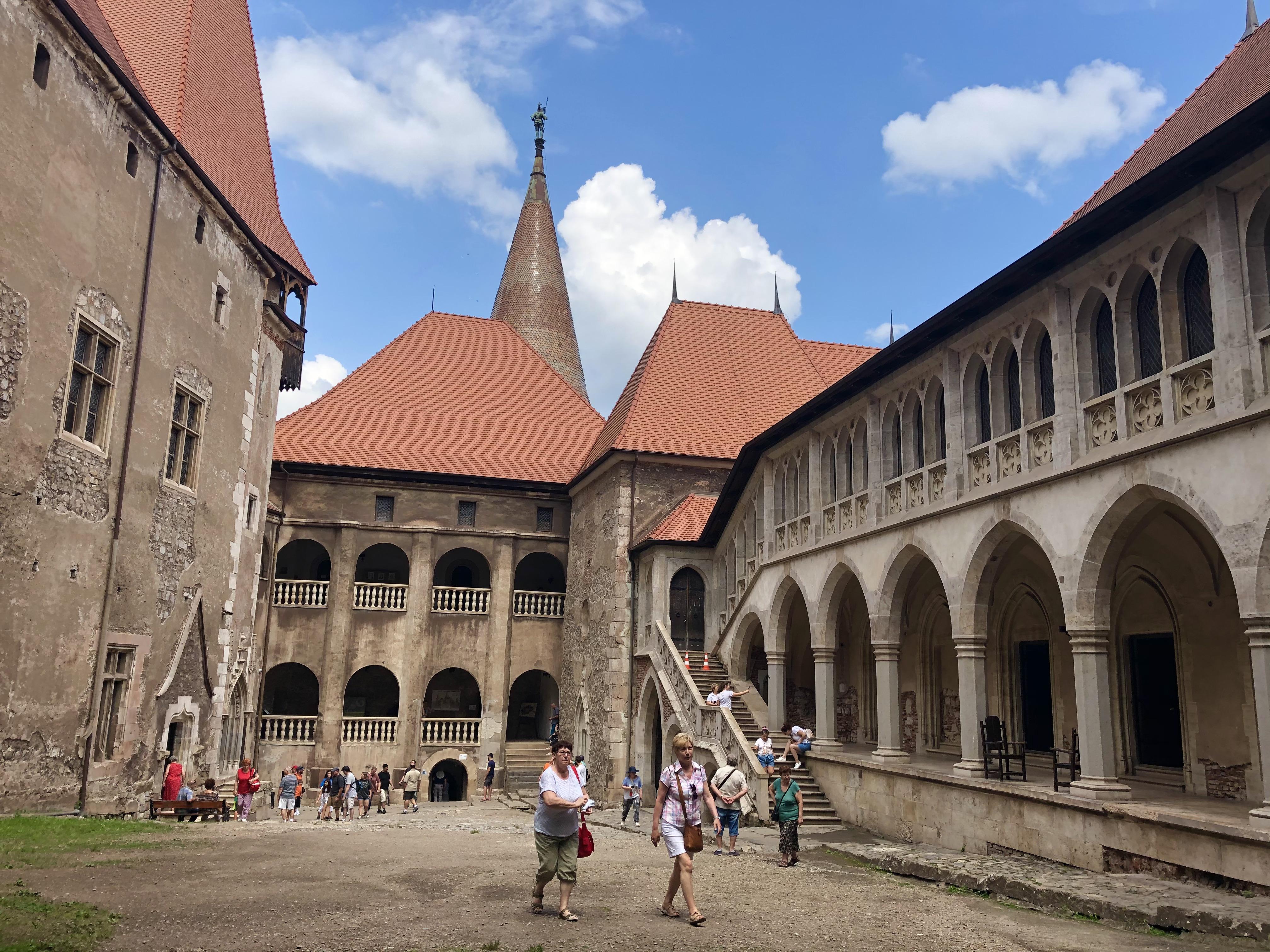 2 The castle of today
The medieval period was influenced by what's known as the gothic style. Buildings had large windows, tall columns and huge rooms. The greater, the more imposing.
The castle was still under construction at the time of Hunyadi's death so the work was suspended. But John's son Matthias Corvinus (whose statue you'll see in Union Square if you visit Cluj Napoca) came to the throne and became King of Hungary and Croatia in the 15th century.
He added a Renaissance-style wing with frescoes showing noble life that reaffirms the Corvin family's influence and social status. As years passed by, the owners of the castle transformed its look, adding guest rooms, the diet hall, circular stairways and towers.
In the 17th century significant changes were made for military and aesthetic purposes. What was new? A new palace facing the town, several living chambers and a living area, and also the White Tower and the Artillery Tower – these two for military purposes.
However, the most significant parts of the construction remain the Capistrano Tower, the last defense tower, and the gallery – and even unchanged, so you can imagine how their lifestyle was back then more easily.
And if you're looking for an instagramable spot, check the Painted Tower. It is the most interesting piece in this gothic castle, as the painting on the exterior walls dates back to the 19th century.
A great fire struck the castle and it lay in ruins until the mid 19th century until it was restored into the imposing gothic-renaissance fortification you see today.
So even if Corvin Castle is an inheritance from the Austro-Hungarian Empire, it is regarded as one of the seven wonders of Romania with a significant impact on popular culture and Romanian history.


3 Why is a raven the coat of arms of the Corvin family
According to some suppositions, John Hunyadi (aka Iancu of Hunedoara) was the illegitimate son of Sigismund of Luxembourg (the king of hungary) and Elizabeth Morzsinay. To save Elizabeth's honor, the King decided to marry her to a trustworthy Wallachian knight named Voicu. He needed to ensure John would be recognized at the royal court later since he did not have legitimate sons to succeed him.
At that time, marriages were arranged and he gave the unborn child a princely ring as a gift to prove his royal descent later. At some point later when he was a boy, the golden ring was stolen by a raven but Iancu killed it with an arrow and got it back.
The King seemed so impressed that he decided a raven with a golden ring in its beak would be the family's symbol. So the legend of the raven was born. And the name "Corvinus" actually means "raven".
In a certain wing of the castle you can see a picture depicting the tale of the raven, from which the name of John Hunyadi's descendants, Corvinus, originates.
Our tour guides from Cluj-Napoca and Sibiu are passionate about Romanian history and they have lots more stories to tell.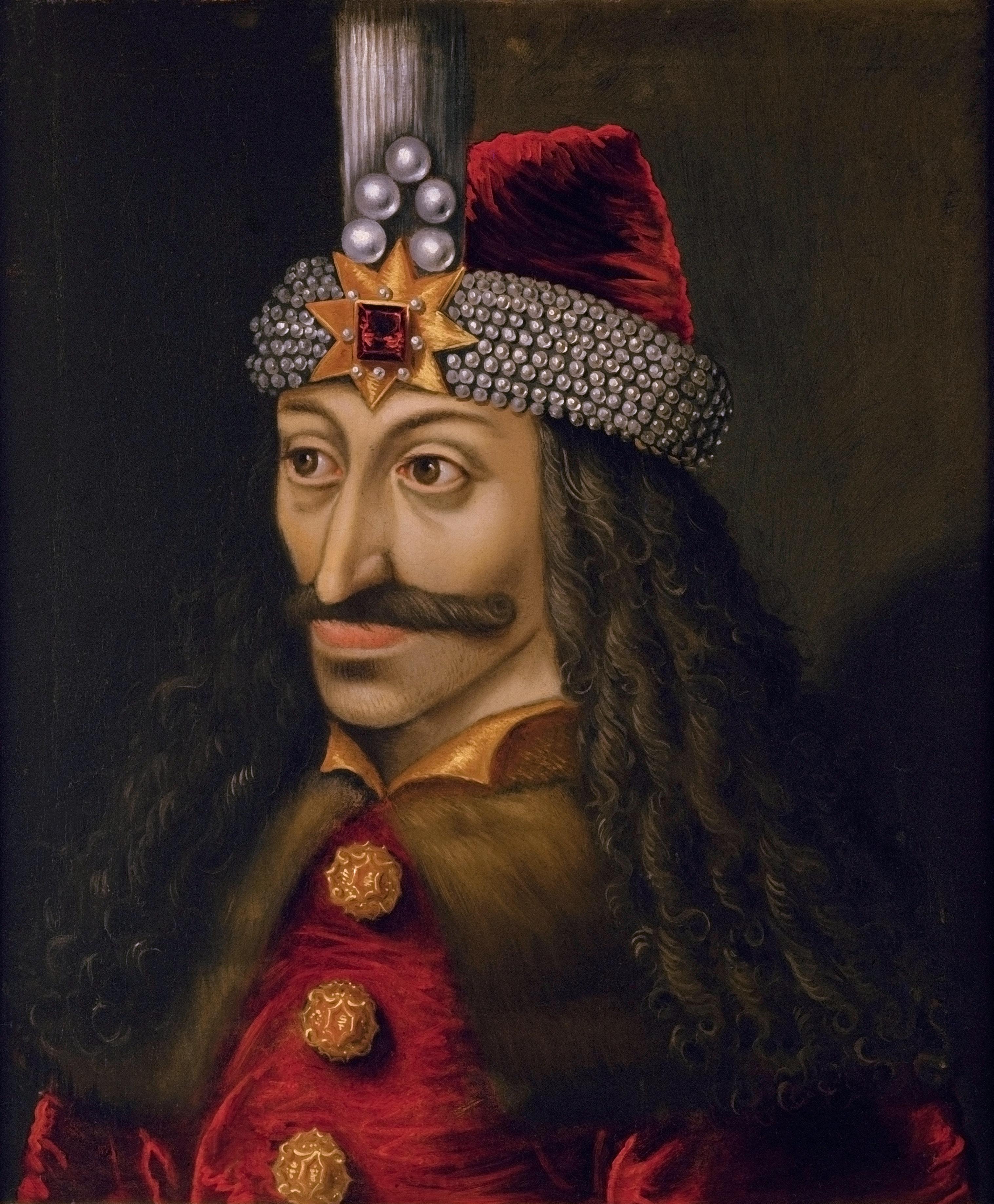 4. Is there any connection to Vlad the Impaler?
Some historical accounts mention that Vlad the Impaler, the ruthless Wallachian ruler known as Vlad Tepes, Vlad Dracula or Vlad III, was imprisoned for 7 years in the dungeons of Corvin Castle under the Knight's Hall by John Hunyadi.
Local info: Vlad the Impaler was the inspiration for Bran Stoker who wrote the famous Dracula novel that was turned into a Hollywood movie in 1992

Yet, there's NO document or historical proof to attest this! Vlad Dracula was actually imprisoned for 12 years in Visegrad, Hungary by order of Matthias Corvinus.
But there is a connection between Iancu de Hunedoara and the family of Vlad Tepes, although it's not very well supported by historical evidence. At one point Iancu de Hunedoara invaded Wallachia to instal someone who he could trust as buffer from the Ottoman Empire. In the process he ordered the killing of Vlad III's father, Vlad II.
So beware of stories told by foreign guides or tour guides who want to ride the Dracula wave…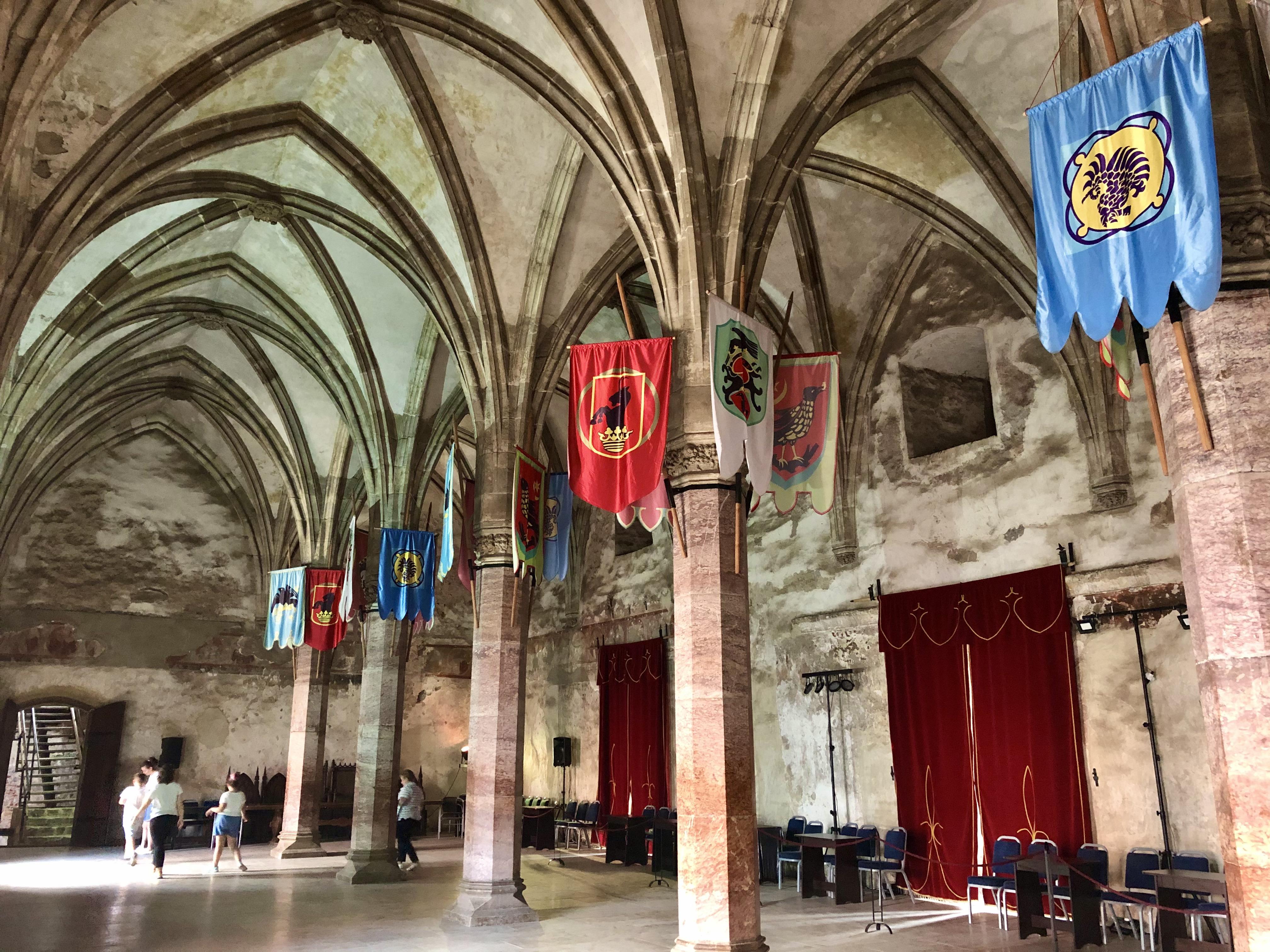 5. Other legends and stories
But enough waffling; the Corvin family's power and influence in Europe have the storyline potential of a binge-worthy show. And, if this is your first time planning to visit Romania you'll see that our history is like Game of Thrones with many twists and turns.
There are several spots in Hunyadi Castle that send chills down the spine.
The bear pit inside the castle is another one. Turkish prisoners and criminals were thrown to be killed by wild animals. Or the torture chambers in the proximity of the castle's courtyard, two dark rooms with medieval torturing tools.
And I already mentioned the dungeons of Corvin Castle just beneath Knight's Hall so the ruler could see the prisoners. And the Hunyadi family was known to make often use of the torture chamber in the castle…
The Capistrano Tower, the Drummers' Tower, and the Deserted Tower – all, again, used as prisons and there are many legends surrounding them.
There's a story of three Turkish prisoners who were promised freedom in exchange for digging a well inside the castle. Which meant digging in a rock! According to the local legend, Hunayde died until they finished digging the 30-metre-deep fountain to reach water, and the captors (or John's wife) executed them anyway.
Upon learning their fate, supposedly they carved an encryption on the wall – "You have water, but no soul".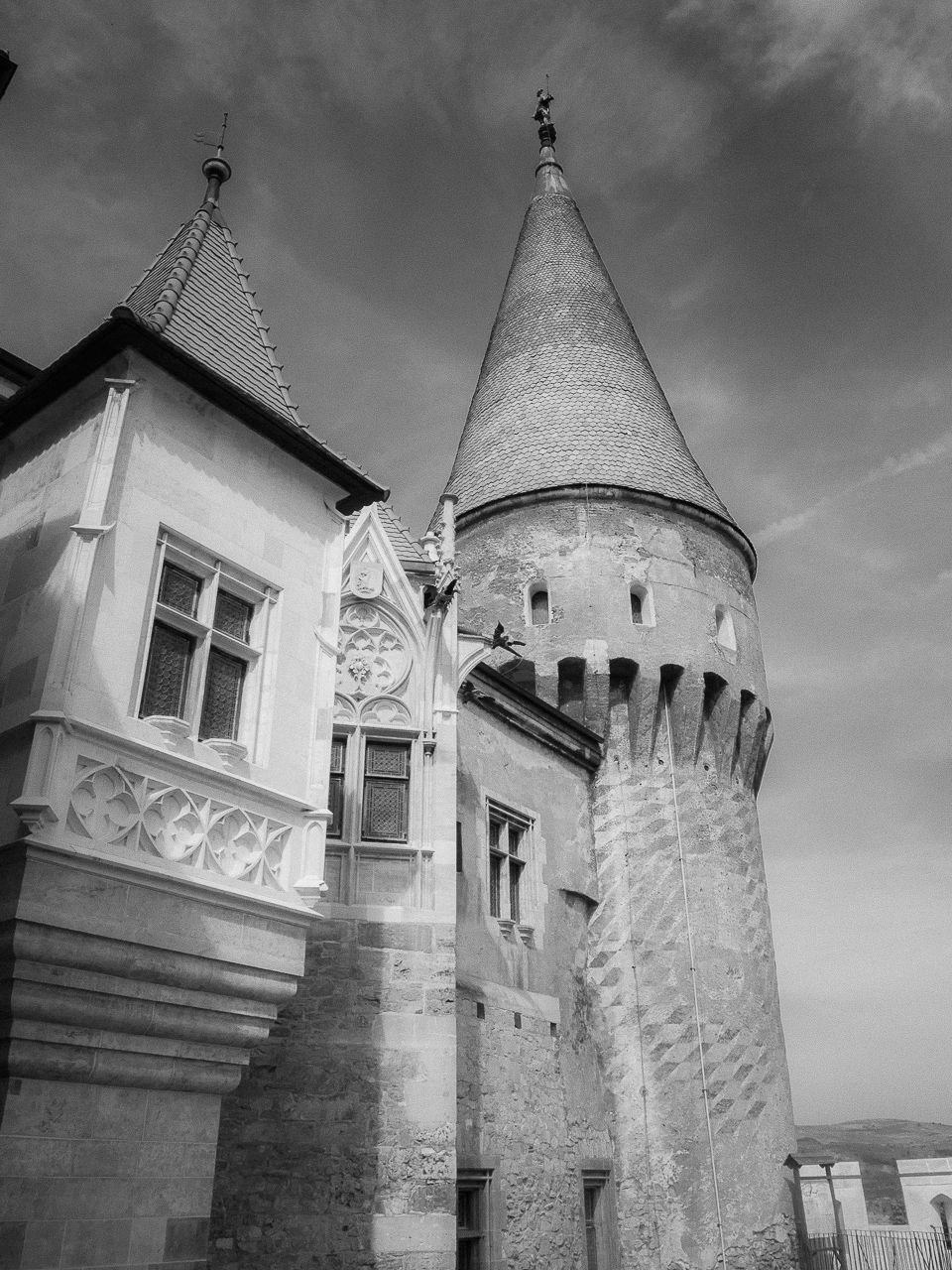 6. What you will see in Corvin Castle
There are also three large areas, among which is a circular stairway, decorated with marble and in a rectangular shape, to accommodate larger weapons. And the Buzdugan Tower, finally, was built solely for defensive purposes. This one, together with the Old Gate Tower and Capistrano tower, are the best-preserved ones, undergoing restoration works three years ago.
But just like anyone else, the royal Hunyadi family had to relax and unwind at times, and the halls are really perfect places for a special event. The Knight's Hall was used for feasts. The Diet Hall – for formal receptions and ceremonies. Being one of the largest castles in Europe, there was no shortage of space!
Prepare with comfortable shoes because you'll have quite a lot to walk. This is one of Europe's largest castles, encompassing 42 rooms, two bridges, and two terraces, spread over 7000m2. However, you get to visit only some parts – the courtyard of the castle, the scary torture room, and the prison included.
To get the most out of your day trip, tour guides will walk you through the rooms, telling you the true story behind them. And all of the questions that pop your mind – you should ask!
You will get to see realistic portraits of Vasile Lupu, ruler of Moldavia, and Matei Basarab, ruler of Wallachia, contemporaries of Iancu de Hunedoara, ruler of Transylvania.
You'll be transported back in time the moment you approach the castle. Entering the castle yard, you'll see from the inside a building with a tall structure and roof tiles, several inner courtyards, rectangular towers and balconies with intricate stone carvings.
If you go on a tour with one of our guides they will point out to you the several construction phases the castle went through and how they happened. Because there was quite a lot going on in between (and outside) these mysterious walls.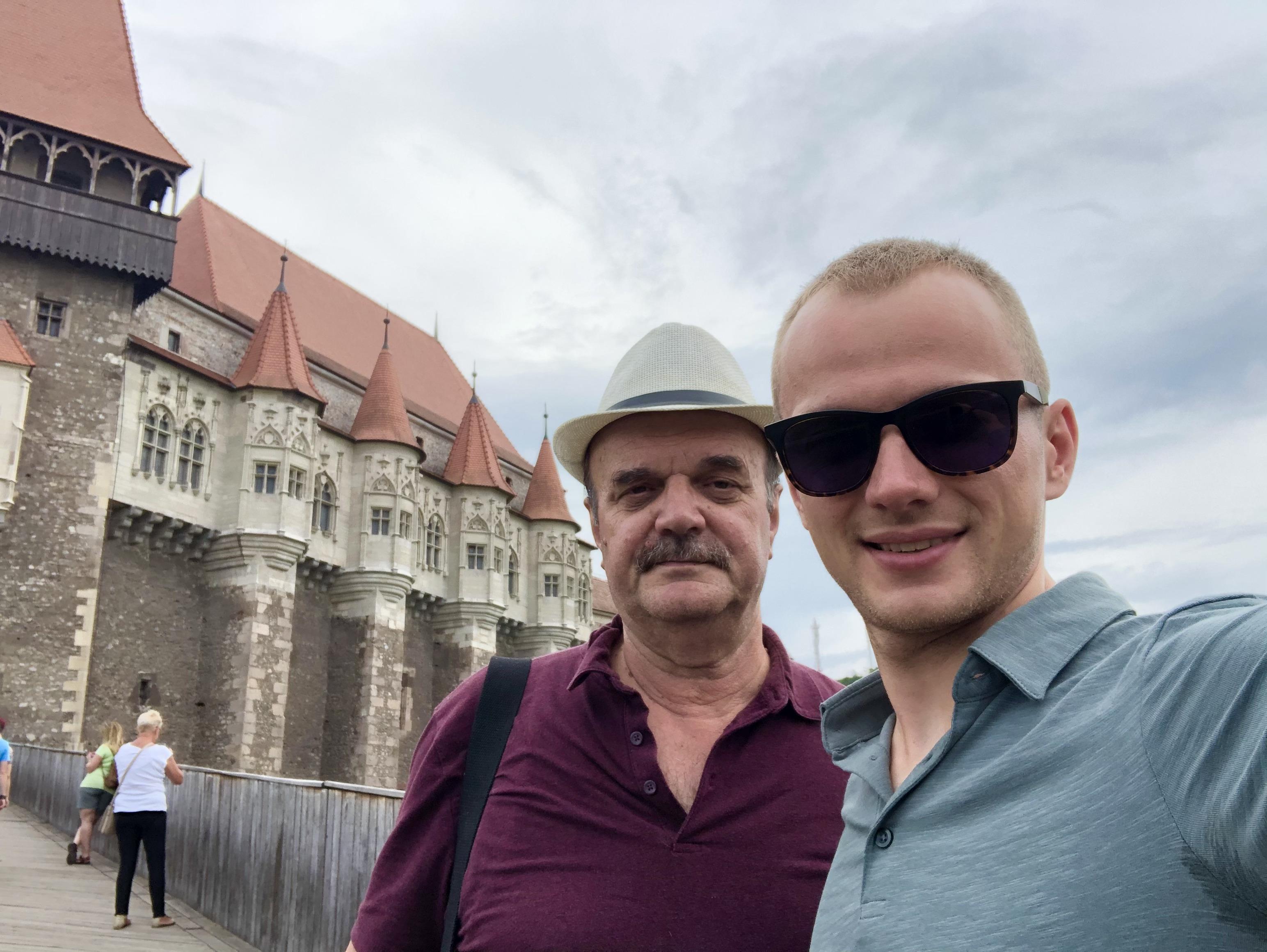 Me and my dad on a research trip :)
7. Corvin Castle inspired other castles!
Don't be surprised if you visit Hunedoara Castle and find it familiar! This well-preserved imposing gothic-renaissance castle inspired several renowned movie directors in popular culture. The most famous one? Ghost Rider: Spirit of Vengeance (2011), with Nicholas Cage himself.
The list continues with other world-famous productions like:

Dracula (1992)
Nostradamus (1994)
François Villon (1987)
Blood Rayne (2005)
The Nun (2018)
8. How to get to Hunyadi Castle
The nearest airports are in Sibiu, Timisoara and Cluj-Napoca, which are close to Hunedoara County.
There are limited buses to Hunedoara and there's no train station in the small industrial city, so the easiest way to get to Corvin Castle is by car with one of our tour guides.
Another option is to take a 3-hour bus from Sibiu to Deva and then find a bus or cab outside Deva train station parking lot to get to the city of Hunedoara.
But the hassle and logistics of this is simply not worth the money saved on a day tour to Castelul Huniazilor which you can book from Sibiu or Cluj-Napoca. On the same day trip you'll also visit Alba Iulia Citadel which will give more context to the historical dream of all Romanians, the Great Union of 1918.
On a day trip from Timisoara you'll also visit the Dacian Ruins at Sarmizegetusa.
Compared to Western Europe, Romania is a more affordable tourist destination. Accommodation, food and ticket prices are cheaper for pretty much anything you want to visit so hiring one of our tour guides is the best way to visit the biggest castles in Europe.
The adult entry fee at the castle is around 10 euros. And if you're a student, bring your student ID card for a big discount and you'll only pay 2 euros.
A Gothic masterpiece for some, a romantic castle for others, and even a haunted-looking fortress …Castelul Huniazilor, one of the main attractions in Romania, can really send shivers down the spine.
So if you're looking for a memorable experience in a place with a thrilling history, look no further. The largest medieval castle in Romania, Corvin Castle ticks more boxes than expected.
And that's why we think it's much better than Bran Castle :)
Other categories
Other tours nearby

Follow Romanian Friend on:
or
Share this with your friends: