If you're planning a trip to Romania and looking for information on how to travel between cities or regions, you'll find everything you need in this local guide on getting around Romania. Using trains, buying tickets, renting a car and driving in Romania, buses and internal flights - just keep reading.
Romanian Friend wants to help you visit our country with tips and local recommendations so that tourists can enjoy their holiday stress-free. That's why we handpicked the best tours in Romania that you can book with us. You might also want to check our guide on how to get to Romania to find out what's the cheapest way of getting here.
Special thanks to our rent-a-car partners Autonom
Good to know about traveling in Romania
Before we get into specifics about each transport option, you should be aware that public transport infrastructure in Romania is not as developed or easy to navigate for non-locals as in other Western European countries: trains are slow and sometimes unreliable, driving on national roads is slightly more challenging (but not dangerous) and, generally, a distance of 100 km takes about 2h to drive. And don't expect too much English if you're in the train station of a small town. But there are ways to plan your trip in advance and be an informed traveller.
The good news is that public transport in Romania is very cheap and offers great scenery along the way. So if you do your planning right, you can enjoy your time with a book, talking with others, observe passing local life and just have a good time while on holiday. That's why my is to let someone do the driving / navigation - unless you're planning a 'do-it-yourself' trip and looking for independence and flexibility.
A small lesson on our geography: the Carpathian Mountains divide Romania in 3 regions: Transylvania inside the arc, Wallachia in the South and Moldova in the East (don't confuse the country Moldova, our Eastern brothers-neighbours). So whenever you have to cross from one region to another, across the Carpathians, expect this to take much longer if using ground transportation.
So here are our tips on each transport option for getting around Romania with useful tips, links and apps for you to use when here. If there's anything missing - let us know!
1. The best choice for long distances: internal flights
We'll start with this for obvious reasons - convenience. If you're thinking of going from one part of the country to another, for example from Bucharest to Cluj-Napoca, Timisoara, Oradea, Suceava or Iasi, you should consider catching an internal flight.
Why? Because the 450 km between Bucharest and Cluj-Napoca which takes about 7h by car or 10h by train takes only 40 minutes by plane - and for a very affordable price. That's why it's the best way of travelling longer distances in Romania (read section 3 to understand why).
There are 3 low-cost companies (WizzAir, RyanAir and BlueAir) and the national airline Tarom that operate internal flights in Romania connecting major cities around the country.
the most popular routes such as Bucharest to Cluj-Napoca or Timisoara even have 3-4 flights each day with different companies - so be sure to check all of them
Ticket prices start from €10 (per way) and can go up to 50-70€ if you buy them 2-3 weeks in advance and some companies like BlueAir give let you check-in 1 piece of luggage for free! So if you're short on time and want to see as much of Romania without the stress and hassle of extra-planning, it's worth saving time and energy and looking at internal flights. It's a cheaper option than renting a car and definitely much faster than taking the train or bus for long-distances.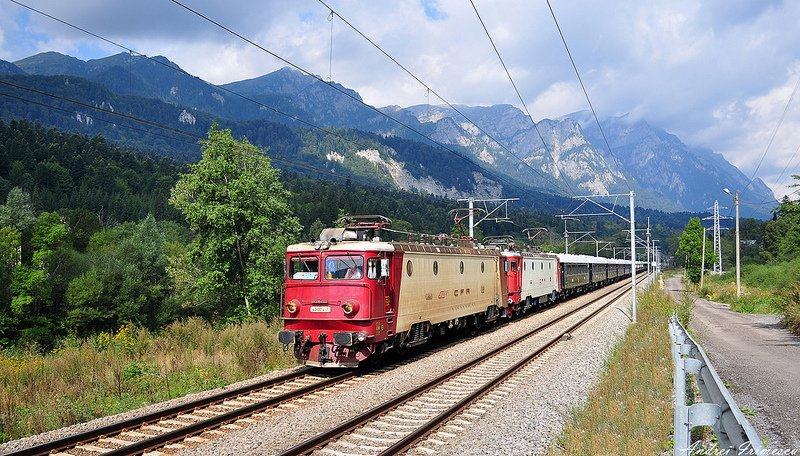 2. Travelling in Romania by train: slow scenery, decent service, reasonably cheap
Using the train in Romania is a great way to enjoy a stress-free journey, admire landscapes and mountain scenery on routes crossing the Carpathians (e.g. Bucharest-Brasov) and to see the countryside and local life. The downside is that our railway infrastructure has not seen any major developments or improvements since the 60s-80s and the state-owned company has been riddled with corruption. Poor and incompetent administration means trains travel at slow speeds, some carts are 10+ years old and onboard services are decent, at most.
Nevertheless, trains within Romania are reasonably cheap and a good way for navigating the country because all cities, towns and even small villages are very well connected by train routes. Most tourist areas can be reached by train - so that's good news for you! There are different types of trains: IR (InterRegio) travel between regions and stop only in major cities and towns, while R (Regio) stop in almost all train stations along the way (good for heading in the mountains or the countryside, but very slow). There's usually 1st class and 2nd class, with 1st class being a
80% of all train routes in Romania are operated by the state-owned national railway train company called CFR (short for Romanian Railway Company - website). There are also some privately-owned railway companies operating short distance routes (mostly around Bucharest) which are sometimes faster, cheaper and more reliable (on-time) than CFR: TFC (Transferoviari Calatori - website), Softrans (website), Astra Carpatic (website), Regio Calatori (website). Some websites have an English verision, but for the ones that don't 'bilete' = tickets and 'mersul trenurilor' = train routes.
for a consolidated view of all train timetables, routes schedules in Romania use this website; as far as I know there is no map showing all train connections in Romania, so you're better off using Google Maps and checking the above website
Buying train tickets in Romania. Generally, tickets are bought from ticket desks ('casa de bilete') or automated machines in train stations using cash (Lei) or card. It's ok if you buy them on your day of travel, 20-30 min before the scheduled train departure. Places in sleeping carts (on routes such as Bucharest-Oradea or Bucharest-Timisoara) need to be bought 1 hour in advance of departure. Other routes (Bucharest-Brasov or Bucharest-Constanta) get very crowded during weekends and summers because everyone wants to get out of the city!
Booking train tickets in advance will get you a small discount. CFR also has a ticket website where you can purchase train tickets online and get them over email - no need to print. There is no concept of 'advance reservation' for trains in Romania - you either buy your ticket, or you don't. When buying a ticket which requires you to change trains, you will get 2 tickets, one for each train.
train tickets are valid only for your which is clearly printed on the ticket; each ticket also has an allocated seat number (and cart), which people usually respect;
Ticket changes and cancelations are possible only at ticket desks in train stations and the scheduled departure of the train on your ticket. Tickets are the train. On CFR trains tickets be bought from the inspector - unelss you also want to pay the fine for traveling without a ticket! But with other companies such as TFC, it's possible to buy them on the spot.
As I've said, train fares in Romania are reasonably cheap (Bucharest – Brasov or Bucharest – Constanta for €10 per way) and about 20€ for longer distances such as Bucharest - Cluj-Napoca. Overnight or sleeper trains are used for longer routes such as Bucharest - Oradea or Bucharest - Timisoara (~12-13 hours). You can choose between a regular sleeping cart (with 4-6 beds in a compartment) or 'premium' sleeping wagon (2 beds) for around 30-50€ per way. Just keep in mind that trains are notoriously late, especially on long distances (300+ km) or during hot summers or snowy winters, when 1-2h delays are very common. So stock up with food and water!
Generally, trains in Romania are safe including on overnight routes. Except for harmless beggars and occasional pickpockets, you should be fine if you're ordinarily cautious.
So when planning a trip using Romanian trains make sure to check all other options in this guide. Some tourist route like Bucharest - Sibiu take 6 hours by train, but only 4 hours by bus. The main train route in the country is Bucharest-Oradea which stops in the most popular tourist cities of Brasov, Sighisoara and Cluj-Napoca.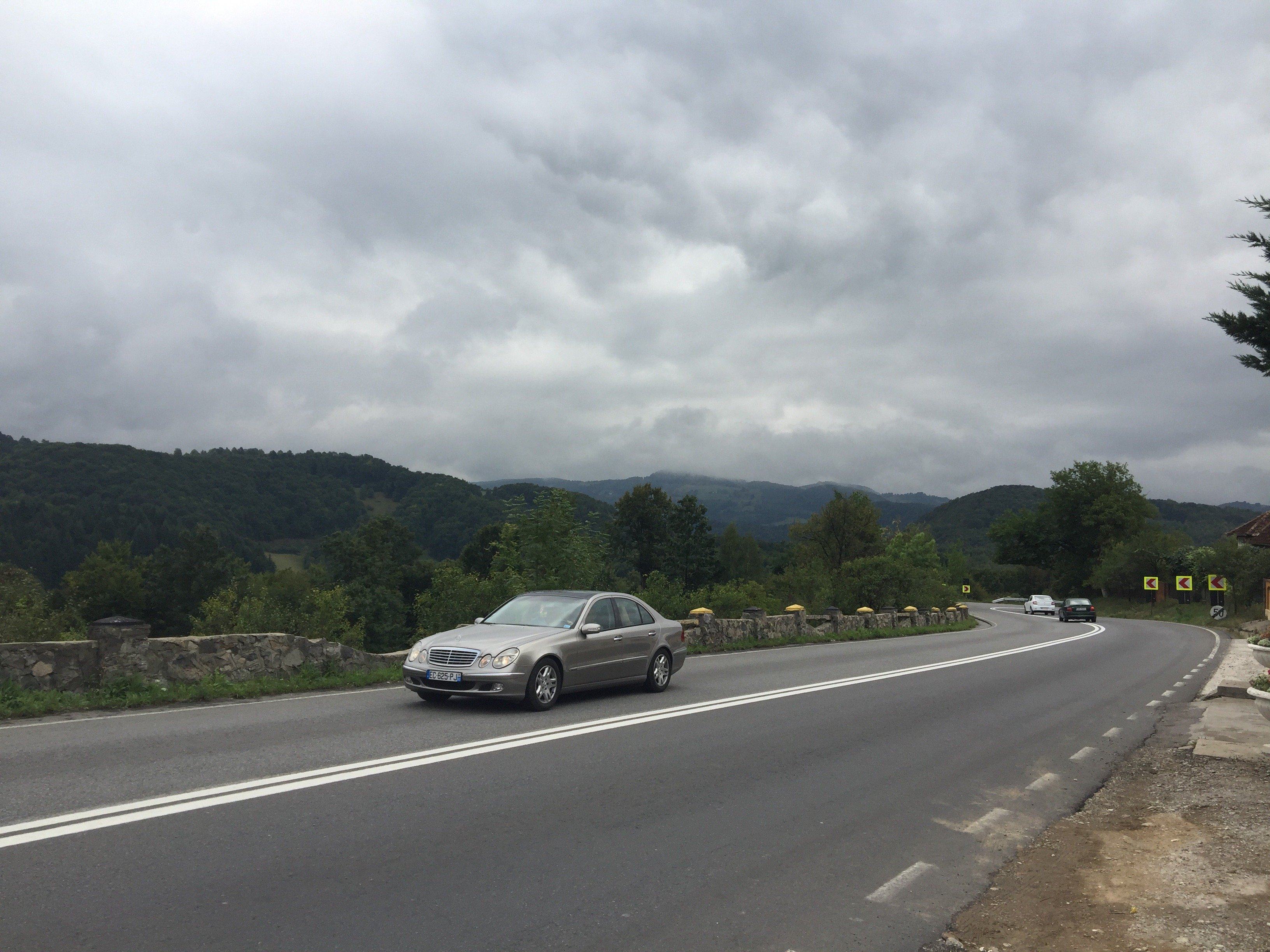 3. Driving on Romanian roads & renting a car: the good & bad parts
Romanian roads, drivers, traffic and maps - nothing to be scared of, if you have the right info and are an experienced driver.
Let's start with renting a car in Romania: major international companies like Hertz or Avis are present in Romania, but there are also some realiable local companies with good services, a decent network in the country and sometimes cheaper, such as Autonom or Magrenta. The process of renting a car is similar to what you're familiar with in other parts of the world and in Europe: ID, driver's license, deposit, etc. Most cars come with a manual gear box because that's the norm here. Also, my advice is to make sure the car is insured and that you know the conditions that apply, including for minor incidents such as scratches.
Romanian roads infrastructure. This is where things get tricky - the infrastructure is outdated, underdeveloped and heavy on traffic on main routes. Romanians notoriously complain about this situation because of poor goverment planning, execution and, let's be honest, corruption - you can always talk about this!
That leaves us with a very large infrastracture of national roads that has been upgraded and patched depending on budget, importance and, of course, local administration. The road network is very extensive and, really, there are few places in Romania that can't be reached by car. Here are the main road types in Romania and the speed limits:
highways (marked 'A1' with green) - a total of 700 km broken in small sections and disconnected; the most important sections are Bucharest - Constanta and Bucharest - Pitesti; the speed limit is 130 km
European roads (marked 'E70' with green) are the main traffic arteries that connect major cities and routes (eg. Bucharest - Brasov); they're also the most heavy on traffic (with lots of trucks), but have the best road conditions; the speed limit is 110 km
national roads ('75' with red) good alternatives to E roads because there's less traffic and they're more scenic; they connect small towns and major cities; road conditions may not be as good (bumpy, potholes, etc) so I recommend you ask a local about a particular route; speed limit is 100 km; when I'm not in a hurry, I use them and I recommend you to do the same if you're looking for a comfortable driving experience
local roads ('107K' with blue) connect villages and small towns and go really deep in the countryside; you'll see lots of local life and the occasional horse-powered cart, tipsy locals on bikes or a herd of sheep saying 'hi'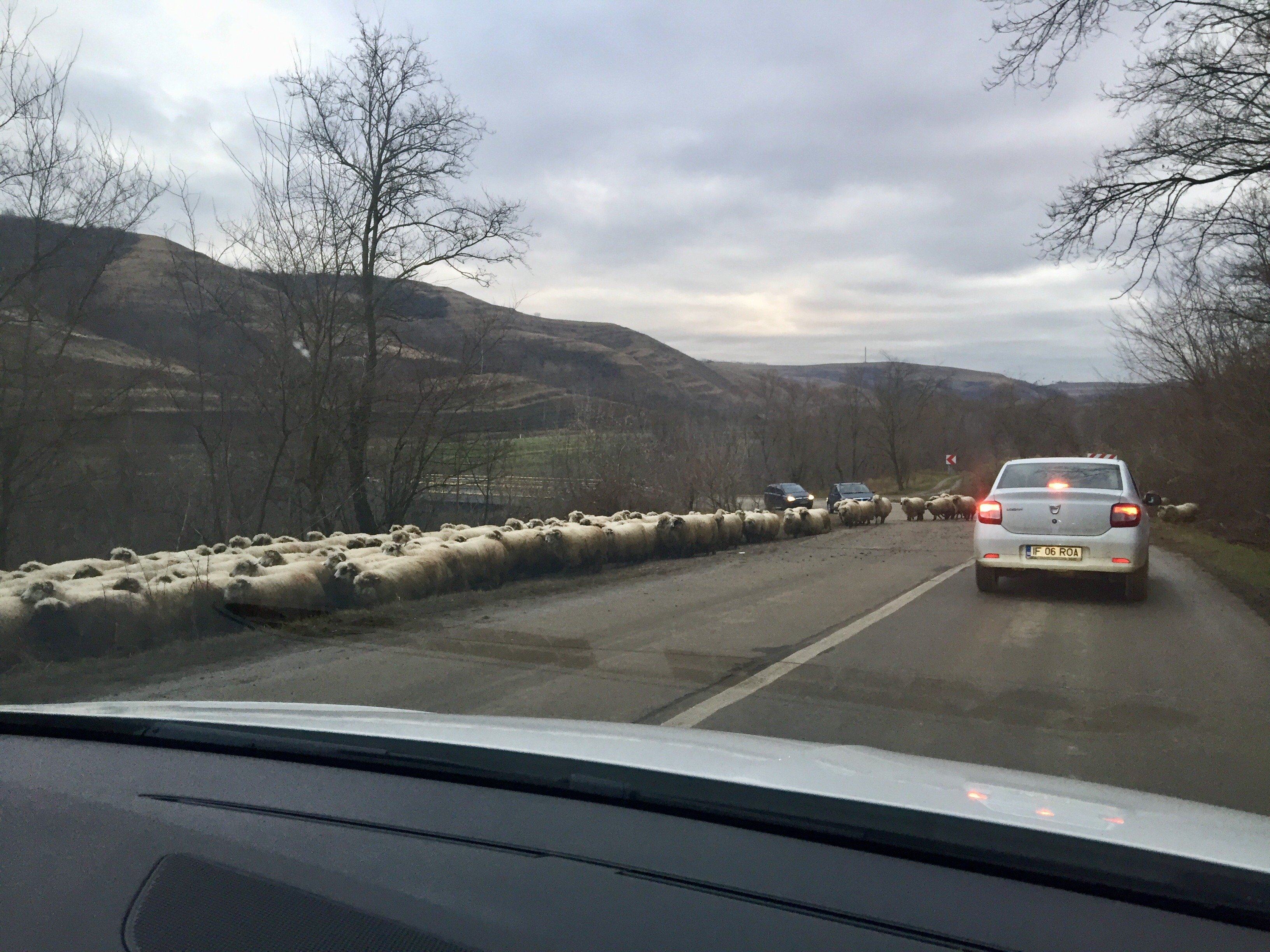 Driving in Romania: distances & road rules. Most Romanian roads have only one lane (but there are plenty of sections with 2 lanes), which means there's always going to be traffic and driving in columns, especially if there's a large truck or an old car with an extra-cautious driver in front. That's why some drivers will engage in overtaking maneouvers, and some of them might seem risky or even reckless. When driving outside of cities people tend to respect driving rules, except for speed limits. Why? As you will see, all roads pass through many villages and localities where the speed limit drops to 50 km. That makes driving incredibly slow which frustrates people, especially on longer routes.
Example of distances and time needed for popular routes in Romania:

Bucharest - Sibiu which is 278 km will take about 4-5 hours of driving; despite 100 km of that being on highway, the remaining will be on one-lane roads and cross foothills and many, many villages;
Bucharet - Brasov is 180 km and that can be done in about 3 hours, but during Summer weekends and Winter holidays there's heavy traffic;
Cluj-Napoca - Brasov is 270 km and at least 4,5 hours of driving
Bucharest - Cluj-Napoca is 450 km and will take about 6-7 hours
That's why driving from Bucharest to the Northern regions of Bucovina or Maramures can take almost 10 hours. And also why I recommend considering internal flights as an option, or an overnight sleeper train.
So is driving in Romania safe for tourists? Generally yes, if you're careful, check your mirrors and aren't the type of person who gets stressed easily. If you haven't been to other Eastern European countries with similar traffic conditions or just want to relax more while on holiday, then I suggest looking at other transport options in this article or just hiring a guide. But most of the time driving in Romania looks like this: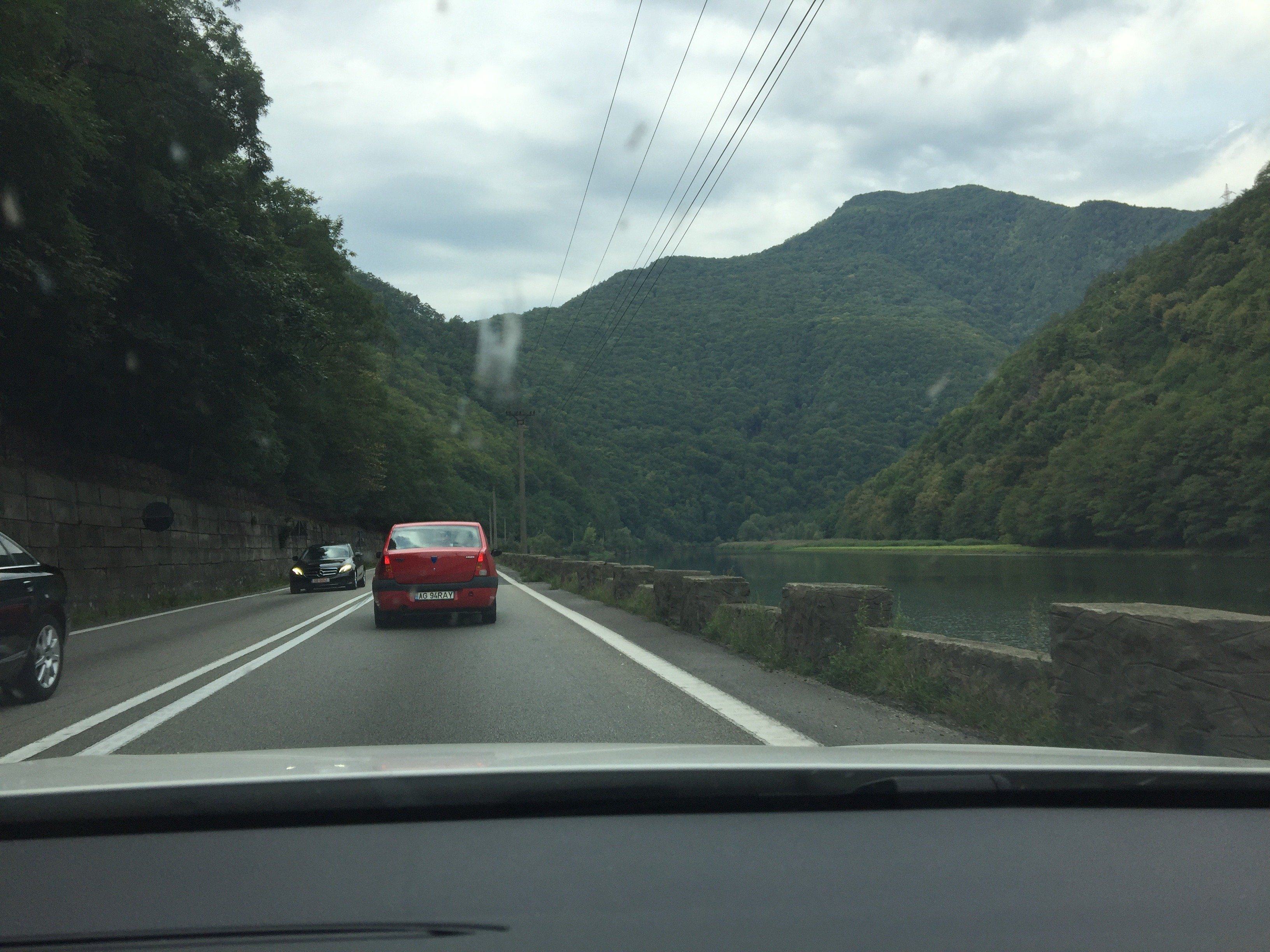 Driving in our country can be a beautiful experience especially if you go into remote, less-travelled regions. Besides picturesque landscapes, seeing local life and having maximum freedom, I think it's a great way to get to know the country and see it's true face. And visiting some parts of the country like Maramures, Bucovina or Transylvania is more convenient by car, as there is no public transport between villages.
For extra guidance and navigation, install Waze and Google Maps on your smartphone, they're widely used and reliable.



4. Buses, coaches and other transport options in Romania
There's always the option of letting someone else worry about traffic and road conditions in Romania! This website is a comprehensive aggregator portal for all coach routes, buses and van services inside Romania, departure times, prices, operating companies and other details you should know. It is also available in 6 languages so it's pretty useful for planning your trip.
One local bus company that has been making its way in the bus transport market is Memento Bus - haven't used them, but heard good reviews. This company is a reliable airport transfer or shuttle service company in Romania - that's what I heard.
With distances by car being as they are, buses and vans will take at least 1-2 hours longer. But even so, prices are reasonably cheap. Buses depart from stations called 'autogari' or near the city's train station. Always ask a local to double check. When getting on a bus, be sure to confirm with the driver that he will stop where you want him to on his route.
One transport service / option that has been gaining popularity in Romania is (real) ride sharing with BlaBla Car - you will ride with a real local heading in the same direction as you, for a very reasonable price.
***
There you have it – our complete local guide on getting around Romania, public transport services and our advice on how to plan your visit and navigate our country. If there's anything missing - let me know! And please subscribe to our quarterly newsletter if you want to get inspiration and curated ideas for an authentic Romanian holiday!
Your Romanian Friend
Marius