If you're going to visit Romania's best attractions and you're looking for information on how to travel between cities, regions and tourist sights - you'll find everything you need in this local guide on public transport in Romania: internal flights, trains, buses, renting a car, driving in Romania, buying tickets and much more!
All the info you need to plan your trip and understand how to get around our country is in this up-to-date article. Romania is a big country with a diverse geography but - unfortunately - underdeveloped transport infrastructure. This creates a lot of frustration (including for locals) because famous attractions and popular things to do for tourists are spread all over the country so understanding the logistics of travelling and getting around our country is essential if you want to plan a relaxing holiday where you're not spending all your time on the road getting stressed!
You might also want to check our guide on traveling to Romania to find out what's the best and cheapest way of getting here. Or our complete travel guide with up-to-date information about tourism and visiting Romania for the first time. And in case you're wondering, there are in force of any type in Romania.
On our website you'll also find handpicked tours in Romania starting from all the major tourist cities. And if you need help with planning your itinerary contact us - we're happy to help!
The basics about Romania's public transport
Before we get into specifics about each transport option in our country, you should be aware that public transport infrastructure in Romania is not as developed or easy to navigate for non-locals as in other Western European countries:
though trains criss-cross the country, they're slow and sometimes break down
there are few highways and most roads are one-lane which makes them very crowded and, again, slow; e.g. 100 km takes about 2,5h to drive
don't expect too much English in train or bus stations, especially in smaller towns

That's why my is to let someone else (a guide) do the driving and route planning so you get these inconveniences out of the way - unless you're planning a 'do-it-yourself' trip and looking for independence and flexibility. In which case the good news is that public transport in Romania is cheap and offers great scenery along the way. So if you do your planning right, you can enjoy your time with a book, talking with others, observe local life and just have a good time while on holiday.
A small lesson on our geography: the Romanian Carpathian Mountains divide our country in 3 regions:

Transylvania inside the arc
Wallachia in the South and
Moldova in the East (don't confuse the country Moldova, our Eastern brothers and neighbours).
So whenever you have to cross from one region to another expect this to take if using ground transportation because crossing the Carpathians is no easy thing!
Now let's get into the specifics for each public transport option to travel around Romania with useful tips, links and apps for you to use. If there's anything missing - let us know!
1. The best choice for long distance travel in Romania: internal flights
We'll start with this for obvious reasons: it's convenient, fast & cheap especially if you're thinking of going from one part of the country to another. For example, traveling from Bucharest to Cluj-Napoca (to get closer to the traditional regions of Maramures and Bucovina) or to Timisoara, Oradea, Suceava or Iasi. An internal flight is the best option.
Why? Because the 450 km between Bucharest and Cluj-Napoca which takes about 7h by car or 10h by train takes only 45 minutes by plane - and for a very affordable price (starting from 30 Euro). That's why flying is the best way to travel longer distances in Romania.
There are 3 low-cost companies (WizzAir, RyanAir and HiSky) and the national airline Tarom that operate internal flights in Romania connecting major cities around the country. Though lots of Romanian cities have airports, they're only used for external flights and not connected between them with internal ones.
the most popular internal flight routes connect Bucharest to Cluj-Napoca, Timisoara, Oradea, Iasi and Suceava; some airlines connect these cities with a layover
Ticket prices start as low as €15 (per way) and can go up to 50-70€ if you buy 2-4 weeks in advance. So if you're short on time and want to see as much of Romania without the stress and hassle of extra-planning, it's worth saving time and energy and looking at internal flights. It's a cheaper option than renting a car and definitely much faster than taking the train or bus for long-distances.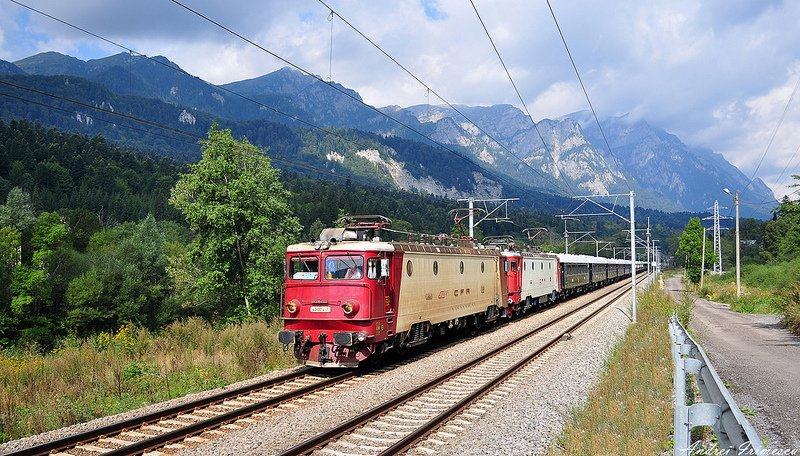 2. Travelling in Romania by train: slow scenery, decent service, reasonably cheap
Traveling by train in Romania is a great way to enjoy a stress-free journey, admire landscapes and mountain scenery on routes crossing the Carpathians (e.g. Bucharest-Brasov) and to see the countryside and local life. The downside is that our railway infrastructure has not seen any major developments or improvements since the 60s and the state-owned company has been riddled with corruption. This means trains travel at and the trains themselves are old (which means they can break down) and not very well serviced (no bar) or cleaned (don't have high expectations for toilets).
Nevertheless, trains within Romania are reasonably cheap and a good way for navigating the country because all cities, small towns and even villages have a railway station. Most tourist areas can be reached by train - so that's good news for you! There are different types of trains: IR (InterRegio) travel between regions and stop only in major cities and towns, while R (Regio) stop in almost along the way (good for heading in the mountains or the countryside, but very slow!). There's usually 1st class and 2nd class, with not much difference between them other than fewer people in the 1st and slightly better comfort.


80% of all train routes in Romania are operated by the state-owned national railway train company called CFR (short for Romanian Railway Company - website). There are also some privately-owned railway companies operating short distance routes (mostly around Bucharest) which are sometimes faster, cheaper and more reliable (on-time) than CFR: TFC (Transferoviari Calatori - website), Softrans (website), Astra Carpatic (website), Regio Calatori (website). Except for CFR, none have an English version website so you'll have to use Google translate.
Buying train tickets in Romania. Each company offers different options (online, physically or on the train) so you'll need to check on their website to make sure. Tickets for CFR can be bought online (but you'll need to create an account) or physically inside the train stations at ticket desks (casa de bilete) or at the grey automated ticket machines, using cash (Lei) or card.
It's usually ok if you buy train tickets on the day of travel 20-30 min before the scheduled departure. Places in sleeping carts (on routes such as Bucharest-Oradea or Bucharest-Timisoara) need to be bought at least 1 hour in advance of departure. Other routes (Bucharest-Brasov or Bucharest-Constanta) get very crowded during weekends and summers because everyone wants to get out of the city. So best to buy them online or in advance. If you bought your train ticket online you'll get an email with the PDF - no need to print, just show it.

There is no concept of 'advance reservation' for trains in Romania - you either buy your ticket, or you don't! When buying a ticket which requires you to change trains, you will get 2 tickets one for each train.
train tickets are valid only for your which is clearly printed on the ticket; each ticket also has an allocated seat number (and cart) which people usually respect;
Ticket changes and cancelations are possible only at ticket desks in train stations and the scheduled departure of the train on your ticket. Tickets are the train. CFR trains tickets be bought from the inspector - unelss you also want to pay the fine for traveling without a ticket! But with other companies such as TFC, it's possible to buy them on the spot.

As I've said, prices for train tickets in Romania are reasonably cheap (Bucharest – Brasov or Bucharest – Constanta for €10 per way) and about 20€ for longer distances such as Bucharest - Cluj-Napoca. Overnight or sleeper trains are used for longer routes such as Bucharest - Oradea or Bucharest - Timisoara (~12-13 hours). You can choose between a regular sleeping cart (with 4-6 bunk beds in a compartment; always book the one with 4!) or 'premium' sleeping wagon (2 beds) for around 30-50€ per way.
Just keep in mind that trains are notoriously late, especially on long distances (300+ km) or during hot summers or snowy winters in Romania, when 1-2h delays are very common. So stock up with food and water!
Final notes. Generally, trains in Romania are including on overnight routes. On frequent day routes you may come across harmless beggars. Some popular tourist routes like Bucharest - Sibiu or Cluj-Napoca - Timisoara take 6 hours by train (or longer) - but only 4 hours by bus, so make sure to check other transport options. The main train route goes from Bucharest to Oradea and stops in the most popular tourist cities: Brasov, Sighisoara and Cluj-Napoca.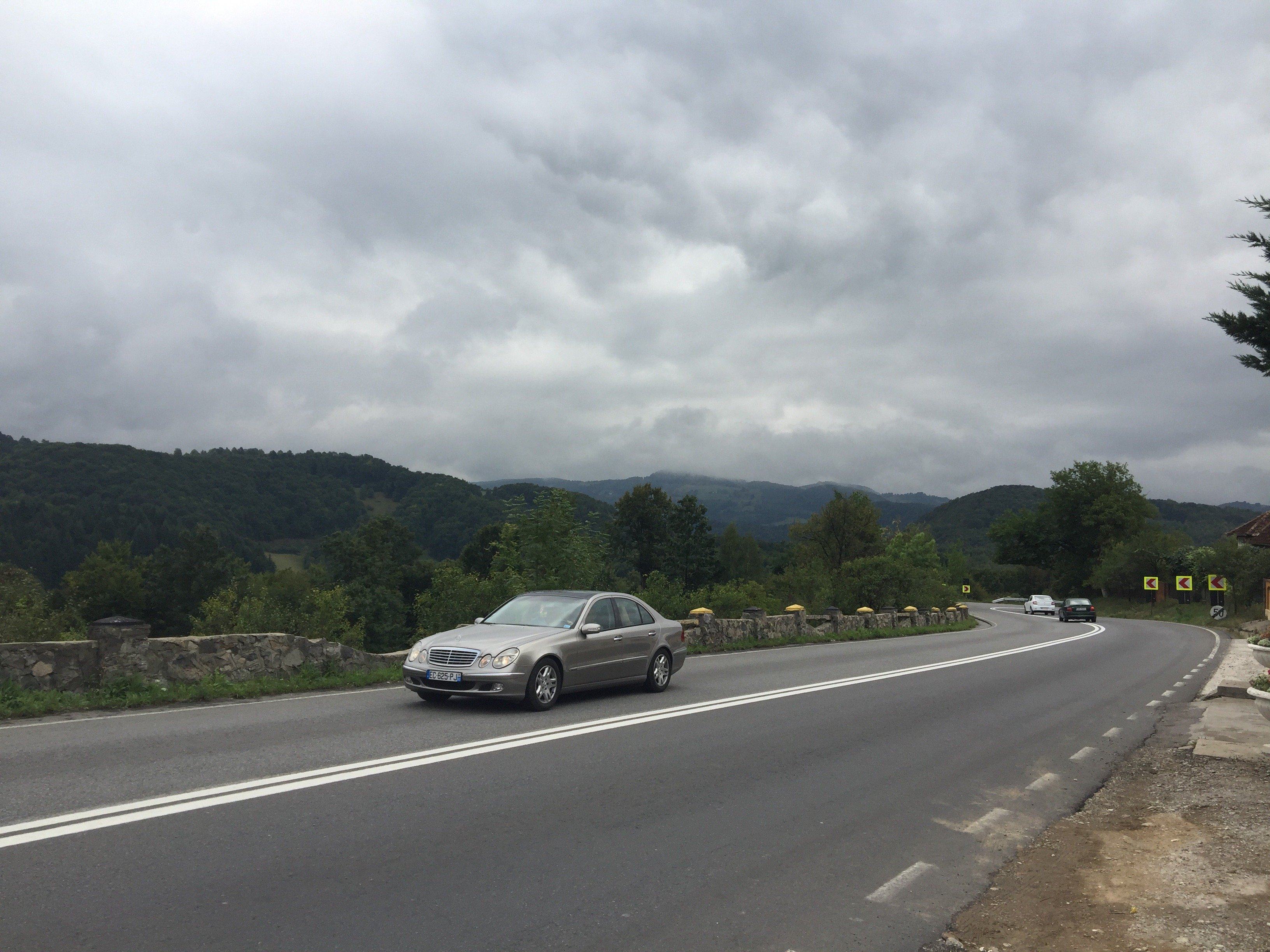 3. Driving on Romanian roads & renting a car: the ugly truth
Driving on Romanian roads is a little more challenging and stressful because infrastructure is underdeveloped with few high-speed roads and fewer highways, especially on frequent routes between major cities - which are of interest for tourists too. All traffic (including trucks, lorries, busses etc) is condensed on one-lane national roads. And to make things worse, these roads pass through numerous villages where the speed limit is 50 km/h so traffic slows down even more.
The poor road infrastructure is the #1 complaint and source of anger Romanians have against all politicians since 1989 and the governments they formed which made lots of promises without any results. The good news is some roads are incredibly scenic and beautiful especially those crossing the Carpathian Mountains such as Transfagarasan or Transalpina Road:
What driving in Romania and on Transfagarasan Road looks like

The road network in Romania is extensive and there are few places that can't be reached by car. The tricky part is knowing which of these are in good state because local roads, especially those between villages or in the mountains, are administered by local authorities which don't always take care of them. So you may come across sections full of potholes or patchworks where you need to slow down. Here are the main road types in Romania and the speed limits:
highways (marked 'A1' with green) - the network is nice on paper but in reality only small sections have been completed, some of which are closed for maintenance work; the speed limit is 130 km
European roads (marked 'E70' with green) are the main roads connecting major cities (eg. Bucharest - Brasov); they're also the most heavy with traffic (lots of trucks), but have the best road conditions; the speed limit is 110 km
national roads (marked with numbers in red, e.g. '75') are good alternatives to E roads because there's less traffic on them and they're more scenic; they connect small towns and major cities; speed limit is 100 km; when I'm not in a hurry, I use them and I recommend you to do the same if you're looking for a comfortable driving experience
local roads (marked with numbers and a letter in blue, e.g. '107K') connect villages and small towns and go really deep in the countryside and in the mountains; you'll see lots of local life and the occasional horse-powered cart, tipsy locals on bikes or a herd of sheep saying 'hi' --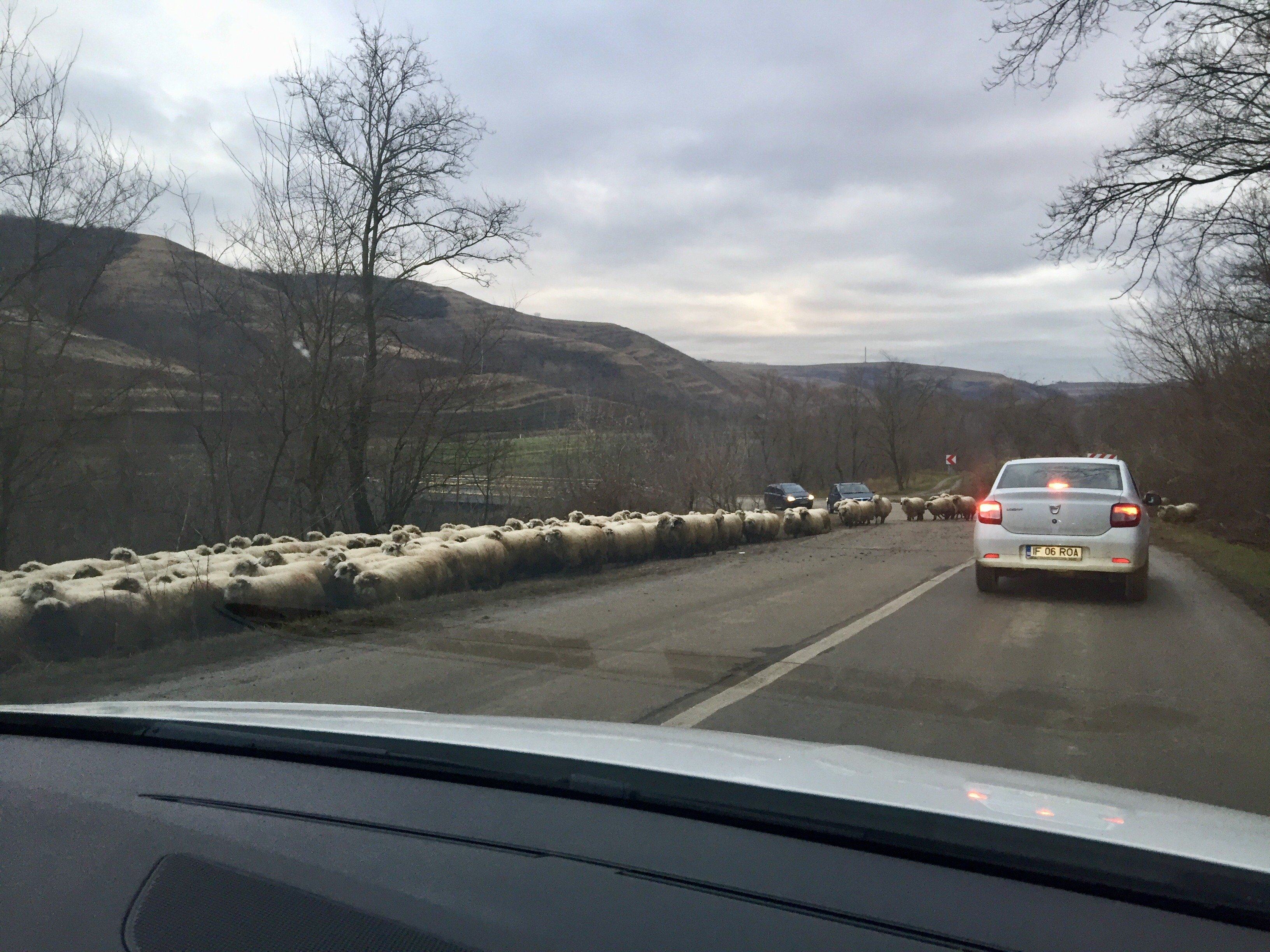 Time needed for distances in Romania. Because of the one-lane roads, driving in Romania means you'll most likely be in a column of cars behind a truck or an old car with a slow driver. The average speed is around 80 km/h - and Google Maps usually gives an accurate estimation of driving times. Here are some examples of travel times onpopular routes for tourists:
Bucharest - Sibiu which is 278 km will take about 4-5 hours of driving; despite 100 km of that being on highway, the remaining will be on one-lane roads going through hills and many, many villages;
Bucharet - Brasov is 180 km and that can be done in about 3 hours, but during Summer weekends and Winter holidays there's usually heavy traffic, even congestions and standstills, despite some sections having 2-lanes per way
Cluj-Napoca - Brasov is 270 km and takes about 4,5 hours of driving
Bucharest - Cluj-Napoca is 450 km and will take about 6-7 hours
from Bucharest to the Northern region of Bucovina you'll need about 7-9h of continuous driving; and to Maramures about 10-12h

Because of the heavy traffic and endless columns, Romanian drivers don't respect speed limits (including in villages!) and engage in overtaking manoeuvres which may be risky or even reckless. The sad truth is Romania has the highest death toll and victims due to road accidents. This kind of behaviour in traffic may shock drivers used to highways or roads in good conditions - but not those used to driving in Eastern European countries.
So is driving in Romania safe for tourists? Generally yes, as long as you're cautious. It's not all bad especially if you drive for short distances at a time. But you want a stress-free holiday then hiring a local guide is the best choice, and looking for alternative transport options your next best one. And if you're planning to rent a car thinking you can drive long distances and visit tourist attractions "really quick" -- you're in for a bad surprise. Not only will the reality on the ground mess up your plans, but you'll also be stressed and tired and the end of the day. And that's not a holiday in my book...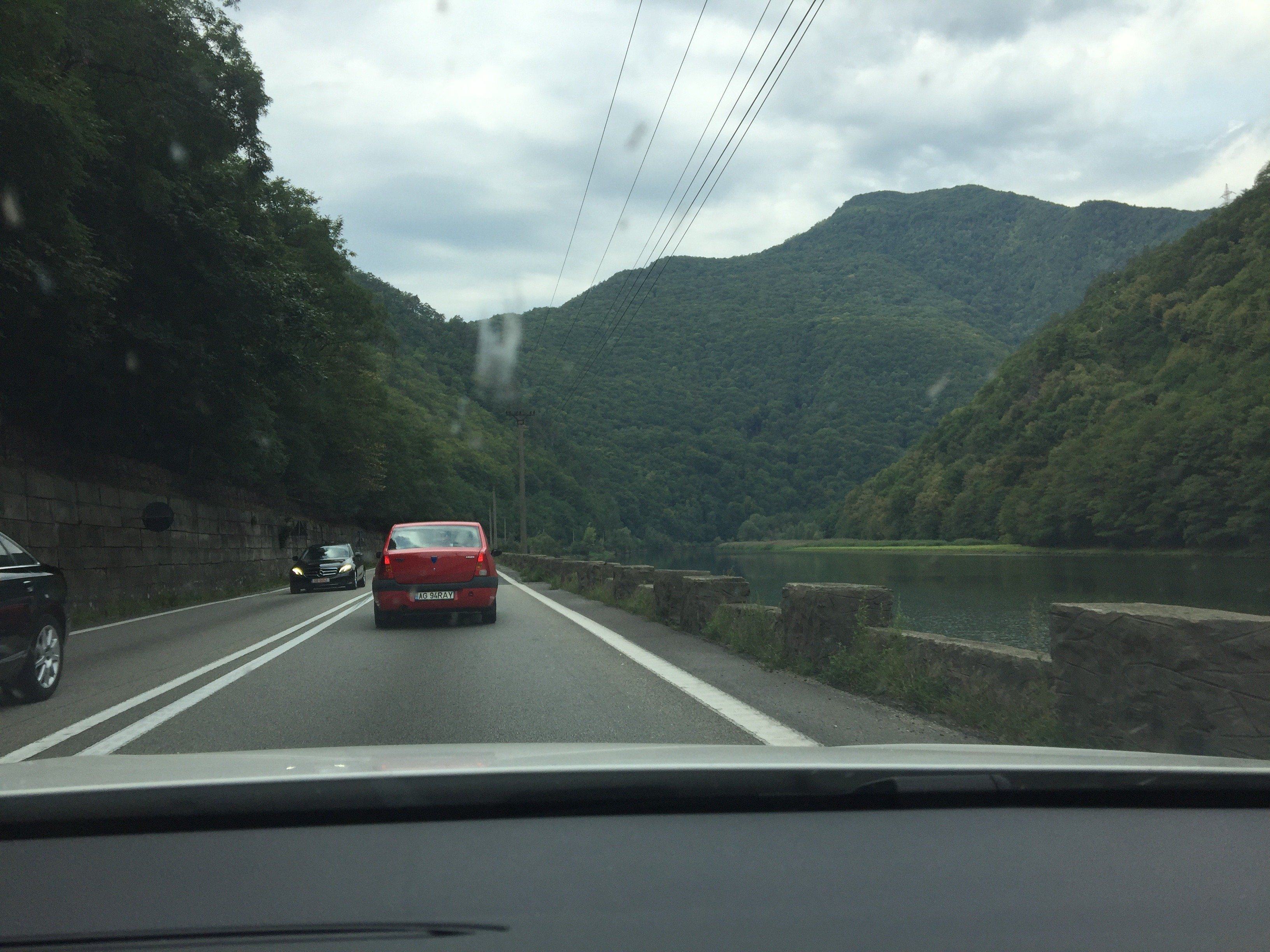 What driving in Romania looks like most of the time

Driving in Romania can be a beautiful experience especially if you go into remote, less-travelled regions. Besides picturesque landscapes, seeing local life and having maximum freedom, I think it's a great way to get to know our country. And visiting the famous tourist regions of Transylvania, Maramures or Bucovina is impossible without a car as there is no public transport between villages where tourist sights are located.
for extra guidance and navigation, install Waze and Google Maps on your phone, they're widely used and reliable

Renting a car in Romania. All the major international companies like Hertz or Avis are present in Romania, but there is also Autonom a very reliable and successful local car rental company with very good client service, network and usually cheaper. The process of renting a car is similar to what you're familiar with in other parts of the world and in Europe: ID, driver's license, deposit, etc. You may need to get an international driver's license if you're coming from a non-EU country. Be warned - most cars come with a and is to get full insurance for your rental car.



4. Buses, coaches and other transport options in Romania
There's always the option of letting someone else worry about traffic and road conditions in Romania! This website is a comprehensive aggregator and search portal for coach and bus routes operated by different transport companies in Romania. You'll see departure times, locations, prices and other details.
Another company operating internal bus routes is Memento Bus - haven't used them, but heard good reviews. This company is another reliable company for airport transfers and shuttle services.
From Otopeni Airport there is this company that does transfers to Brasov or Constanta. Check our full guide on Bucharest airport for info on shuttles to the city center, taxi and private transfers.
With roads being as they are, buses and vans may take 1h longer as they're making stops along the way. But even so, prices are very cheap. Buses depart from stations called 'autogari' or near the city's train station. Always ask a local to double check. When getting on a bus, be sure to confirm with the driver that he will stop where you want him to on the route.
***
There you have it – our complete local guide on public transport in Romania in 2022 and our advice on how to plan your visit and navigate our country. If there's anything missing - let me know!
If you're planning a do-it-yourself itinerary with multiple cities and tourist attractions especially in Transylvania, a convenient option is to book day trips and ask the guides to drop you off in the city you want (for example from Cluj to Sibiu or from Sibiu to Brasov). If you need help with this don't hesitate to contact us!
Your Romanian Friend
Marius