2-day Hiking Tour in Romania's Fagaras Mountains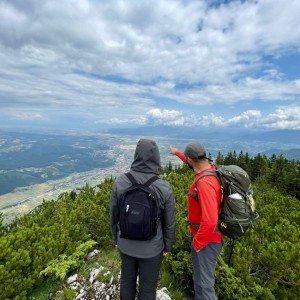 With: Marian

32
Join me on this hiking trip in Romania's most beautiful, largest and wild mountains - also known as Transylvania's Alps: Fagaras Mountains! Home to the famous Transfagarasan Road, there are 8 peaks over 2,500m altitude including the highest in Romania, Moldoveanu Peak. Fagaras Mts. are challenging and a "must do" for passionate hikers!
---
What you need to know about the hiking tour in Fagaras Mountains

This is a private hiking trip available on request starting from Brasov. Hiking routes will be agreed with the guide and depend on period and weather
Included: transport, licensed English-speaking mountain guide, overnight accommodation, food (1 breakfast, 1 lunch pack, 1 dinner). Not included: other supplies + cable car ticket
A good-to-very good physical condition is needed for this trip and adequate hiking gear. There are many trails of various lengths and difficulty to choose from, depending on your fitness, interests and weather
Transfagarasan Road is open for driving only during July-Oct; only then we can cross Fagaras Mts and go into Stan Valley. If outside this period, we go by cable car to Balea Lake and hike in the highs of Fagaras Mts.
Due to very high demand and limited accommodation options in the area, please book this tour with as much advance notice as possible
As this tour is private you can choose the trails and adventure you want to have. You can also extend the trip after the guide confirms availability
IMPORTANT: please read extra details on the next page

Additional information

Please bring appropriate hiking clothing: waterproof hiking boots, gaters, warm clothes, windproof and waterproof jacket, backpack with supplies (water, energy bars) etc. No technical equipment needed, but hiking sticks are good to have. No possibility to buy supplies in the area.

If the guide considers you are not adequately equipped (sneakers, normal clothing) he reserves the right to choose shorter / easier trails. Safety is our highest priority.

Weather is unpredictable and can change fast at 2.200m+ altitude. Average temperatures during summer are between 5-15C. There might be snow patches or parts with ice.

If you book when Transfagarasan Road is closed for driving, we will take the cable car up to Balea Lake. Tickets for you and the guide are NOT INCLUDED and must be paid on the spot (15 Euro/person round-trip).

I recommend requesting a booking for your dates with as much advance as possible so I can secure accommodation with a firm deposit. Due to limited capacity, accommodation needs to be paid in advance in full and is NOT refundable.

100% payment required when requesting a booking. 50% refundable if cancelled with 14 full days prior to departure. If with less then 14 days before tour starts, no refund is possible

If weather conditions deteriorate on the day of the tour and/or the cable car does not operate we DO NOT assume responsibility and no refund is possible. We will constantly check the weather and keep you updated if anything changes before your tour.
---
Moments to expect in the trekking tour in Transylvania's Alps:
Day 1: Enter Fagaras Mountains

We start from Brasov and enter the impressive Fagaras Mts from the North: if Transfagarasan Road is open for driving - we drive on 'the best road in the world'! If not, we take the cable car up to Balea Lake at 2,200m altitude. After we settle in our accommodation, we get ready to conquer the main ridge of Fagaras Mts. on a 4-6 hour introductory hike. The views are breathtaking and worth every minute!

Day 2: Hike Transylvania's Alps

As the tour is private, you can choose to spend the 2nd day in the heights of Fagaras Mts and go on the highest trails in Romania! You can summit Moldoveanu Peak, the highest in Romania at 2,544m altitude. The air is fresh, cool and the thrill of discovery pushes us forward! We admire nature's beauty and discover crystal blue glacial lakes. Fagaras Mts. are the most challenging so please don't underestimate them and come prepared for an adventure!

[alternative] Day 2: Vidraru Dam & Stan's Gorge

If Transfagarasan Road is open for driving we have the option to continue on the road to the South side of Fagaras Mts to the beautiful Vidraru Dam for some amazing pictures and views! Then, we begin hiking in the beautiful Stan Valley Canyon (which also has a via ferrata route - no technical equipment needed) where we come in close contact with virgin nature deep inside Fagaras Mts! You will have a real mountaineering experience here with some adrenaline too - a 4-6 hour route.

Accommodation at Balea Cabin or Podragu Cabin

Depending on which trail you want to do, you can spend 1 night in Balea Cabin (double rooms with en-suite bathroom) or Podragu Cabin (mountain cabin deep in Fagaras Mts. with shared dormitory and toilet). These are the only overnight options in the area and there is a lot of demand for them from hikers all over the world so, please -- book in advance!
Location details
Starting point:

Brasov (pick-up)

Nearest airport:

Bucharest or Sibiu

Nearest train station:

Brasov

Landscape:

Mountains, canyons, forest
Other tours nearby

Subscribe to our Romanian quarterly magazine
4 times a year we prepare a newsletter with local stories, places and our special insights about Romanian culture and local life that will inspire you to visit our country and have an authentic local experience. Would you like to get it?