3 Days at an Eco-Friendly Private Cabin: Hiking, Wildlife & Nature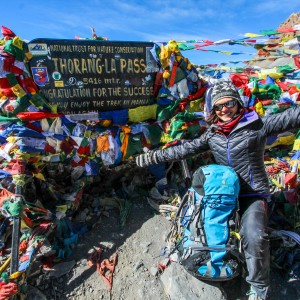 With:

Simona
High in the Fagaras Mountains we have a cosy mountain cabin just for you and your group! During daytime you will go on guided hikes in the wildest parts of Romania, look for wildlife and breathtaking landscapes. In the evening you will feast with organic, locally-sourced meals, relax and enjoy nature's beauty up close. A unique experience in the heart of Romania's Carpathian Mountains!
---
What you need to know about this Mountain Cabin stay in the Carpathian Mountains:

This is a 3 day all-inclusive eco-tourism private trip for 2-5 people who love mountaineering & nature experiences. Starting point: Zarnesti or Podu Dambovitei
All services on this trip are offered by a Romanian non-profit for wildlife conservation. Booking this trip will support their work!
Included: off-road transport from starting point, 2 nights accommodation, full board, hiking guidance and wildlife tracking activities
Each day you will go on hiking and wildlife observation trips with a professional and licensed mountain guide. Physical effort can vary from medium to high. Route will be adjusted on the spot depending on factors
Don't worry about food - all meals are prepared with delicious, organic and locally sourced products. Local wines and traditional drinks included.
Our mountain cabin offers high quality eco-tourism accommodation: comfortable beds, all essential, bathroom with shower, heating. No electricity, but spectacular views!
All funds will support running and expanding our mission: to create a wilderness reserve to preserve the raw natural beauty of the Carpathian Mts.

Additional information

Transfers from Brasov and Bucharest available at extra cost on booking page.

Please bring adequate hiking equipment: backpack, hiking clothes and footwear according to season and weather conditions. As there is no electricity, bring flashlights and battery chargers.

You will be escorted by a mountain guide at all times during your trip. Professional assistance.

Wildlife observation in safe conditions, but spotting animals is not guaranteed - nature cannot be controlled.

Payment in full required when booking. Refundable if you cancel with up to 7 full days before tour starts - Romanian Friend moderate policy applies.
---
Moments to expect
Day 1: enter Fagaras Mts & check-in

We meet in Podu Dambovitei (70 km from Brasov) and from there we travel to the heart of Fagaras Mountains! We go 1h offroad in a 4x4 vehicle and then hike for 15 min with our bags to arrive at our beautiful cabin! True to Romanian hospitality, we begin our stay with a glass of traditional drink (tuica) and appetizers while admiring the superb views of Pecineagu Lake from the cabin. We begin exploring the area, check our wildlife cameras and look for forest-dwelling locals. In the evening we feast on a delicious menu and local wines!

Days 2 & 3: Hiking and wildlife observation trips

Wildlife and bird observation is done in the morning - you will wake up with a cup of coffee and see animals from inside the cabin! After a tasty breakfast with homegrown local products, we get ready to go hiking in the alpine meadows of Fagaras Mountains - amazing views await! We return in the afternoon, look for more wildlife and enjoy the delicious evening meal. The trips will be customised according to your preference and physical condition.

Our mountain cabin with a view

You will stay at our specially built eco-friendly wooden cabin high up in the mountains with a SUPERB view of Pecineagu Lake. The cabin has a private bathroom with shower and can accommodate max. 5 guests. The food is organic, locally sourced, with local Romanian wines too - all included in price. How does that sound?

Views from the cabin

We don't call it a nature observatory for nothing - prepare for some spectacular views: sunrises, sunsets, night sky -- all perfect for admiring and photography!
Location details
Starting point:

Zarnesti or Podu Dambovitei

Nearest airport:

Bucharest International or Sibiu

Nearest train station:

Brasov or Zarnesti

Landscape:

Mountainous & forrest
Reviews from travellers Andy C. on 06.05.2019
We stayed for 3 nights at the Wildlife Hide. It was a wonderful experience feeling this far away from the world. Our guide took a lot of effort showing us the area around and he delighted us with some Romanian cuisine. The hike up to the cabin is quite challenging (not far, but steep). If you visit the Carpathians, this is definately a recommendation to stay! There are hides near Brasov that you can visit in mornings and evenings and they will show you more wildlife, but this trip is a different experience all-together: complete wilderness and nature! Thanks to Romanian Friend for assistance with our questions and booking! David T. on 25.10.2018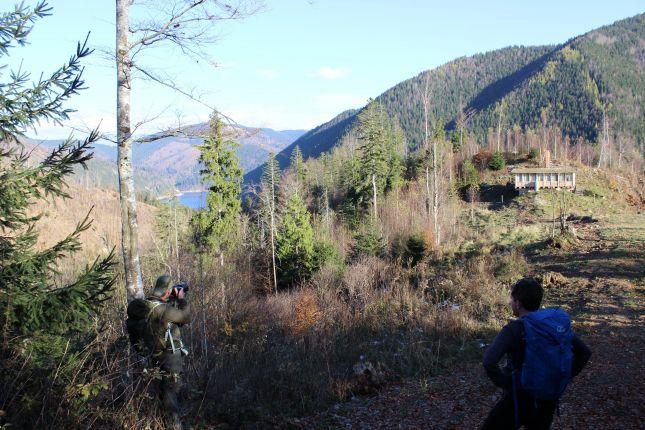 We really loved our time on this trip. It was absolutely magical to be up in the mountains, hiking in the wild, and staying in this beautiful cabin. Cristian was our guide. The man knows everything! He answered every question we had about the foundation, the park, Romania's history, our surroundings. We were stunned. He was so friendly, sorted my girlfriend out with some vegan nibbles, and wine for us upon arrival, and checked in with us every step of the way, giving us an amazing hike that was both manageable and comfortably challenging, for two hiking novices. He was able to tell us about the paw prints in the snow, the trees, the call of the birds, a genuinely lovely man. The cabin itself is very cool, surrounded by a most dramatic background of mountains, lakes and forest. It snowed all day before we had arrived, so be warned the cabin can be very cold when you arrive, or when you're leaving, but heats up so so quickly and it's the cosiest place once it does -despite the flies, who also seem to love the heat! We were also really grateful to be picked up and dropped off so conveniently, and the entire experience was an adventure we were delighted to have tried. Certainly hoping to try something similar in future. Many thanks to Romanian Friend for answering our questions before booking and making sure everything goes smooth. A highly recommended experience!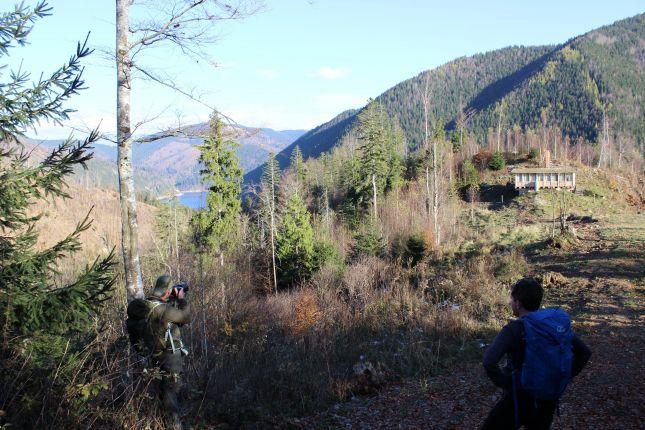 Thomas J. on 29.09.2018
The trip was wonderful! The mountains were beautiful, the cabin stunning and well-equipped, Iulia our guide was well-informed and great fun, and Romanian Friend was flexible and communicative with our booking and questions. Would highly recommend this experience. Best of all, the money spent goes to support conservation works in this beautiful area!
Other tours nearby
Start from: Zarnesti or Podu Dambovitei
Subscribe to our Romanian quarterly magazine
4 times a year we prepare a newsletter with local stories, places and our special insights about Romanian culture and local life that will inspire you to visit our country and have an authentic local experience. Would you like to get it?