3-day Hiking Trip at a Wildlife Observation Refuge in Fagaras Mts.
With: Simona

2
Let us take you on a hiking trip to the most beautiful and unspoiled parts of Fagaras Mountains, the most famous of the Carpathians, where breathtaking views await and rich wildlife roams free! You will spend 3 days hiking in the area and doing wildlife observation or tracking from our specially-built observation refuge at 1,700 m. A unique mountaineering experience!
---
What you need to know about this wildlife observation trip:

A private 3-day hiking trip starting from Podu Dambovitei (70 km from Brasov) or Brasov (on request, extra charge) for 2-5 people who love nature & mountaineering
Included: transport with 4x4 vehicle, 2 nights accommodation at the refuge, basic full board, hiking guidance and wildlife observation with a specialised guide
You'll stay in a private wooden observation refuge with a basic kitchen, bunk beds, outdoor dry toilet and no running water or electricity. We provide sleeping bags but you need to bring sleeping bag liner (or rent from us)
Hiking in the area requires a good physical condition (medium to high difficulty). Routes will be agreed on the spot depending on weather, your fitness and preferences
There are 2 wildlife observation refuges in the area. Spotting wildlife is not guaranteed as nature cannot be controlled, but chances are very high and we'll do our best to see some animals!
Don't worry about food - the guide will prepare meals with delicious, locally-sourced products and ingredients [included in price]
The trip is organised by a Romanian non-profit for wildlife conservation. All funds will support our organisation and mission!
Important: please read next page for more info

Additional information

Transfers from Brasov (60 Euro) and Bucharest or Sibiu (240 Euro) available at extra cost on booking page.

Please bring adequate hiking equipment:
- Hiking/outdoor clothing and footwear according to season and weather in the mountains at high altitudes (usually cold).
- Day backpack
- Warm clothes (it might be chilly in the morning and late evening)
- Rain jacket
- Sun hat/sunglasses
- Headlamp or torch
- Mosquito spray (optional)

At Comisu Hide, you will find:
 Eco-friendly, wooden building with rustic design
 Bunk beds and sleeping bags
 Kitchenette
 Towels
 Rustic fireplace
 Outdoor toilets
 Large windows for wildlife watching and wildlife photography
 Binoculars
 Fresh air, tranquillity and great company

At Comisu Hide, you will not find:
o Wi-fi
o Electricity
o Running water
o Shower

Large trolleys and bags will be left in the car as they CANNOT be taken up to the cabin. Please bring a smaller bag or backpack to take the essentials with you to the cabin.

You will be escorted by a mountain guide at all times during your trip.

Wildlife observation in safe conditions, but spotting animals is not guaranteed - nature cannot be controlled.

Payment in full required when booking. Refundable if you cancel with up to 7 full days before tour starts - Romanian Friend moderate policy applies.
---
Moments to expect during the wildlife observation trip
Enter Fagaras Mountains

We start our journey in Podu Dambovitei or Brasov (on request) around noon and enter Fagaras Mts. by offroad car. We leave the car and start hiking our way deeper into the mountains with only essentials with us. On our way, we become familiar with the area and start looking for signs or tracks of wild animals and other forest-dwelling creatures!

Our wildlife observation refuge at 1,700m

We hike our way up the mountains to reach the wildlife observation hide at Comisu, located in a completely wild and not unpopulated area. Made out of wood with a rustic feeling and large windows, it blends in with the natural setting and offers spectacular views of the surrounding area! Animals sometimes pass in the area so we can do wildlife observation 'from home' :)

Introduction to wildlife watching and tracking

During this trip you will learn about Mother Nature's ecosystem in the Carpathian Mts. Our specialised mountain guide will give you binoculars and teach you about animals' natural habitat and take you on wildlife tracking and observation trips. We check forest observation cameras, look for animal tracks and enjoy the superb views in the area while hiking! Keep in mind that seeing animals is not guaranteed as nature cannot be controlled but in these parts the chances are very high: bears, deer, boars, foxes, eagles, etc.

Hiking in Fagaras Mountains

We are in the heart of Fagaras Mountains - Transylvania's Alps. There are plenty of hiking trails to choose from, of various difficulty and rewards. We can go up to 2,100m, circle Pecineagu Lake or explore other nearby peaks. Prepare for some mountain adventures!

Facilities at the cabin/hide:

Our eco-friendly, purpose-built wooden cabin will be exclusively for you (it is not a tourist cabin!) and HAS bunk beds for sleeping bags, a kitchenette and rustic fireplace to keep us warm, outdoor toilets, fresh air, peaceful nature and great company! You will NOT have: running water/shower, wi-fi, phone reception or electricity. You will reconnect with nature and the wildlife around you!
Location details
Starting point:

Zarnesti or Podu Dambovitei

Nearest airport:

Bucharest Henri Coanda International Airport

Nearest train station:

Zarnesti or Brasov

Landscape:

Mountainous & forrest
Reviews from travellers Joshua W. on 12.06.2019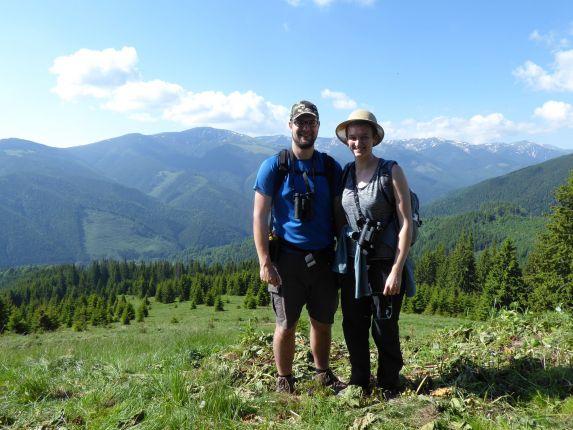 Our time at the hide with Vlad was absolutely brilliant. We can't help but feel very lucky to have seen boar, bear and deer up close and personal all in one evening! The views from the mountain top were breathtaking and we saw lots of tracks on our hike. Thank you Romanian Friend for a wonderful experience - we will never forget it!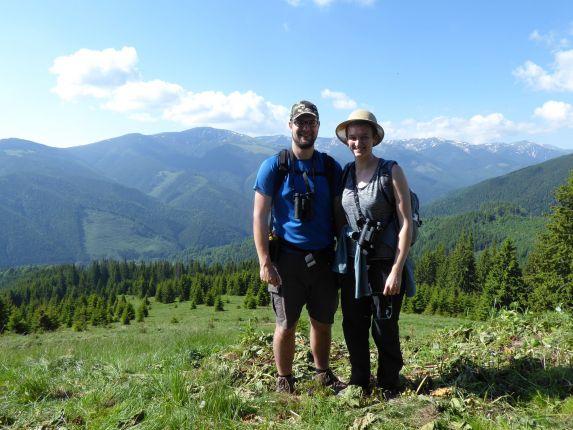 Other tours nearby
Start from: Podu Dambovitei
Subscribe to our Romanian quarterly magazine
4 times a year we prepare a newsletter with local stories, places and our special insights about Romanian culture and local life that will inspire you to visit our country and have an authentic local experience. Would you like to get it?