The BEST of Romania 9-Day Shared Group Tour [2023]
With: Bogdan

17
Do you want to experience the BEST of Romania? Beyond typical tourist spots? Come with us on this tour if you want to live in the countryside of Maramures and Transylvania, wake up when cows 'leave for work', eat home-cooked delicious meals and see firsthand Romanian culture while enjoying unique views of our country. Bring your curiosity and excitement - we'll take care of the rest!
---
What you need to know about the Best of Romania Tour:

A 10-day shared group tour leaving on 7 June [FULLY BOOKED], 12 July [FULLY BOOKED] and 20 Sept [2 people registered]. Tour runs ONLY IF min. 4 people are registered. Max group size: 8
A unique itinerary for a complete Romanian experience: famous cities, castles, life in Transylvania, beautiful views of the Carpathian Mts and rural culture in Maramures. Enjoy traditional dishes with organic products and meet locals in their homes!
INCLUDED: 9 nights in premium 4* accommodation (incl. breakfast), 5 dinners, all transport costs in a comfortable minivan, English guide with 10+ years of experience, tickets for all sights, water and snacks for the road, 2 x airport transfers
NOT included: flights, other meals, insurance, personal expenses and bear watching program [optional] in Brasov
This itinerary was designed to balance time on the road, visits, free time and inclusive tourism. We want you to have an authentic Romanian holiday while also giving back to local communities
Please read page 2 for more details. Contact us for any questions.

Additional information

30% deposit required when booking. Refundable if canceled with 30 days before the departure date. If canceled after, not refundable.

The balance has to be paid with within 30 days before tour starts. If you cancel between 30-21 days, you'll get a 70% refund of the total price. If between 14-21 days, 50% refund. If less than 14 days, no refund.

Single person room occupancy costs 600 Euro.

The bear watching program in Brasov costs 60 Euro / person.
---
10-Day Best of Romania Tour itinerary:
Day 1 - Enter Transylvania: a home-cooked meal & Sibiu

We start in the morning with a scenic drive to the famous Transylvania region through Transfagarasan Road (except in June). In Sibiel village at the foothills of the Carpathians, a local family will be waiting for us with a home-cooked meal while you get to explore authentic village life. In the evening we travel to Sibiu and after we settle in at our hotel we go for a walking tour of this bohemian city famous for its culture and medieval atmosphere. Free time.

Day 2 - The impressive Turda Salt Mine & Cluj-Napoca

After breakfast we drive to Turda Salt Mine, a 2,000 year old cave with many tunnels and grottas turned into a spectacular tourist attraction. Breathing salty air is good for your lungs so we'll do plenty of that while exploring the mine! Then we travel to Cluj-Napoca, Transylvania's unofficial capital. After checking in to our centrally-located hotel, we'll explore the city and walk up to Fortress Hill to admire spectacular views of the area. Free time.

Day 3 - drive to Maramures

After breakfast, we still have some time to discover Cluj. You can choose a sight based on your interests: the Botanical Garden (#1 in Romania), the Jewish Museum, Steampunk Transylvania (a fantasy museum), or the outdoor Village Museum. Or enjoy a specialty coffee (Cluj is famous for it!) and blend in with local life on your own. Around noon we start a 3h drive to the picturesque region of Maramures, the most authentic and culturally representative in Romania. We arrive just in time for dinner at our family-owned guesthouse, to relax in the clean fresh countryside air and SILENCE!

Days 4 & 5 - Wooden Churches and authentic rural life

We spend the next 2 days in the region since there's much to do here! The schedule will be flexible depending on weather, your preferences and Sunday events when people go to church dressed in folk costumes. We can visit some of the UNESCO Wooden Churches for which Maramues is famous, Sapanta Merry Cemetery or the Communism Memorial. If they're free, we can visit local artisans (wood carvers, weavers or tuica-makers!) or go on hikes through villages to admire picturesque views and experience village life. Tourist sights and activities are located in different villages (Breb, Desesti, Ieud, Peri) so we'll try to balance time spent on the road with time visiting and relaxing. Maramures is all about SLOW life!

Day 6 - Saxon Transylvania and Sighisoara Citadel

From village life in Maramures we return to civilisation, but in medieval times. We drive to Sighisoara in the heart of Saxon Transylvania. We settle in our hotel in the heart of Sighisoara Citadel, a medieval townhouse turned luxury guesthouse. We'll go for a walk to explore the UNESCO Citadel's main sights (Citadel's Square, Clock Tower, the Scholars' Stairs and Vlad the Impaler's birth house). Then you'll have free time to get lost on the cobbled streets on your own - which will surely delight you!

Day 7 - the most famous village in Romania, and the most picturesque

In the morning we leave for Viscri, the most famous of the UNESCO Saxon Fortified Villages. With its well-preserved village life it impressed the UK'S King Charles who bought and restored a village house here to spend his Summer holidays. We'll go for a walk through the village and then visit the fortified church of Viscri. Then we travel Magura, the most high-altitude village in Romania at the base of the spectacular Piatra Craiului Mts, overlooking Bucegi Mts. In our humble opinion as locals - this is our favorite area in our country. And when you get here, you'll see why!

Day 8 - Bran Castle, Brasov and - why not? - bears in the wild!

After a scenic breakfast we'll go visit the famous Bran (Dracula) Castle to cross this 'must do' off our list. Then we go to Brasov to explore its Old Town area. Thanks to its charming houses and picturesque sceneries, this is Romania's 'darling city.' We'll visit famous landmarks (Black Church, Council Square, Rope Street, Catherine's Gate and medieval fortifications). Then you'll have free time to explore the city on your own before we 'escape' from civilisation back into the peace and quiet of Magura village.
[Optional] In the afternoon you can go on a 4h bear watching trip in the wild [60 Euro/person].
Cancelation & refund policy
Special
This tour has a special cancelation policy set by our guide. For more information please check page 2 from the What you need to know section on the previous page.
Location details
Starting point:

Bucharest

Nearest airport:

Bucharest Otopeni 'Henri Coanda' Airport

Nearest train station:

Bucharest North Train Station

Landscape:

Urban, hills, countryside
---
Questions about the Best of Romania
The guesthouses and hotels we selected for this trip have the best value-for-money: centrally located or family owned, beautifully decorated with 4* comfort, comfy beds, spacious rooms, delicious and rich breakfast. They'll fit in nicely with the theme of this tour so you have a good time. Examples (depending on availability): Hilton Garden Inn (Bucharest), Bella Muzica (Brasov), Fronius Residence (Sighisoara), The Council (Sibiu).
Reviews from travellers Lisa K. on 28.09.2019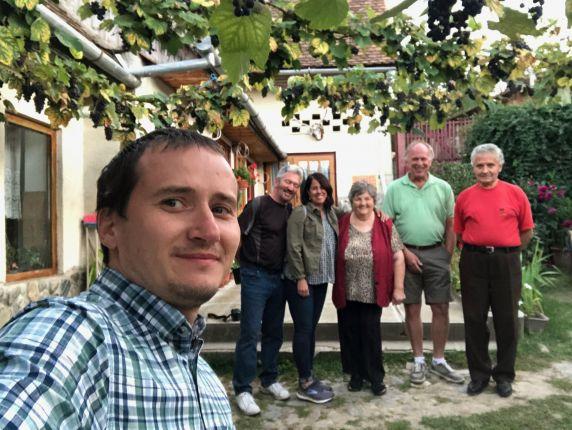 Bogdan is a true professional. He is professional yet so personable. All of the sites and experiences were excellent. This is one of the best tours I've ever taken and I'm lucky I found it on Romanian Friend! It had the perfect mix of driving, outdoor activities, history and fun. Romania is a beautiful and interesting country and Bogdan is an expert in the history and has just wonderful anecdotes and jokes. He has a great relationship with the proprietors of the beautiful accommodations and the experiences he set up for us. The best for me were the meals at the homes of local families. The Romanians are so warm and welcoming. I felt like family before I left. I'm already planning to return again soon.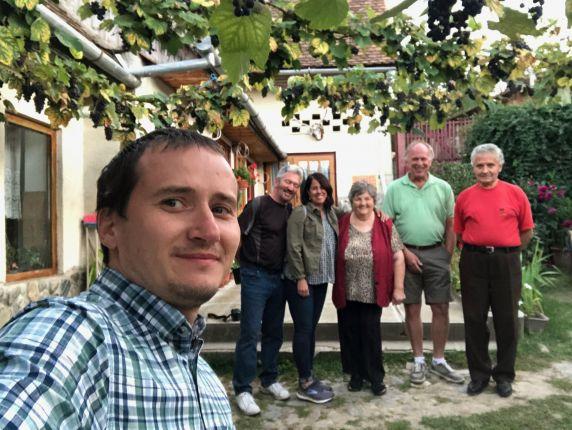 Other tours nearby
Start from: Piata Romana (Romana Square)

Start from: Lipscani street
Subscribe to our Romanian quarterly magazine
4 times a year we prepare a newsletter with local stories, places and our special insights about Romanian culture and local life that will inspire you to visit our country and have an authentic local experience. Would you like to get it?