8-day Best of Romania Shared Group Tour in 2019
With: Bogdan

9
A unique and fascinating 8-day itinerary prepared by Romanian Friend as a shared group tour so you get the best, complete and authentic Romanian experience! Discover the beauty of our country by visiting major cities and landmarks, meeting friendly locals (who will cook traditional meals for you!) and learning about our history, culture and local life. The best value-for-money tour you will find!
---
What you need to know about this Romania small group tour:

8-day group tours for like-minded travellers! Small groups (min 4 - max 10 people) departing from/returning to Bucharest on fixed dates in 2020. Dates to be announced soon - contact us for details!
A unique, authentic and complete Romanian experience: traditional (rural) culture, historic landmarks and sights, beautiful nature and Carpathian Mts, see bears in the wild LIVE, experience local life and crafts, enjoy delicious organic food and a peaceful holiday in Transylvania countryside!
Included: 7 nights in carefully selected hotels and guesthouses (with breakfast), special lunch/dinner on 5 days, tickets for all sights, activities and workshops mentioned, transport with modern minivan adapted for tourism, guidance from a passionate local guide, welcome package with snacks for the road and souvenirs
Not included (but some available at extra cost): flight tickets, transfer from/to Otopeni Airport on day 1 or 8 of tour, accommodation on day 0 or 8, insurance, other personal expenses
Itinerary designed to balance time spent travelling, sightseeing and group activities - including enough free time so you can explore at your own pace
Contact us for more details or to get a description of the full itinerary!

Additional information

Guaranteed departure if min 4 people are registered. If only 2, tour can still take place but the price/person will increase.

30% deposit required when booking. Refundable if canceled with 30 days before departure date

70% to be paid within the 30 days before tour starts
---
Moments to expect & itinerary for the 8-day Romania group tour:
Day 1: Bucharest Old Town & City Landmarks

We start the tour at 3 pm and by visiting the Old Town Lipscani area to learn the city's history. Many charming 19th-century townhouses have stories to tell. We then go for a walk on the famous Victory Avenue where the city's major landmarks can be admired: Revolution Square where the 1989 anti-communist movement started, the superb Romanian Athenaeum and the National Art Museum, former Royal Palace.

We finish the evening with a traditional welcome dinner at one of Bucharest's emblematic restaurants!

Day 2: Famous Romanian Castles & medieval Brasov

We travel to Sinaia to visit Peles Castle, a masterpiece of German Neo-Renaissance style from the late 1800s built as a summer residence for the Romanian Royal Family. The castle is very well preserved and many of its 168 rooms are decorated with the finest examples of European art. Next, we stop at Cantacuzino Castle in Busteni to admire the 'Romanian version' of Peles Castle. We move on to Brasov, a charming medieval city and our gateway into Transylvania. Guided tour of Old Town, Council Square and Black Church.
Free time for dinner. Overnight in mountain guesthouse in Magura village.

Day 3: Picturesque hike, Bran Castle and... bears!

After a filling Romanian breakfast-with-a-view, we go on a light hiking trip to explore the traditional and picturesque villages in the area, guarded by the Carpathian Mts. The landscape here is breathtaking and unique, so bring your camera! In the afternoon we visit Bran Castle, the #1 tourist attraction in Romania also known as Dracula Castle. We learn the real history of this impressive medieval citadel. Late afternoon we head into the wilds for a unique bear watching experience!

Traditional Romanian dinner at our guesthouse in Magura.

Day 4: The charm of Transylvania

Time to understand why the region of Transylvania is so famous: a land of villages with fortified churches, picturesque hills and traditional rural lifestyle. We stop first in Viscri, the most representative of the Saxon Villages to visit its famous UNESCO site and have a delicious lunch prepared by locals. Next, we travel to the center of Transylvania to discover Sighisoara Citadel, the best-preserved medieval settlement in Europe! We go for a walk to see the Clock Tower, Main Square and then on Scholar's Stairs to reach the best viewpoint of the Citadel!

Lunch in Viscri. Overnight in Sighisoara Citadel.

Day 5: Cultures of Transylvania: Romanian, Saxons and Rroma

After breakfast, we leave for a nearby village to visit a typical Rroma family. We learn about the culture and lifestyle of this 3.8 mil strong ethnic group living across 12 states in Europe, also known as Gypsies. Come afternoon and we drive to the outskirts of Sibiu in Sibiel. While we visit the village and the Painted Icons Museum, a traditional Transylvanian lunch is prepared for you by a local family. After the feast, you can relax in their huge backyard and admire the beautiful scenery before moving on to Sibiu. Evening tour of the Old Town area.

Overnight in Sibiu. Free time for dinner

Day 6: Day trip into Romanian history

Clashing between the Austro-Hungarian, Ottoman and Russian Empires, our country had a complicated history. So we go on a field trip to find out! We visit Corvin (Hunyade) Castle, a 14th century Gothic-meets-Renaissance fortress where Transylvania's rulers from the Middle Ages resided. Much history – and legends – are here! Next, we travel to Alba Iulia Citadel, the birthplace of modern-day Romania in 1918. This beautiful Roman citadel survived the test of many troubled times and is a perfect ending to our field trip!
Return to Sibiu in the evening & free time for dinner.

Day 7: Driving on the Best Road in the World!

Let's switch gears: from Transylvania's mellow hills we go to 2,200m altitude on the spectacular Transfagarasan Road! We get there by cable car or we drive during July-Oct. An unnatural crossing over Fagaras Mts., the highest and mightiest in Romania, this road is also called Ceausescu's Folly. And the views from Balea Lake – breathtaking! We return to Sibiu in the afternoon or continue across the Carpathians to Vidraru Lake and Curtea de Arges. 

Optional food tour in Sibiu. Overnight in mountain guesthouse (July-Oct).

Day 8: Romanian Culture in Wallachia: UNESCO ceramics and kula

Time to discover Romanian culture typical for Wallachia region: we travel to Horezu, a village known for its pottery and ceramics craftsmen who use unique patterns and techniques, recognized by UNESCO. Theory is nice but practice is better: under the guidance of a renowned artist, you will make your own… object! We then visit a 'kula' – a boyar house fortified to protect against raiders, fascinating even for Romanians! One of them has been turned into a lovely guesthouse serving traditional Romanian fine-dining dishes. But the views and peaceful feeling you'll get here? Unforgettable!
Lunch included.
Arrival in Bucharest in the evening.
Location details
Starting point:

Bucharest

Nearest airport:

Bucharest Otopeni 'Henri Coanda' Airport

Nearest train station:

Bucharest North Train Station

Landscape:

Urban, hills, countryside
Reviews from travellers Lisa K. on 28.09.2019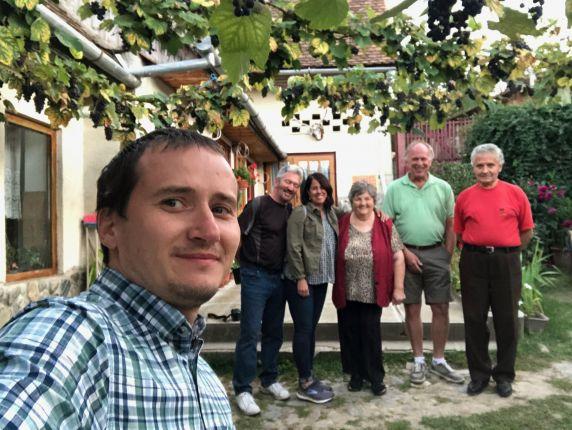 Bogdan is a true professional. He is professional yet so personable. All of the sites and experiences were excellent. This is one of the best tours I've ever taken and I'm lucky I found it on Romanian Friend! It had the perfect mix of driving, outdoor activities, history and fun. Romania is a beautiful and interesting country and Bogdan is an expert in the history and has just wonderful anecdotes and jokes. He has a great relationship with the proprietors of the beautiful accommodations and the experiences he set up for us. The best for me were the meals at the homes of local families. The Romanians are so warm and welcoming. I felt like family before I left. I'm already planning to return again soon.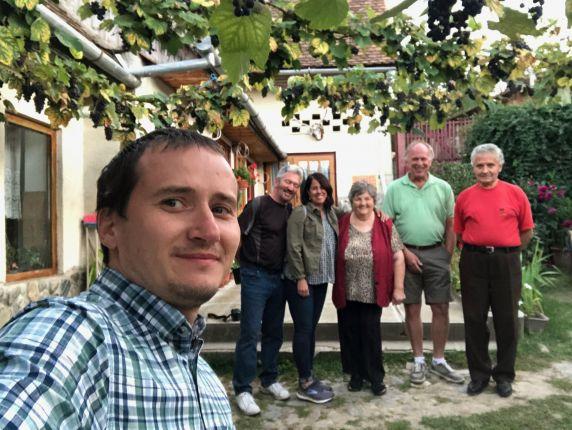 Other tours nearby
Start from: Lipscani street
Subscribe to our Romanian quarterly magazine
4 times a year we prepare a newsletter with local stories, places and our special insights about Romanian culture and local life that will inspire you to visit our country and have an authentic local experience. Would you like to get it?