2 Day Hiking Trip in Bucegi Mts: The Sphinx & Omu Peak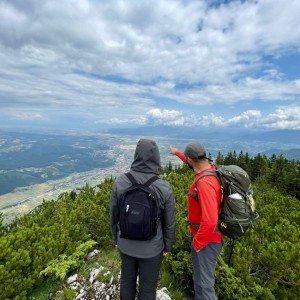 With: Marian

59
Ready for an adventure? On this 2 day hiking tour we'll cross Bucegi Mountains from one side (Sinaia) to the other (Bran) by going all the way up to an "air bridge" at 2,000m altitude! Along the way you'll see the famous Sphinx, Babele and Caraiman Cross and admire the beauty of Bucegi Natural Park. We can also summit Omu Peak at 2,505m if you're up for it!
---
What you need to know about the hiking trip in Bucegi:

This is a private and customisable hiking tour on demand starting from Sinaia, Busteni or Brasov. Best period: end of April / May - early November
Included: 1 night accommodation at a basic mountain cabin with breakfast, licensed English speaking mountain guide, transfer Brasov to Sinaia, transfer Bran to Brasov, luggage transfer
Not included but available at extra cost: lunch and dinner, cable car ticket from Sinaia to 2,000m [if you don't want to hike uphill], entrance fee to Bran Castle [if you want to visit]
Suitable for people with medium - very good physical condition and hiking experience. Warm hiking clothes, backpack and waterproof boots mandatory. Main luggage will be transferred and you'll only cary a backpack with you
We can adjust the hiking trails and natural sights we're going to see depending on your preferences, fitness and weather conditions. Read 2nd page too
This trip can start from Sinaia (accessible by train from Bucharest) and can be extended with 1 day for more hiking in Bucegi or in Piatra Craiului National Park!

Additional information

The cable car is not working on Mondays and when weather conditions are not good (windy, heavy rains) so we'll have to hike uphill from 1,400, to 2,000m.

If you book this tour early or late in the season and there is snow, our guide will inform you if you need additional clothing, snow shoes or if the tour needs to be canceled to because of too much snow and/or risk of avalanches (and you'll be refunded).

Our guide requires payment in full upon booking.

Cancel with up to 7 days in advance to get full refund.
---
Moments to expect in the trekking tour in Bucegi Mountains:
Going up to Bucegi Plateau

We drive from Brasov to the beautiful mountain resort of Sinaia (or meet you there) where the impressive Bucegi Mts close the horizon. You leave your main bag in the car and from 1,400m altitude we can take a cable car to 2,000m to Bucegi Plateau or hike 3h uphill to get there (medium difficulty). Either way, the views will be beautiful!

See Caraiman Cross, and the Carpathian Sphinx and Babele rocks

Once on the plateau we'll go for a hike to see the famous sights of Bucegi Mountains. There are lots of legends and folk stories surrounding the unusual Sphinx and Babele rock formations - and when you'll see them you'll understand why! Then we move on to Caraiman Cross, an impressive monument dedicated to fallen soldiers during WWI overlooking Prahova Valley and offering superb views of Eastern Romania.
Total hiking time 6-8h; medium difficulty; 500m uphill/downhill altitude difference

Summit Omu Peak (2,505 m)

If you're in great shape and looking for a hiking challenge - and the weather is good - on day 1 we can summit Omu Peak, the highest in Bucegi! We stop for lunch at Omu hut and admire the views before returning to our accommodation (depending on itinerary).
Total hiking time 9-10h; medium-high difficulty; 600m uphill/downhill altitude difference

[Day 2] Descend to Bran / Moeciu area

Time to descend from the high mountains on the other side of Bucegi! You can choose a shorter and easier trail if you also want to make it in time to visit Bran Castle or a longer, more challenging trail if you want to keep exploring the Bucegi Natural Park and see other impressive natural sights along the way (Valea Cerbului, glacial valleys)!
Total hiking time: 4-5h or 7-8h; medium-hard difficulty; uphill/downhill 400-900m or 1300-1800m

[Tour extension] Extra day in Bucegi or hike in Piatra Craiului

As this trip is private you can extend it with 1 day&night so you spend more time hiking in Bucegi Natural Park (eg. to Bolboci Lake or Cheile Tatarului). Or if you choose to descend on the other side to Moeciu / Bran area, we can do spend the night there so the next day we go hiking in Piatra Craiului Natural Park, which is absolutely stunning! We can go in Cheile Zarnestiului, up to Curmatura Hut, summit the highest peak or explore villages. Your main luggage will be transferred.
Extra 220 Euro / person [all included] available on the booking page.
Cancelation & refund policy
Medium
Sends us or the guide an email 3 days before the tour informing us you can't make it and you'll get a full refund of your payment, no questions asked.
Location details
Starting point:

Brasov or Sinaia or Busteni

Nearest airport:

Bucharest or Sibiu

Nearest train station:

Sinaia or Busteni

Landscape:

Mountains and narrow paths
Reviews from travellers Daniela C. on 23.10.2023
I had a perfect 2 days hiking trip in the Bucegi mountains with some great views and nice landscapes from rocky cliffs, to a nice plateau, an interesting gorge and beautiful autumn forests. The tour guide Radu was very nice and had a lot to tell about the region and the history of rumania. I booked the tour last minute and was happy it worked out. I really loved this hiking trip and would highly recommend it.
Other tours nearby
Start from: Bucharest OR Brasov

Start from: normally, Brasov. pick up possible from OTP/Bucharest or Sibiu
Subscribe to our Romanian quarterly magazine
4 times a year we prepare a newsletter with local stories, places and our special insights about Romanian culture and local life that will inspire you to visit our country and have an authentic local experience. Would you like to get it?