Romania has no less than 30 national parks with acres and acres of old-growth forest treasures waiting for you to explore during your trip to Romania.
Romania's national parks are all on the UNESCO World Heritage site list or in the UNESCO "Man and Biosphere" program and are some of the most astonishing European national parks, known for their wilderness, secular forests and rich wildlife.
No wonder Romania has been called Europe's last wilderness reserve and there are 3 documentaries that show breathtaking natural landscapes and the many animals species that live in our country:
Untamed Romania
Wild Romania
Wild Carpathia
So in this article we're going to highlight the most beautiful national parks in Romania, how to visit them and prepare for your trip.
Be sure to check our guide on how to visit Romania for the first time for more practical info on that.
National parks vs natural parks in Romania: what's the difference?
As you read about Romania's natural attractions, you may come across two terminologies:

natural parks (e.g. Bucegi Natural Park, Apuseni Natural Park)
national parks (e.g. Retezat National Park, Piatra Craiului National Park)
Few countries distinguish between parks and natural areas in this way, which is mainly an administrative issue, so what's the difference?


What is a national park in Romania?
A national park is a protected area on a large piece of land within well-defined legal borders. They are known for their exceptionally valuable biodiversity and recognized for their wild and beautiful natural landscapes.
Two important aspects are that the land must be owned by the state and that the park is a mountainous region.
There are 14 national parks in Romania and the most popular ones are:

Piatra Craiului
Retezat National Park
Nera Gorge (Cheile Nerei-Beușnița)
the Danube Delta with Letea Forest (the oldest natural reserve in Romania)
Călimani National Park
and Cheile Bicazului (Bicaz Gorges)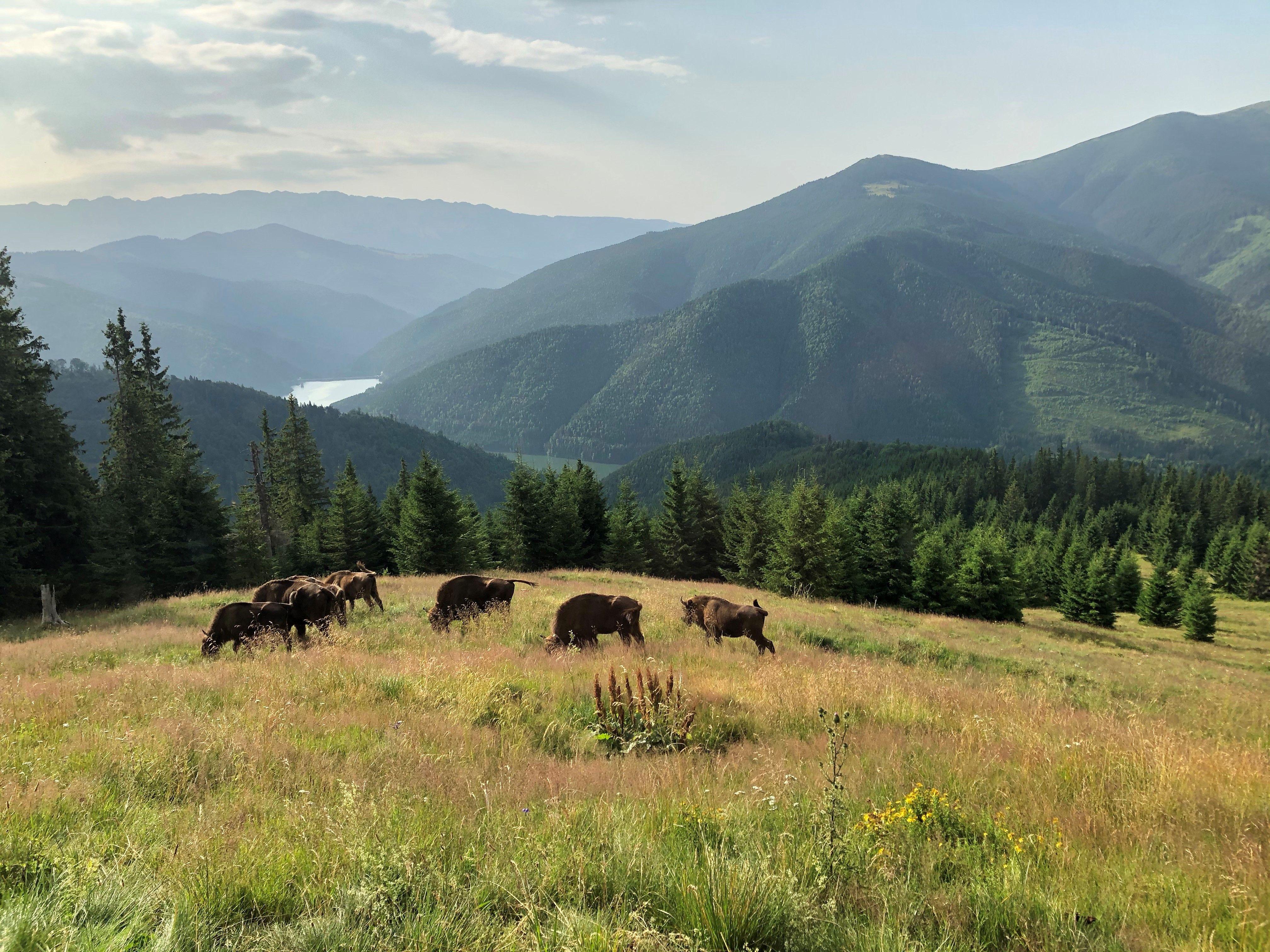 Fagaras Mountains may be the next national park in Romania

For example, Fagaras Mountains which have the highest number of mountain peaks over 2,500m is in neither category. But we work with a non-profit foundation trying to create a national park and prevent illegal logging in the area. You can support conservation efforts by going on one of their trips: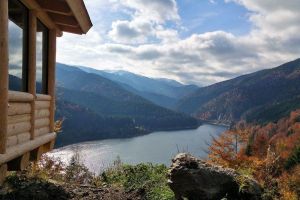 Start from: Rucar, Arges county
See details
What is natural park in Romania?
A natural park is a slightly smaller yet similarly well-defined protected land area with impressive natural, historical, and cultural traits. Conservation and durable development play an important role here.
Locals are allowed to live off the land here and exploit it for subsistence as long as they don't damage or alter the ecosystem. but it needs to fit in well with the natural setting they are part of.
There are 16 natural parks in Romania and the most popular ones are:

Bucegi
Apuseni
Văcărești Delta in Bucharest
Porțile de Fier (Iron Gates) on the Danube River
the Mehedinți Plateau

So in fact… there's no major difference between them other than for administrative and legal purposes.
And for outdoor enthusiasts passionate about hiking, nature, wildlife, conservation and good times in nature – they're the same!
That's why in this article we're going to ignore this distinction and include parks from both categories on our list of the ten best national parks to visit in Romania.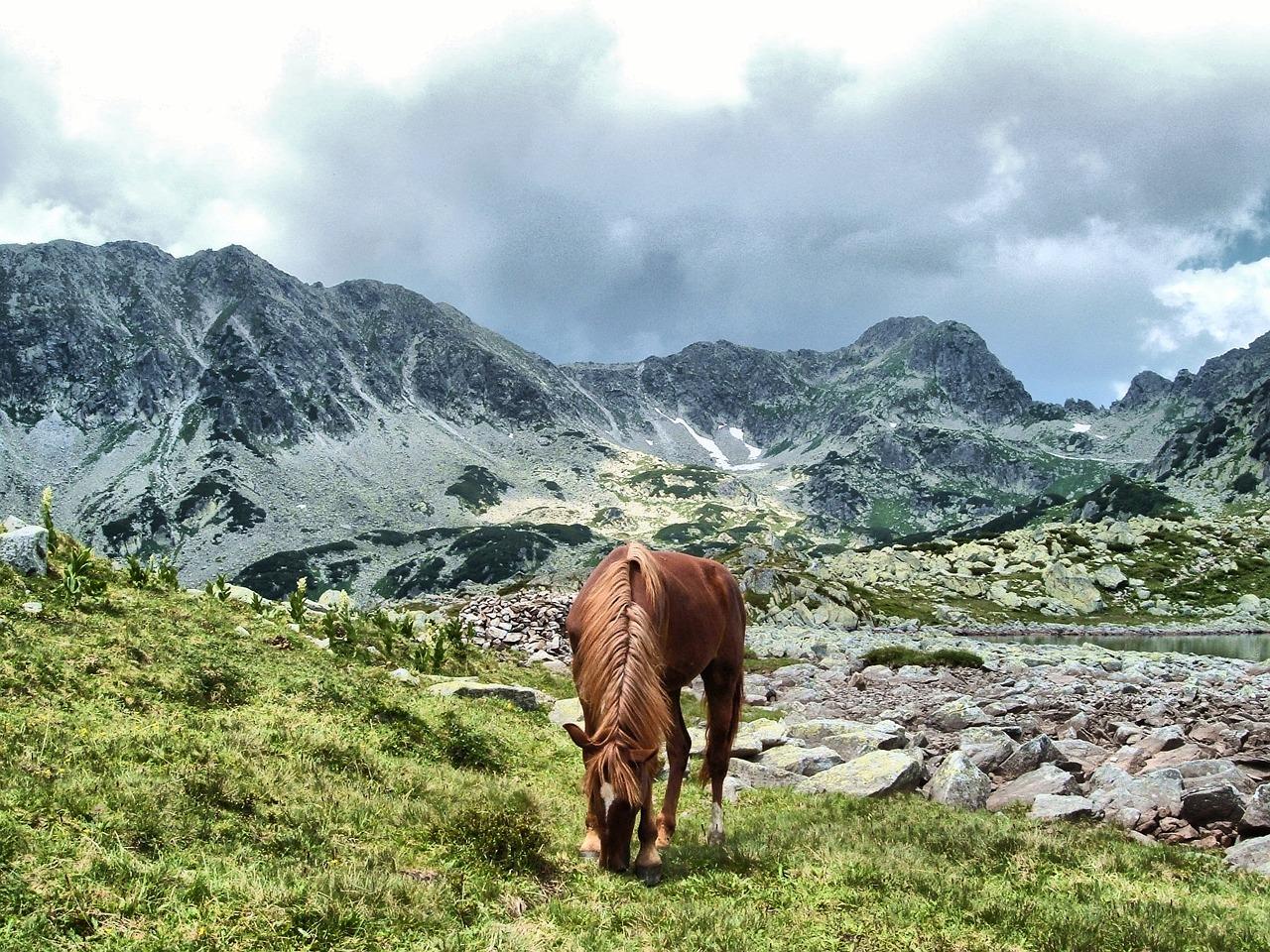 Retezat National Park, one of Romania's natural wonders

Of the 30 parks we used several criteria – other than the beauty of their nautral landscapes – on a scale 1-10 (highest) to decide which of the 30 national parks to include on our list and make it easier for you to decide which ones to visit:
tourist attractions which includes natural or cultural attractions, things to do and number of hiking trails
biodiversity based on the diversity and number of plants, birds and animal species that can be found here
accessibility which refers to how convenient it is to get there (by public transport or car), accommodation options in the area, tourist info points and ease of visiting the park

As you will see, most national parks in Romania are moderate on the tourist attractions side, scored high on biodiversity but, unfortunately, very low on accessibility.
Two main reasons for that.
First, Romania's tourist potential (including cultural heritage and historic attractions) is severely underdeveloped and underfunded which is why our country has very few tourist numbers compared to Bulgaria or Hungary, despite having much more to offer...
Second, public transport in Romania (roads in rural areas or mountainous region and connections through train and busses) is, once again, severely underdeveloped and a constant complaint against our politicians. In the mountains you'll find narrow roads in poor conditions. So renting a car or going with a hiking guide who knows the roads well is your best choice.
But if you have any questions, want to customize one of our hiking tours or need help with planning your trip, don't hesitate to contact us – we're happy to help!
So now let's see the 10 most beautiful parks you must visit in Romania: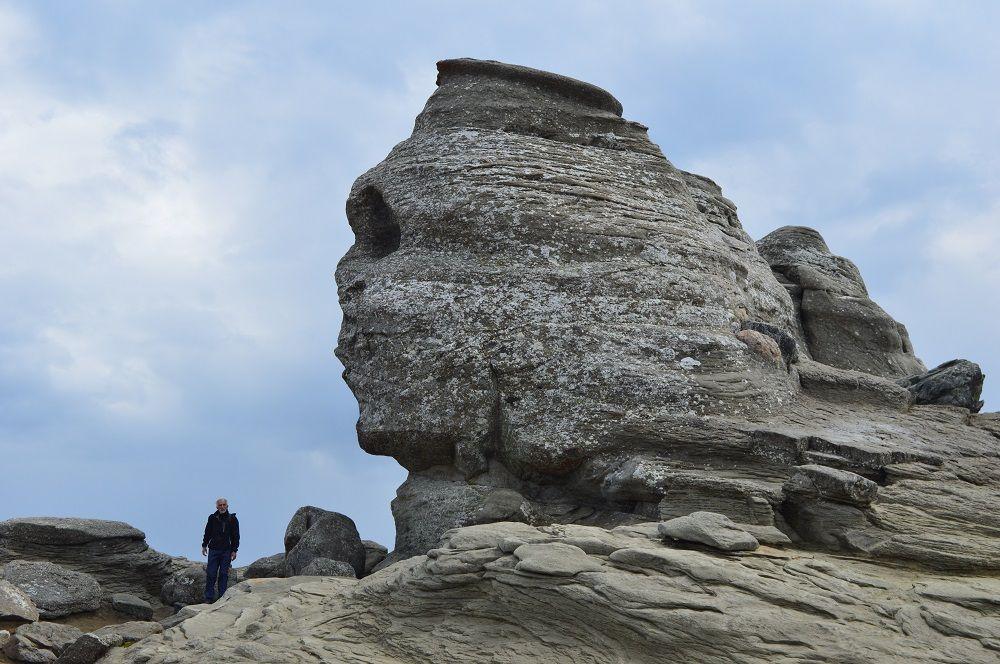 The Sphinx is one of the most popular tourist attractions in Romania


1. Bucegi Natural Park
Bucegi Natural park is probably one of the most popular and beautiful national parks in Romania.
tourist attractions: 9
biodiversity: 4
accessibility: 8
Location: Located in South-Central Romania, North of Bucharest and South of Brasov; easily accessible by cable car from Sinaia or Busteni, or on hiking trails from Bran, Moeciu and Fundata villages on the Western side of the massif

The protected area partly overlaps with Bucegi Mountains (check our full guide for more info) and has a size of 32,500 hectares.
It has an impressive geological profile with a large variety of natural rock formations such as The Old Ladies (Babele) or the popular Romanian Sphinx. Because there are many folk legends about both of these and they're easily accessible by cable car, Bucegi Mountains is a popular hiking destination from Bucharest.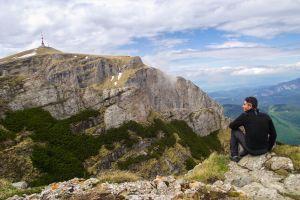 Start from: Bucharest OR Brasov
See details

There are many caves, keys, gorges, waterfalls and hiking trails of varying altitudes and difficulty levels going from 800 to 2,500 meters.
Most of the trails are well signaled, and unless you travel under difficult weather conditions, too late or too early in the day, many other people will likely be hiking in this natural area.
The most popular trail is Jepii Mari, a 3–4-hour hike to the Bucegi plateau, where you can see the rock formations and recharge at the gaze of some of the most amazing landscapes. On a sunny weather day you can see Prahova Valley below.
The highest peak is called Omu and it reaches an altitude of 2,505m which is accessible for medium experienced hikers and people with an average physical condition.
Another popular hiking trip is to hike across Bucegi Mountains from East to West, going from Prahova Valley and descending into Rucar-Bran valley on the other side through Strunga Saddle, a popular and challenging route.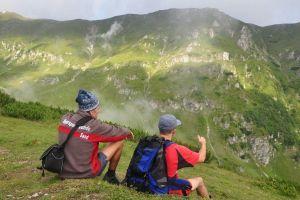 Start from: Brasov or Sinaia or Busteni
See details

The Bucegi Natural Park is a sanctuary for several animals and plant species. The brown bear and roe deer (Capreolus capreolus) are quite numerous here.
Warning: bears are a frequent sighting in the area. That's why we highly recommend going with a that knows what to do in unexpected encounters and is equipped with pepper spray.

Closest cities: Bucharest and Brasov. At the base of Bucegi Mountains on the Bucharest – Brașov route you'll find some of the most famous mountain resorts in Romania such as Bușteni, Sinaia and Predeal.
Local tip: these are also the most popular ski resorts in Romania where you'll find cable cars and gondolas up to Bucegi plateau.

These resorts have accommodations for all types of budgets, are accessible by car or by train (there is a train station in every resort) and they're packed with restaurants and stores filled with anything a tourist might need, including mountain equipment and clothes for various weather conditions.
More comfortable than wild, Bucegi Mountains also has several accommodation options deep in the mountains: Piatra Arsa Hotel, Cabana Omu and Cabana Padina to name a few.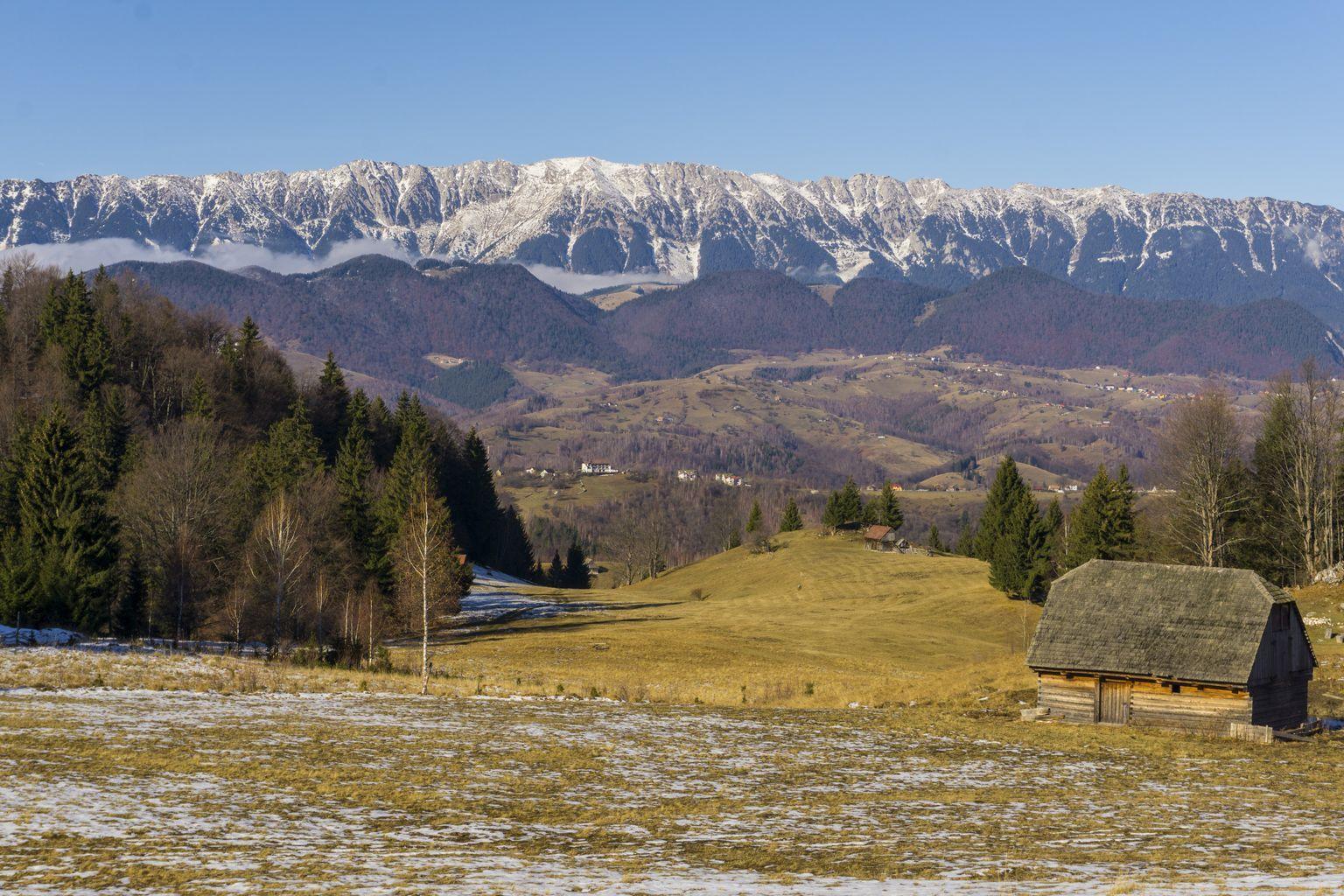 Piatra Craiului have the longest and highest limestone ridge in Romania
2. Piatra Craiului National Park
Unmistakable thanks to its impressive limestone ridge, in my opinion this is the most beautiful national park in Romania and and a favorite for hikers and outdoor enthusiasts.
tourist attractions: 9
biodiversity: 10
accessibility: 6
Location: Piatra Craiului National Park is in the center of the country, close to Brasov. With a size of 14,766 hectares it has two official natural sites with strict access conditions. You have access points from the town of Zarnesti and Podul Dambovitei.

This is probably the best place to go hiking in Romania as there are trails suitable for anyone, no matter your physical fitness, hiking experience or interests. Trails range from 800m to 2,236m, go through forests, meadows, picturesque villages, valleys and all the way up to the crest.
Plenty of tourist attractions to visit here: Zarnesti Gorges (basically the entry point into the park), Bat caves, picturesque mountain villages (Măgura, Peștera, Sirnea, Ciocanu), the many rock formations and the spectacular limestone ridge.
With its unique scenery and impressive ridge, Piatra Craiului attracts hikers from all over the country and the world. The most popular hiking trails go through Zarnesti Gorges and lead to Curmătura Chalet (the only cabin in the high mountains).

The highest peak is called La Om or Piscul Baciului and reaches 2,236m. Getting to the limestone ridge is a worthwhile objective and crossing it needs one full day and will be a real mountaineering adventure since it's 25km long!
That's why the trail suitable only for experienced hikers not afraid of technical sections and hiking on rock paths. But being on the highest limestone ridge in the country, surrounded by the vast empty skies with breathtaking views is quite an experience!

[youtube vid="h31d1lM9nt0"]
Check out the many animal species that live in Piatra Craiului National park
Piatra Craiului National Park is also known for its impressive flora and fauna biodiversity. Numerous plant species and wild flowers, over 200 mushrooms, beautiful butterflies and a large number of small animals and species of birds will keep you company during your hike. You may also spot red deer, chamois or a brown bear!
Local tip: a good idea if you want to admire nature in its prime is is to take Șaua Joaca trail in Spring when it is filled with crocus flowers.

There are numerous mountain villages in the area with plenty of guesthouses, the most notable being Magura and Pestera which are an ideal place to experience traditional Romanian rural life. But without a car these are difficult to access and locals don't speak English.
On the other side on the Western side of Bucegi Mountains is Bran, another popular resort in the area also home to Bran Castle. Then there are the villages of Moeciu and Fundata. Here you'll find lots of accommodation options ranging from hotels, villas, apartments, B&Bs and numerous restaurants and shops. These are quite touristy, crowded and tacky for our taste, but sometimes more convenient.
Closest city: if you're wondering what to do in Brasov the most popular tourist city in Romania - a hiking trip in Piatra Craiului National Park is your answer!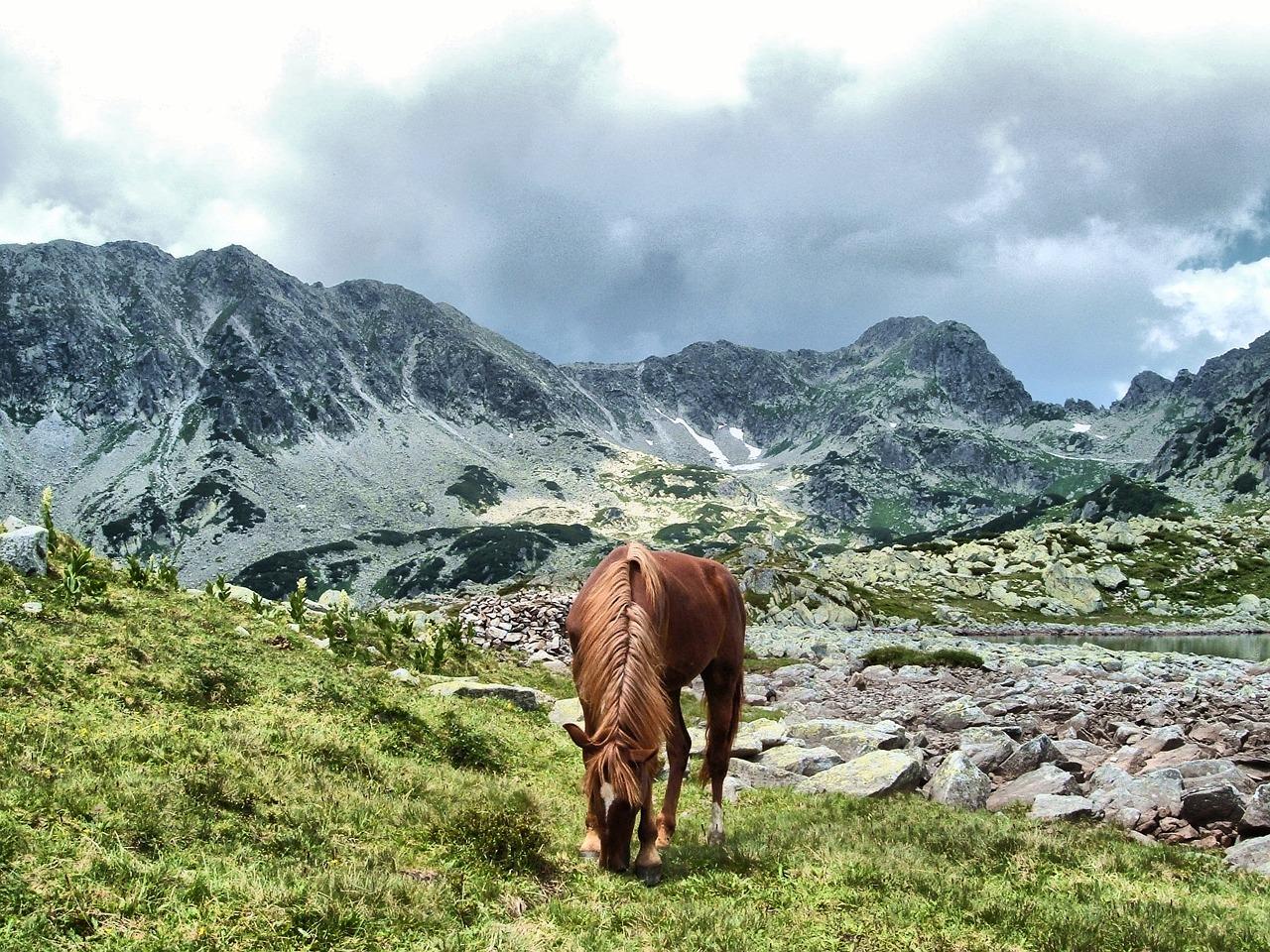 Retezat National Park, one of Romania's natural wonders


3. Retezat National Park
With its combination of rocky scenery, thick forest areas (the park is home to the last virgin forest in Europe) and many glacial lakes, Retezat Mountains are a unique combination of wild, least accessible and pristine beauty. A mountaineer's paradise!
tourist attractions: 5
biodiversity: 8
accessibility: 2
Location: The oldest national park in Romania with a size of 38.138 hectares is situated in the Southwestern region of the country, in Hunedoara County and is part of the Southern Carpathians.

Due to its spectacular beauty, raw wilderness and close to 0 human intervention (and life), the park is known as one of Romania's natural wonders and one of the important protected areas in our country.
Because they're very inaccessible they haven't been subjected to illegal logging yet so most of its old-growth forest is well preserved.
The highest peak in Retezat Mountains is Peleaga at 2,505 meters and its summit offers spectacular views. You can reach the summit in a 2-day hiking and camping trip from Timisoara if you've got an above average physical condition and decent hiking experience.
Retezat National Park is also home to many glacial lakes and the lakes circuit hiking trail is very popular for this reason. It also includes Bucura Lake the largest in Romania boasting a serene view you won't want to let go of!
Another reason why this is one of Romania's most important protected areas is because it's the home to many wild animals – up to 55 species of mammals and over 100 bird species! There is probably no better place – and dangerous! - to go hiking and run into wild animals such as the brown bear, wolves (Canis lupus), wild boar, red deer, lynxes and the golden eagle.
Unfortunately, Retezat National Park one of the least accessible in the country. The closest city nearby is Timisoara and there are hiking day trips you can do from here. The most popular access point is from the small town of Calnic close in the North of the park, in the Hateg region.
There are around the park, mostly B&Bs in small villages accessible only by cars. And in the park itself there's no place to stay! So this is the perfect place for a camping expedition – and your only option - if you want to do multi-day trails like the lakes circuit.


4. Cheile Nerei–Beușnița National Park
No mountains here – except for a beautiful 22 km long gorge! In this protected area you'll discover a natural oasis comparable with Turda Gorge which you can see if you visit Cluj.
tourist attractions: 6
biodiversity: 8
accessibility: 3
Location: In the South-Western part of the country in Caraș Severin county, in the mountainous region of the Anina mountains.

With a size of 36,758 hectares and high altitudes of 500 meters, the Nera Gorges are the main attraction of this national park.
The deeper you go into the gorges, the wilder it becomes and you have a chance of coming across horned vipers (especially during Spring), scorpions, or even lynxes. The more touristy areas of the protected area are ideal for mountain biking, rappelling, speleology, canyoning, rafting, zip-lining and even horseback riding if you're experienced enough.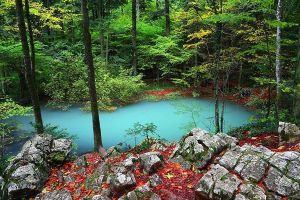 See details
One of the most popular tourist attractions in Cheile Nerei-Beușnița park is Ochiul Beiului Lake (called Devil's Eye). The best time to visit is during Spring and Autumn when small rivers fill up this small lake and give it a bright blue, turquoise-like color. Located in the middle of a forest, you'll be mesmerized by it!
Closest towns: you can visit this protected area on a day trip from Timisoara, the closest major city. If you want to spend more time here then you can look for accommodation in the town of Orșova, the closest one which can also be reached by train and bus.
5. Ceahlau National Park
The Ceahlau ecosystem is typical for the Romanian Carpathians with wonderfully old-growth forests, high alpine pastures with juniper trees and impressive rock formations.
tourist attractions: 6
biodiversity: 6
accessibility: 5
Location: In the Northeast of the country, in Neamț County (Moldova region), in the Eastern Carpathian range.

Though smaller in size compared to the other parks in a mountainous region with a little over 7000 hectares, this is the perfect place for when you want to get lost in nature bosom and just be with your thoughts, relax and reconnect.
It is home to the same animal species that inhabit the rest of the Carpathian mountains, like lynxes, wolves, red deer and the typical brown bear (Ursus Arctos).
The highest massif in the park is Toaca Peak at 1904 meters, while Ocolașu Mare is the highest limestone ridge in Ceahlău mountains at 1,907 meters. There are 8 main marked trails here and to get in this protected area you need to pay a small tax to the park administration.
The park rangers are known to be very helpful and can give you good advice about the area, trails and terrain conditions.
One of the most popular trails will take you up to Fântânele Cabin and then Dochia Cabin and descend by Duruitoarea Waterfall. Making the trip the other way around is gruelling but this is something only a hiking guide or the park ranger can tell you.
Other than hiking, popular tourist attractions nearby include the spectacular Bicaz Gorges (or Cheile Bicazului in Romanian) which are also accessible by car and the Red Lake.
Closest towns: the typical starting point for most trails is in the mountain resort of Durău which is unfortunately accessible only by car. The closest nearby city is Piatra Neamt but I'm not sure if there's any bus that will take you there. A custom hiking trip from Brasov is your best choice.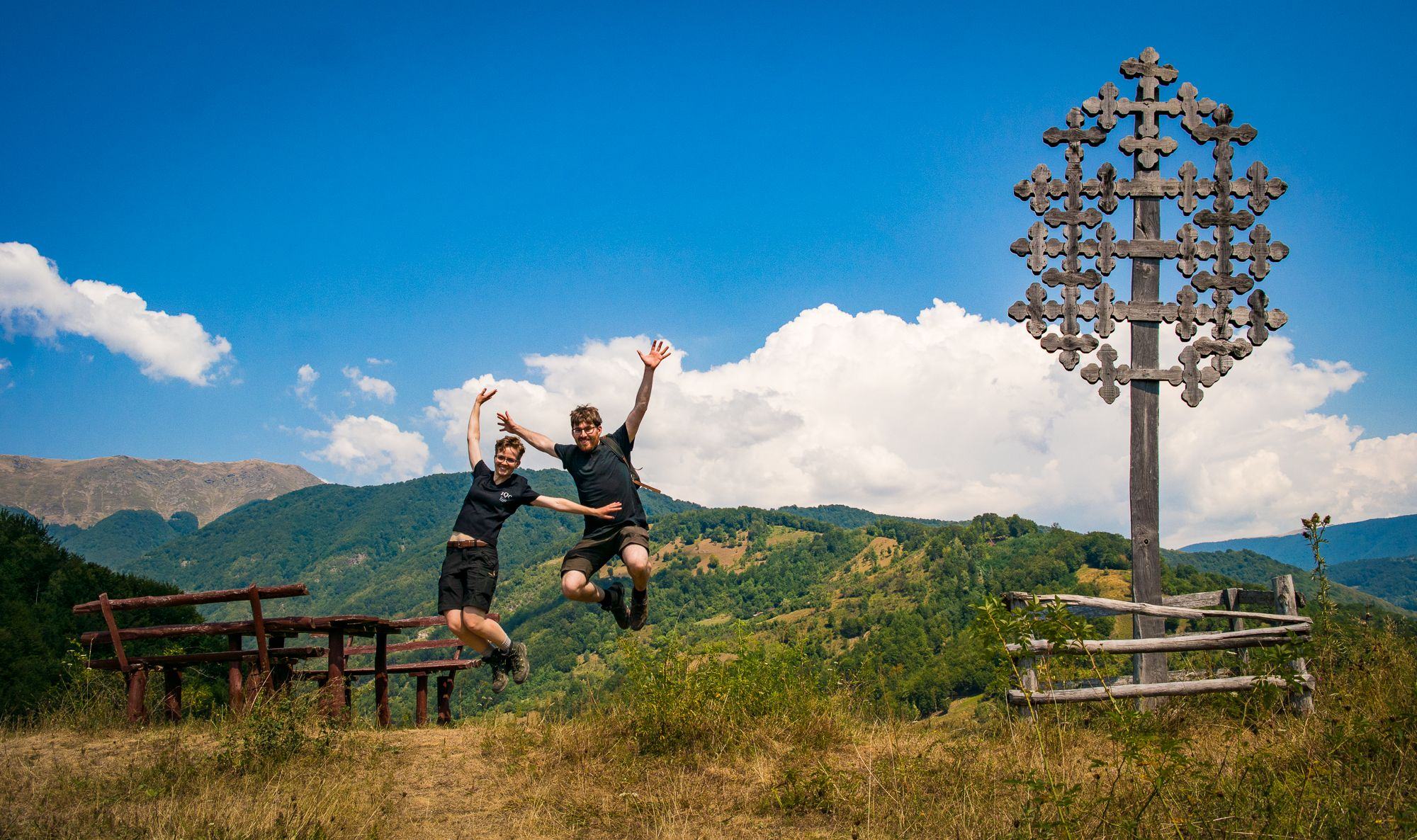 Two happy tourists on one of our hiking trips


6. The Domogled-Valea Cernei National Park
This protected area is special thanks to its spectacular landscapes. Imagine a limestone ridge that at the base of which there's a river where many plant species form a small biosphere reserve for various small animals and bird species.
tourist attractions: 6
biodiversity: 5
accessibility: 5
Location: in the Southern Carpathians part of the Retezat Godeanu mountain range, and in the Southwestern part of Romania

With a size of size of 61,211 hectares this is the largest national park in Romania among the mountainous regions. Tourists can see caves, sinkholes, waterfalls (Vânturatoarea Waterfall is one of the most impressive in Romania's national parks) and caves such as Grota cu aburi (Steam cave) and Grota haiducilor (which is roughly translated as Robin Hood's cave). And, yes, there are some stories about them!
If you go hiking along Cerna River you can admire a variety of well-preserved natural wonders untouched by human activity. Vegetation here is completely wild which makes it the perfect place for many small animals and larger ones such as wild boar, wolves (canis lupus) or red deer.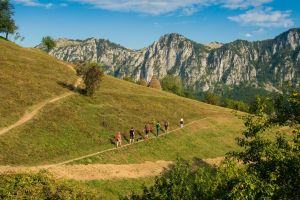 See details
In Domogled-Valea Cernei National Park you'll find the villages of Scarisoara and Inelet which can be accessed only by climbing several ladders across stone walls. Because of their isolation, there's no electricity, no roads or public authorities. But people in these small communities live a traditional and happy life, supporting each other in ways we've forgotten.
Hiking enthusiasts can hike up Moraru peak. The highest massif reaches altitudes of 2,279 meters comes close to Retezat Mountains, the highest mountain range in the Southern Carpathians. Breathtaking views await!
Other activities the area is known for are extreme sports such as river rafting and traversing the mountains through a challenging via ferrata route. This is a type of rock climbing with the help of cables and rungs.
Closest towns: Timișoara is the closest nearby city only 2,5 hours away by car. With its own airport, train station and lots of famous tourist attractions in the area, the city is worth visiting.
Local tip: did you know that the city is the 2023 European Capital of Culture? Check our city guide to see the many things to do in Timisoara
7. Rodna National Park
If you're planning to visit the traditional region of Bucovina in Northern Romania, you'll be impressed by the breathtaking views you'll find here with traditional villages scattered across this mountainous region. If not - then you should!
tourist attractions: 10
biodiversity: 4
accessibility: 7
Location: In the Northern part of the country and part of the Eastern Carpathian Mountains.

With a size of 46,599 hectares, Rodna National Park impresses through its caves, crevasses, old growth forest, picturesque valleys and fresh water mountain springs. Unfortunately the signs of illegal logging are quite visible in this protected area where state authorities are having a hard time enforcing laws, or are plagued by corruption.
Pietrosu Peak is the highest peak in the park at 2,303 meters altitude which can be reached in a 3-4h medium difficulty hike. And there are up to 19 hiking trails of various difficulty levels. People also like to go up to Ineu Peak and to visit Lala Lake, one of the largest glacial lakes in the area said to also have the best fresh air in the country.
The wilder and further trails you plan on taking may lead to encounters with some of the famous wildlife predators like a brown bear, wild boar (Sus scrofa), gray wolves and golden eagles. Wildlife sightings include badgers, chamois and roe deer.

The most popular activities are similar to the other in Romania's national parks: horseback riding, mountain biking and hiking.
But, unlike the other ones, tourists like to combine nature with culture since Bucovina is famous for its painted churches, painted egg museums, visiting skilled artisans and enjoying locals' hospitality and delicious, home-grown food. Similar to Maramures, Bucovina is the perfect place to see traditional Romanian life.
Closest towns: Rodna National Park is close to the tourist resorts of Borșa Baths in Maramureș County, Sângeorz Baths in Bistrița Năsăud County and Gura Humorului in Suceava County (which is the better place among all to base yourself). These are accessible by car although be weary of narrow roads. The closest major city is Suceava which also has an airport and a train station.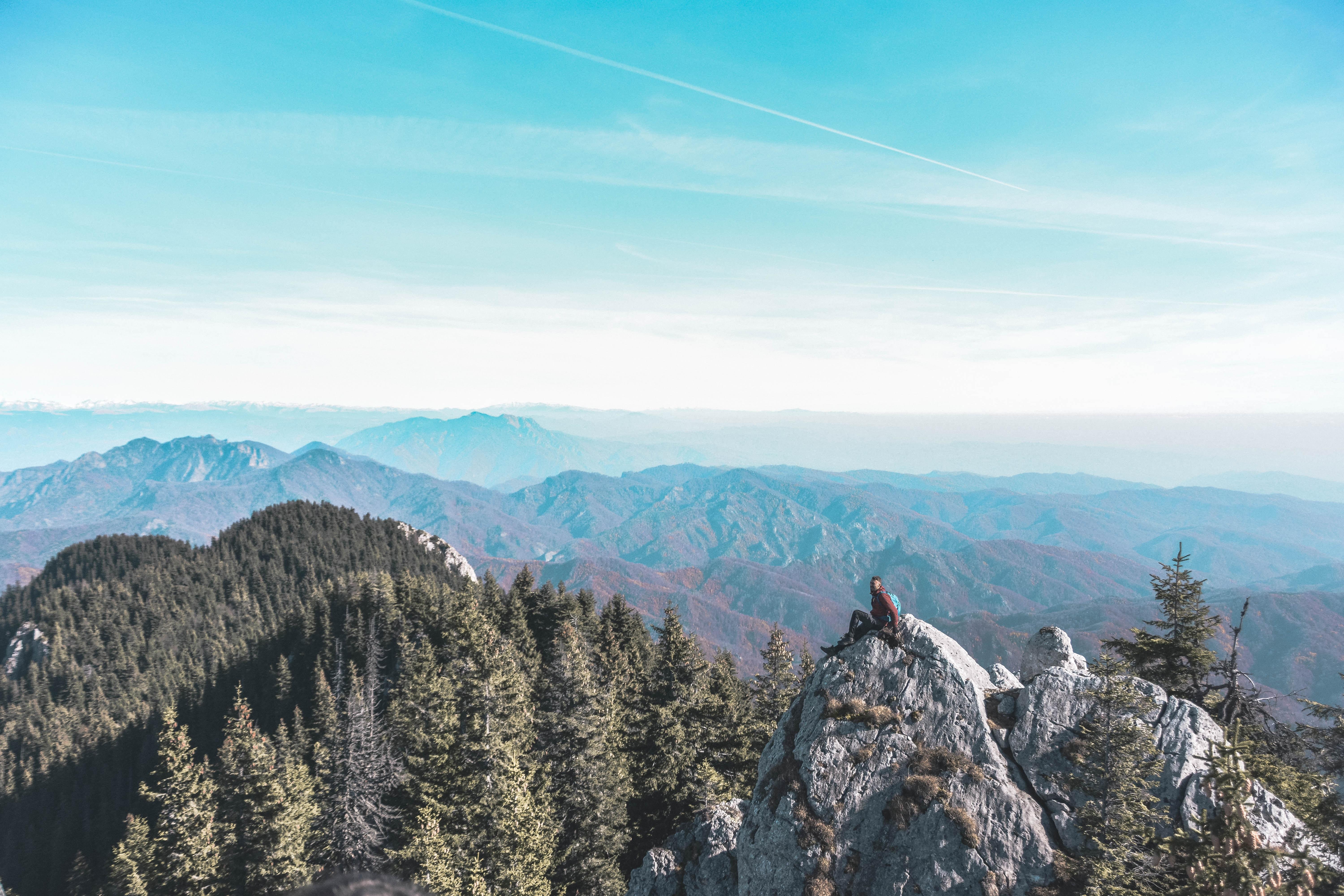 Hard to pronounce - but this is one of the best national parks in Romania


8. Builă-Vânturărița National Park
Maybe the wildest, least visited and touched by human activities, this park impresses with its amazing landscapes and wildlife diversity.
tourist attractions: 6
biodiversity: 8
accessibility: 3
Location: in the central-northern part of Vâlcea County, in the center of the country, in the Parâng Massif in the Southern Carpathians

With a size of only 4186 hectares this is the smallest national park in Romania, but the most crowded. It is a habitat for several important animal species of large carnivores and an impressive number of plant species in its thick forest.
The highest peak is Vânturărița Mare at 1,885 meters altitude and hikers will find 17 more trails to explore. Some will take them to the Trovants a unique sight in the world roughly translated as rocks that grow.
If you are into rock climbing you'll be happy here! There are five climbing areas with heights of up to 150m which means this is one of the best places to do this in Romania. Look up Olănești Gorges, the Cheii Gorges and Bistrița Gorges for this activity.
The Park is situated in the vicinity of the Baile Olănești and Horezu in Râmnicu Valcea, resorts known for their ties with rural tourism and exquisite handmade items like pots, blouses, and rugs, among other things done by local skilled artisans. Horezu ceramics are world famous and part of UNESCO heritage!
Closest town is Râmnicu Valcea where you can find a large selection of hotels and anything you need to make your stay as comfortable as possible.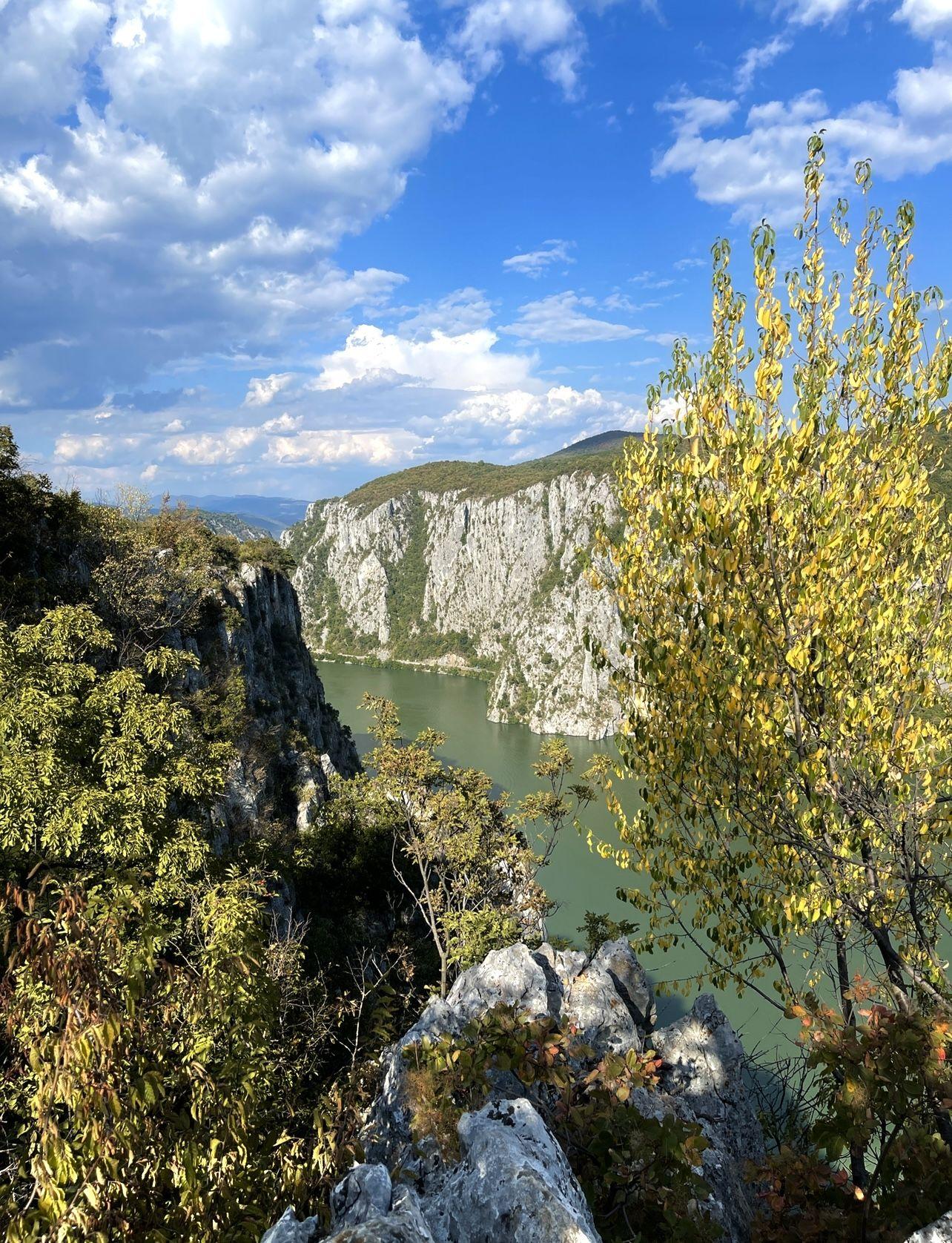 The longest gorge in Romania belongs to the Danube River


9. Porțile de Fier also known as Danube Gorges
The Danube River plays an important role in this region! It forms a natural border between Romania, Serbia and Bulgaria, crosses the Southern Carpathian Mountains, creates its own gorges and nurtures the Danube Delta biosphere reserve before flowing into the Black Sea.
tourist attractions: 8
biodiversity: 4
accessibility: 8
Location: in the southwestern part of Romania along the Danube River at the border with Serbia

With a size of 115,666 hectares this is the largest among natural parks in Romania. Popularly known as Portile de Fier (Iron Gates) this national park is unique as it hosts the longest gorge in Europe formed by the Danube river of no less than 134 km.
So there's no better place to go on a river cruise than here – which is one of the main tourist attractions to admire the amazing landscapes these rocky cliffs offer! Travelers from the United Kingdom say they're similar to the cliffs in Pembrokeshire Coast National Park – but doubled!
Surprisingly, the mountains forming the gorge boast hectares of forests that are home to thousands of animals and plant species.
Other popular activities for tourists are hiking, fishing, canoeing, mountain biking, exploring caves, bird watching and hunting. The massive statue of King Decebal is also another tourist hotspot you can admire in this protected area.
Closest town is Orșova which is accessible by car, but the cities of Timisoara and Drobeta Turnu Severin are favorite access points for tourists who want to visit this area. You can also go on a road trip to admire all these sights!


10. Călimani National Park
This is a unique protected area recognized for its geological reserves and diversity among European national parks.
tourist attractions: 6
biodiversity: 4
accessibility: 3
Location: in the Northern side of the Eastern Carpathian Mountains, Călimani Mountains and their national park as several access points from the counties of Bistrița, Mureș and Suceava.

Wondering what it would feel like walking in the traces of a volcano?
The Calimani National Park (Parcul National Călimani) will give you the answer. The Pietrosu Călimani is the highest peak in the Călimani Mountains and is the highest massif in the Romanian volcanic chain standing at an elevation of 2,100 meters.
Apart from massive eruptive rocks, due to the natural erosion process in the volcanic plateau you can now visit the 12 Apostles (Cei 12 Apostoli), Red Stones (Pietrele Roșii), and the Nefertiti geological reserves.
You'll also find rare plant species in this protected area – if you know how to recognize them! Lots of animals too, especially roe deer and wild boar.
But the volcanic scenery is not the only thing about Călimani that makes the area breathtaking. There is also the Tihu waterfall or the Retitiș Peak, from which you can see the Ceahlău mountains. And on a clear day with sunny weather you can even see Fagaras Mountains highest number of mountain peaks!
The closest city is Bistrita but the main access point is closer to the mountain resort of Vatra Dornei from where narrow roads will lead you in the park.

Aerial shots of Romania's most important nature reserve


BONUS: the Danube Delta
We can't talk about Romania's best national parks without mentioning this unique biosphere reserve of significant importance among European national parks and worldwide.
tourist attractions: 10
biodiversity: 10
accessibility: 5
Location: South Eastern part of Romania, in Tulcea County, where the Danube River flows into the Black Sea.

With a size of 679,000 hectares – larger than Luxembourg or Singapore and just a little smaller than Cyprus - this is by far the largest national park in Romania.
The Danube Delta is a truly spectacular nature reserve and a UNESCO World Heritage site. It's the second largest delta in Europe and has the third largest biodiversity in the world after the Great Barier Reef and Galapagos Island.
It's made up of lakes, dunes, coasts, lagoons, reed beds, unaltered rivers, steppes, marshes, and climax forests. Over 350 bird species (including endangered species) and 45 freshwater fish have their natural habitats here and most are protected by law as many are endangered species. So this is by far one of the best places for bird watching and wildlife photography in Europe!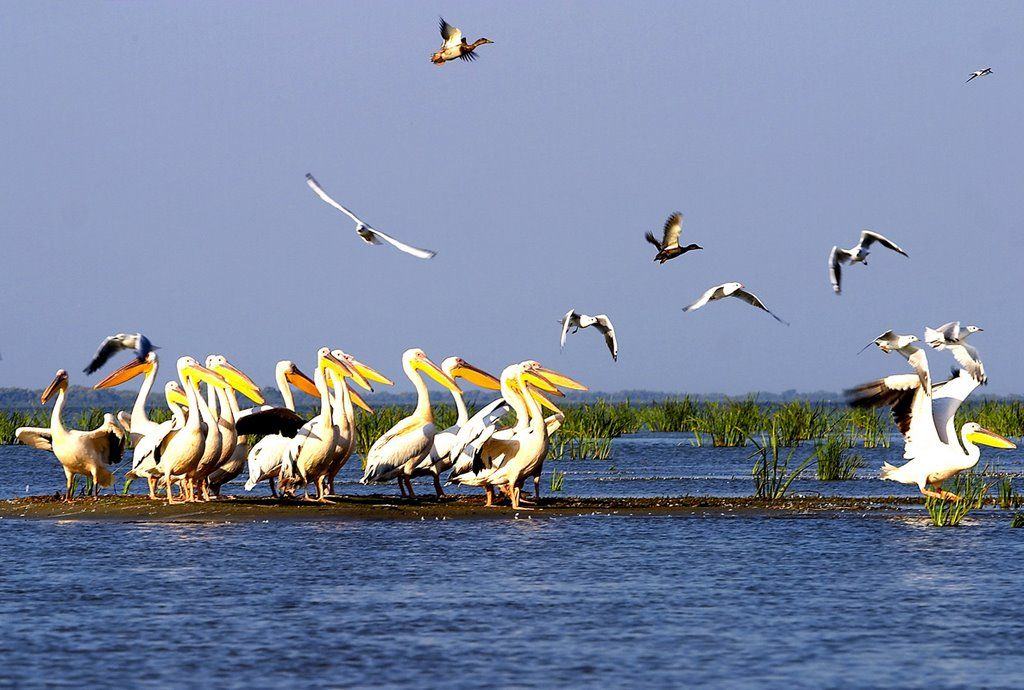 You'll see many species of birds on a boat ride in the Danube Delta

Then come over 4,000 species of plants making up a rich flora and vegetation with breathtaking views at sunset over unique natural landscapes. So maybe you want to see something different than mountains?
Tourists who visit the Danube Delta biosphere reserve can go on boat rides and river cruises, visit the unique Letea Forest, see wild horses, go fishing, canoeing, relax and sunbathe. Crucially, you'll be amazed by what nature can do and the locals' hospitality.
The closest city and main access point is the city of Tulcea. From here you'll have to rent a boat (and driver) to visit the Delta since there's no other way to navigate the canals. And because boats ride slow in this nature reserve, travel times are also considerable and that's why you need more time to visit this region, ideally 2-3 full days.
***
So this is just a brief overview of the best national parks in Romania – 11 out of 30!
As you can see, there's much to explore and to do, and I hope I was able to get you excited about planning your trip to Romania. Don't hesitate to contact us if you need any help, that's what we're here for!
Your Romanian Friend,
Marian