Cluj-Napoca Food Tour: Food Markets, Regional Dishes and Coffee Culture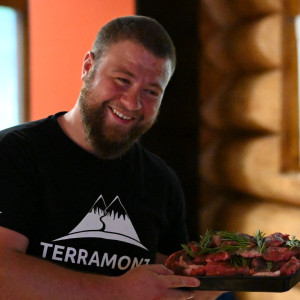 With: Mihai

8
No Seerus! This tour is now about food. Say whaat? This tour is about you get an authentic vibe of this amazing city, Cluj-Napoca! Local butchery or bakery, farmers market, excellent coffee barista or authentic craft beers, "The more local restaurant, you can't get", are just few things you will discover in this tour. PS: What "no seerus" means? Join me in this tour and you will find out! :)
---
What you need to know about the food tour of Cluj-Napoca:

A culinary experience & short walking tour through the city centre. Duration 3-4 hours and starting time to be agreed
Included: guidance from a food blogger native of Cluj-Napoca, food & drinks tastings in 3 different locations
The tour will take you through a farmers' market, a local restaurants and a coffee or pastry shop. Come hungry so you can brave through the mouth-watering feast we will enjoy :)
I will also share my recommendations for the best restaurants in Cluj and tips on how to enjoy Romanian food!
My schedule is flexible so we can agree on starting point and time of the tour after your booking is confirmed.
70% of the food in this tour will contain products of animal origin (meat, milk and eggs). I can adapt the tour to be more vegetarian-friendly but please let me know in advance

Additional information

Please wear comfortable shoes.

I recommend you bring a bottle of water, but we can also pick up one along the way.
---
Moments to expect in the Cluj-Napoca food tour:
Introduction to Romanian cuisine

We start our first food tasting with traditional Romanian appetizers: various regional cheeses, cured meats and organic, home-grown vegetables from a friendly local butchery shop. Upon request we can go also for a light bakery tasting!

Farmers Market

The best way to understand traditional Romanian food is to visit a local food market to see what locals sell and buy. Your senses will be busy and love it here and and it's perfect place to buy "organic souvenirs"!

Coffee or desert? Yes please!

The coffee culture in Cluj-Napoca has been booming in recent years: trendy and hipster-modern or small and simple, lots of shops serve speciality coffee of exotic origins, roasted and prepared using all sorts of techniques. Nonetheless, beer is also among the favorite drinks around fellow Cluj people. So we prepared for you both options upon request. Excellent coffee or Local Craft beers. We bet you can't decide! No worries, we will sort it out!

A traditional Romanian lunch

Next, we head to a cosy restaurant that serves delicious traditional Romanian dishes! Here we taste typical Romanian recipes but adapted to Transylvanian cuisine: the famous ciorba (a sour soup with vegetables and meat), different types of polenta and cabbage rolls aka sarmale, the Romanian national dish or the traditional "Varza a la Cluj"!

Desert! Yes please!

There is no holiday in Romania whitout home-made cupcakes or some other type of deserts. The best thing is that we can find those traditional deserts in a nice cake shop next to the main square of Cluj-Napoca!
Cancelation & refund policy
Easy
Sends us or the guide an email 24h before the tour informing us you can't make it and you'll get a full refund of your payment, no questions asked.
Location details
Starting point:

Cluj-Napoca

Nearest airport:

Aeroportul International Avram Iancu Cluj-Napoca

Nearest train station:

Cluj-Napoca

Landscape:

Urban
Reviews from travellers Kira G. on 06.11.2023
Mihai was a fantastic guide! He was knowledgeable, but also really fun to spend the time with while walking around Cluj-Napoca and trying new foods. Jennifer L. on 28.10.2023
I learned most of my information about travelling in Romania from Romanian Friend. It was very helpful in planning our road trip through Transylvania. Our Cluj food tour with Robert, Mihai's colleague, was the first thing we did after landing at the airport...it was interesting and yummy! He included facts about the history of the area and we enjoyed the different foods we sampled, as well as lunch at the restaurant. He adapted the tour to us, since we don't drink alcohol or coffee. Thanks for a great experience! Terry A. on 07.10.2023
My tour was awesome, Mihai was phenomenal and we did whatever I preferred. Outstanding Food spots, delicious beer suggestions and overall awesome History Lesson about Cluj and Romania. Best part of this tour was I made a friend for Life, he's always welcome in our Home in America. Please utilize these awesome Tour Guides, they work hard and put their heart and soul into making your experience a positive one. Cheers and Here's to the next tour... Aldalize C. on 21.09.2023
We absolutely enjoyed the food tour and Mihai was an excellant guide. He gave us a wealth of information. He is such a caring guide and always looked out for our well being. Thanks Mihai!!!!!! Jennifer K. on 15.07.2023
Great food tour and a lot of fun. Mihai was very accommodating regarding preferences of places to go. He was full of information on the food and the region. I highly recommend this as a way to explore Cluj. Angela T. on 16.07.2023
The best tour I have been on. Mihail is friendly, knowledgeable and a delightful guide. There were three of us and he was really flexible and adaptable - at no point did I feel like I was being herded around. I can't recommend this experience highly enough. Alan W. on 07.06.2023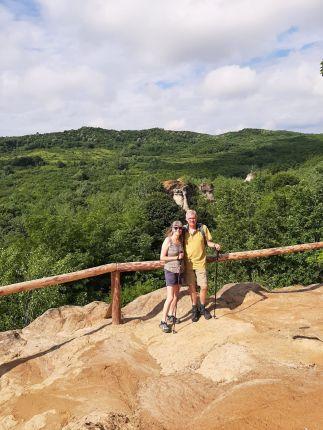 We really enjoyed our food tour of Cluj with Mihai. He was an excellent guide with interesting knowledge and the tour was a great introduction to the food and culture of the city. His recommendations for further places to visit while there were also really good and much appreciated.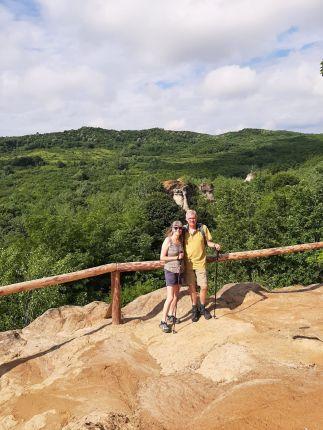 Patrick W. on 03.06.2023
Just the perfect mixture between sightseeing, tasting amazing food and listening to fun facts. Our tour guide was fantastic. Thank you!!! We can only recommend!! Thumbs up and thanks for an amazing tour!!
Other tours nearby
Start from: Cluj - Napoca
Subscribe to our Romanian quarterly magazine
4 times a year we prepare a newsletter with local stories, places and our special insights about Romanian culture and local life that will inspire you to visit our country and have an authentic local experience. Would you like to get it?