Hiking Trip to the Spectacular 7 Stairs Canyon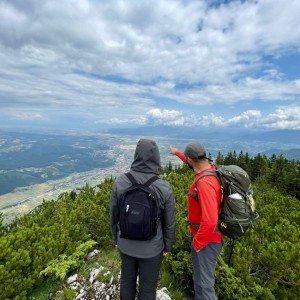 With: Marian

56
In the mountains near Brasov there is a unique natural attraction in Romania: thousands of years ago the Jurassic limestones here ruptured and collapsed, creating a narrow canyon and 7 beautiful waterfalls inside. Very similar to a gorge but more spectacular, the canyon can be crossed through a series of 9 stairways which will give you a very up-close experience with nature!
---
What you need to know about this hiking tour to 7 Stairs Canyon

This is a short hiking trip from Brasov to 7 Stairs Canyon for small groups. Duration: 4 hours. Until 27.05 the Canyon is open only on weekends, after that every day until November.
Included: guidance and transport (free pick-up/drop-off included). Not included: food, drinks and entrance to canyon (20 Lei - 4€)
The trip will start with a moderate hike to the Canyon and there are 2 return routes to choose from (one more difficult but beautiful)
The 7 Stairs (Ladders) Canyon is a narrow gorge with pathways, stairways and vertical ladders that have to be climbed in stages to reach the top (30 min); medium difficulty
The stairs are safe, recently refurbished and don't require special climbing equipment. During winter the Canyon is closed
IMPORTANT: our guide-partner requires full payment of tour price in advance. Fully refundable if canceled with 3 full days in advance of tour date

Additional information

Please dress appropriately: waterproof hiking boots and clothes. A moderate amount of walking is involved.

The trip and exact route is subject to favorable weather conditions. During weekends in high season (June - August) it might be crowded.

Tour not suitable for small children or people with no mountaineering experience, severe claustrophobia or afraid of heights.
---
Moments to expect in the hiking tour to 7 Ladders Canyon
A spectacular natural attraction!

This stunning gorge, chasm or canyon - whatever you want to call it! is famous for its steep ladders attached to rocks that pass very close to seven tumbling waterfalls that have formed inside ages ago. Besides the fresh and clean air, you will have a very up-close and personal encounter with nature and be able to appreciate its beauty! Crossing the canyon takes about 15-30 min.

The hiking route back home

After reaching the top of the canyon, you can choose between two return routes: the standard 1,5 hour trek or a slightly harder 2-3 hour hiking trail which goes deeper through the forests, meadows and hills of Piatra Mare Massif near Brasov. Either way, it will be beautiful!
Cancelation & refund policy
Easy
Sends us or the guide an email 24h before the tour informing us you can't make it and you'll get a full refund of your payment, no questions asked.
Location details
Starting point:

Brasov

Nearest airport:

Bucharest

Nearest train station:

Brasov

Landscape:

Mountain
Reviews from travellers Christina K. on 06.08.2023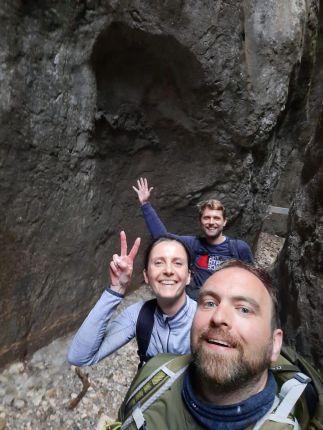 Thank you for this adventural experience. We had a great trip with our guide Zsolt. He was very kind and well informed about this area. Thank you Zsolt for this hiking trip (luckily have seen no bears) ;) Everything was good organized. We totally recommend this tour to everybody. Christina & Tim (from Germany)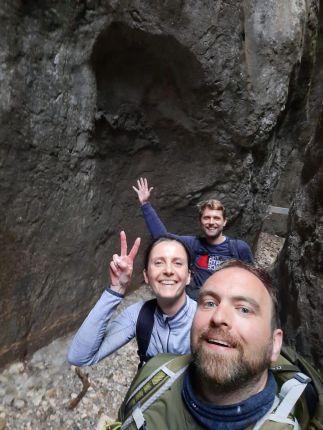 Nicholas R. on 17.07.2021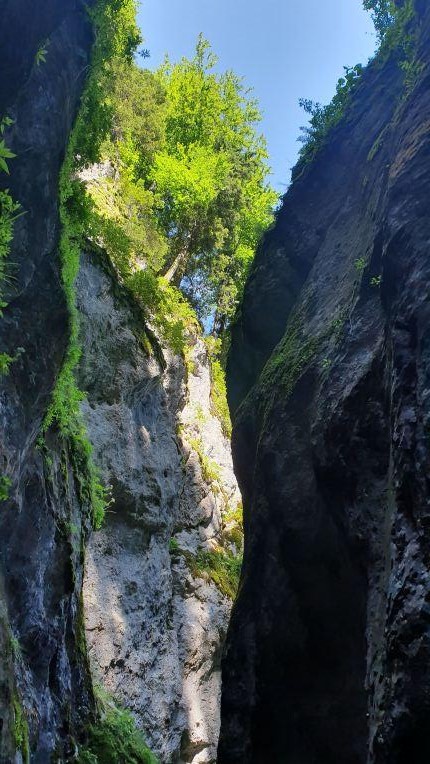 The seven ladders canyon tour was amazing. The scenery was amazing and incredibly beautiful. Marian the guide is very friendly and had excellent knowledge of the area and its history. This tour is not to be missed.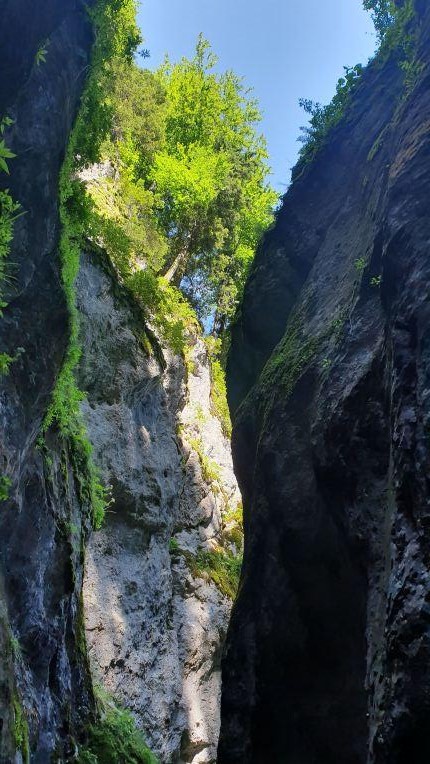 Mai S. on 30.09.2019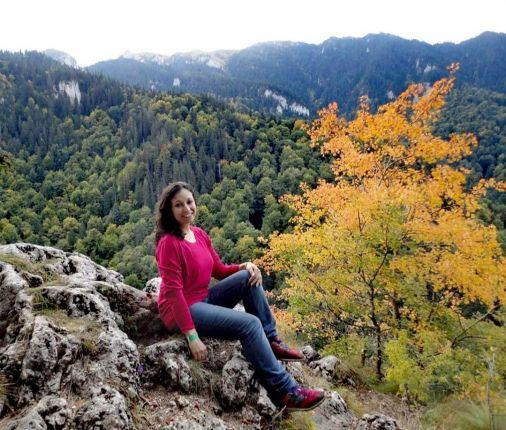 Booking through Romanian Friend was easy and confirmed very quickly. My guide was very friendly, helpful & supportive and this trip very cool!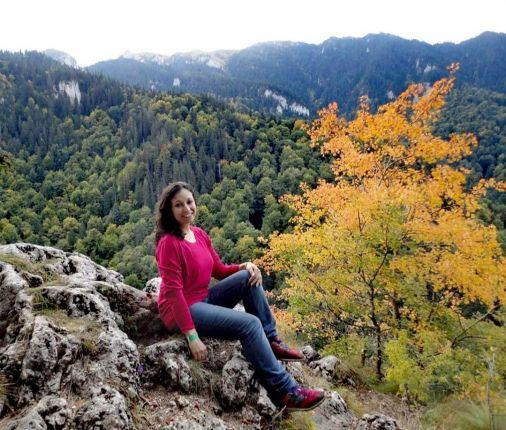 Michelle L. on 18.10.2018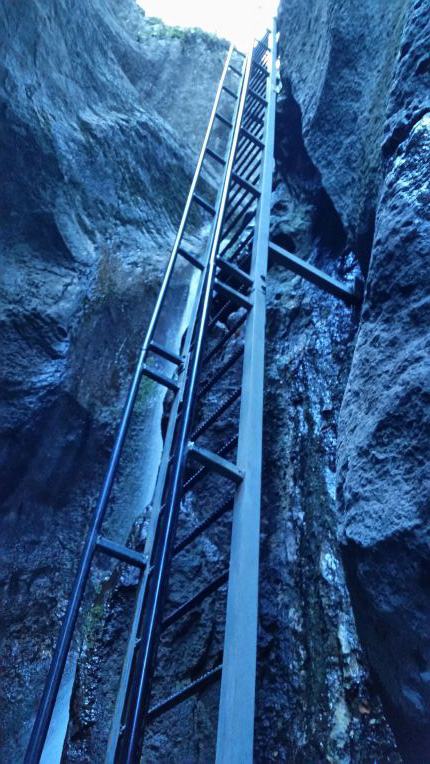 This was a spectacular hike! We were not very fast but our guide Charlie was patient and knowledgeable. Thank you!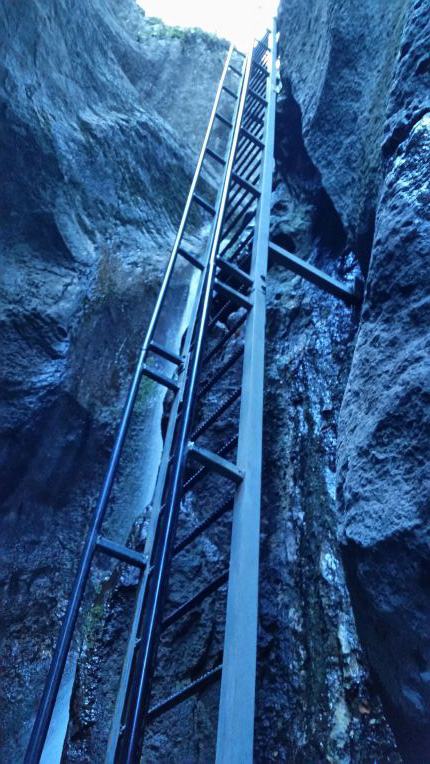 Vineet V. on 04.08.2018
Really awesome trip and the guide was super nice. The whole logistics went super smooth and our guide really took care to make sure everything was taken care of. Highly recommended and would love to do it again! Also thanks to Romanian Friend for advising & helping me book this trip!
Other tours nearby

Subscribe to our Romanian quarterly magazine
4 times a year we prepare a newsletter with local stories, places and our special insights about Romanian culture and local life that will inspire you to visit our country and have an authentic local experience. Would you like to get it?