7 Stairs (Ladders) Canyon Tours
The Seven Stairs or Ladders Canyon is a unique natural wonder in Romania. Located near Brasov, the canyon was formed by natural forces thousands of years ago. Through ruptures, earthquakes and others, the ground ruptured and formed a very narrow gorge, a canyon in the mountains, crossed by river streams that formed waterfalls. The Canyon can be crossed by climbing narrow and steep stairs or ladders and offers a very intimate, close-up experience with nature.
Visit the 7 Stairs Canyon on hiking day trips from Brasov or Bucharest - see our tours below:
---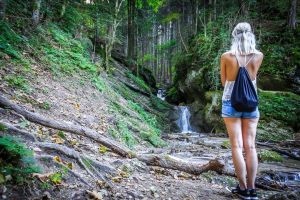 Start from: Bucharest
natural wonder
customisable
Bran/Brasov/Peles
adventure
'must-see' sights
full day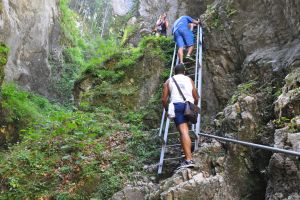 Start from: Brasov
unique attraction
up-close experience
adventure
natural beauty
short trip
---
Reviews about 7 Stairs (Ladders) Canyon Tours
---
Seven Stairs (Ladders) Canyon

The 7 Stairs Canyon (or Seven Ladders Canyon) is a breathtaking attraction of Romania, near Brasov.
The canyon is located on the west side of Piatra Mare Mountains and it is carved in Jurassic limestone. The canyon, located at 948 meters altitude, represents actually some gorges carved into chalkstone, and the name 'Seven Stairs' comes from the seven waterfalls that were formed as a result of the slope's ruptures.
They are the most spectacular gorges in Piatra Craiului Mountains and you can still observe traces of its recent morphological evolution.
Crossing the canyon can be done through a system of nine stairways and walkways, which were fully renovated in 2013, so the safety of tourists visiting this place is 100% secured.
Steps have heights between 2.5 and 15 meters and turn into waterfalls when the Seven Stairs' creek volume boosts. There are seven waterfalls, the highest being of 35 meters. The trail inside the canyon is set up with metallic stairs and bridges.
The route through the Seven Stairs Canyon can be covered in half an hour. During winter time climbing the canyon is forbidden, due to the ice formed on the metallic steps. The Canyon is opened between March and November and the entrance fee is RON 10 for adults.