Despite its rich cultural heritage, beautiful natural scenery and friendly people - Romania is a lesser-known travel destination in Europe and world-wide. Local authorities are not doing a great job at promoting our country's tourist attractions and experiences - which is what we're trying to do here at Romanian Friend. And when planning a trip to a less popular tourist destination we know how important it is to read reviews from other travelers.
That's why we created this article with review from travel bloggers who visited Romania. Because when we started and now after being in business for 5 years (and surviving Covid!) we know one thing for sure: after people visit our country they're surprised by the wonderful holiday they had and impressed by the many things to do in Romania and places to visit they didn't know about. So they start making plans for their next trip here. Many of our clients on tours said this about their tours in Romania reviews.
And that's exactly what travel bloggers who visited our country realised too! They wrote about their experience visiting Romania on their blog with total honesty, added their personal opinions and many practical tips to help their readers plan a similar trip. So instead of us telling you how wonderful they think our country is - we asked them to give you a quick summary of what they think and you can read more on their blog!
So here are the bloggers who visited Romania and their impressions:
1. Or from mypathintheworld.com: "every second in Romania was magical to me!"
Other than the fact that my grandfather was born in Bucharest, I didn't know much about Romania, especially not as a travel destination. But not only did I get to explore the Romanian capital and see where he spent his childhood until WWII started - I also got to understand why this country is a must-visit gem in Europe.

The views, the culture, and the history of this place are just incredible. From visiting colorful towns like Sighișoara and Sibiu to stepping back in time at landmarks like the Peleș Castle to admiring the beautiful natural scenery of the Transfăgărășan road and Balea Lake, every second in Romania was magical to me.

I know I have yet to experience everything Romania has to offer, but I got a great glimpse into what is still waiting for me. To top it all off, it is a budget-friendly destination that hasn't been affected by overtourism (yet), so there are plenty of reasons to visit it.
2. Laure from laurewanders.com: "one of my favourite countries in Europe!"
During my visit to Romania I visited Bucharest, Brasov and two beautiful castles: Peles Castle and Bran Castle, which is also known as Dracula's Castle. Romania is one of these countries where I felt as if I was walking through a fairytale the entire time. With its beautiful forests, enchanting castles and lovely towns, it ended up becoming one of my favourite countries in Europe!
3. Sean from livingoutlau.com: "I can't wait to go back and explore more of the country!"
Romania was one of my favorite countries on my Eastern European trip. Though I arrived in the country solo, I quickly met some friends in Cluj. Along with one of those friends, we decided to rent a car to explore the country. Our trip took us from Cluj-Napoca, the capital of the Transylvania region of Romania, all the way down to Bucharest, the capital of Romania.
Along the way, we saw the beautiful countryside with stunning views, explore some of the medieval citadels of the country, and drove on the most impressive driving road in the world (according to Top Gear) - the Transfagarasan Highway. Of course, I have to mention, a trip to Bran Castle, the alleged birthplace of Dracula.
Overall, the country was beautiful with plenty to see and the locals were friendly. I can't wait to go back and explore more of the country!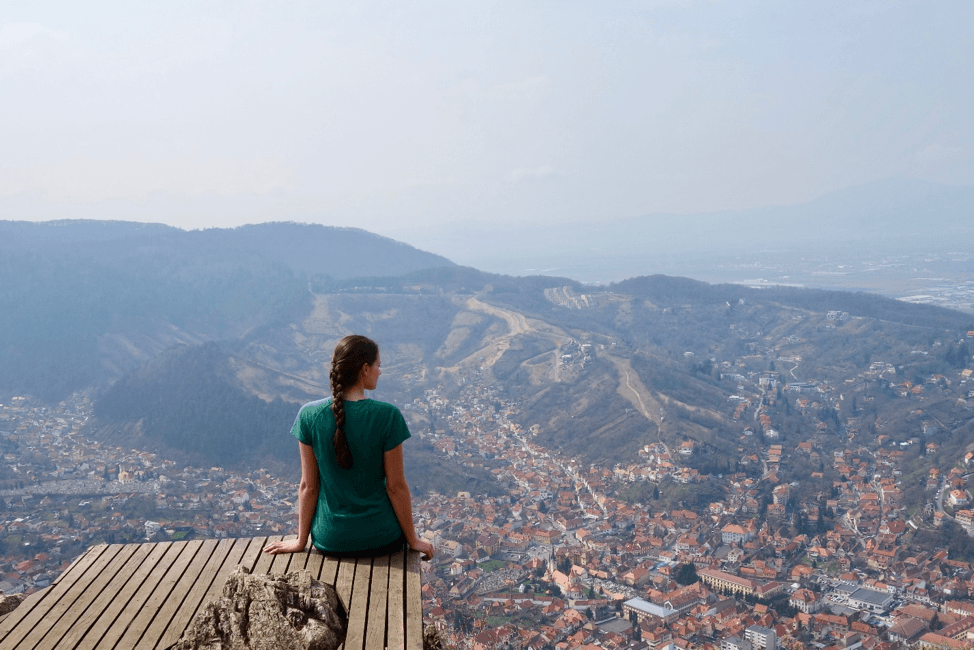 4. Nicola from seenicwander.com: "I can't wait to go back!"
I visited Romania a few years ago and I can't wait to go back. Bucharest is a fascinating destination for history enthusiasts and I loved taking a tour with a local guide to get familiar with the city. Make sure to visit the massive Palace of Parliament building, go dancing to live music in the old town, and spend time in the city's abundant parks and green spaces.
Just a 2.5 hour train ride from the capital, Brasov is the perfect place to get outside and enjoy Romania's natural beauty. Whether you're hiking Tampa mountain, visiting the impressive Bran Castle, or exploring smaller villages in the Carpathian mountains, this region is overflowing with interesting sights and incredible scenery.
5. Nellie from wildjunket.com: "My trip turned out to be everything I'd dreamt of!"
For years, I'd dreamt of traveling to Transylvania, a land full of witches, vampires and haunted castles. My trip to Transylvania turned out to be everything I'd dreamt of -- and more. It was like stepping into a kid's fairy tale. Forbidding castles coated in snow and backdropped by majestic mountains; whimsical villages clustered with small pastel-colored huts, their gingerbread roofs and medieval spires tumbling down to pretty cafes; cobbled streets flanked by antique shops and medieval clock towers.
contributed by Nellie from wildjunket.com
6. Anna from ExpertWorldTravel.com: "can't wait to go back!"
I had the chance to travel to Romania some time ago and I must say it's one of the countries I have enjoyed visiting so far while traveling around the world.
The breathtaking sceneries, the magnificent castles and fortresses (especially the famous Bran castle, most commonly known as Dracula's castle), their delicious food (my favorites are Mici and Jumări), and of course, the friendly people are just a few of the reasons why I fell in love with this beautiful country.
I know there are still a lot of beautiful places I have yet to explore in Romania so can't wait to go back!
- contributed by Anna from ExpertWorldTravel.com

---
Are you a travel blogger who visited Romania? If yes contact us to get featured in this article, we'd love to hear from you!