Transalpina Road Trip & Cooking Lessons from Villagers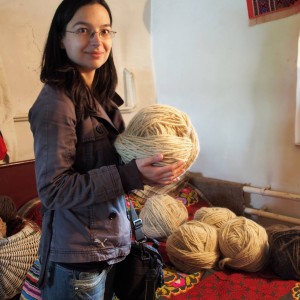 With: Ioana

2
A great way to experience Romanian rural life: we travel to a beautiful village at the base of Carpathian Mts to stay in an authentic household with orchard, outdoor oven, fully-stocked pantry and stable with friendly animals! Learn from friendly villagers how to cook old recipes using home-grown ingredients, admire an ethnographic collection and take a trip on Transalpina Road!
---
What you need to know about this Transalpina Road & Cooking with Locals Trip:

This is a private trip starting from Bucharest available on request. Minimum booking required for 2 people
Included: transport from Bucharest to Novaci by train and bus, local transport in Novaci, one night stay, all meals, cooking workshop, visit to private museum and road trip to Transalpina
1 night accommodation in a traditional guesthouse (clean rooms, big common spaces, en suite bath) aka Romanian household
Perfect chance to get some amazing pics on Transalpina, one of the highest road in Romania!
You will see a traditional Romanian blouse collection and also do a road trip on Transalpina Road to admire the views
The cooking workshop: we will make bread (the traditional way, baked in a traditional oven), and 2 other local dishes, from local recipes and local ingredients.
If the group consists of 3 persons, we will make "cozonaci" (Romanian sweet bread, made especially for holidays). The process takes around 8 hours and involves 2 people of the household full-time. You can watch, contribute, learn and enjoy the results!

Additional information

We will have plenty opportunities for taking photos of the landscapes and amazing countryside.

The activity of making sweet bread implies interaction with kitchen utensils, flour, dough and other sweet ingredients, including allergic ingredients such as walnuts.


---
Moments to expect during the Transalpina Road & Cooking with Locals Trip:
Learn how to make the traditional Romanian desert 'cozonaci'

If the group consists of min 3 people, we will make cozonaci. If less, other recipes!
We will prepare the ingredients, knead the dough, cook the special stuffing with raisins and walnuts and see the final process of putting the "cozonaci" in the oven. In the meantime, we hear the stories behind the celebrations that have "cozonac" as a central dish (Easter, Christmas, weddings, baptisms) while tasting traditional drinks (plum brandy, sour cherry liqueur) and local dishes (aperitifs, soup, broth, polenta and smoked sausages). And, of course, cozonac for desert.

Stay in a typical Romanian guesthouse

You'll stay in a traditional Romanian household, with private bathroom, private entrance, linings, everything else needed to make your stay pleasant - including friendly hosts and delicious food from their garden!

Learn about traditional Romanian hand-made costumes

We will visit the private museum of Daciana Ungureanu, a local artist who inherited from her family many traditional Romanian objects. Two of the dowry coffers of the collection are full of costumes from the region of Otenia which are hand made with old lace. Extremely fine pieces, they are woven in amazing colors and details using various techniques and materials. "I do not have enough words to describe them, you must see them.", says Daciana who is very happy to receive guests.

1800m view from Transalpina - also known as 'Devil's Pathway'

Transalpina is the highest mountain road in Romania linking the region of Oltenia to Transilvania. We will follow the road to it's highest point at 1800m and admire the splendid scenery from above the clouds.
Location details
Starting point:

Bucharest

Nearest airport:

Henri Coanda Bucharest

Nearest train station:

Gara de Nord Bucharest Railway Station

Landscape:

Countryside, mountains
Other tours nearby

Subscribe to our Romanian quarterly magazine
4 times a year we prepare a newsletter with local stories, places and our special insights about Romanian culture and local life that will inspire you to visit our country and have an authentic local experience. Would you like to get it?