Day Trip: Village Life in Sibiu Countryside
With: Adela

50
Romanians, Saxons and Hungarians have lived in the villages around Sibiu for centuries. Let's see how different cultures, religions and traditions have created a fascinating way of life. We will go in the villages and visit historical sites, meet locals and learn about their lives. A lovely walk in the picturesque countryside of Sibiu! For an authentic experience we can have a home-cooked lunch!
---
What you need to know about the Sibiu countryside tour:

This is a private day trip from Sibiu available on request. Duration: about 8 hours
Included: transport, entrance fees and guidance. Not included: lunch and drinks
You will admire the beautiful countryside of Transylvania! We will visit traditional villages around Sibiu and go walking in the hills
Meet friendly locals, learn about their lives and maybe buy some traditional products to support their work (honey, wine, sausages, cheese, handmade souvenirs)
We can enjoy a delicious 3-course home-cooked lunch at a family household in Sibiel. A great way to meet locals, learn more about Transylvanian food and their daily life. Extra price 20 Euro/person and must be booked in advance
In Cristian we might visit the stork shelter, the biggest in SE Europe, and see how locals are trying to help these lovely birds!

Additional information

Comfortable shoes recommended. In the afternoon, depending on season, it might get chilly so please bring a light jacket or sweater with you.
---
Moments to expect in the Sibiu countryside trip:
Cristian Fortified Church

The village of Cristian is where Saxons and Landlers used to live. It is a multicultural place with so many nice stories. In Cristian we'll have a lovely stop at the Bacon Tower and learn more about the stork shelter in town.

Sibiel Icon Glass Museum

This unique museum has the most beautiful and biggest collection of Orthodox icons in Romania, and probably Eastern Europe. You will learn about the important role religion played in Romanian history and culture and see how painting styles evolved over time.

Cisnadioara fortress

Dating back to the 12th century, this is among the first fortresses built in Transylvania. Though an amazing construction for its time, it is now in ruins. Nevertheless, there is much history to be learned here and an amazing view over the surrounding area.

Relaxing walk in the orchards of Sibiel

If the weather is nice, we suggest you a pleasant walk in the orchards above the village of Sibiel. The apple trees and plum trees here are around two hundred years old. They have a lovely story, but we'll learn more here while enjoying the views and, why not, tasting some jucy fruit.

Walk in Rasinari [2022 Best World Tourism Village]

We'll have a relaxing walk in Rasinari, a picturesque village at the bottom of the mountains recently awarded the title of "Best Tourism Village". We'll admire local architecture, see the well preserved village life locals still have and understand culture in Transylvania firsthand.
Cancelation & refund policy
Easy
Sends us or the guide an email 24h before the tour informing us you can't make it and you'll get a full refund of your payment, no questions asked.
Location details
Starting point:

Sibiu

Nearest airport:

Sibiu or Cluj International

Nearest train station:

Sibiu Train Station

Landscape:

Countryside, hills
Reviews from travellers Julia A. on 25.06.2019
Beautiful places and very knowledgeable, professional and friendly guide. Thanks Adela for a great day exploring the country around Sibiu! Bob G. on 29.09.2018
We had an awesome day exploring the countryside with Adela and her husband Petru. They took Connie and I for an nice walk up the hillside with some great conversation along the way. The view was awesome with a real peaceful feeling about it. Petru went ahead and made a very tasty meal with lots of variety for all of us to enjoy after a morning hike. On the way back to Sibiu, Adela took us to another few interesting attractions. We really enjoyed Adela's company. She likes to speak about the history and culture of the area. I would definitely recommend this tour for those people that like to experience a real part of Romania with great conversation along the way. Didn't find it anywhere else, so thanks Romanian Friend! Marianne A. on 06.04.2018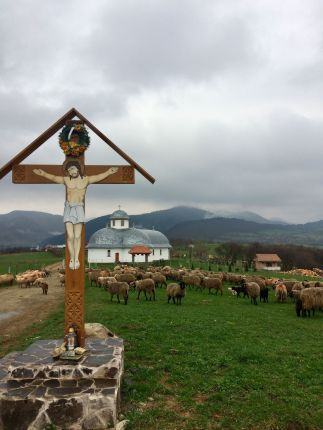 I had a very interesting day with Adela visiting villages around Sibiu! She is like an encyclopedia with lots of interesting things to tell me about old and recent history of the area, and could answer all my (many!) questions. Romanian Friend is a very useful site, with lots of info and helpful staff on the chat! A great asset in planning a trip to beautiful Romania!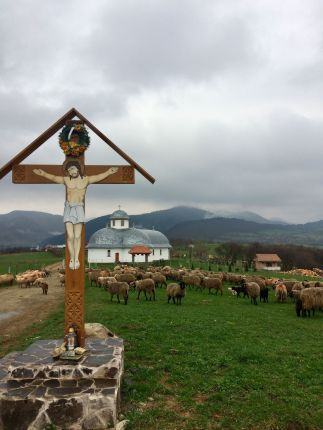 Other tours nearby

Subscribe to our Romanian quarterly magazine
4 times a year we prepare a newsletter with local stories, places and our special insights about Romanian culture and local life that will inspire you to visit our country and have an authentic local experience. Would you like to get it?