The Garlic Workshop: Food, Magic and Vampires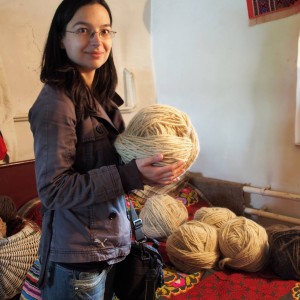 With: Ioana

2
Garlic is a must-have in all Romanian households: used for food, old medicinal cures, household hacks and even small magical practices - like protecting from vampires! Are vampires real? We don't know, but garlic sure is and it plays an important role in Romanian culture. Part storytelling, part food tasting, this workshop will take you in the wonderful yet smelly world of garlic - come!
---
What you need to know about this garlic tasting workshop:

The workshop takes 3 hours and will be held in a cosy, family-owned bistro in Bucharest witch serves traditional Romanian food
Included: food tasting and my funny-full-of-details storytelling. No cooking involved, but you can learn tricks from the kitchen
You will eat a two course meal (both with plenty of garlic) and serve a traditional Romanian digestive drink to start things on the right way
You will learn about the use of garlic in our cuisine, its historical significance in Romanian culture and myths as well as modern (and unexpected!) uses in everyday life
BBC published a story "Why Romanians are obsessed with garlic?" - and it's real!

Additional information

Meeting point can be at your hotel or in a central square like Unirii Square or University Square by the metro station.

From there we will walk about 10 - 15 minutes to the restaurant.
---
Moments to expect in this garlic tasting workshop
Vampires?

Traditionally, Romanians don't believe in vampires. But they do believe that peoples' souls can come back to cause them harm and these evil spirits are called 'strigoi'. There are many stories from our elders of this happening and garlic was used as protection - I will tell you about this. What about Vlad the Impaler? Was he a 'strigoi' too? What is legend and what is turth - we will cover that also!

Garlic everywhere - but tasty!

You will find out how garlic is used in pretty much every dish in Romanian cuisine. Except for desserts. We will talk about all sorts of meals and dishes that contain garlic, why Romanians love to eat it, how we prepare it and learn garlic-smelling stories from the cook. Don't worry - everything is delicious, not too spicy and mint candy is on us!
Cancelation & refund policy
Easy
Sends us or the guide an email 24h before the tour informing us you can't make it and you'll get a full refund of your payment, no questions asked.
Location details
Starting point:

Bucharest

Nearest airport:

Henri Coanda Airport (Otopeni)

Nearest train station:

Gara de Nord (North Railway Station Bucharest)

Landscape:

Urban
Reviews from travellers Shelley U. on 08.04.2019
My daughter and I really enjoyed this tour! Ioana took us to a local restaurant, where we had a three course meal (featuring lots of garlic of course) while she shared interesting stories about Romanian food, culture and history. A true local experience, thank you!
Other tours nearby
Start from: Piata Romana (Romana Square)
Subscribe to our Romanian quarterly magazine
4 times a year we prepare a newsletter with local stories, places and our special insights about Romanian culture and local life that will inspire you to visit our country and have an authentic local experience. Would you like to get it?