UNESCO Pottery Workshop & Oltenia Countryside Tour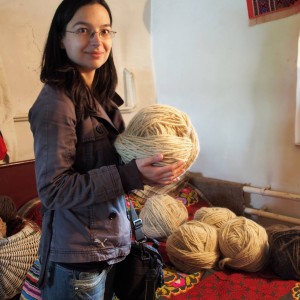 With: Ioana

2
Discover Romanian culture in a unique way: we'll visit a family of Horezu ceramics craftsmen and learn why this unique and fascinating pottery technique was included on the UNESCO heritage list - by doing it! We then go to a 400-year-old fortification-turned-countryside-manor to enjoy a delicious traditional lunch with a view, while you learn about Romanian history in the region!
---
What you need to know

This is a private day trip available on request from Bucharest. Minimum booking required for 2 people.
Included: transport by public bus (approx. 300 km), English authorized travel guide, pottery workshop, entrance tickets and lunch (3 course meal, 1 bottle of water)
You will participate in a pottery workshop, learn to use the potter's wheel, mould the clay and decorate a small object that you can take home as a souvenir! Also, you will learn how this craft has made its way into UNESCO heritage.
Visit an old fortification-turned-hotel and enjoy a traditional lunch with locally sourced ingredients.
Splendid countryside views with very good photo opportunities

Additional information

Expect a full day starting at 6.30 AM at your hotel and finishing in the evening.
---
Moments to expect
A unique ceramics workshop part 1: moulding

We hear the story of a craft that dates back to Neolithic times: men prepare the clay and women decorate the objects using specific techniques and tools to draw traditional motifs. Their skill in combining decoration and colour defines the personality and uniqueness of the Horezu ceramics. We will try our luck at moulding the clay and using the potter's wheel to create our own object!

Ceramics workshop part 2: decorating

Women use a feather, a cow's horn and other traditional tools to decorate the clay objects. The colours are obtained from natural pigments and are vivid shades of dark brown, red, green, blue and 'Horezu ivory'.
While we are not experienced craftsmen, we can try our luck and learn to appreciate more such crafts!

Visiting "kulas" - traditional boyar houses

In Maldaresti we visit 400 years old boyar houses named "kulas", made to protect their owners from the Ottoman invaders in the 17th century. "Kula" is the Turkish word for "tower" and these fortified houses were used for defense, observation, distress signalling and residential purposes. We will see 3 of these houses and listen to their legends.

Traditional and delicious meal

One of these kulas has been transformed into a 4-star manor – Conacul lui Maldar, where we will enjoy delicious dishes made after old recipes from the region area, using locally sourced ingredients. We will eat like people did 400 years ago! The manor's courtyard offers breathtaking views to enjoy after lunch.
Location details
Starting point:

Bucharest

Nearest airport:

Bucharest Henri Coandă International Airport

Nearest train station:

Bucharest North Railway Station

Landscape:

Outdoors and countryside
Other tours nearby
Start from: Brasov (pick-up)
Subscribe to our Romanian quarterly magazine
4 times a year we prepare a newsletter with local stories, places and our special insights about Romanian culture and local life that will inspire you to visit our country and have an authentic local experience. Would you like to get it?