Hiking Tour from Timisoara to Remote Villages & Cernei Valley Natural Park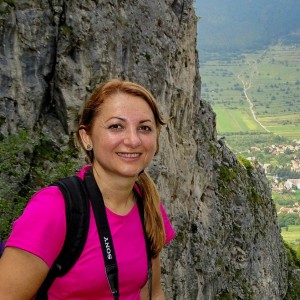 With: Flavia

6
Ever wondered how life away from civilisation is like? Just 2 hours away from Timisoara there are some small villages living in complete isolation, with no access roads or electricity - the perfect example of the Romanian self-sustainable village life. Join me on this hiking day trip to visit them and admire the natural beauty of a Domogled-Valea Cernei National Park!
---
What you need to know about this Timisoara hiking trip:

This is a private hiking day trip from Timisoara for small groups. Duration: 10 hours
Included: transport, guidance in National Park and lunch with locals. Not included: other meals or souvenirs.
Moderate hike in the beautiful, well-preserved and lesser known Domogled-Valea Cernei National Park
Visit some very remote Romanian villages where locals will welcome you into their home and prepare you lunch. Please be mindful of that
At the end of the day we will enjoy and relax with an outside thermal bath Baile Herculane resort (optional)

Additional information

This tour involves a moderate hike, please bring appropriate walking shoes and clothes.

The program can be altered on the spot, depending on weather conditions and other relevant aspects such as the physical condition of the participants.

Thermal bath: this is a public place with no facilities. Please bring bathing suit, towel, slippers.

You will pay online 100% of the tour price. Easy cancelation policy applies to get a full refund (3 full days before the tour starts).
---
Moments to expect during this walking & hiking day trip from Timisoara:
A beautiful decay - Baile Herculane resort

We will drive to Domogled-Valea Cernei National Park and our first stop will be Baile Herculane resort, once known as ,,The Pearl of Europe''. Overlooked in recent years, the resort is now in a sort of beautiful decay status, but surrounded by a superb mountain landscape -it becomes an amazing sight to see (and photograph!).

Hiking trip to very remote mountain villages in Romania

Later on, we will leave our car behind and go on a moderate 2h hike to the mountain villages of Inelet and Scarisoara using the only access points available: 4 wooden ladders safely attached on a rock. On our way we will enjoy some amazing landscapes of the National Park!

Meet the locals and have lunch in their homes

While in these remote villages, we will learn about the simple and self-sufficient way of life the locals have. We will also have a delicious lunch at one of their houses, where you will be impressed to learn stories from their everyday life and how it is to live in such a remote area. It is a life lesson, no exaggeration.

Great views and outdoor fun in Romania!

In case you don't want to go for the thermal bath, we have other options! Being in a national park, one of the wildest and biggest in Romania, there are plenty of beautiful sights, smaller landmarks and places to relax and enjoy nature! This will be a great hiking trip from Timisoara!
Cancelation & refund policy
Easy
Sends us or the guide an email 24h before the tour informing us you can't make it and you'll get a full refund of your payment, no questions asked.
Location details
Starting point:

Timisoara

Nearest airport:

Timisoara International

Nearest train station:

Timisoara

Landscape:

Mountain, Hills, Countryside
Reviews from travellers Chris G. on 13.07.2018
Flavia wasn't available but her colleagues, Ilie and Diana, were great guides: friendly, knowledgeable & enthusiastic. I saw some really great views and completely isolated villages that I still don't understand how they survive!! The home-cooked lunch was very delicious too. A really great trip, off-the-beaten tourist path and something completely different. Thanks Romanian Friend!
Other tours nearby

Subscribe to our Romanian quarterly magazine
4 times a year we prepare a newsletter with local stories, places and our special insights about Romanian culture and local life that will inspire you to visit our country and have an authentic local experience. Would you like to get it?